Discussion Starter
•
#1
•
My life hunting wise has truly changed. I live to bow hunt. But last year I didn't get to get out until the second week of the season. I haven't hunted at all this year.....except if I went with my son or oldest daughter, and they were the ones hunting under the mentor program.
My son missed a 7pt two nights ago. He was bummed but said it was awesome just feeling the deer hunting excitement and is really hooked. My daughter was up next which was tonight. I had a late meeting so got home late but she still insisted that we go. With the all day rain finally stopping, I said ok lets give it a try. (I had been bringing the video camera on every hunt but decided not to tonight because of the water still dripping off the trees. Thats the way it goes I guess)
Not in the double ladder stand 15 minutes when 4 does come in. The first 2(yearlings) pasted the opening before we could get the xbow in place(last two does were stopped and looking our way so we couldn't move). Finally the 3rd doe(nice sized) start to come towards the opening. I get it set in place and hand her over the "controls." The doe stops perfectly in the opening and I give her the green light when she gets the sights set on the sweet spot just slightly behind the front leg. SSSWWAAP! .......Looks like a good hit and shes running funny. Goes about fifty yards and stops.....wobbles.......and drops over!
"MADDIE YOU GOT HER, YOU GOT YOUR FIRST DEER"! ...as soon as I get the words out, the first thing she does is gives me a huge crushing hug!
She's hooked and I'm having the time of my life hunting with my kids these past 2 years.
With my son now itching to go even worse than before, and my daughter looking forward to maybe seeing a buck I may not get out again this archery season. That would be a first in 31 years of going.........and it wouldn't bother me in the least. I'll take those bone crunching hugs anyday I can get them.
Even though I saw it go down she wants to track the blood trail. Here's where the deer was standing when she hit it.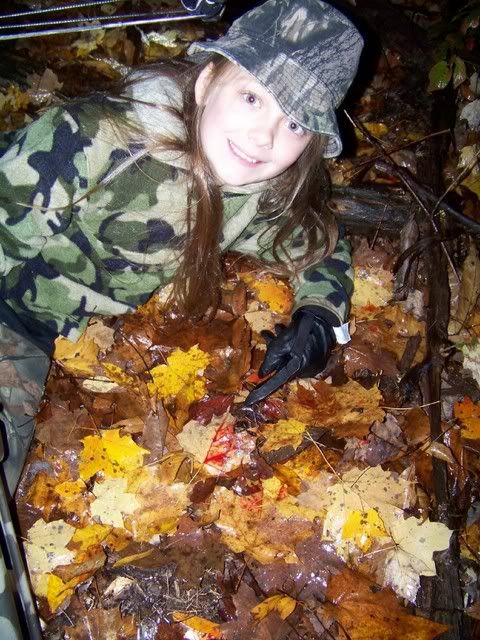 Deer down. Hit high just behind left leg and exited lower midsection on right side. Both lungs and liver with 4 blade muzzy.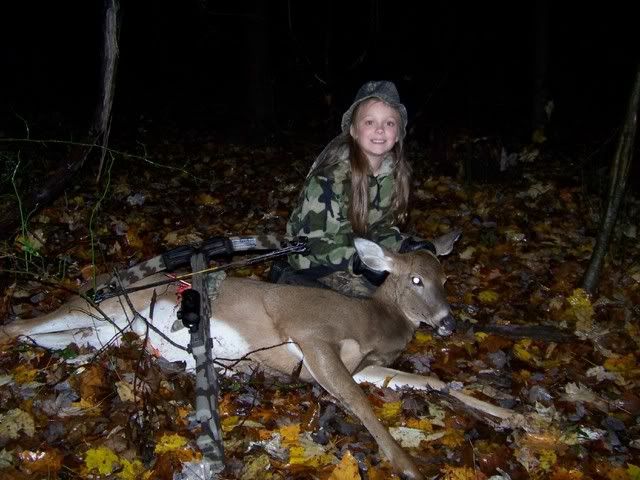 This is Maddie giving the HOME ALONE litte kid fist pump "YES"!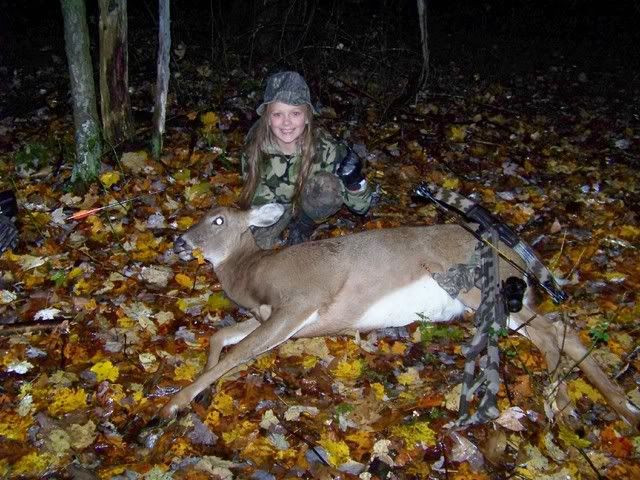 Dad had to get his ugly mug in there too!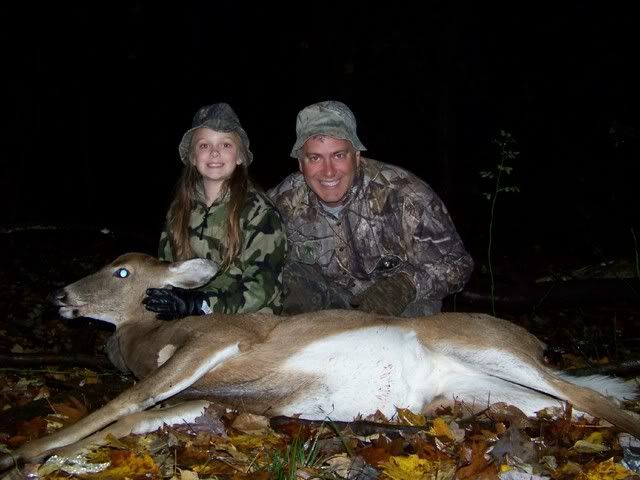 Maddie, 11 years old, 1st deer!
.