Discussion Starter
•
#1
•
Cody shot his first buck with a bow on Oct. 22nd 6:05pm. I got it all on video including the after shot interview.
Pics and video to follow!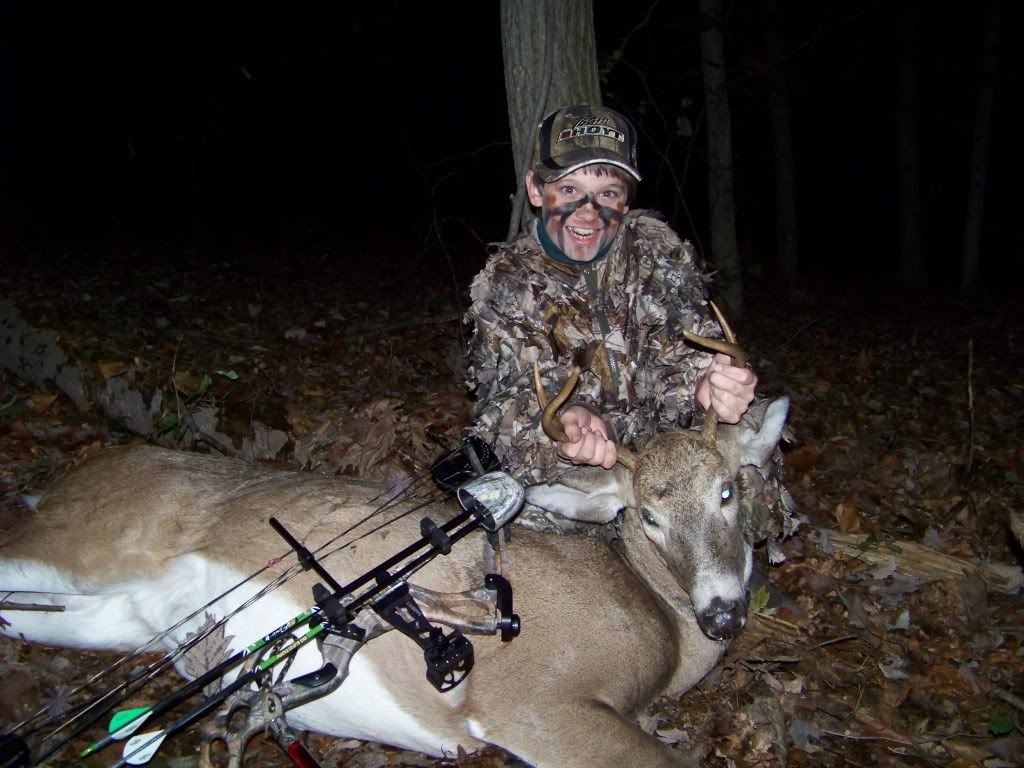 I can't find my download cable for the shot video. I will tell the whole story ASAP.
Link to after recovery video. Different camera was used for in stand shot. Working on story and awesome video.
http://www.youtube.com/watch?v=E64ZQZQ31nE
For the last 3 weeks i have been able to hunt by myself 3 times. Besides one day of rain Cody has been in stand every evening except one which my daughter got in stand. I have been adjusting double sets to put deer close enough for a good shot every Sunday. The first week of the season Cody had 2 fawns and a doe coming in and the fawns crossed at 8yrds, as the doe came through his shooting lane she leaped across a log and the shot chance was lost. Since that time we have been seeing deer but there is alot of pressure around our spot and the deer have been moving later every night. This third week of muzzy he has been begging to go out the three days with the rifle. I am not a big fan of the rifle and he knows that. Thursday and Friday had us in stand for the evening with the bow. Both nights we had deer 40+ yrds away but didn't have the rifle to reach them. Friday night when we got in from stand he walked past me and in a mean voice he says "if i had a gun i would have shot a doe already". I felt so bad as a father for not alowing him to do so. After a little while i asked "Cod are you getting up to hunt in the morning? Very quick and short "NO". Later Firday night he says "can i take the gun and we can go to my rifle stand?" I don't give him an answer and change the subject to butchering in the morning instead of hunting. Saturday AM found me in the butcher shop making Keilbasa, and skinning a buck for a HPA member. I got the kids together and we cut and split wood for the smokehouse untill 3:00pm. I went for the house and asked my daughter "Are you going tonight? Short and sweet "NO". So i say "Cod are you going tonight?" He walked over to the wood pile and gave me the cold shoulder. So with that i say "I'm going in and check accuweather for the wind and then going to stand." He ignors me. I go into the house and a buddy calls. While on the phone a see some does moving along the bank behind the house. I open the door and whistle "Cod look up there's deer" He replies "Look Buck". "Kid lets get dressed and get in stand". With that his mind made a full circle and he was dressed and sprayed down and heading to stand with the bow. Once in stand a small doe went by at 50 yrds. Cod looks at me and just shrugs his shoulders. The next 2 hours i kept telling him "Patience and persistence will pay off". At 5:45 a fawn goes by at 50, again, and the doe follows. I give her a bleat and she turns and slowly comes our way. At 15yrds i stop her "MEP" "can you get a shot" "no their is a limb in the way." The doe then is on alert and looking around to find what alerted her. After a minute or two i look to our right and see a deer moving down the trail. "Forget her turn to your right" He shuffles his feet and i say "DRAW" Cod trys to draw but can't. I figure he his all worked because of the doe. "DRAW" "I can't my strap" I look over and his HSS is tight against his right elbow. I reach over and pull is down "DRAW" "I can't its againt my arm" i reach over again, all this with the buck standing broadside at 25yrds and watching the doe, and pull the strap up over his arm and the Hoyt Ruckus comes to full draw. I grab the camera and get the deer in the picture all while saying "25 25yrds". "thump" the arrows away. I watch the 75gr Muzzy tipped Easton Epic shaft connect,"SMACK", a little front but instantly the buck lays out a high rear leg kick like being shot in the heart. He can't get his front legs under him and starts to plow within 20yrds of the shot. At 30yrds he does a flip and "BUCK DOWN". After this the stand video will tell the excitement.
Running at lunch to radio shack to get a cable.