Discussion Starter
·
#1
·
Went to the mountains Thursday night to hunt grouse Friday and Saturday. It was my Dad, sister's boyfriend, brother's friend (brother didn't feel like going) and myself. Got up there and had about 10" of snow on the ground. My brother's friend (Drew) and sister's boyfriend (Dave) had never shot a grouse before.
Friday was a great day. Got into the grouse right away and had 8 flushes in the first two hours. Drew knocked one down with a long shot be we could not find it. Walked the direction that some of the birds flew and Dave saw where one landed. Stopped and looked ahead and there was the grouse sitting in the snow and pulled up and shot it. Big grouse and his first one ever. Continued on and my dad flushed one and crushed it. Got into the trucks and moved to the next spot. I just stepped into the woods and was taking a step when a rabbit busted out from right underneath my foot. Bagged my first rabbit ever at about 5 yards. Walked with some close flushes and good shooting but just wasn't able to connect. Finally found some fresh tracks and started to follow them when two flushed out ahead. Saw where the one went s we walked towards it and flushed it up. Drew got his first grouse ever on the second shot. Ended flushing 22 on Friday and shot around 30 times between the four of us. Here are the three successful grouse hunters after an awesome day on Friday.
Here is my rabbit and then all the game taken on the first day.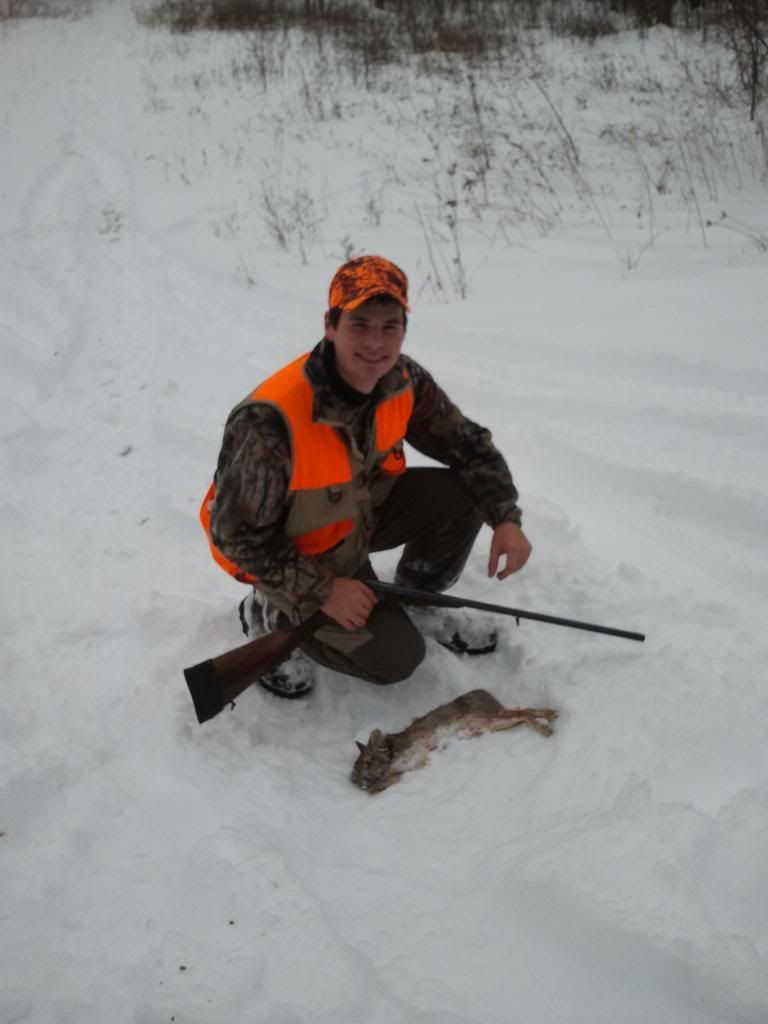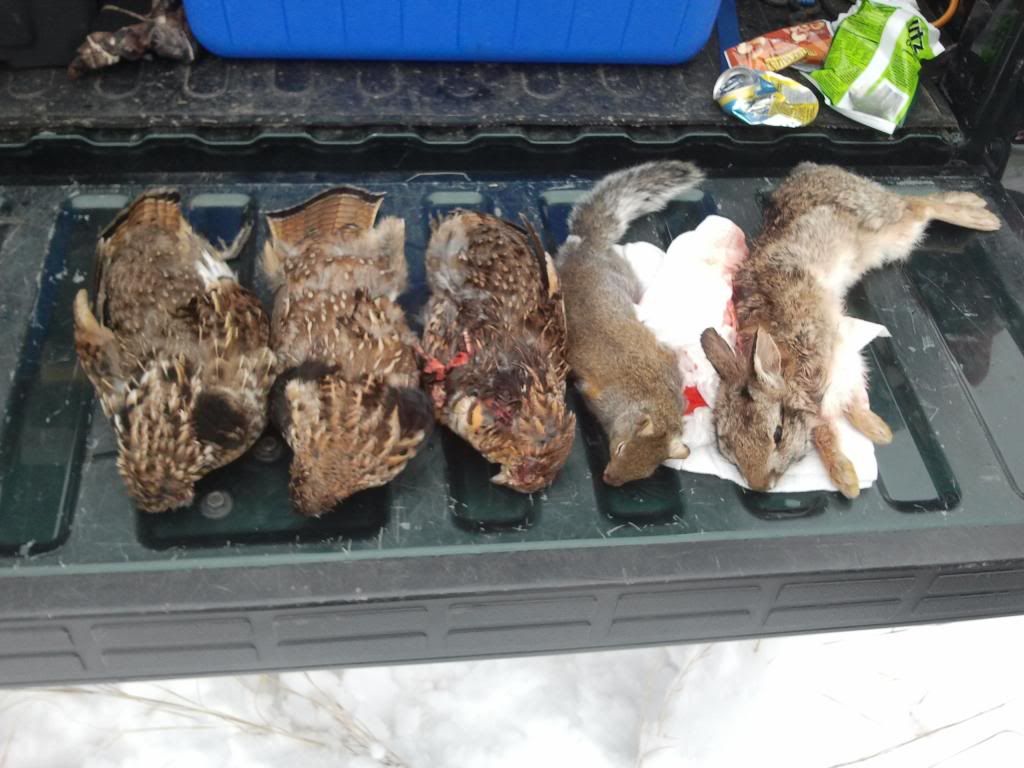 Woke up Saturday to another 3" of fresh snow on top so we knew that the tracks would be fresh. made one little walk but realized it would be tough going and the grouse were probably holding. We decided to go for a drive and see if we could find some tracks crossing the road. Found one set and decided to mark it for later and keep going. Found two more sets together so we decided to pursue them. Lined up and walked out the ridge. I was on the edge and everyone else was on the flat to my left.
This is where it gets exciting. Walked a ways and I had the tracks go just down over the edge. We decided to walk a little ways further and then come back to the tracks. Had no flushes so we headed back to the tracks. we were all standing there are I saw where a grouse was sitting against a tree about 5 feet from where I walked past. I started to walk over and check it out. We were all very relaxed and were not ready for what was going to happen next. I saw something in the little hole and figured it was some grouse droppings. A was bending over to look at it and my was a couple feet away when there was a big explosion. It was not grouse droppings but the feathers of a grouse under the snow. Startled, I didn't get a shot off until it was about 30 yards away. We were standing there talking about how crazy it was when another grouse came out of the snow between drew and my dad. It's wings actually hit both of their legs. 3 bangs later and Drew had his second grouse of the trip.
After that excitement, we decided to go back to the first set of tracks that we saw. Knowing that the grouse were holding tight, real tight, we decided to walk real close together. We started to follow the tracks when a grouse busted out in front of us. I was the only one who heard it or saw it and proceeded to miss it. I saw that it stayed low and went straight out from us. We lined up again and started walking towards it. we went about 75 yards when I looked a little to my right and saw where it landed. I pointed it out to Dave and we approached. I got within a few feet and saw the tail sticking out of the snow. At this point, Dave and Myself both had guns up and safety off and I backed up a little to have a little more room. It hopped up out of the snow and started to run a little so I decided to just shoot it. At the end of the day we had 6 flushes and 28 on the weekend.
Here we all are after the successful hunt and a lot of rest.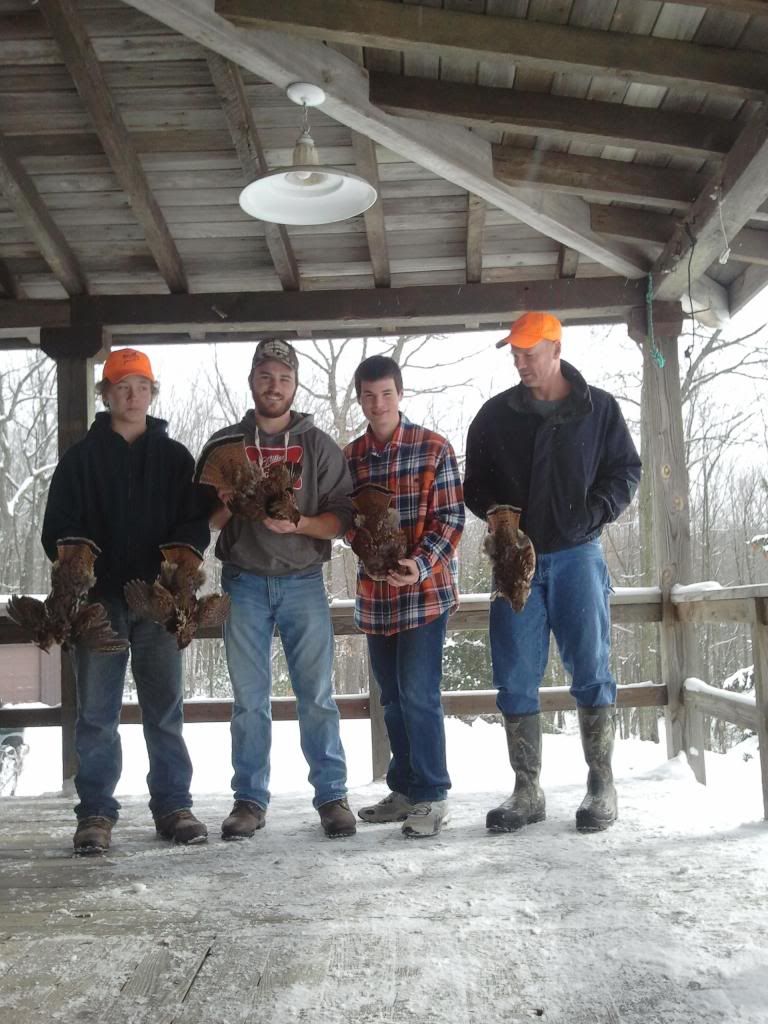 We couldn't have asked for a better weekend. The weather was perfect, we accomplished a lot of firsts and created a ton of memories.
Sorry for this being so long winded. Thanks for reading