Discussion Starter
·
#1
·
I promised my clients that I would keep them updated here on HPA. I didn't do it. I was kept so busy with all the dogs and the travelling to find birds that I had no time to sit at a computer.
Anyway, I had some good success with finding birds and the dogs did well. The bird count was not as high as last year but it was adequate. All the dogs were into birds and all learned to handle them. I believe that my final tally was around 125 woodcock and 20 grouse.
For the hotspotters I started around the end of Febuary in Lebanon Co and worked my way north. I worked dogs and found birds from there in Lebanon Co. on through Schuylkill, Northumberland, Columbia, Monroe, Sulivan, Bradford, amd Tioga Counties. As you can see I started in the south and worked my way north with the woodcock. Its only been in about the last weeke that I could get into some of my northern covers. On Tues of this past week there was still 2 covers that I could not get into because of snow and ice on the roads.
Here are some of the dogs in action:
Josie was one of this spring's stars. She was here last summer to be started and then broke to wing and shot. She went home to hunt and now was back to have last summer's lessons applied to wild birds.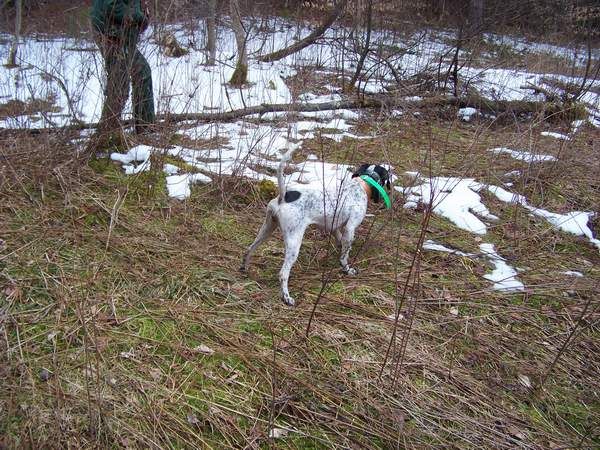 This was Josie's first steady to wing and shot woodcock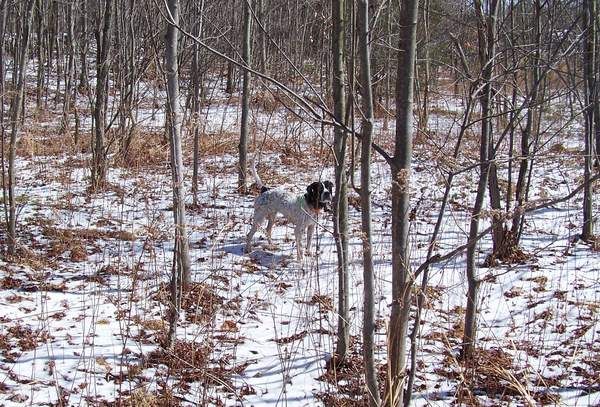 Mabelline was another star this spring. Her story would read the same as Josie's. She was here last spring to learn to hunt wild birds in the spring program. Then she came back to be broke to shot. Next she went to Saksakchawan for Huns and Sharptails and back to Pa for some grouse hunting. This year at 2 1/2 she was back here for last years lessons to be appied to wild birds. Mabel was completely broke by the end of the wild bird program. If she had a bird 5 minutes away she would be there with it and I got there an d flushed her bird.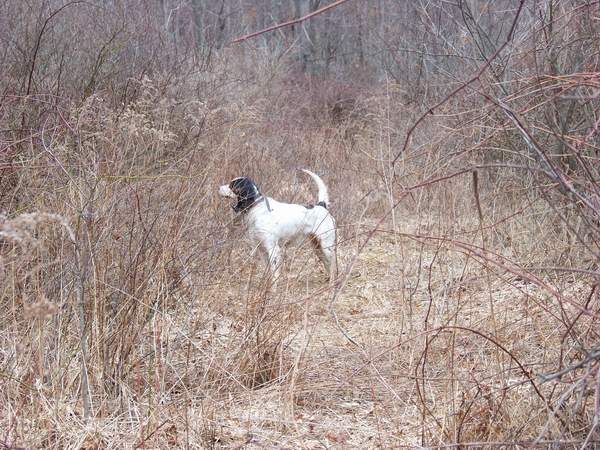 Here is Piper. Piper is a grouse trial dog from western Pa. He was here for the persoanl aattention that I can give versus being in a larger kennel with a big string of dogs. Piper was getting steadied up on wild birds as he was still a derby age dog.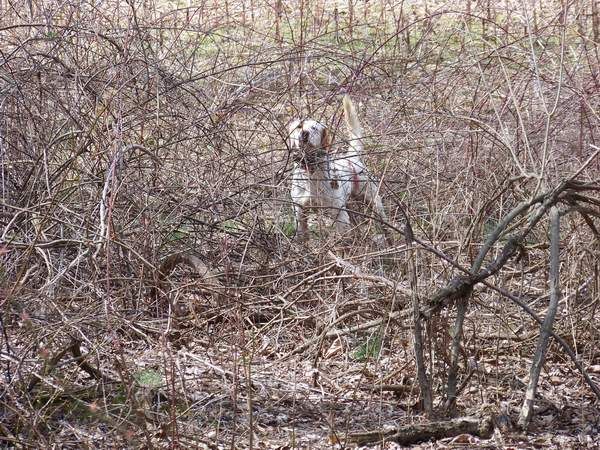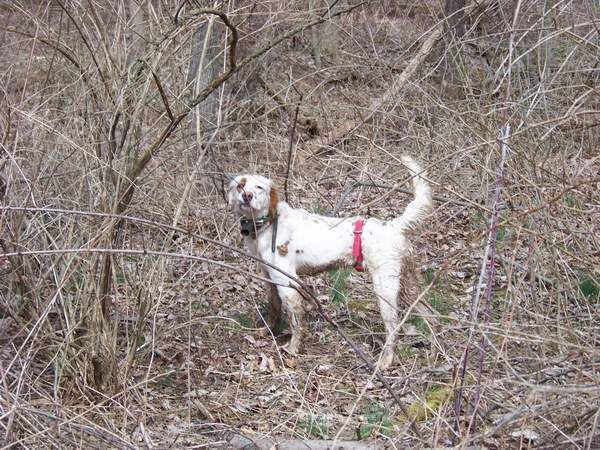 Lizzie was another dog that travelled quite a ways to work on Pa. woodcock. She came here from southeastern Ky.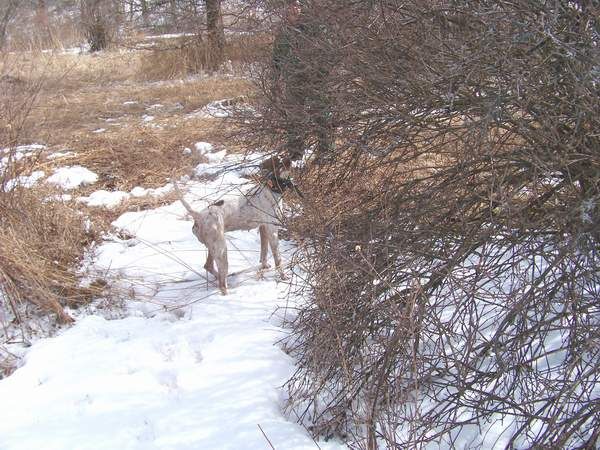 Rags is a veteran here.
\
Rags pointing a woodcock with Reilly backing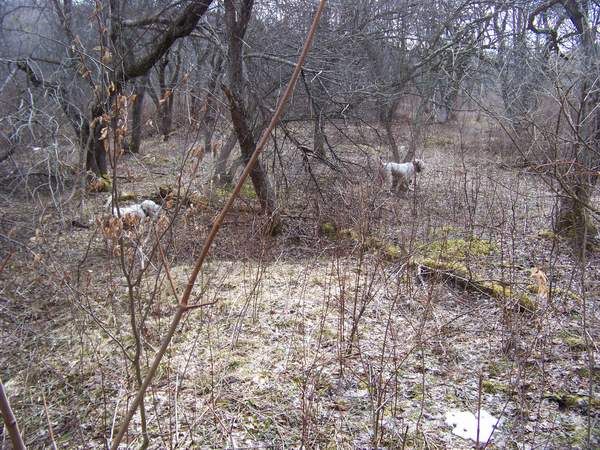 Reilly with a woodcock. He is going to be a daddy. A very well bred female came up from West Virginia to be bred to him I worked her for a month and she is nice. There should be some great pups out of the two of them.
And of course there is my Ralph. I only ran Ralphie twice this spring. Early in the month I had him along to check out a cover. I put him down in a cover that I had trained him in last spring. He only made it about 50 yards from the truck. By then he had 3 perfect pieces of work and I thought that I shouldn't waste all these birds on a veteran dog. The other time I was visiting another pro. I ran Ralph with one of that trainers dogs. It was one of the most exciting braces that I've had since I retired from trialing. In around one hour and 15 minutes Ralph had 5 clean broke finds, one stop to flush, and 4 backs. His bracemate had just about the same performance. I really wish that somene would have been along with a viedeo camera. It would have made a terrific video. Anyway, here is a still of my boy"