Discussion Starter
·
#1
·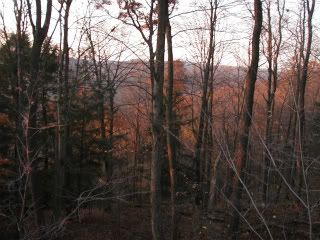 A few of the areas I hunt in the fall are within sight or earshot of major roadways. Often I'll sit in my treestand and listen to the vehicles passing by or watch them far off in the distance and feel sorry for the people that are in them. Mostly because as I sit surrounded by the scents and colors of fall, I wonder if they know what they're missing. I'm sure there are a few people in those vehicles who are much like myself and would rather be where I'm at now. I feel pretty certain though that most of them aren't outdoorsmen, and I wonder if they realize all the beauty and serenity that they pass by on their way to wherever they're going.
Often times I think I'm somewhat of a rare breed. It seems early on in my hunting career the hunt became more important than the success of the hunt. Although there was success, it always came along with "enjoying being out there" as a lot of folks like to put it. I'm focused on the task at hand, but I still take the time to notice the flocks of chickadees fluttering in the treetops around me, or the blizzard of red, orange, and yellow leaves falling when a strong breeze blows through the woods. The little things don't go unnoticed to my eyes, and it makes the whole experience that much more enjoyable.
The game I pursue are like sacred animals to me. It's hard to explain how you can kill something you love and have so much respect for. A quick and humane death for my quarry is far more important to me than filling a tag. Anything less results in me being literally mad at myself for making the animal suffer. It's happened a few times, and anyone who hunts long enough will experience it at some point. The best you can do is learn from your mistakes and try to keep them in mind the next time. Any time I drop a deer with my bullet or arrow the first thing I do when I walk up to the animal is to kneel down beside it and say "I'm sorry. May your spirit roam these hills forever." The first time I said that was after I killed a very special buck (to me) with my bow. It came from the heart and I say it now after every deer I kill.
To many it seems that it's all about the kill. And that's fine I guess. After all, it is hunting, and I enjoy a nice cut of venison just as much as the next guy. Nothing can beat a medium rare backstrap grilled, or seared. I guess my problem with that "style" of hunting comes from putting success above everything else. Victory at all costs, whether it be harmful to the game or the land. I guess in reality I've never been that way, and for a long time it seemed as if I was alone in a sea of "orange and camo greed" so to speak. I've found through the years though that there are in fact others that share my train of thought. That appreciate the "spirituality" of the woods. It still seems that we're in a minority out there though.
None of this is intended to offend anybody or question their hunting style, nor am I trying to come off as an elitist, I'm far from it. Sometimes it's hard to put into words what you feel for something. When I'm "out there" a million fantastic lines run through my head. But then a twig will snap, and a doe and her young will appear, and those words are lost forever as I watch them go about their business. A lot of times people don't get it when I try to explain my love for the outdoors. To them I guess I'm not living in the "real world". The sad thing is that they don't realize that the world I'm living in is as real as it gets.
I'm not sure whether any of this makes sense one way or the other. Just some rambling on a rainy night. Spring is in the air and the thoughts of trout are drifting through my head. Now how do I feel about that? Let me see if I can put it into words....