Discussion Starter
·
#1
·
June / Mid-Year 2016 Recap
The month of June flew by in a whirlwind this year and I only ever got motivated to tell the story of the first weekend of the month (see topic "Return Visits"):
June 4, SAT, 2 streams, 197 trout, 10.25 hours
June 5, SUN, 1 stream, 132 trout, 7.75 hours
But the remainder of the month fished pretty well, too:
June 11, SAT, 1 stream, 207 trout, 10.00 hours
June 12, SUN, 3 streams, 140 trout, 8.75 hours
June 14, TUE, 1 stream, 102 trout, 8.75 hours
June 18, SAT, 3 streams, 123 trout, 8.50 hours
June 25, SAT, 2 streams, 100 trout, 7.50 hours
June 26, SUN, 2 streams, 105 trout, 7.25 hours
June 27, MON, 2 streams, 135 trout, 8.50 hours
June 28, TUE, 2 streams, 102 trout, 8.50 hours
June 30, THU, 3 streams, 105 trout, 7.25 hours
Streams levels were ideal early in the month.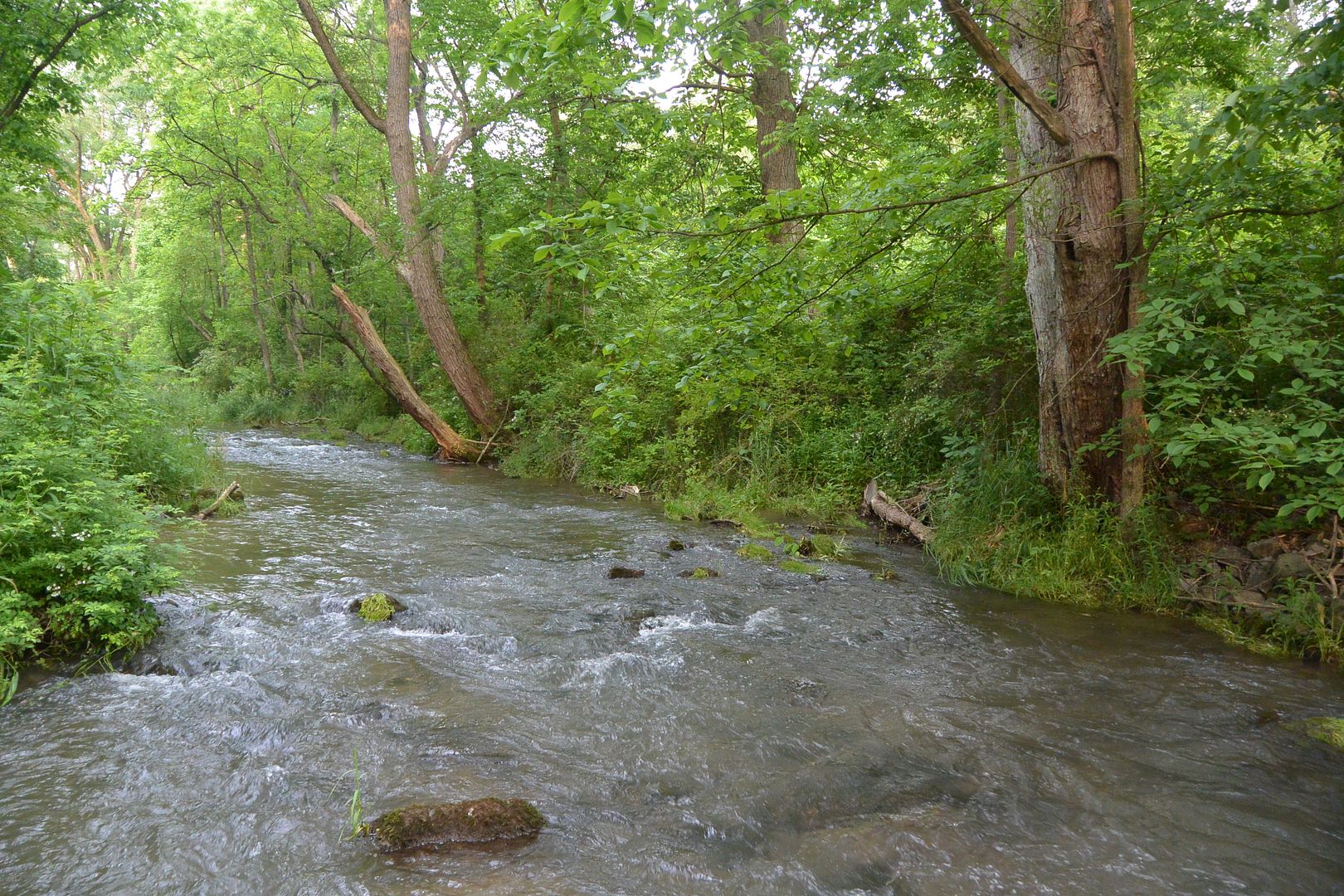 By the end of June most freestoners were low enough that it impacted the fishing.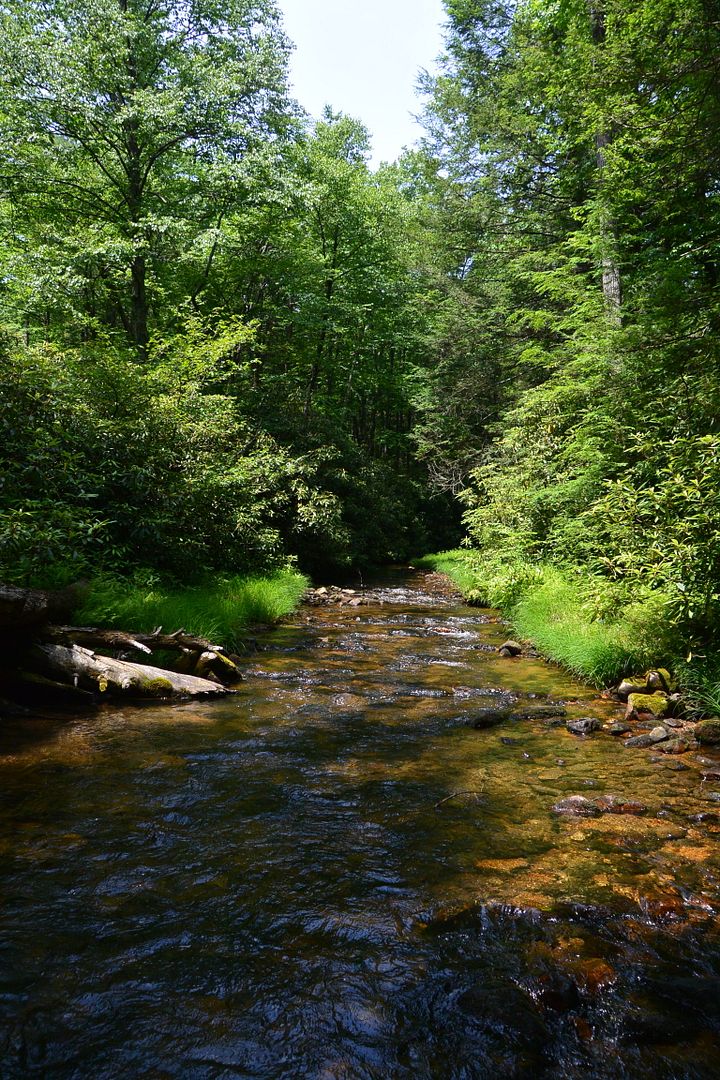 I found myself on limestoners a lot near the end of the month, though they are relatively low too due to minimal snowfall last winter and the lack of soaking rains in the spring and early summer.
There's something special about being on a limestoner on a hot humid summer afternoon. The cool spring water meanders through clumps of watercress, and if the conditions are correct, cool air hangs over the stream making it seem like an air conditioned room. The smell of decaying watercress wafts up to your nostrils.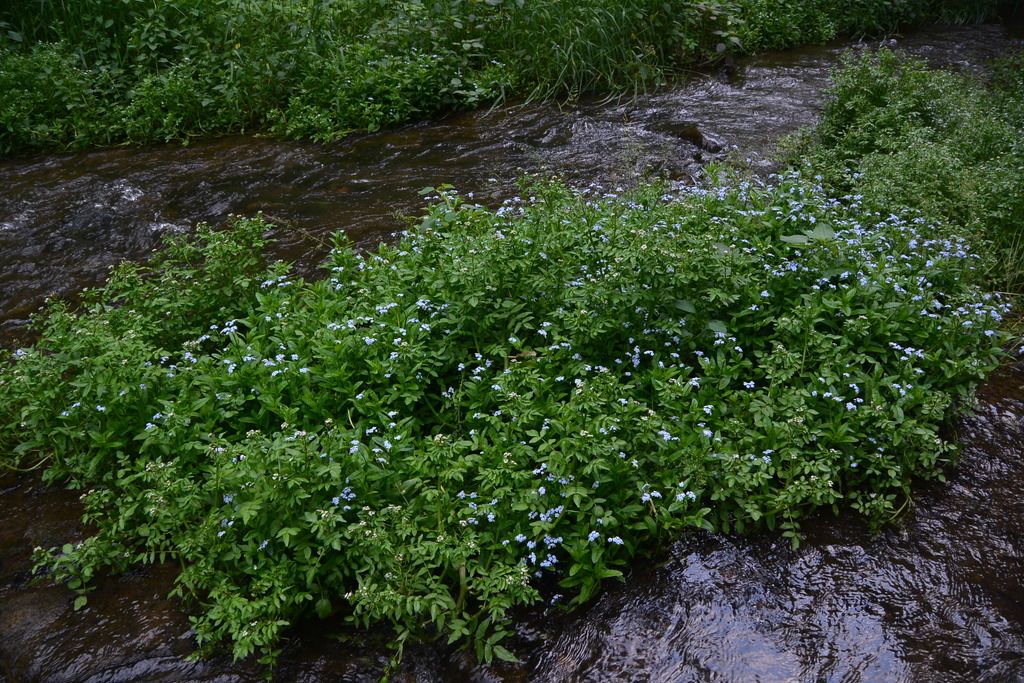 Colorful wild browns attacked my spinners.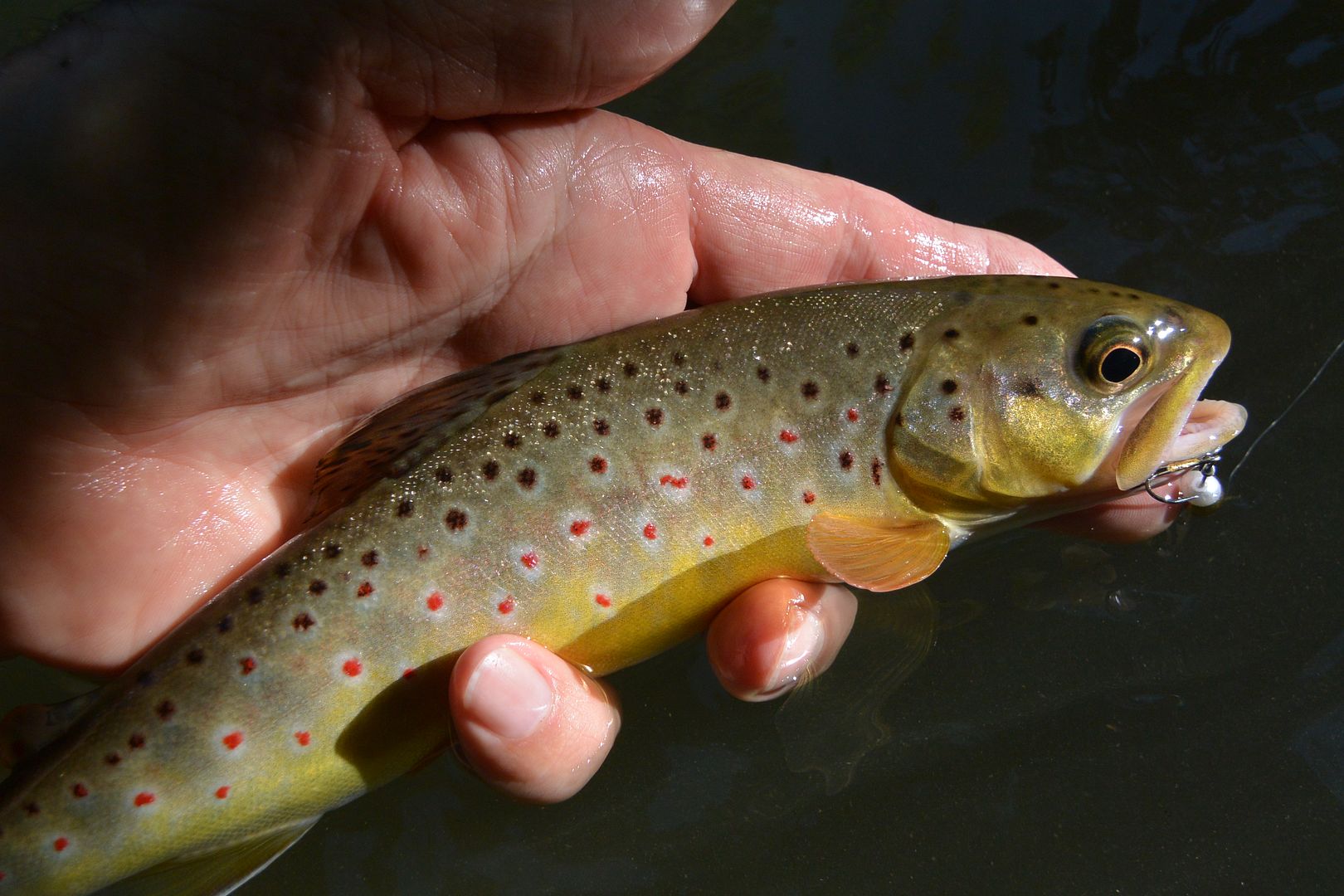 Many were landed.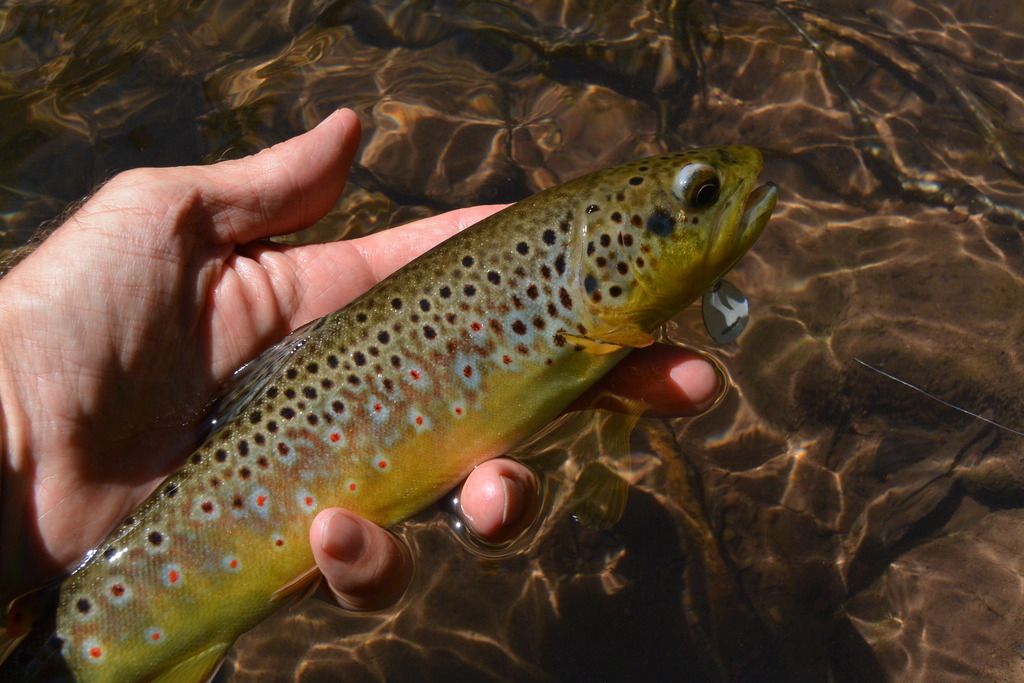 A tiny mountain freestoner surrendered this colorful wild brown trout.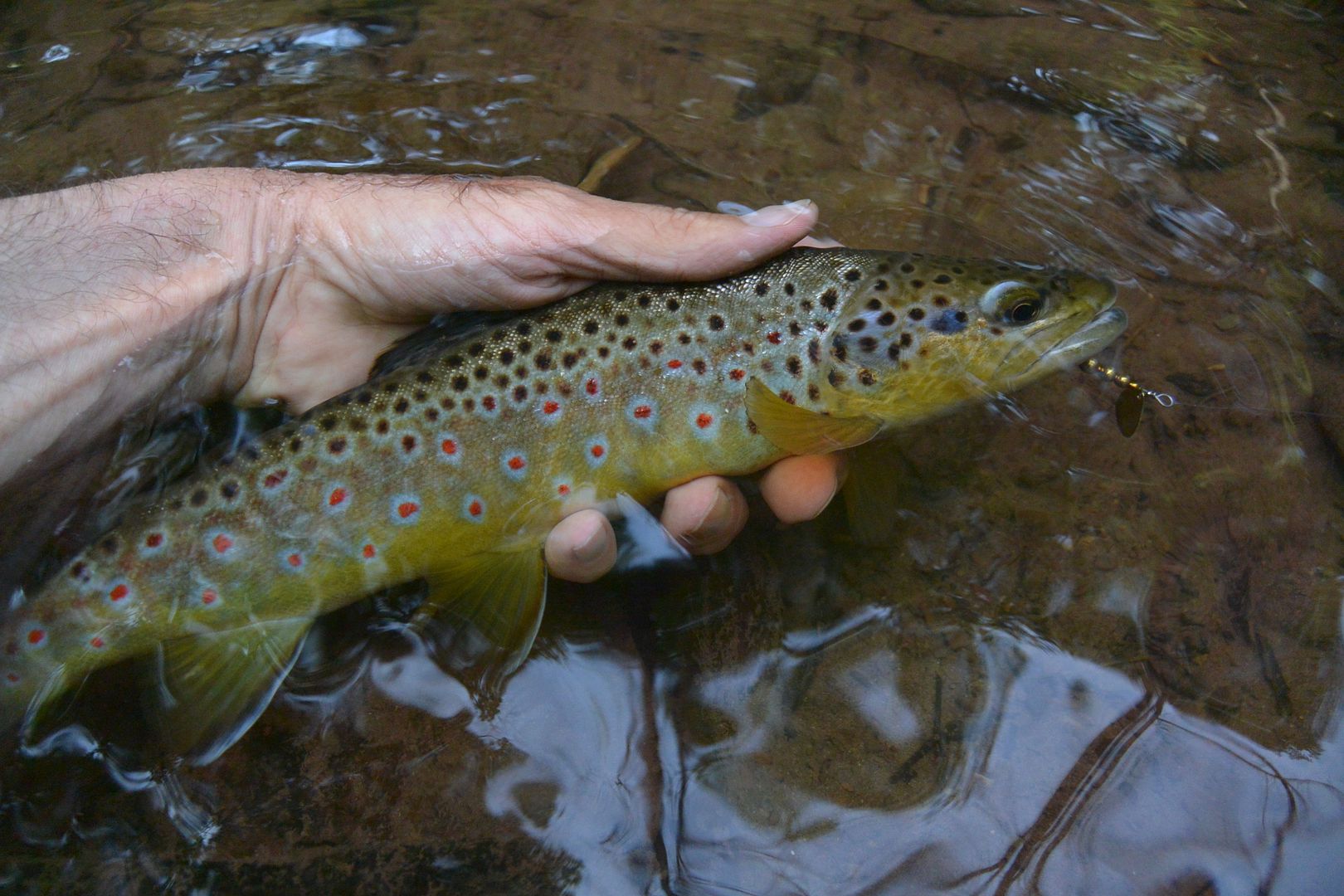 A few leftover stocked rainbow trout filled the void on one day between wild browns.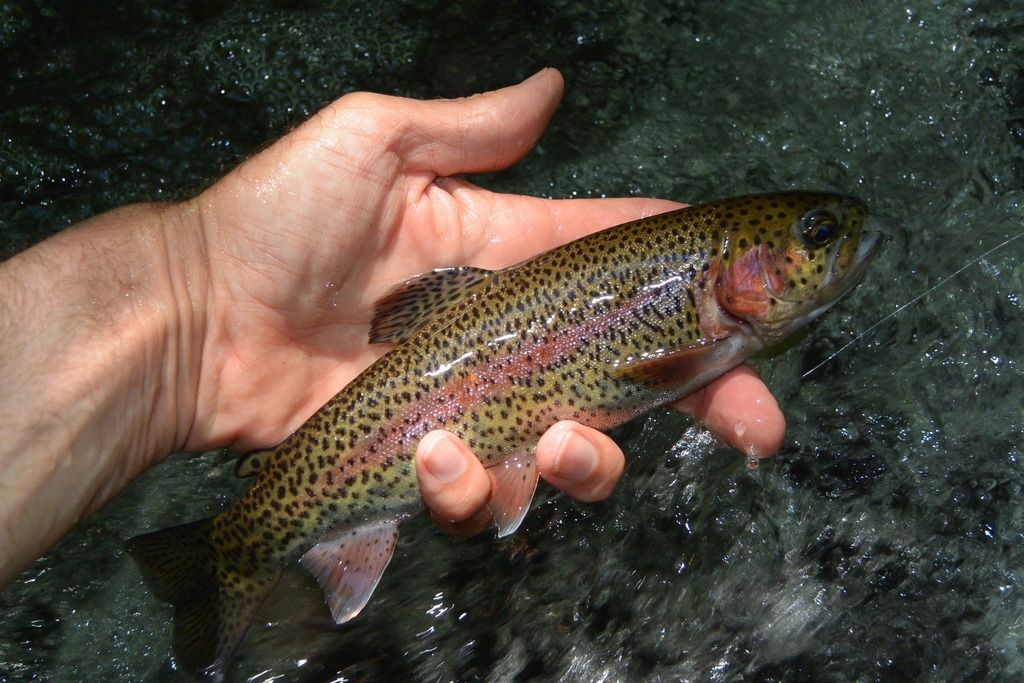 And of course let's not forget about our handsome state fish, the native brook trout.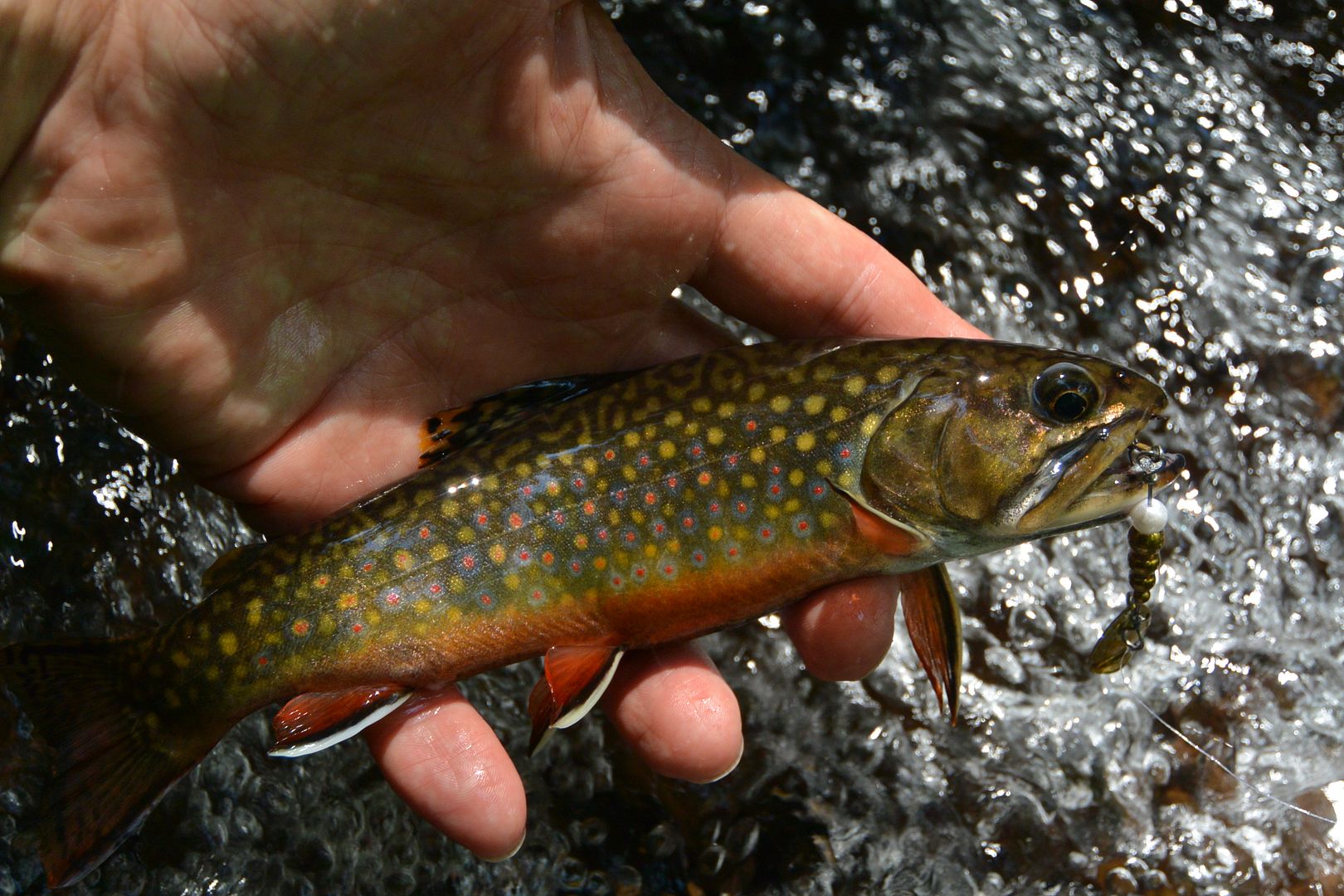 Many of them were landed, too.
Some of them looked like they were hand-painted.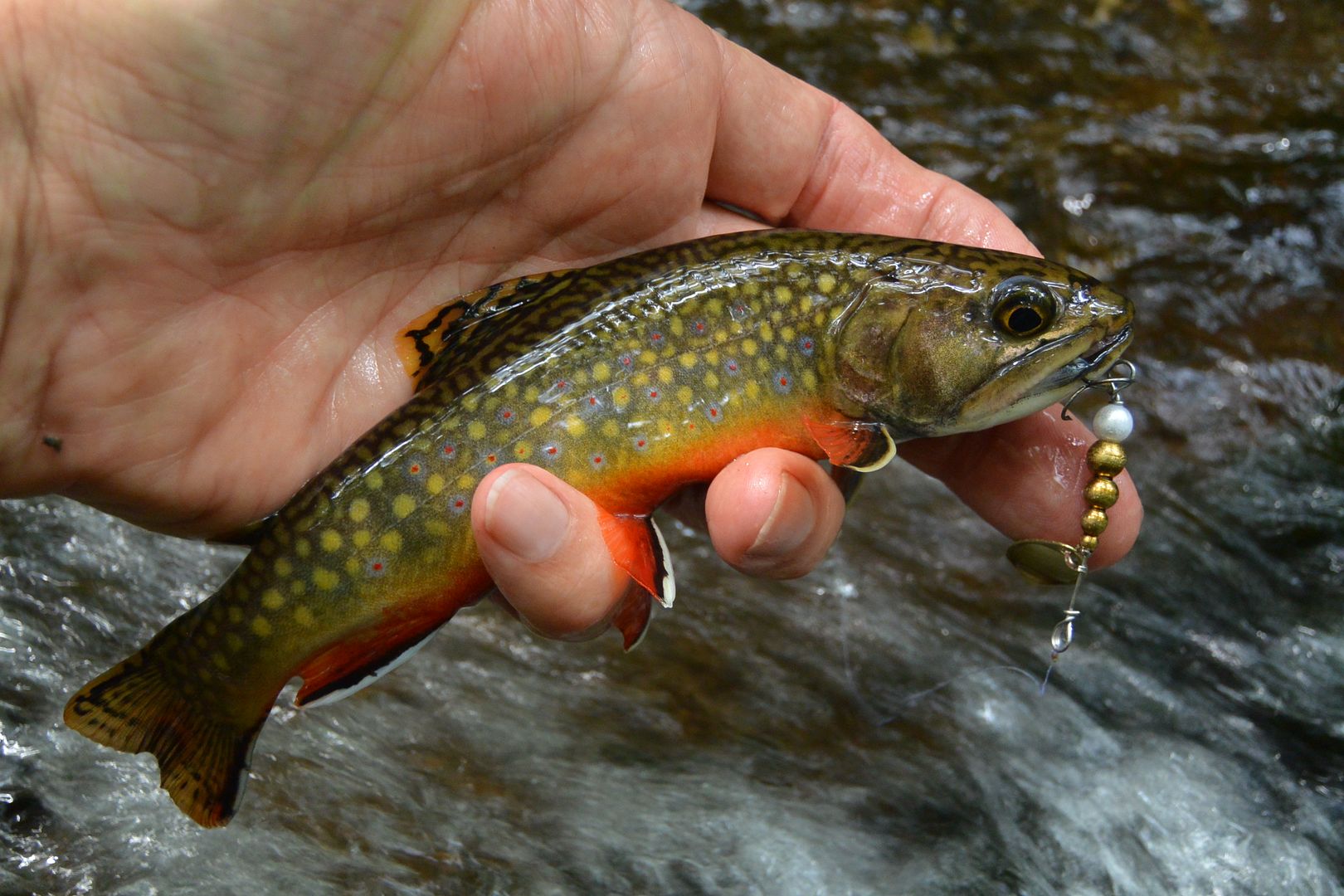 A few hawgs were fooled, like this 17.5" brown from a mountain stream about six feet wide.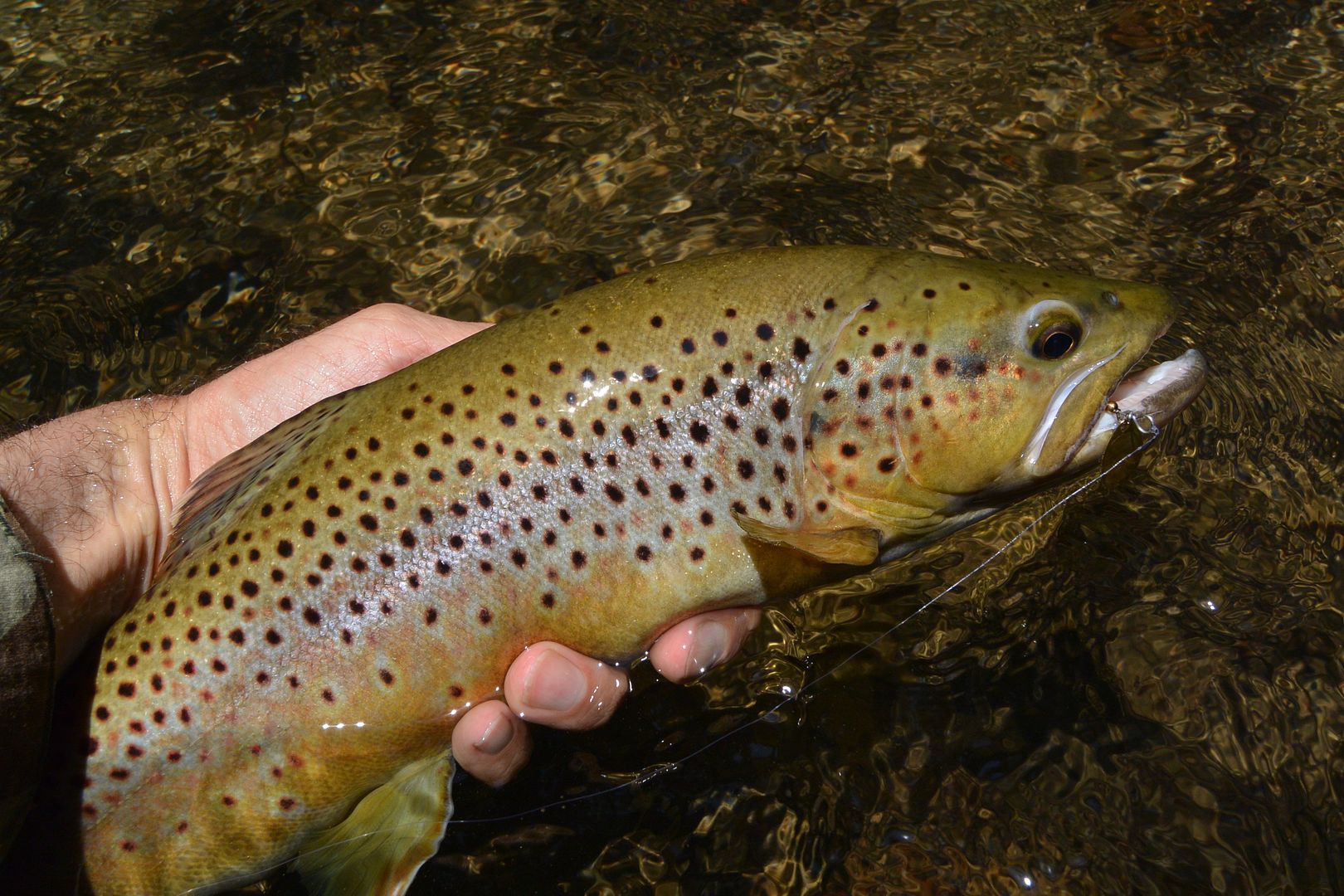 I got a little anxious while playing this feisty rainbow and snapped my graphite rod.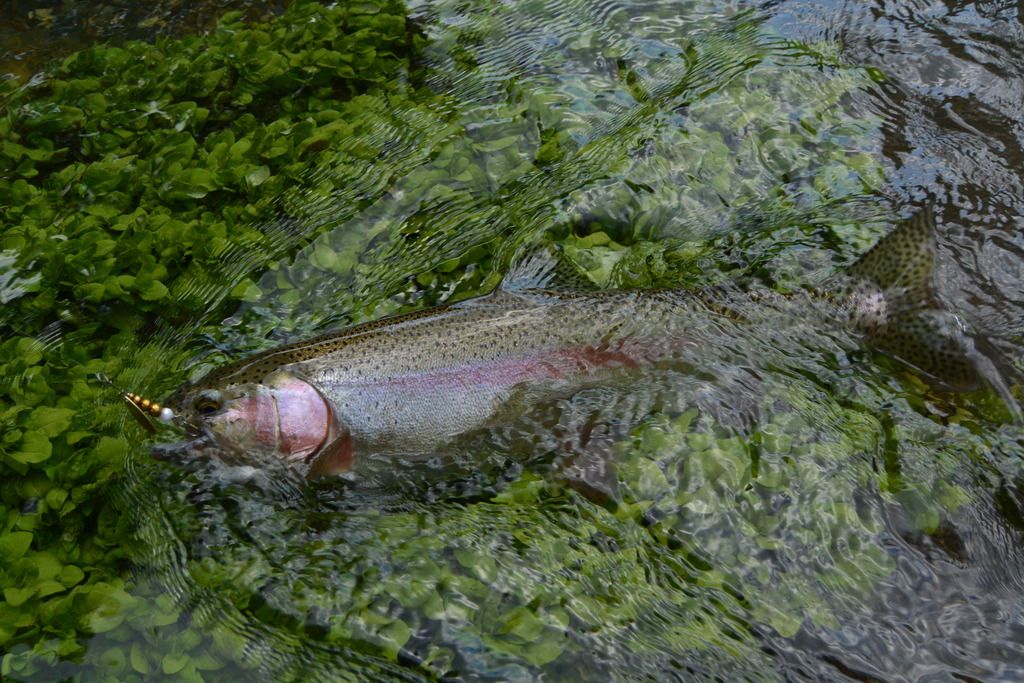 This attractive trout measured 16" long.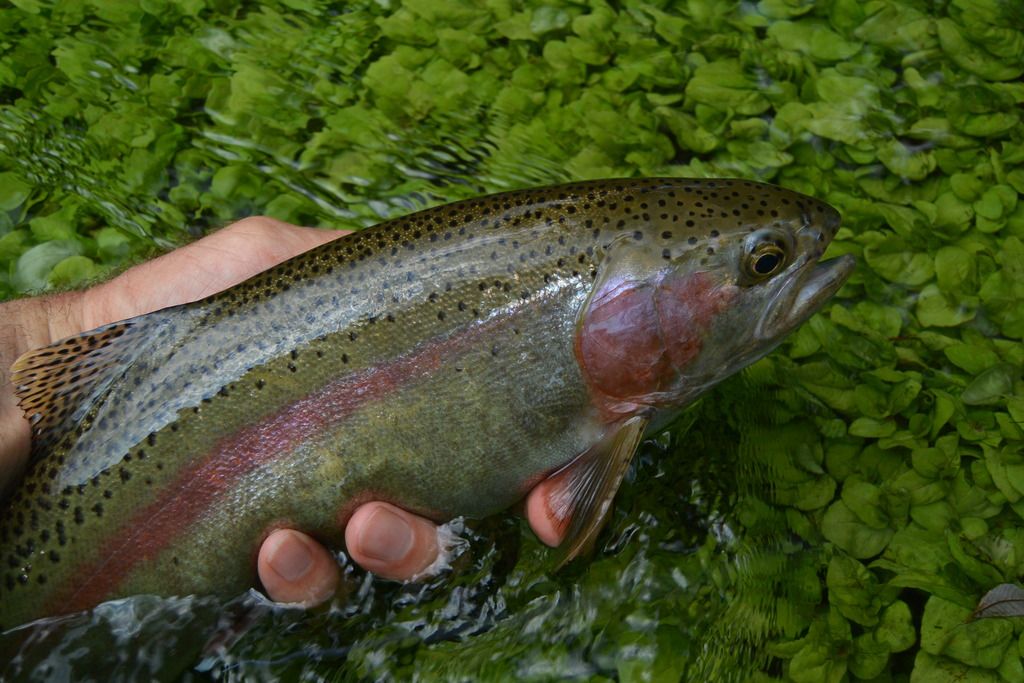 And of course, while fishing I'm always on the lookout for interesting flora. Here's a lone orchid I spotted along a little mountain stream (purple fringed orchis or orchid).
One specimen of foxglove was growing along another mountain stream. It pays to know your wildflowers. Just one leaf chewed and swallowed from this flower may cause paralysis and sudden heart failure. The leaves contain digitalis, a cardiac stimulant that when used in correct dosages can keep heart patients alive, including my father for many years.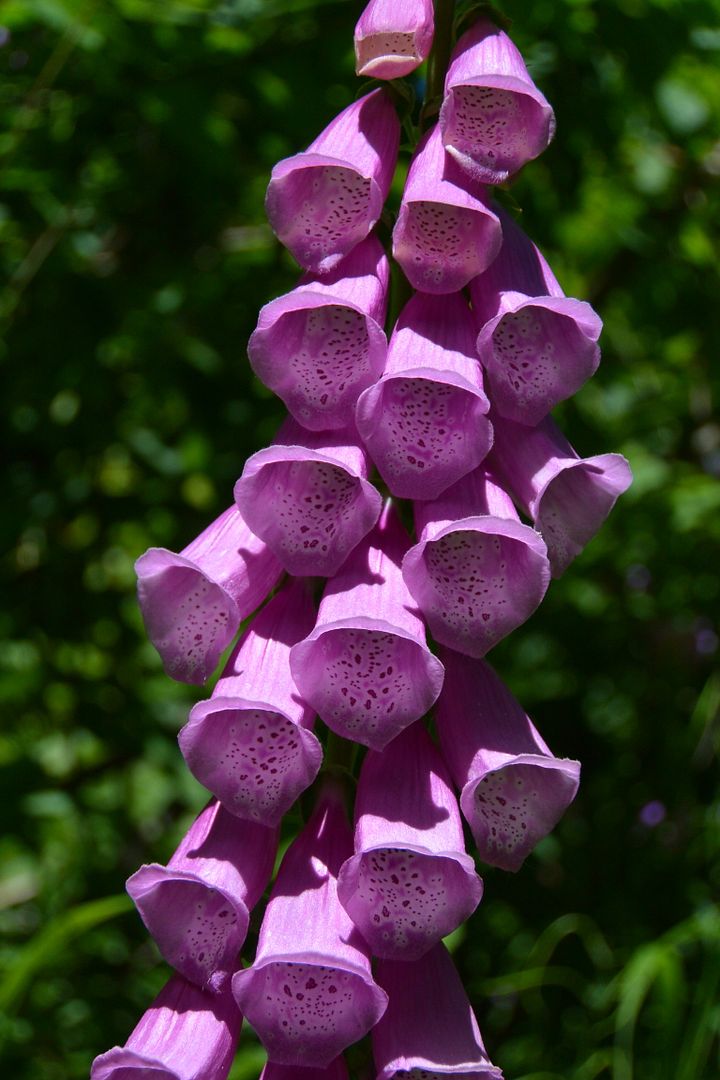 Sundrops, likely a garden escapee, bloomed along a favored limestoner.
Forget-me-nots decorated some of the streams I fished.
In the mountains, hay-scented fern emitted that wonderful smell that I can best describe as a combination of coconut and celery, two of my favorite flavors.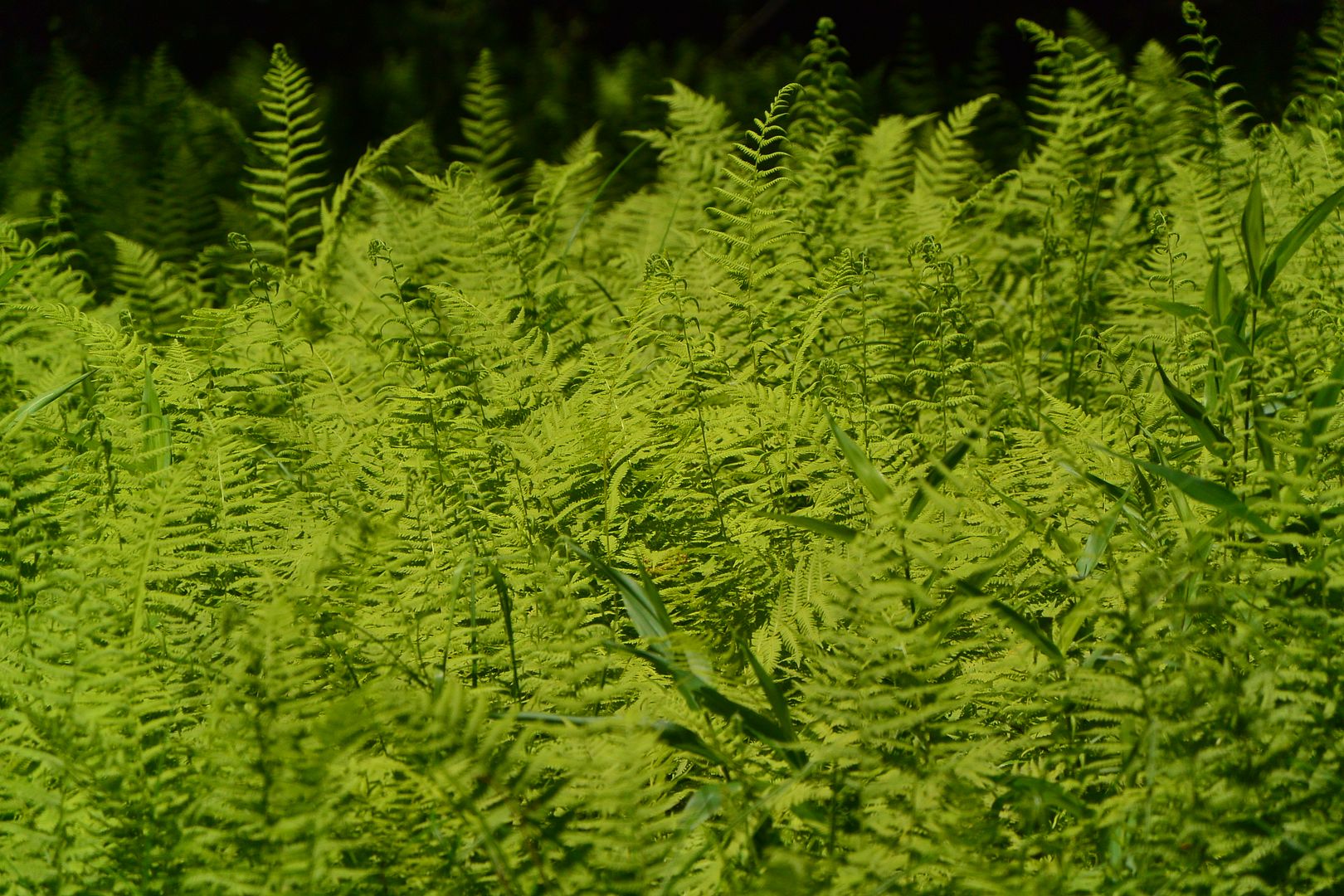 One day while walking back to my SUV I found a bladdernut tree.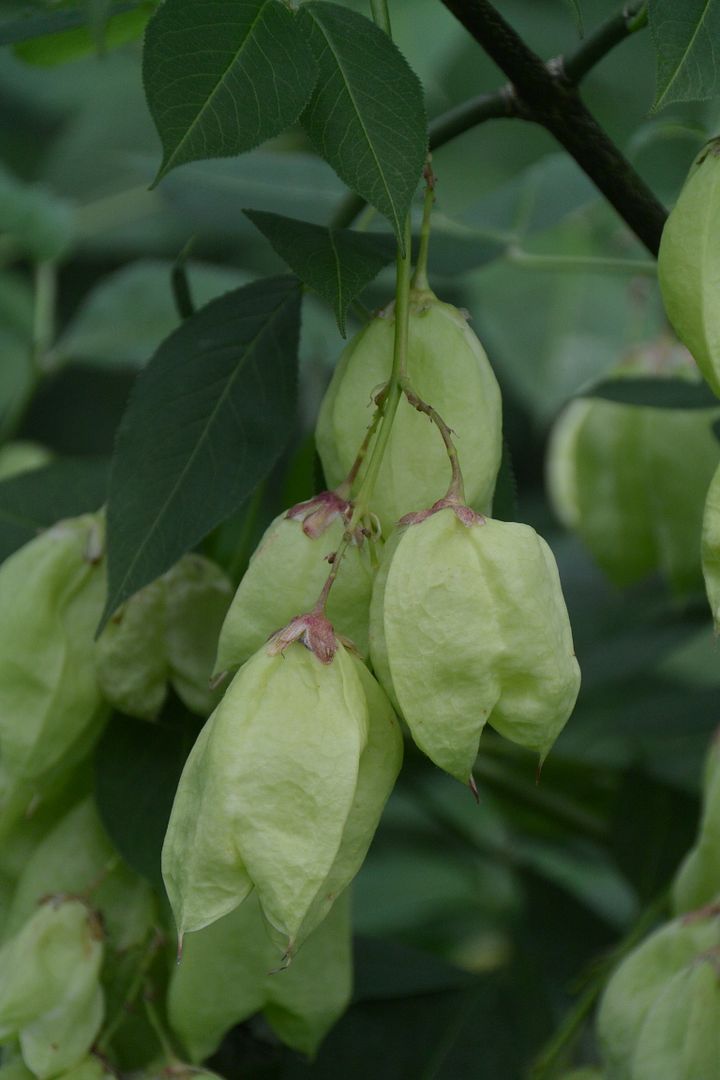 Overall I landed 1,448 trout in June during 11 days astream over 93.00 hours. I averaged 15.57 trout per hour (TPH) fished and 131.64 trout per day (TPD) fished.
For the year through the end of June I've caught and released 4,633 trout in 325.00 hours over 40 days on the water. I'm averaging 14.26 TPH and 115.83 TPD. I've topped 100 trout on 31 outings.
Last year I had 3,440 trout at the end of June in 255.50 hours and 31 days.
Right now things aren't looking too good for the remainder of the summer. I've already seen trout amassed in the deeper pools, and riffles virtually absent of trout. We need rain for the trout fishing and the farmers need it for their crops. My fingers are crossed.
- Frank Nale -