Discussion Starter
•
#1
•
Well guys due to some home PC problems and time constraints please excuse my lack of telling this story in my normal long-winded fashion, but the cool thing about this is that parts of it were captured on digital cam, video cam and even our trail cam, so I am going to let the pictures do alot of the talking this time cause i got them.
My only regret from the day is that my 14 year old son John could not be on the afternoon hunt with us since I am only allowed to have one child in the woods when mentoring and John is not yet old enough to hunt solo. As brothers do though, he gave up his evening hunt for his little bro and was very proud and happy for him when he heard it paid off. John and i hunted 3.5 hours in the AM, only to see deer on the way in but nothing from our stand.
After our morning hunt I made pancakes and sausage and spent the windy wet afternoon being lazy and watching the PSU game til about 2:15 when Joey could wait no more and let me know it. So we got ready and headed back to our property around 2:30...Joey was ready for it and determined.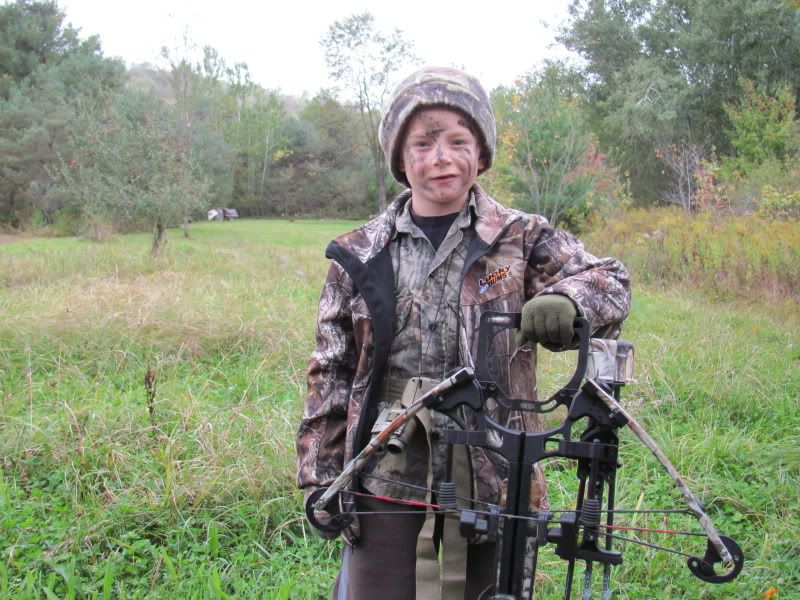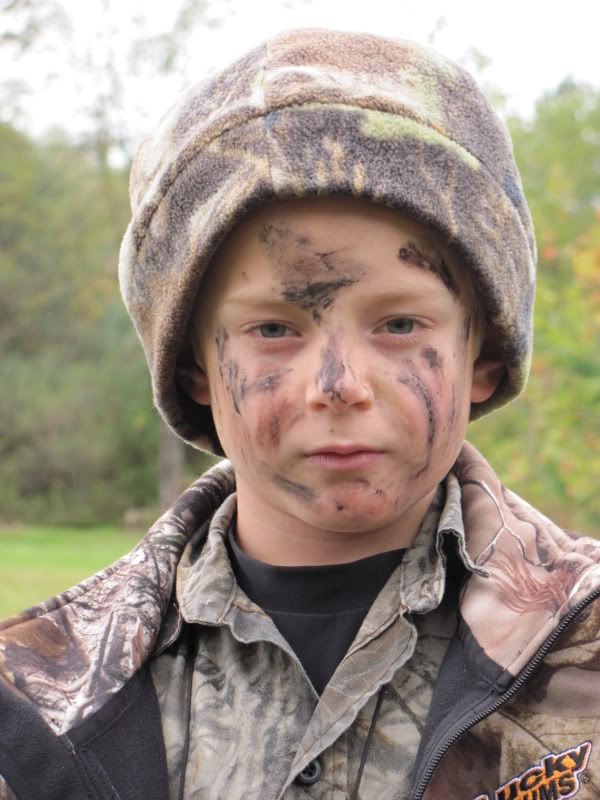 We walked in chatting a bit as we went..it took us about 10 minutes to get to the field I call the Orchard plot, as I have planted 14 apples trees there in 3 years and plant clover and chicory as ground cover to spruce it up some. We set up a nice double ladder stand with good blind material for our perch. As we approached the field Joey spots two deer with tails waving trotting up the hill away from us..darn it. I tell him it is OK that we got time and they will be back if we just get in stand and settle there, wind was in our favor. So by 3:10 we are in stand, settled in and he is all smiles as he loves the view from up there.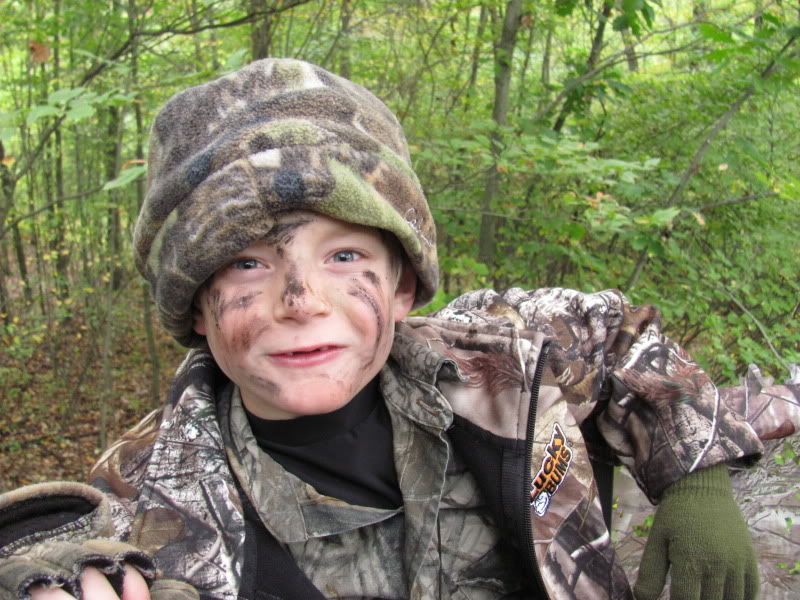 We get to talking quietly and I start to get our gear laid out up there for an evening in the stand and I look up and in the far corner of the field I see the golden rod swaying..No way i think, sure enough a deer is already entering the field. I get joe on alert and swithc my digital cam to video mode and he is immediately into it. That corner of the field is 53 yards from the stand so we got a long wait I figure as the deer nips along at the clovers...but then again my guess proves wrong as the young deer comes right across the field...this video will say it better CLICK on pic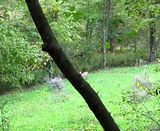 The deer turns up hill as it comes closer, Joey is now on it for keeps and once it stops I give him the OK when he is ready, use the second crosshair bud, he nods...here is a vid clip literally a second long of the shot, I almost missed getting it as I watched him in the corner of my eye, his shot made me jump so much that I hit the off switch on the recorder and killed the vid...CLICK on pic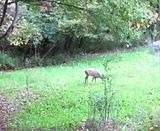 I knew he hit it, and hit it good, as it ran to the corner it came from, I could see its whole side was red within 3 leaps and it took two more leaps back into the golden rod before it crashed down from where it cam from.
As hard as it was for Joey, we needed to kill some time and wait a bit so we called his big bro and then Pap and a few others to tell them we got the shot. After 15-20 minutes, and pretty confident the deer was done, we climbed down to collect Joe's prize.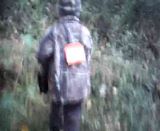 The trail was easy to follow especially since we knew where it went and at the end of the trail was the most beuatiful little deer I have ever seen in my life, one I knew pretty well the last month or so, and there was one happy kid ready to claim it as his. I took a ton of pics...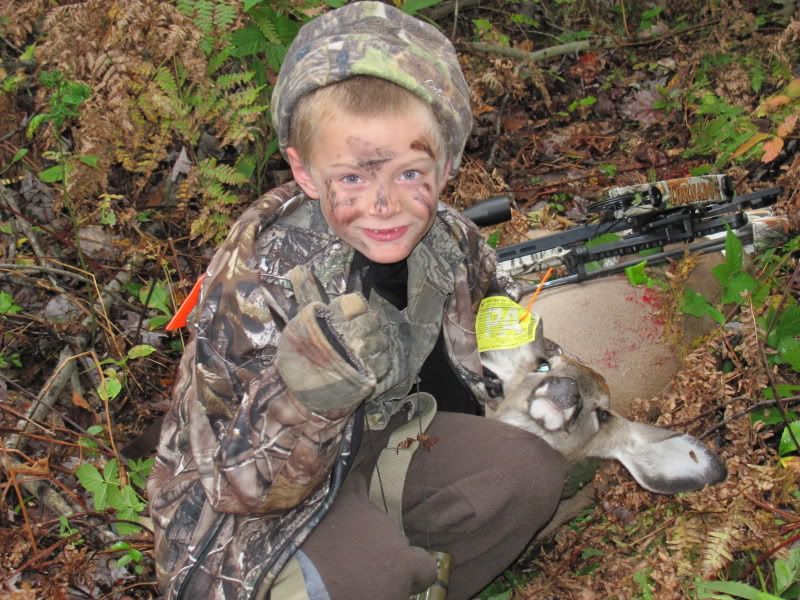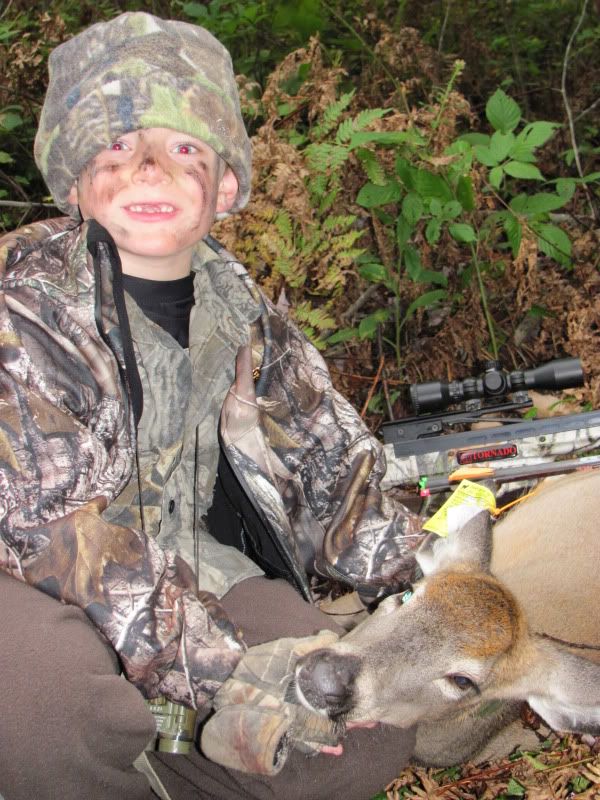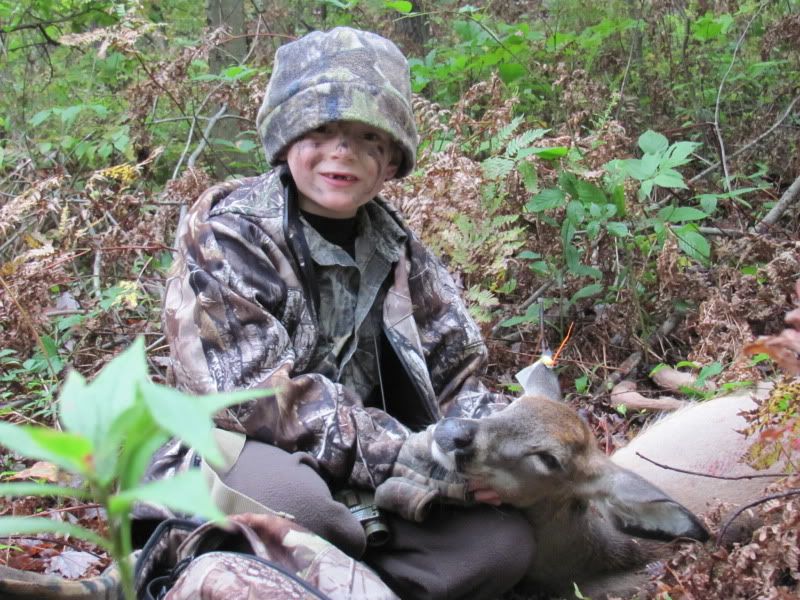 Not wanting to field dress it so near a hot food source, especially with our yote problem that needs no help, we tagged it and dragged it down our access road to the rifle range and had another photo session before I dressed it out.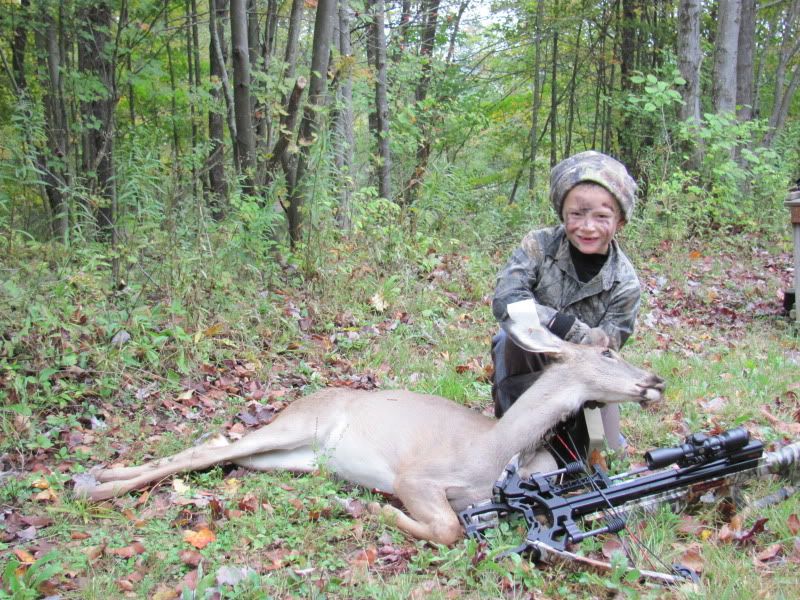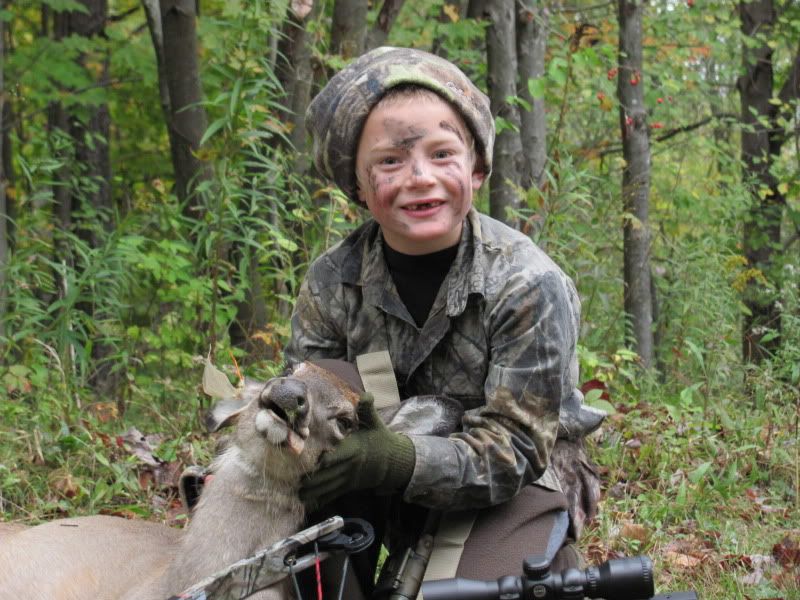 We got home around 5PM, just as happy as could be, and a little closer as father and son as only hunting can do.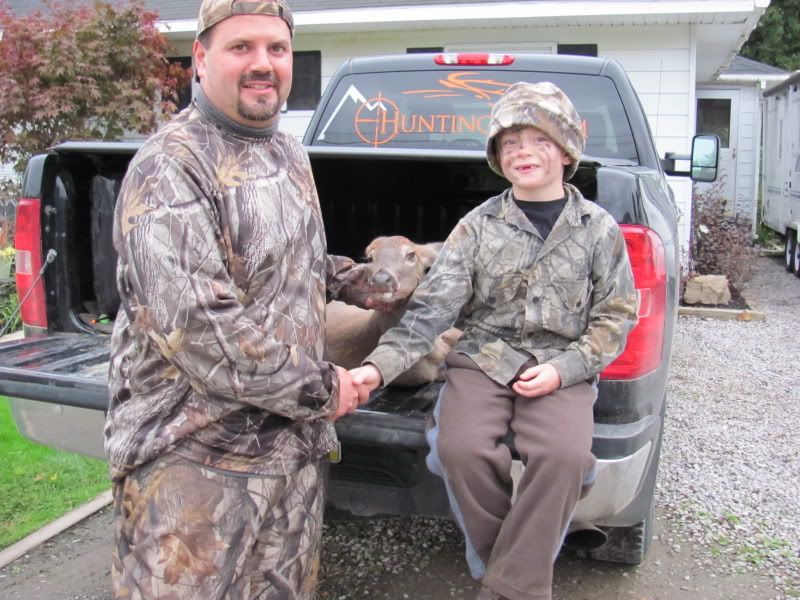 It is a great feeling to know your hunting season is already made almost as soon as it starts, and to think all of we still got to come. I am so proud of Joey this year because eventhough I bought him a MYP the last two years I always tell him he has hurdles to overcome before he could hunt for deer. He still is not sure on shooting a deer caliber size rifle although i think his .22 practice and this changed his mind a little, but the fact we could have such a cool encounter with a weapon like the crossbow certainly has been a blessing to us. He shot the Parker with no reservations at all and was dead on from the start, This is the 5th deer in 3 years my crew has dropped with a crossbow and all have died within site of us...in fact the only one to miss with it so far was me last year..
HAVE A GREAT YEAR FOLKS...no telling what else it can hold for us all. I have never seen such a quick result to a hunt, especially someone's FIRST ONE...Joe understands the luck though, and actually said he wished we could of sat up there longer, What 6 minutes wasn't enough??? Soon enough kid.
I got more vid clips, but it took me all day to get this ready to go so I may try a little later and tag them on here.
Just added this, here is the trail cam coverage, if you look right above her ears you can see us in the shadows of the trees..the deer entering the field, running by after hit, and then us tracking her. Note :The clock stamp is an hour fast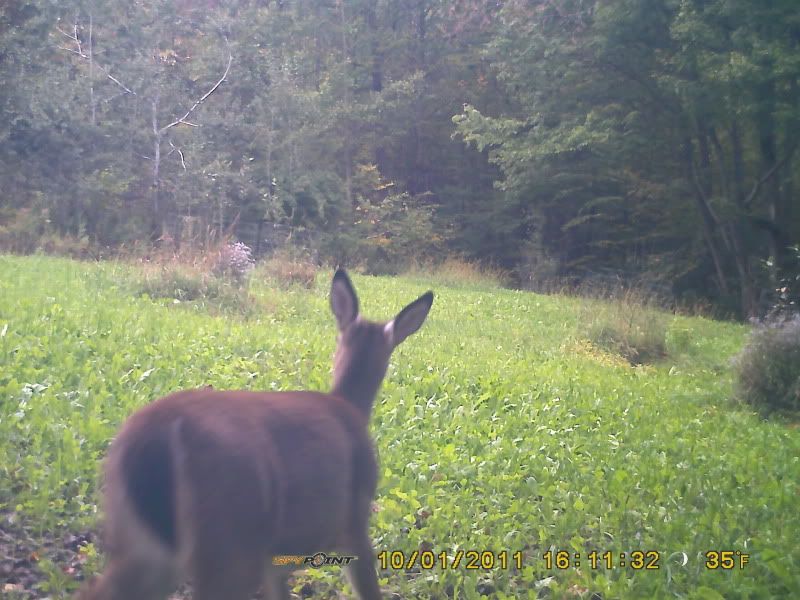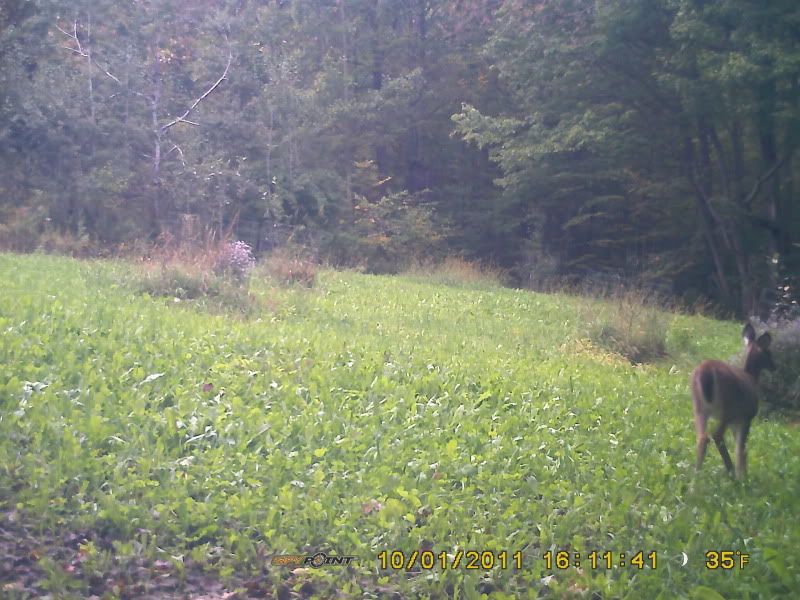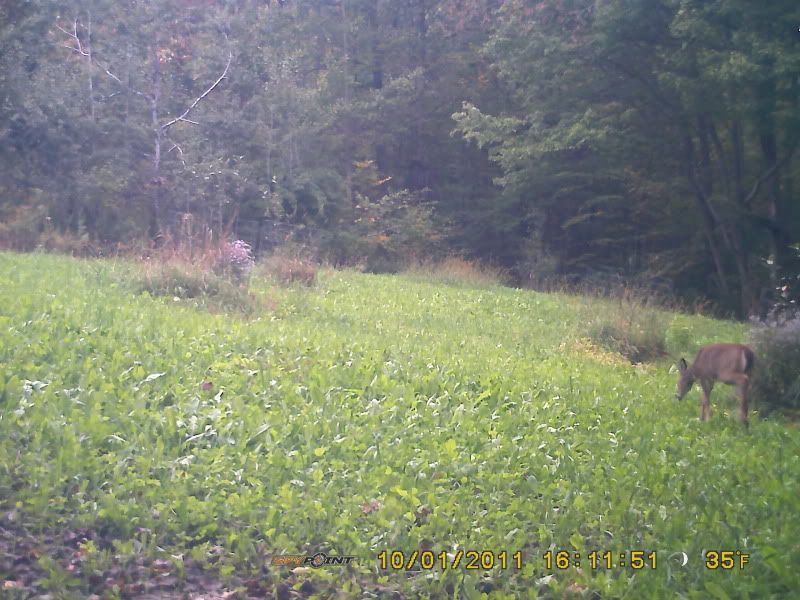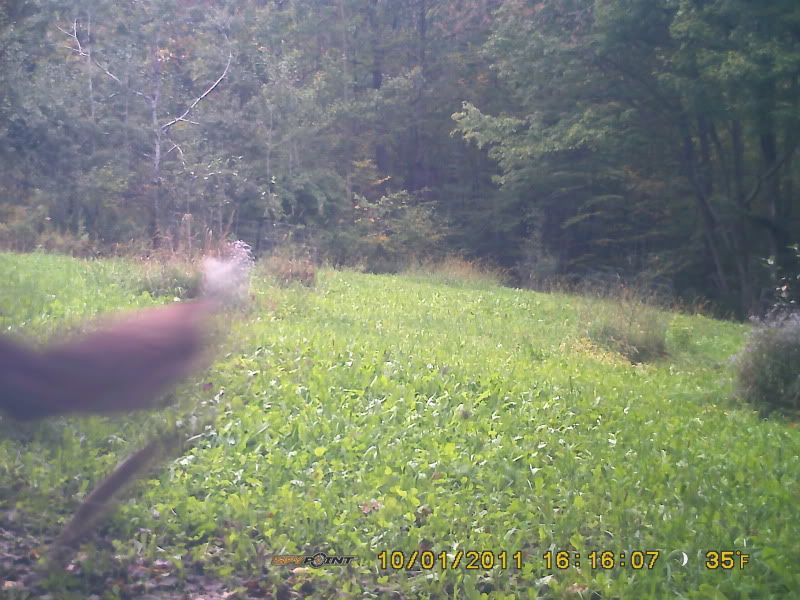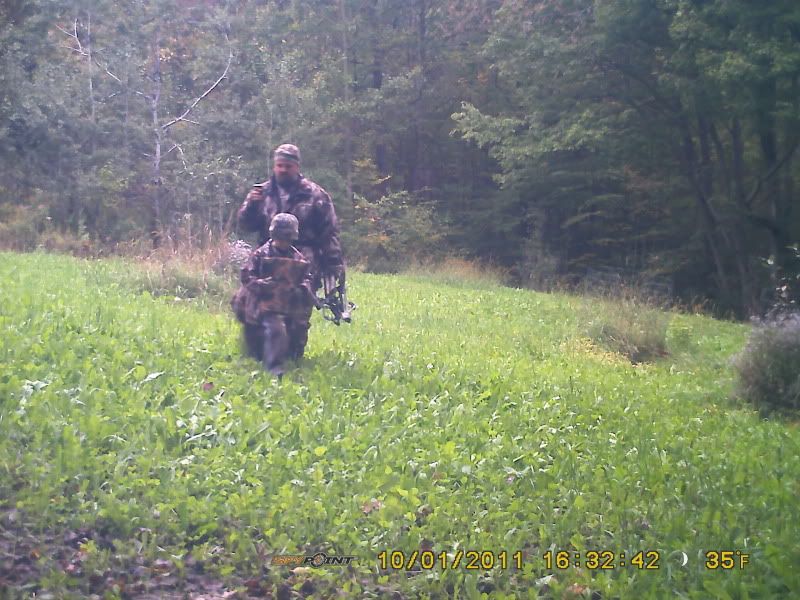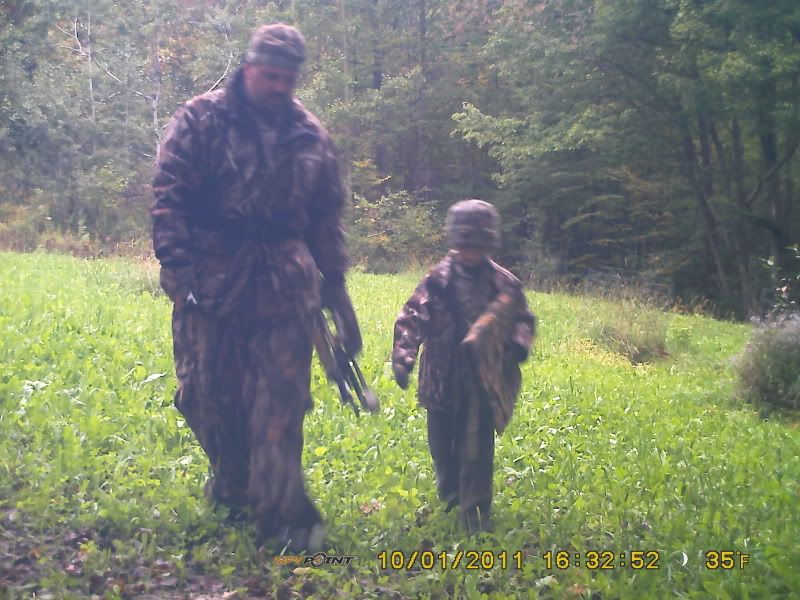 GOD BLESS!!