Discussion Starter
·
#1
·
It all started 1 evening this past Spring….
On a hunch, I typed my Lil Brother's name into Google for I had not seen him in almost 13 years and wanted to find him….A buddy of ours and I had talked about him many times and we both wondered where he was at but we had no clue…that night, I was about to find out! I put his name into Google, right away I get a hit for a Face Book page…so I go to Face Book and Register…look under our School class page and there he is, a member on there.. So, I send him a Very Nasty Gram on Face Book (Not a NASTY Gram, but a Nasty gram that he and I always have done to each other)
The next morning, I get an email from him…I got my Nasty Gram Returned….
We passed emails back and forth……All the questions, where you living, WOW, we are not to far from each other!
Lets get together…go fishing, hunting, what ever but we need to get back together as Brothers like we were all throughout school and after graduation!
We planned on the First day of Trout season for the Southeastern part of the state… We met up at Gander Mountain 1 evening before the first day to get some stuff and then to just hash out why we lost track of each other…
We went out the first day of trout… I really don't remember who caught what…was just a day to be out on the creek laughing it up again and enjoying some time together we missed out…marriage, kids, the whole deal….
Well, little did I know and I'm sure Ron didn't know that things were going to start back to where they were in the past… running here and there fishing in the spring and summer….hanging out with other buddies he had not seen in many years… setting up things to do… Aggravating My wife….
I got him to go Crappy Fishing… he never fished for Crappies before… something I never knew he had not done…first day out he gets beginners luck and lands a nice 13.25 inch !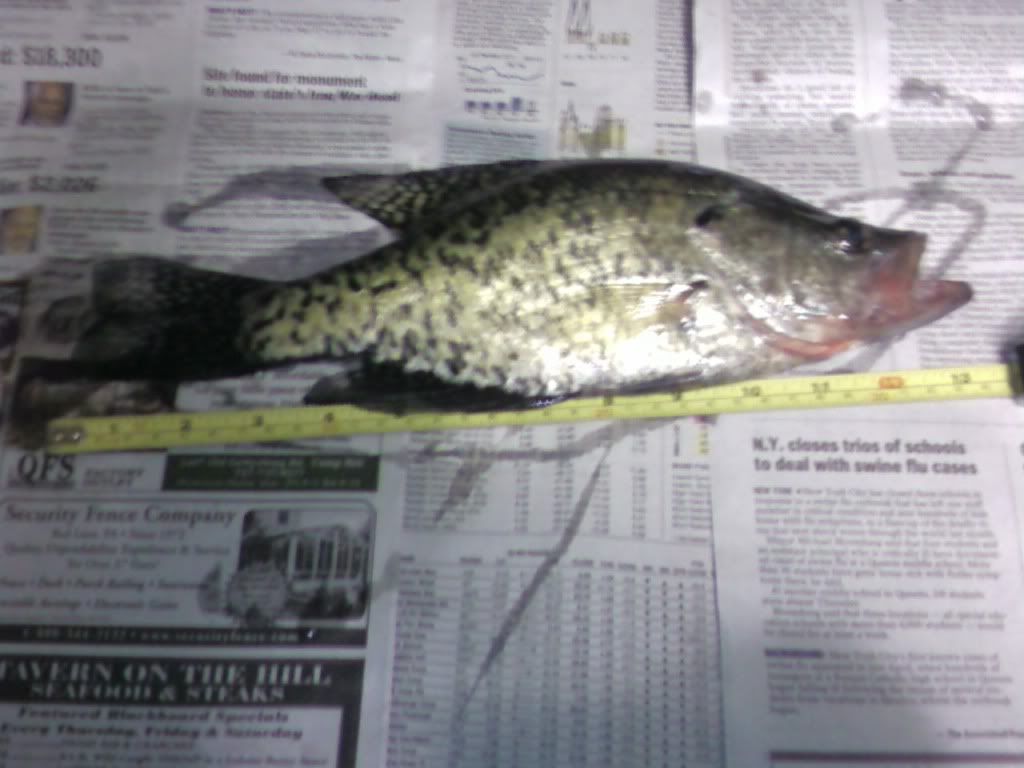 Beginners Luck…Then he started ripping into the perch, then crappies… he was having a blast and all the while asking me if they were really good to eat…
All I could say was.. YES and we need to get a mess of them in the next week or so to have a nice fish fry some evening!
We ended up with a nice amount of crappies in a 2 week span and set up a fish fry….we had it at my place… my wife will only eat crappy caught from around here…perch, walleye and other fish, Forget it…she was all for us being out catching those crappies for she knew what was going to be when we had the fish fry!
She has not had any issues with me and Ron getting back together and hanging out…she even asks when I'm at home for a few days and have not gone anywere, if Ron was sick or was something wrong that he and I were not out fishing….
We had a blast all thru the summer.. my Birthday Pig Roast…..hanging out and drinking a few beers around the camp fire….
As the Summer wore on, he said to me that he wanted to get back to hunting this year…NOPROBLEM…I got places to hunt, we can hunt many different things… so when the time came for the antlerless licenses to be sent out, he sent in for a 5B tag…I told him that he would get a deer out of it and I'd take him to a place Where he WOULD Get 1…… We made plans for him to meet my Buddy that owns the farm…he met him and talked to him about hunting..bought sweet corn from him…talked to him about many things.. then we approached the subject of him hunting on the property (My Buddy who owns the farm only wants me and another buddy shooting firearms on the property) He had no problem with allowing Ron on the property with a Firearm…he said with his experience as an ACT 235 Certified Armed Guard, he had to know how to be a safe firearms handler…
So we set into motion of getting ready for the upcoming seasons!
He worked on setting up his inline.. we shot it a few times at the Club…he got some loads worked up and bullets for it that made nice groups (Of which were done with open sites…sure wish I could still see right to shoot open sites) He shot his .22 in..Open sites on that as well .. Driving Tacks with it at 50 yards….
The time came for Early Muzzleloader Season…he settled the Granted Permission with a Case of Beer for my Buddy who owns the farm the Thursday before the first day of early muzzle loader season and thanked him again for allowing him to be able to hunt on his property ….
We hashed out what would go on Saturday Morning….
Saturday Morning met us with Rain…Ah HECK WHO CARES!! I'll fish, hunt and trap in the rain…I waterfowl hunt, I'm a Duck, Water rolls right off my back…..Ron felt the same way…just wear warm clothes that were rain gear and we would be at it!
We hunted for half the day…I got 3 shots at a doe of which only the Primer went off and made a loud POP….that doe stood and left me aim at her 3 times and 3 times the gun went POP, POP, POP…she ran to Ron…he felt she was in to Thick of Brush for a shot so he left her walk on…
Monday Morning found us back at the same place…me being in the stand he was in Saturday and he setting on a fallen tree he had found on Saturday morning on our walk out from the morning hunt…..
At 7:55 I have 2 doe behind me…I take the lead doe, the other doe runs down over the hill to Ron…BOOOMMM he gets her….
2 doe down and tagged and out to the truck and back to my house to start Butchering…
Yesturday, 10/24/09 found me being a Big Brother and Teaching… showing him the ropes on how to debone hindquarters to make steaks or jerky…reassuring him that what he was doing was fine and I wasn't upset with him for being slow nor anything else… I had to keep telling him that IF he messed up, I'd surely let him know! I also told him, when deboning to grind hamburger, you do not have to be so picky about how you cut, just get as much off the bone as you can so you do not waste anything!
He was in ah of the "toys" I have to butcher deer…seemed he was shocked each time I broke out another piece of equipment to use! He and I put our heads together to come up with a better way to get pig and sheep intestines on a stuffing tube….
All in all this past half of the YEAR has been GREAT!
I found my Lil Brother who I lost touch with 13 years ago and also found a nephew who I have not seen in over 25 years!
This is 1 of those "Spirits of the Hunt" …also Fishing…and soon for Ron, Trapping and Predator Hunting, that NEEDS to be Shared!
He is on HPA now and posting… My Lil Brother is Knight50Cal here with his and my deer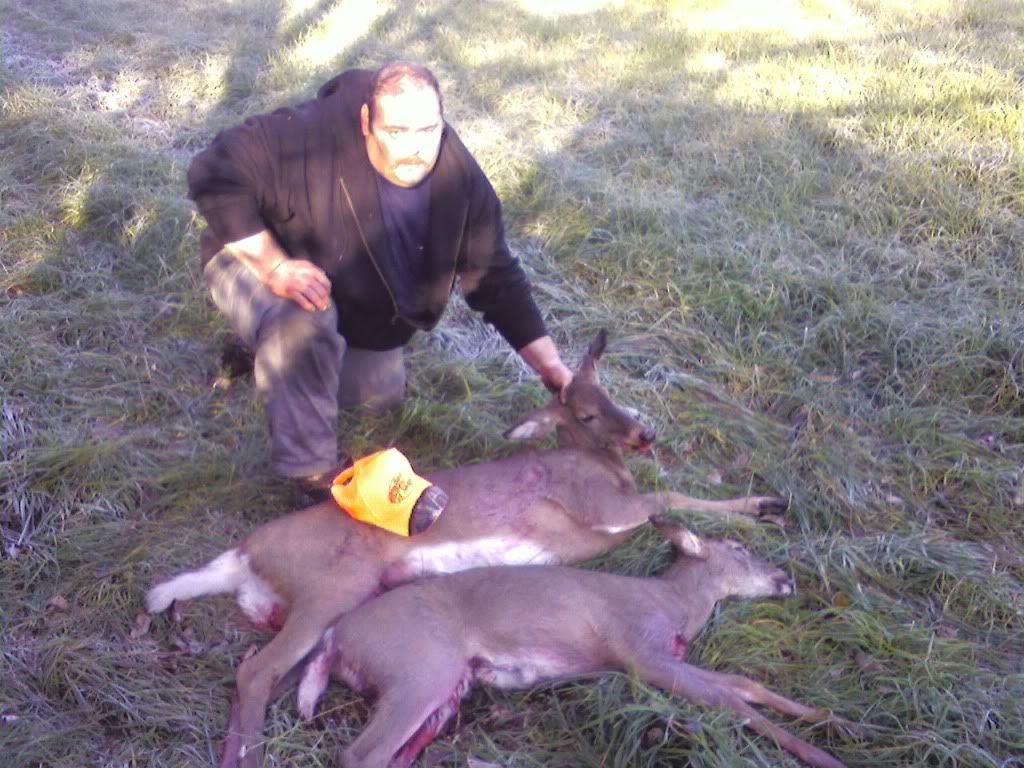 and I with his and my deer
It is a GREAT thing when you can get back together with someone you lost touch with many years ago and start out right where you left off!
Ron/Tater/Lump/Knight50cal….You will always be my Lil Brother!
Glad we have what we have!
Here's to you, on your road you are striking out on to better yourself and to our Brotherhood….there will be more Memories and Pictures for the both of us to show and tell about for many years to come!