Discussion Starter
·
#1
·
As many on HPA have echoed, it's been a long and frustrating season. Today was the 14th day I've been after them, most of them full days, and I'd had yet to actually work a bird. I've seen plenty of gobblers, but most of them seemed to be in a summer pattern already. I'd called in plenty of hens, but they were by themselves or in pairs. I was hearing plenty of gobbling, but none in response to calling. I broke my rules and took a jake last Friday, but that was a combination of concern that I wouldn't have meat in the freezer and the fact that him and his buddies stood there between 40-50 yards putting at me for over an hour. Just a weird year.
I had to work early this morning and had a doctor's appointment for 11:00, so I was planning to get out this afternoon over in Michaux.
I still had all my hunting stuff callously thrown in the back of the truck from coming home from upstate yesterday, so when I parked in my driveway after work, I grabbed a crow call on a whim and gave it a run. Imagine my surprise when a bird hammered on it only 150 yards behind my house! There's a 30-yard strip of woods behind our house, and then a large field. I crept up to the treeline with the binoculars and spotted him in full strut with a jake. Commence the mad dash! I ran into the house and threw on my spare camo and boots, then tore the truck apart to grab gloves, facemask, gun, shells, license and a mouth call.
The woods are almost fully green, so I went on the low side of our property and crept up as far as I could toward the field. As thick as it was, I really didn't have many shot opportunities but I got as far as I could go.
I hit him right away with some aggressive cuts and yelps, and he doubled right on top of it. I did the same with the same result, and then I just shut up. I could just barely see him through the brush with the binoculars. He strutted and gobbled from the same spot for the next half-hour, but finally I saw him turn and start easing my way. At this point, I'd decided that the doctor wouldn't miss me, so I was committed.
Twice he turned around and took a few steps on the other direction, but a few soft yelps and clucks got him turned back around. I still wasn't sure how I was going to get a shot, but even when I couldn't see him, I could tell he was very close to being in range.
It seemed to take forever, but he finally committed. I could see two black shapes easing toward the woods, and I immediately began to panic, because I didn't want to accidentally shoot the jake, or wound him while shooting at the longbeard. As they hit the treeline, luck saved me once again as the jake continued on while the longbeard paused in a slight gap in the trees. There was some light brush in the way, but it was now or never, so I took the shot. I was shocked as he took off at the shot, and I quickly emptied the last two rounds in his direction. I more or less collapsed, completely crestfallen and mentally exhausted after muffing a shot I'd waited an hour and a half to take.
I finally gathered myself, and went out to the field edge to follow up. Imagine my turn of emotions when I got to the corner of my property and found him piled up in the brush! He'd made it about 100 yards away from the initial shot. After days of tough hunting in three different WMU's and over 1,000 miles on my truck this month, I'd lucked into a bird right in my backyard. Final tale of the tape: 19-1/2lbs, 9-1/4" beard, 7/8" spurs, and 30-1/2" on the fan. A nice, mature York County gobbler.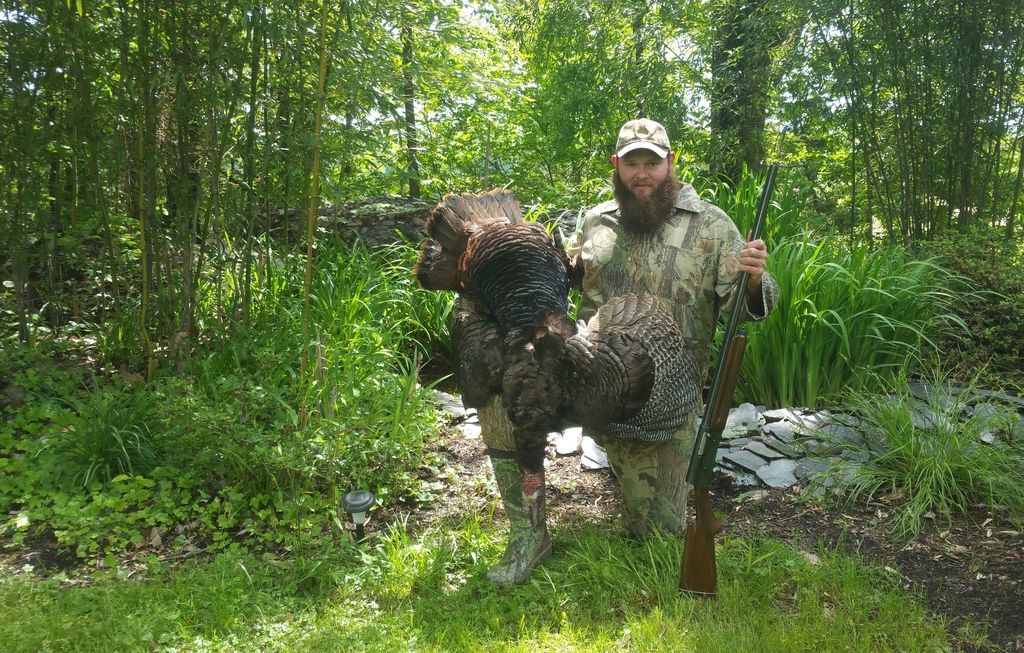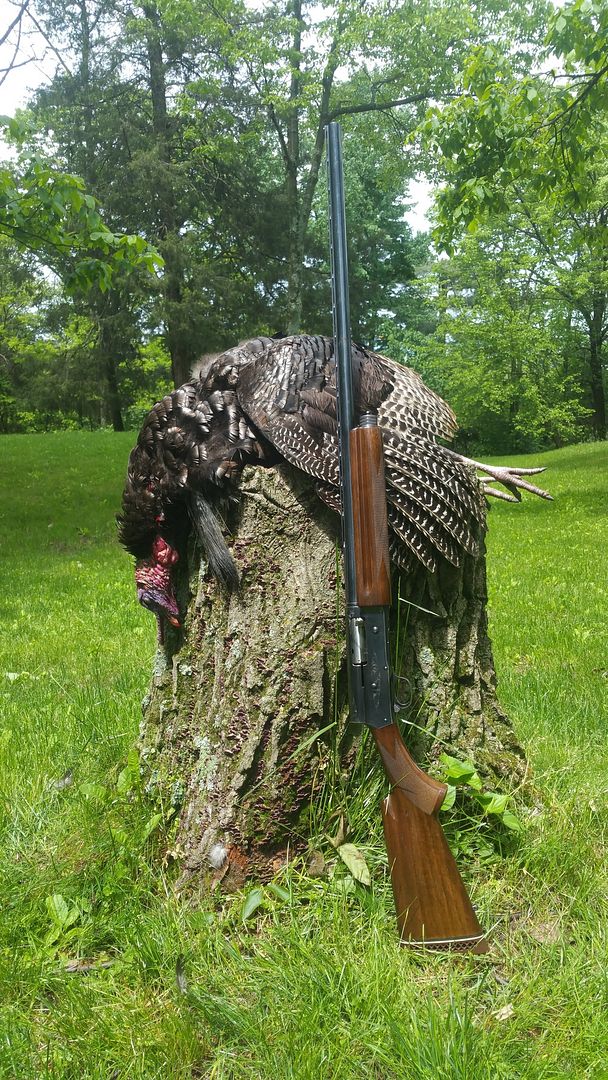 Since I know how some of you fellas are, yes, I tug him. Yes, I filled it out before I moved him. No, I did not have anything to attach it to him with, so it was in my pocket when I took pictures.
I'd like to say I'm looking forward to sleeping in now, but I'm hoping to finish out the season with some friends and family and enjoy a few more spring mornings.