Discussion Starter
•
#1
•
Hey guys, just wanted to share this with all of you.
My daughter Jessi, aka the VP of HPA free decal distribution, plays clarinet in the Youngsville Eagle marching Band. She is a sophmore this year. This band is not just another small town football game marching band, in addition to playing at halftime at home games, they go to competitions just about every weekend all around PA thru til November, including state in hershey, and mid Atlantics in MD. They also compete in national events and have even marched in the St Patrick's Day parade in DUBLIN IRELAND. this year they got invited to Savannah, GA to march in their ST Patty's day parade. They represent PA VERY WELL!
All that said, they manage to keep their small PA hometown roots and when many schools would not even consider anything with the word 'gun' in it for fundraising , these boosters raffle a bunch off.
You have watched my boys grow up on this site via our hunting adventures, and while Jessi does not hunt, she loves the HPA group, in fact she is barking at me to get more free decals ordered for you guys..but she would greatly appreciate any support for her band, and we would be thrilled if an HPAer won a gun at the turkey party on Nov. 15th.
Also, If you happen to be in or near Youngsville, Warren County on 11/15, (note: it is the night of NY deer opener and we are only 20 minutes from NY, and the last day of PA archery I know a guy who has good spot
) and want a fun night of free food and drink, come to the firehall. I will be working the floor during the event and will make sure you I get you a free beer
To buy tickets please send your name, mailing address, phone# and cash/Check payable to "Youngsville Eagle Instrumental Boosters" to:
HuntingPA LLC
Attn:Tickets
PO Box 861
Warren, PA 16365
Tickets are 1 for $5 or 3 for $10.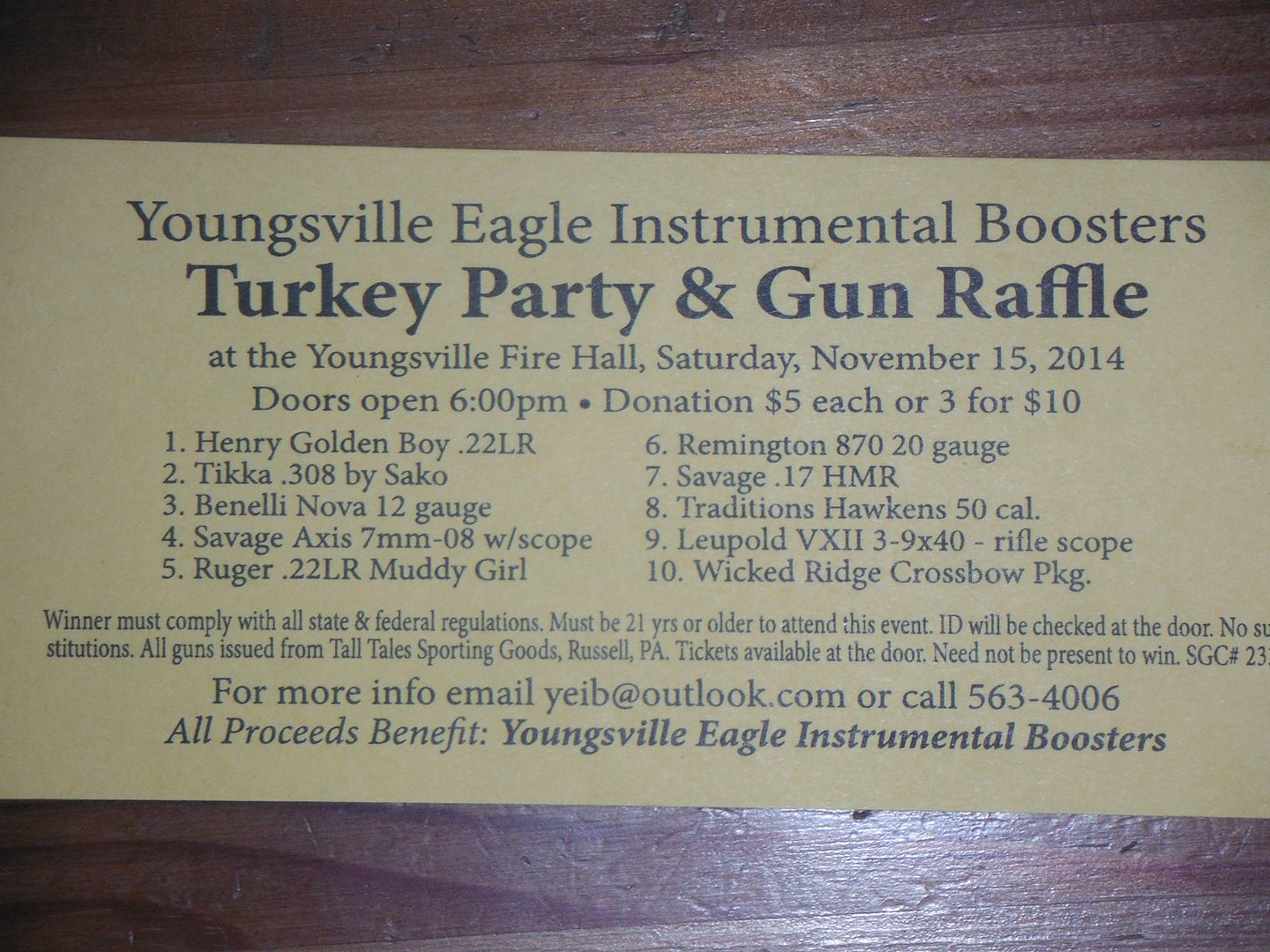 We will photo copy your stubs for you before we send them in.
Thanks guys from Jessi, myself, and the whole Marching Eagles Band.
Here is the poster:
Have a great 2014 hunting season.