Discussion Starter
·
#1
·
I've travelled with my TD Hummingbird this way many times without incident.
We packed up the Tahoe to make the trip downstate to visit friends and family the day after Christmas. We usually hunt ducks/geese and deer every day we can. After all the bags and such are loaded I lay my bow and shotgun on top. Whoops, forgot the highchair for the little guy. Pull gun and bow, load chair, lay gun and bow over to the side with the bow on top. Everybody piles in and we're off. Our Tahoe has heat settings for driver, passenger, and the backseats (including the third row). Unbeknownst to me, my wife had set the backseat to 90deg and the kids never changed it. I couldn't understand why I was warm when my side was set at 62 and wife's was at 70. Meanwhile my bow may have shifted a little and a part of the limb was exposed to the vent air. About an hour into the journey - twang! I asked what was that noise and the wife said, thinking it was something settling or a bungy cord from the cargo carrier, it was your bow breaking. Then we started smelling something that smelled like bandaids. I pull over and found this.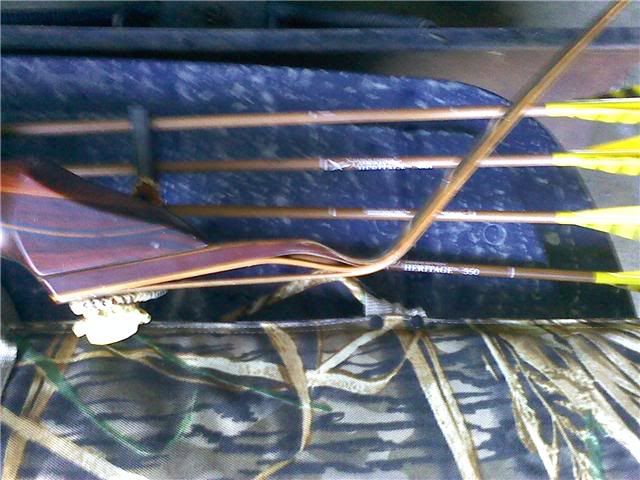 I know, I know - don't travel with it strung, its a takedown so take it down, etc etc. Like I said, I've done this dozens of times.
Luckily, I have another set of limbs that are a pound less and make it a 59" bow and the same strings work. Also have a Silvertip that I've played with for over a year and just have the broadheads flying good. Still need to get confidence in it though.
Morals of the story - take care packing your bow and heat is an enemy of a laminated bow.