Discussion Starter
·
#1
·
I dont specifically target 16"+ trout. Never really have. I have a sequence of things that I look at prior to deciding on a stream destination and the chance of a big trout is rarely taken into consideration. Yet it seems like they find me often enough. To me there is nothing better then the 'shock and awe' when a large stream brown zooms out from cover to make my offering a meal. To me at least....it's exhilerating! So Saturday AM found me on a favorite limestoner looking to pass a little time before some obligations arrived. Not a real thought of big trout to be had. The rain was holding mostly to the east so I knew I had a good chuck of dry time. This early in the year I have little interest in fishing in the rain. Once I'm in the flow maybe, but not yet. Water levels and temps were great and I was expecting a good number of trout to come to hand. On my very first cast though I had an absolute tanker of a brown follow my spinner all the way to my feet. I mean that treble was bumping against his nose the entire time and my heart was pounding out of my chest. He had all the look of a 'taker' but never took. I didn't hook him but those are the moments that keep me coming back to the stream. The fish had to be closing in on 24". BIG! I thought it was a good sign.
A few smaller trout later and I finally latched into my first large trout of the day. He was 17" and put up a nice little tussle.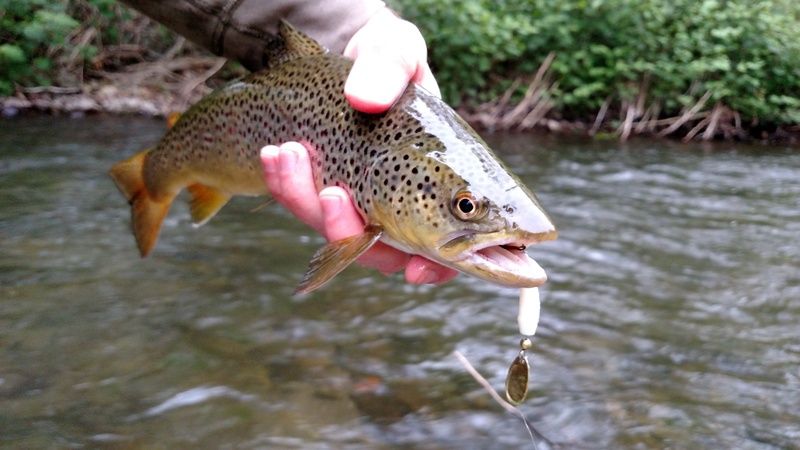 I'm sure the strong flows helped the fish in his attempt to drop the spinner.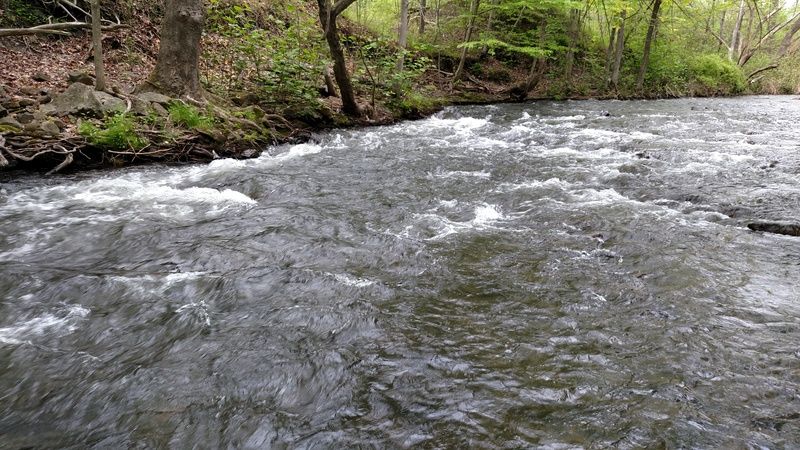 A few minutes later I made another cast to an inviting eddy between two large boulders and a trout just hammered it. It tried to rip the rod out of my hand. The second I set the hook the fish was airborne for a double leap. When trout jump they almost always toss the spinner for me but it held and I slipped the nearly 20" wild brown into my hand to get his picture taken!
After that a good number of smaller trout followed.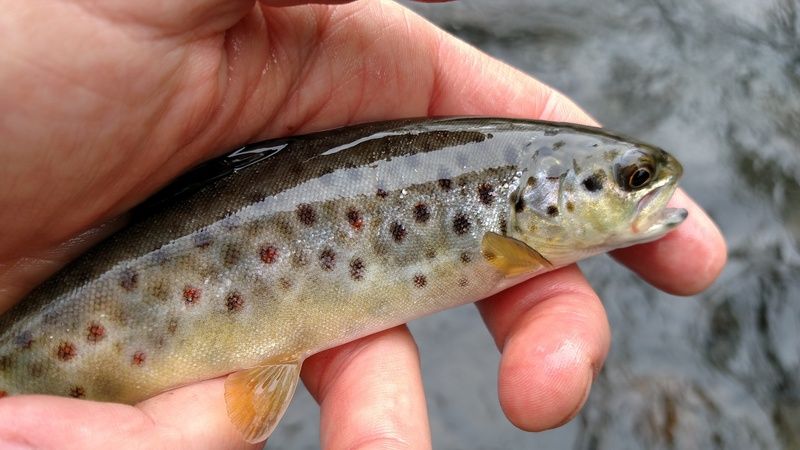 I finally made it to where I ditched my bike and peddled quickly back to the truck. I wanted to hit a different stretch of stream but also wanted to tackle a new brookie stream I found so I headed there for a short try. The stream was certainly pretty.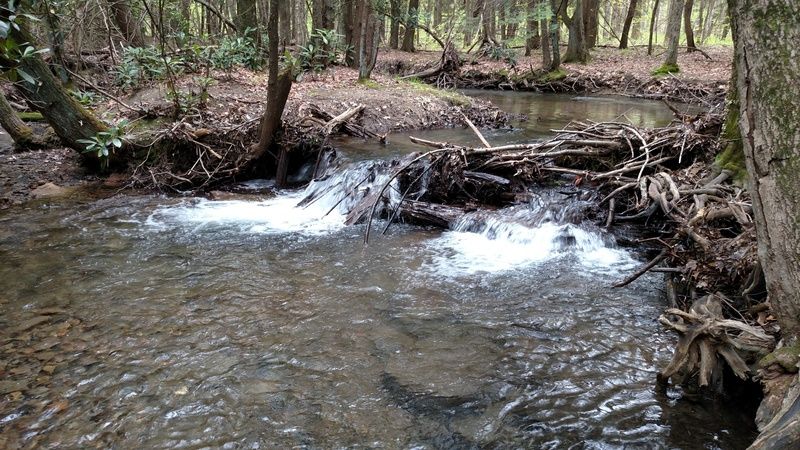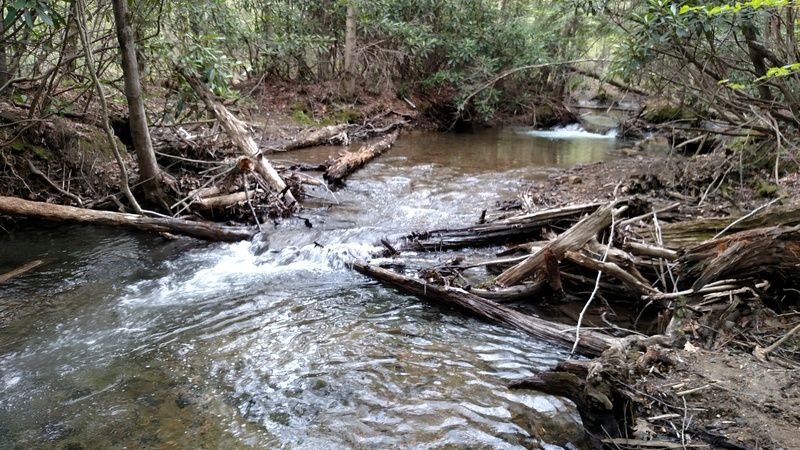 as were the brookies that lived there.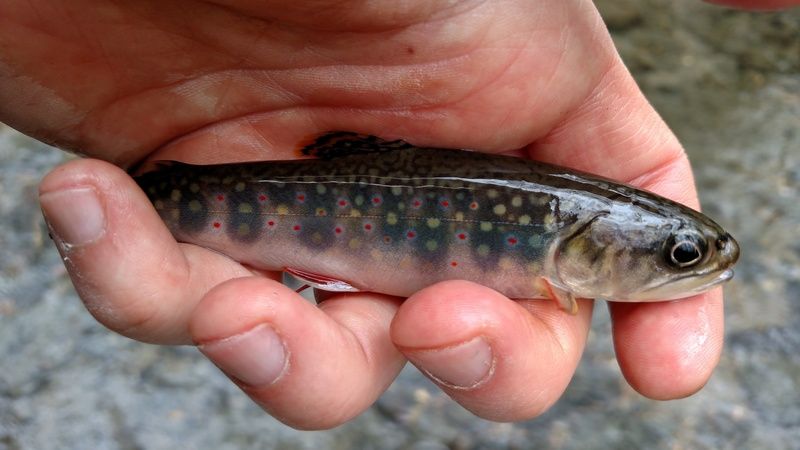 But the slower than i enjoy fishing along with many fresh boot tracks told me that is was still the busy season on most trout waters and that it was time to retreat back to some better angling opportunities so I took off back to the first stream to a different section. It was still early but the clock was ticking. I chose to fish a few hundred yards of familiar water and in the very first pool I was greeted with yet another heavy wild brown.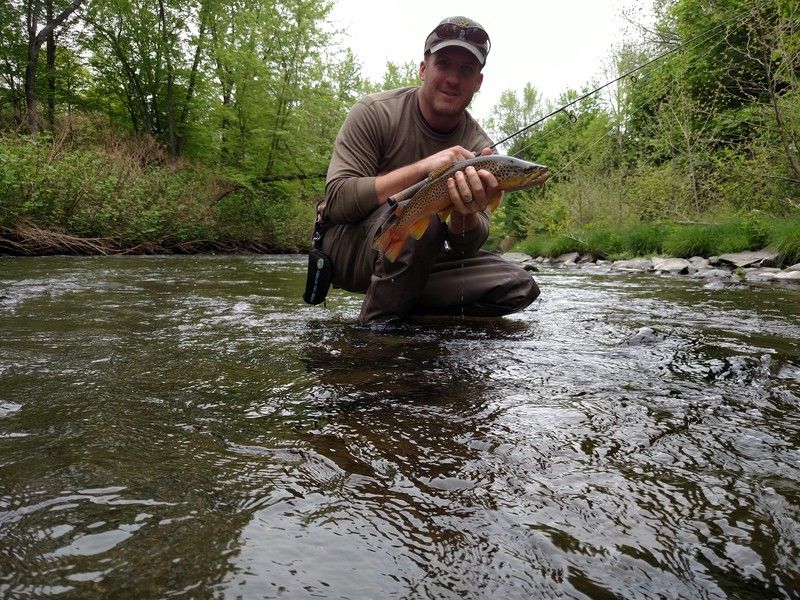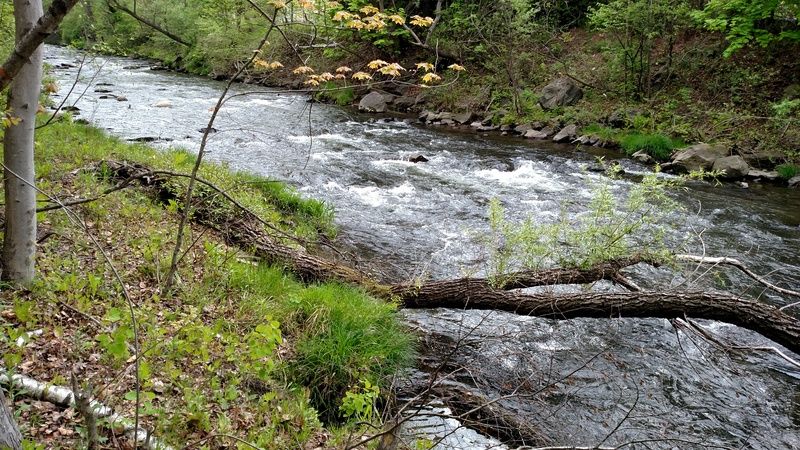 and for good measure on the second to last pool I added one more large brown to make it 4 for the outing.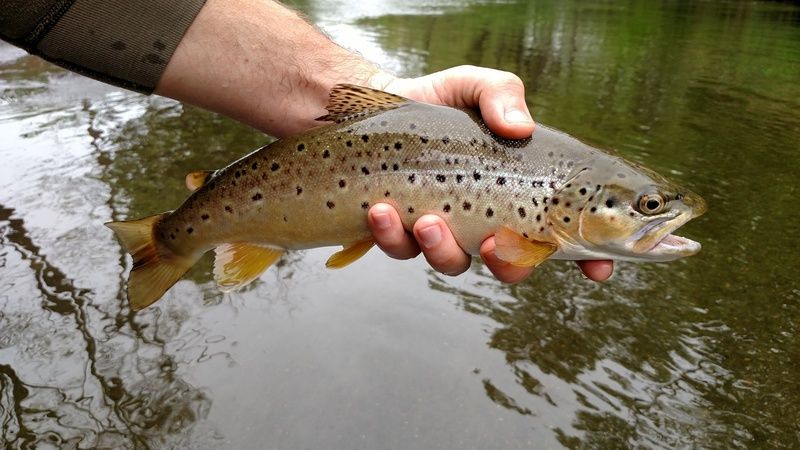 For only getting to fish about half of a morning I was thrilled with the results.
This coming weekend isn't looking a lot better for time but hopefully I can squeeze in an outting before it's all over and I'm back to work.