Discussion Starter
·
#1
·
High flows...
I had been watching monday's stream for a week or so waiting for water levels to drop enough to make it fishable and wadeable. I debated waiting until tuesday, but I gambled and made the 40 minute drive early monday morning.
I started fishing slightly earlier than normal and caught my first trout right away at 5:45am.
Followed immediately by a few more wild browns.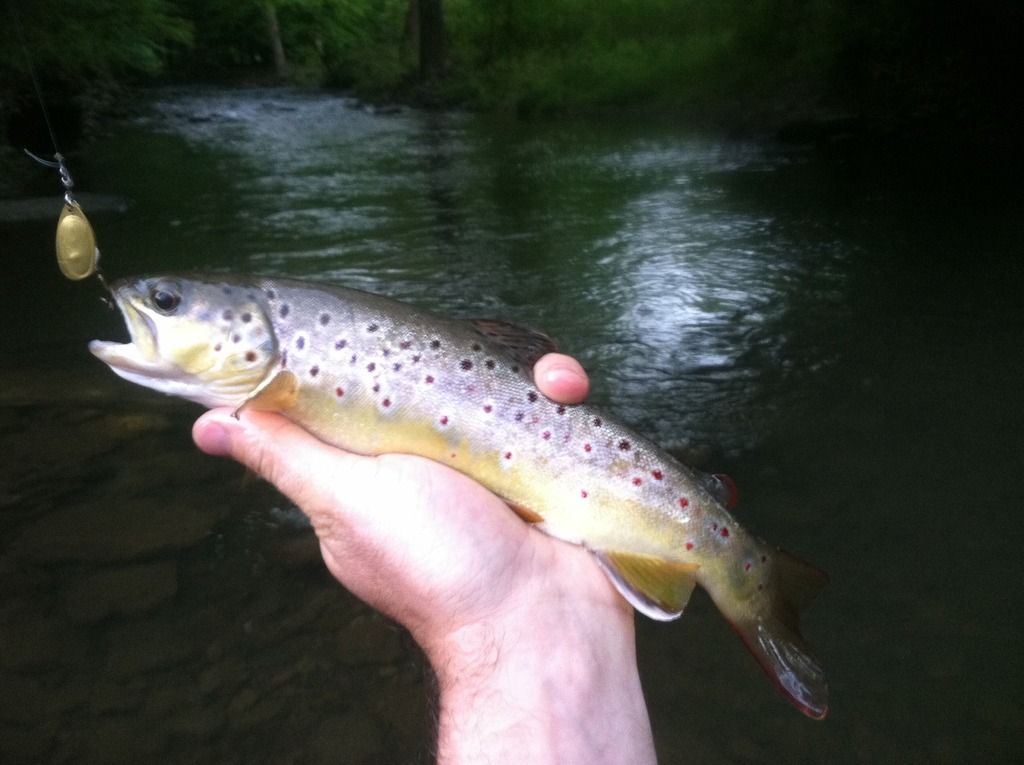 I opted for hip boots today as the air temperature was at 45,right at the boundary for wet wading.
The sun came up all at once and it went from fishing in the dark to struggling with glare in pictures. You can see how strong the flow is in the next two pictures.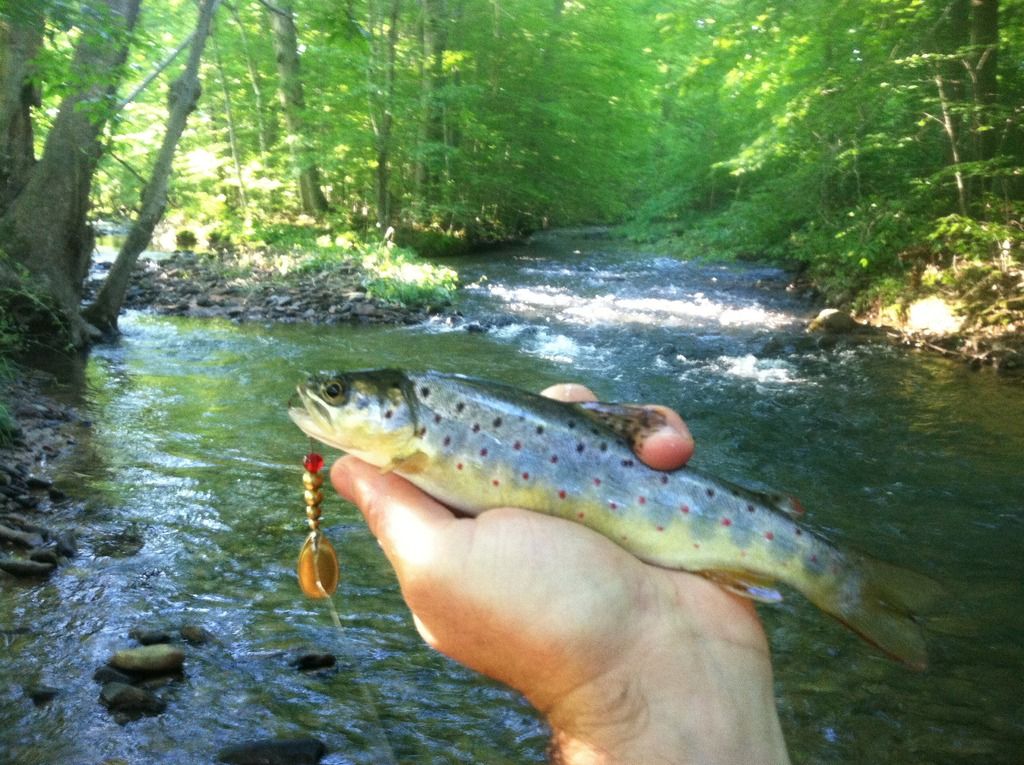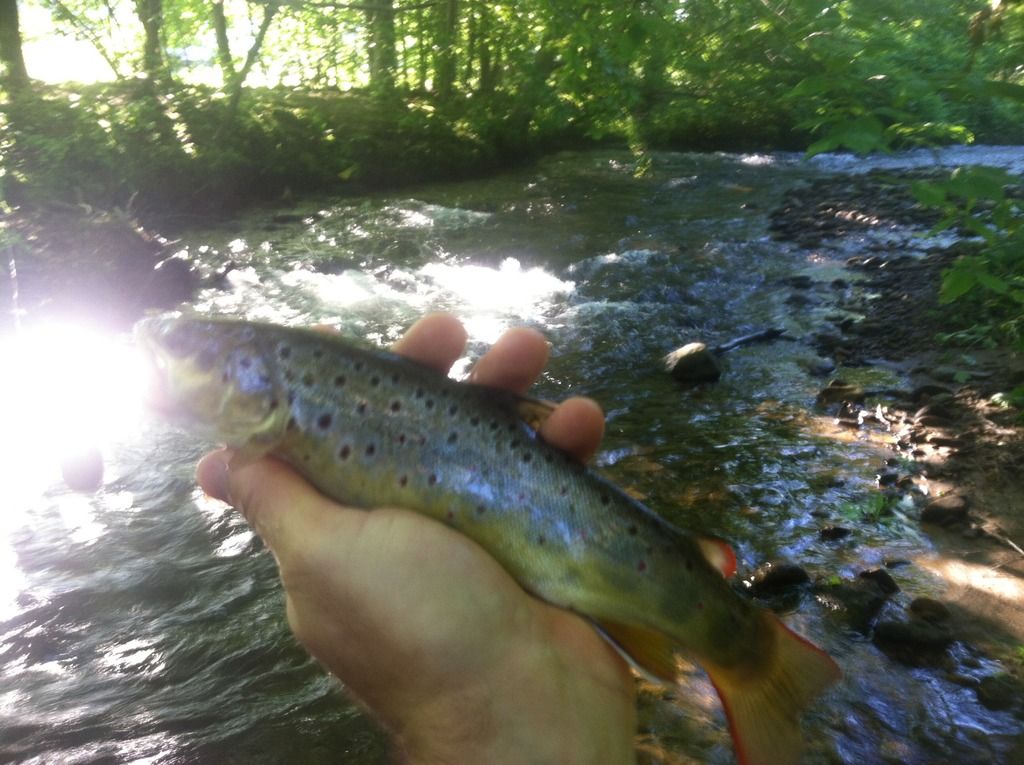 When this trout opened its mouth, all of that sunshine came out.
This bend in the stream is usually an inch or two deep at best and the volume of water doesn't come close to filling the entire stream channel. However on monday, things looked much better.
The next series of 4 pictures all show trout that came from "leaning tree holes". As I mentioned in a post last week, I never pass up such a spot.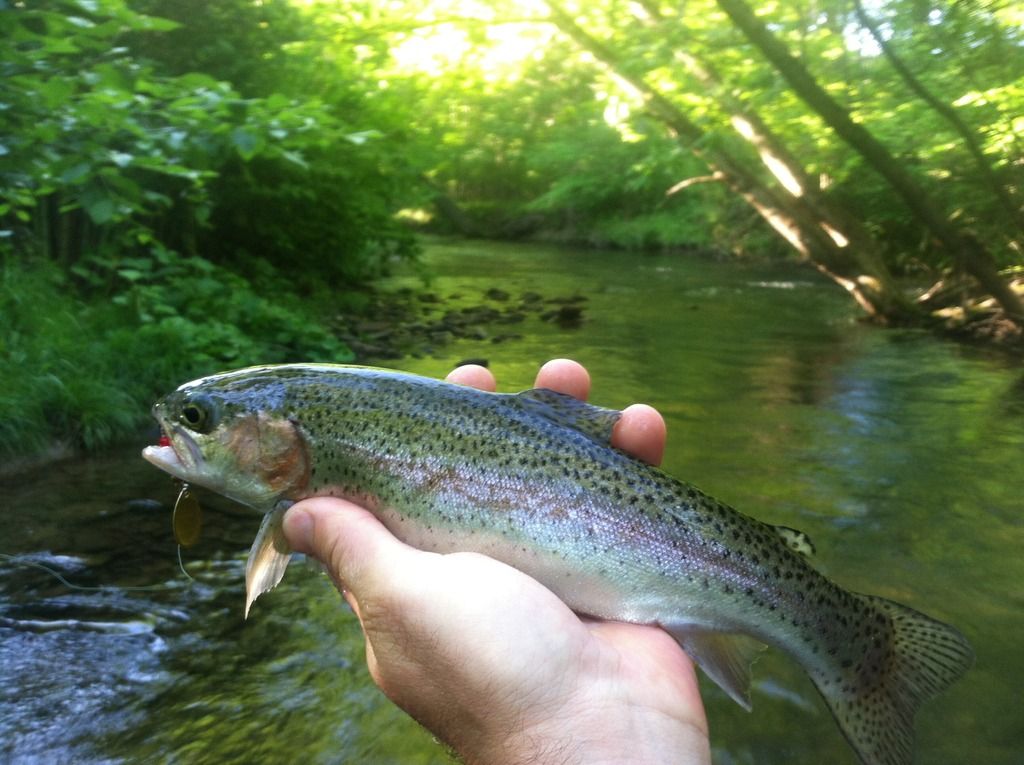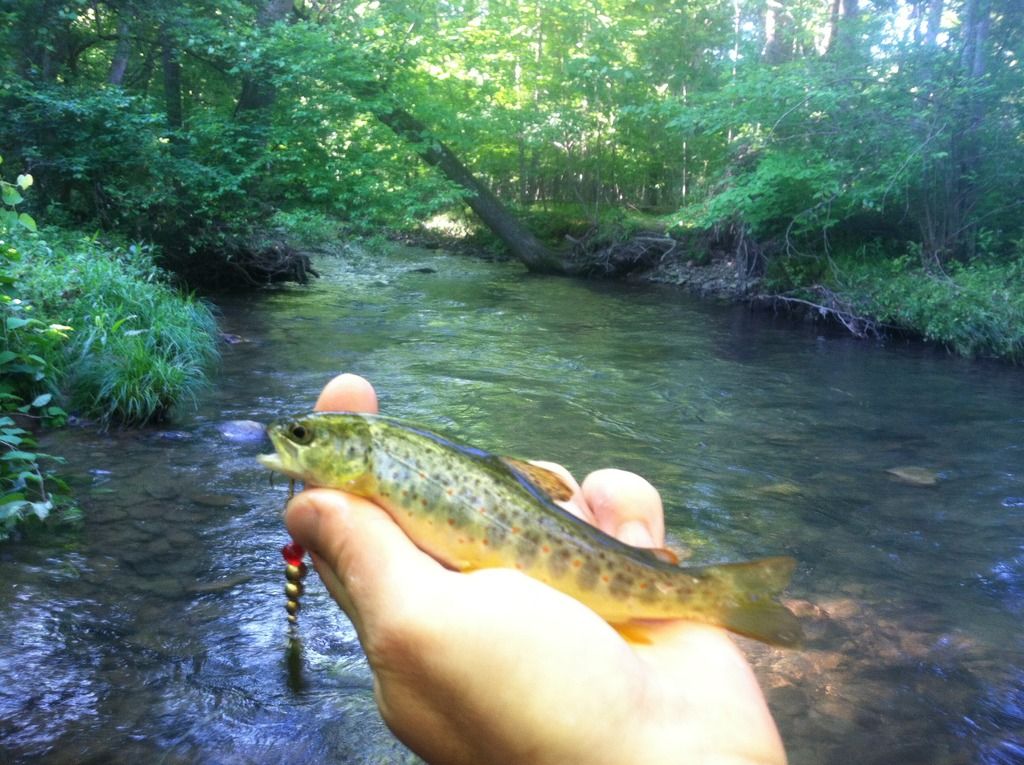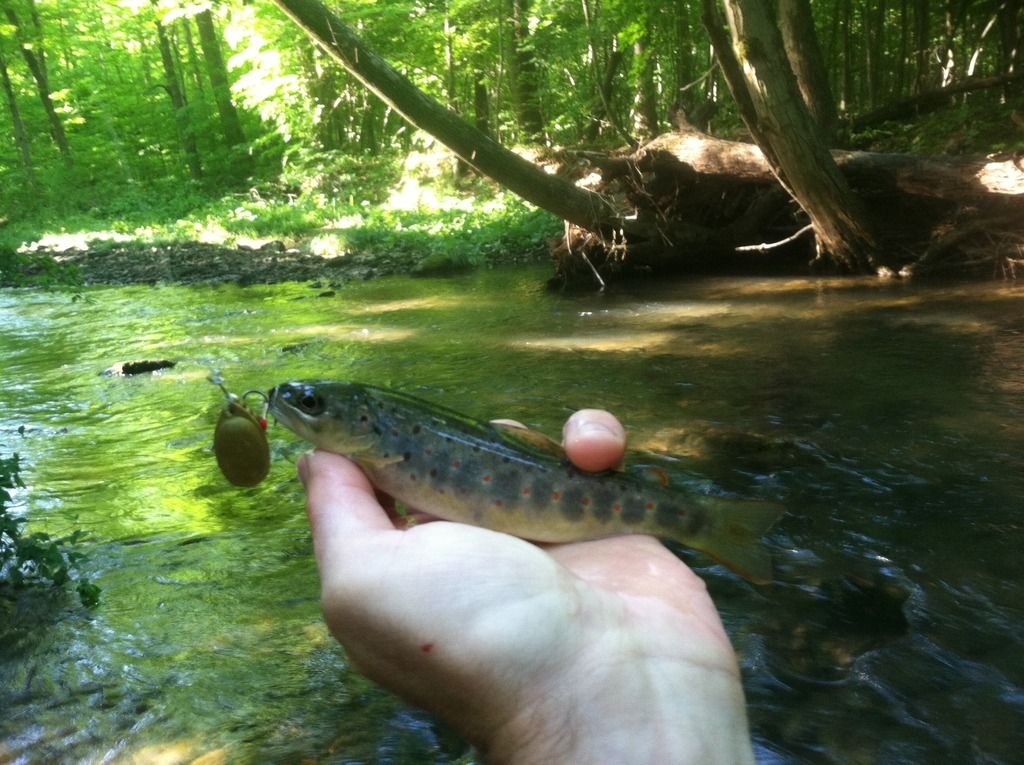 This 14.5" rainbow was the biggest of the trip.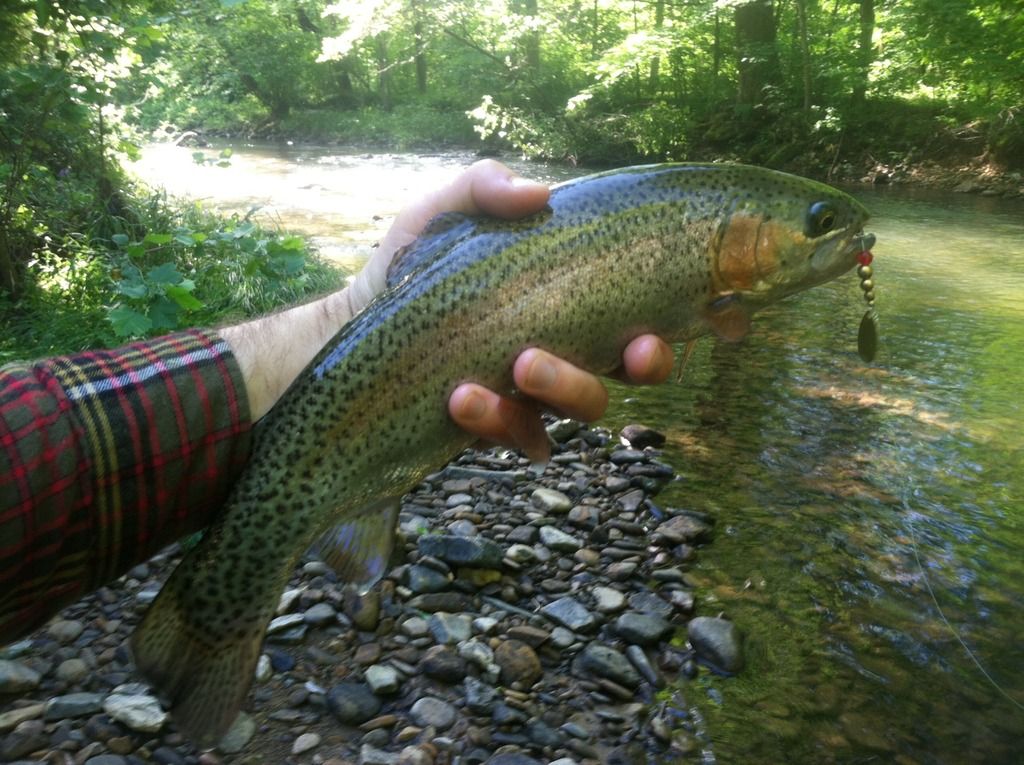 This rainbow has some type of discoloration and deformity on its back which I am guessing happened when it was fighting for food in a hatchery raceway.
One of these little guys let me know there was still a chance for some wild hybridization.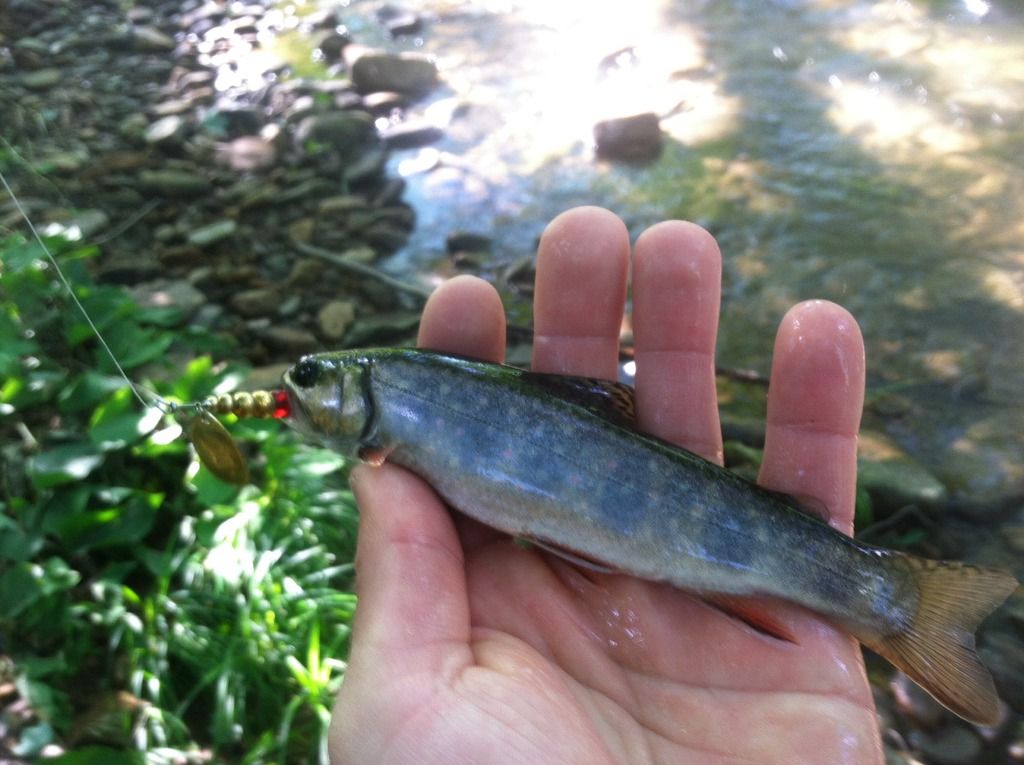 The 126th and final trout I caught from this stream in 5 hours was a 13.5in wild brown. I had been wanting to catch a decent wild brown from this stream and felt it was a fitting way to end the day.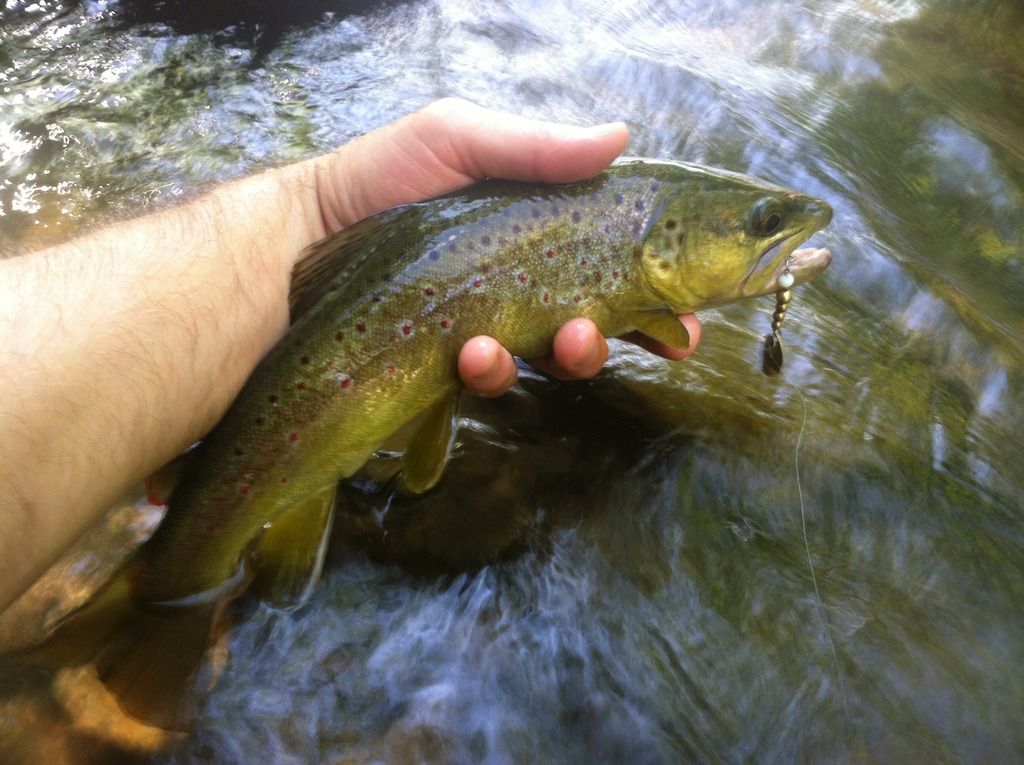 The optimal flow of this stream really made a difference. I fished this stream last summer when stream conditions were fair, or maybe a little less than fair and caught 51 in the same stretch of water.
-----------------------------------------------------------------------------------------------------------------------
Low flows...
We had widespread thunderstorms and rain showers last night and I monitored their effect on the streams within my strike zone. Before I awoke this morning, I had it narrowed down to 3 choices. However, when I checked the gauges this morning, they showed a dramatic spike last night, with a fall equally as steep which all occurred overnight. This eliminated the two smaller streams and I settled on the largest stream I had been considering.
I really don't have a good excuse for why I have never fished this stream section before as it is only 15 minutes from my house and I have been living hear for almost 4 years.
As expected, the water was skinny. The first trout came quickly but I realized the game I had to play for the day. This brookie came out from under the big rock in the upper-left-center of the picture. It wasn't until I drug my spinner underneath the lip of the rock that this fish budged.
Tying for the largest native brook trout of the day, this 9incher came soon after, emerging from the undercut bank shown in the background of this picture.
There seemed to be more holding water as I moved further upstream.
The slow hole shown above is about 3 miles below the nearest stocking point. It seems to be serving as a popular pit stop for migrating stockers. 6 trout were caught here with a few more missed and lost including a rainbow which was pushing the 2ft mark.
Including the biggest fish of the day, an 18" brown. I freely admit that I screw up every picture I take of a large trout.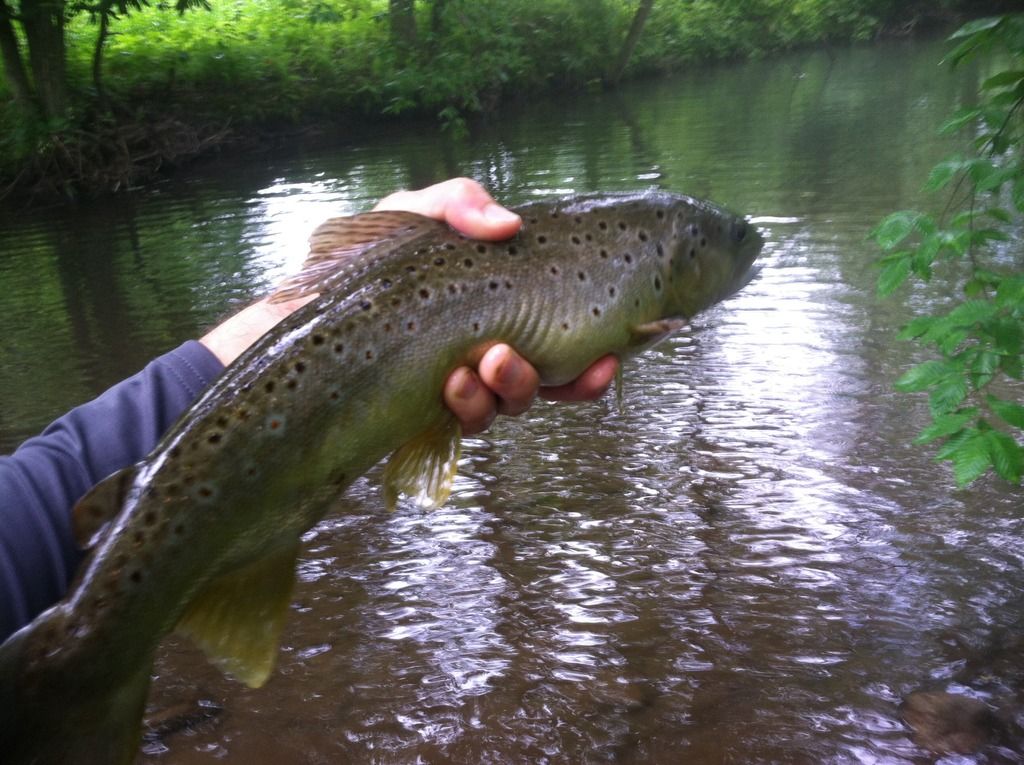 This "leaning tree" gave up the 2nd largest of the day, a 16" brown.