Discussion Starter
·
#1
·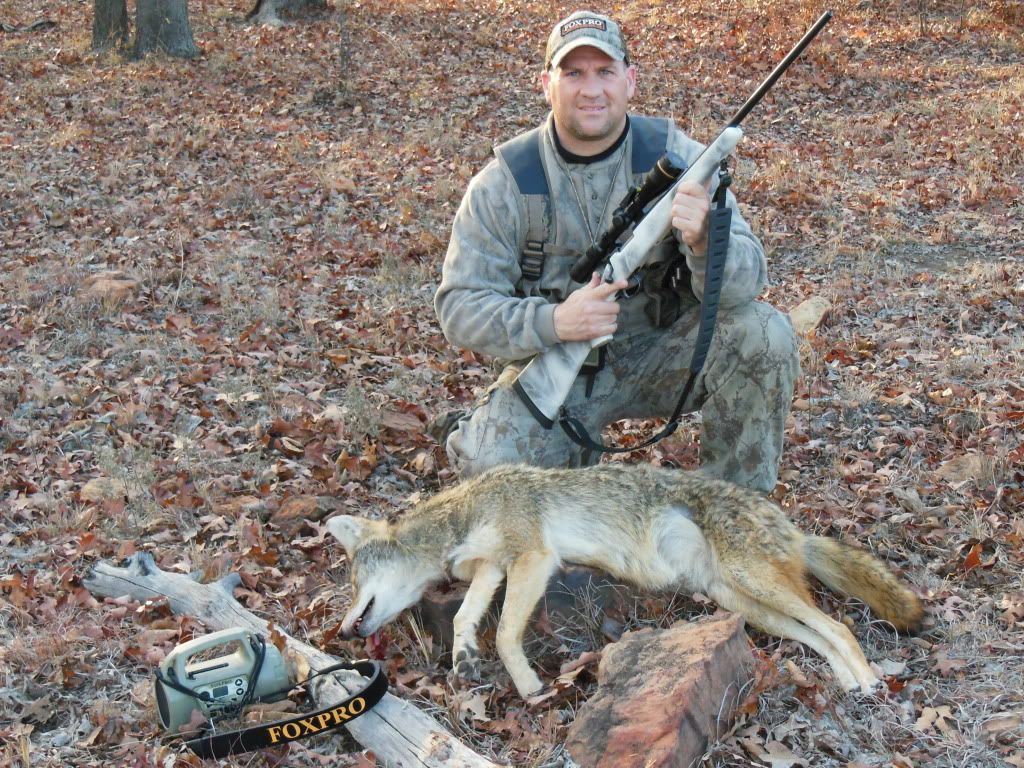 I have been hunting hard and not around so much and was asked to post a picture and a story so here ya go Jim.
Date: January 11, 2013 at 1600 hours.
Terrain: Hardwoods with 80 yards maximum visibilty.
Set style: Calling into thick stuff on a quartering crosswind to my most open side. (Two funnel points)
Call: Foxpro Fury (Rabbit in distress at full volume).
Distance shot: 67 paces.
Conditions: Partly cloudy, temps in the 30s with a very high wind. Sustained over 20 with gusts upwards of 30 mph.
Camo: Natural Gear.
Drink: Monster (thats a shocker).
Scent control: Absolutely none in fact if I remember correctly I had bad gas. Killem before they smell you.
Weapon: Tactical 20 using 32 grain Hornady Vmax bullet.
Time on set: 15 minutes and 3 seconds.
Number of coyotes called on set: One female pictured above.
Normally I am an advocate of not calling in this kind of high wind due to my low success in it since I am only a caller. In attempt to still produce I headed to heavier cover, in the bottoms and stood on the fury at full volume to try to cut the high wind. I also made my sets closer together and strategically called my way to where I thought a coyote may be to get out of the wind for the afternoon. I guess the moral of my story is as always. Predator hunters have to constantly evolve with whatever conditions they are presented with to make it happen in the field. Solid tactics/woodmanship will prevail.... Eventually lol. Good luck Hpa! Again Jim thanks for checking up on me. I am still piling em up. Take care sir! Hopefully you enjoyed one of my more intersting hunts.
Kirk McKendree