Discussion Starter
·
#1
·
Around each time this year, when the smaller streams have their flows reduced to unfishable levels, I seek bigger water and bigger fish. There are a few streams that I can very reliably find big trout at about the same time each year. For whatever reason, different fish from different stockings migrate from upstream and downstream and move in from different streams and concentrate in the same areas each year.
Most of these "hawg hunting" trips do not produce high numbers, but I know that going in. Most of these trips occur when the streams are at relatively low water levels compared to their spring flows, but still enough to work a spinner efficiently.
Hawg destination #1-
MONDAY was the first of such trips. Stream levels have been coming down from flood stages and were finally bottoming out to the point that I would consider them "low". I have not yet fished this stream section in 2016.
The first thing that caught my eye was this "scale tree" fossil.
From previous research, I knew that this rock and embedded fossil were approximately <span style="font-weight: bold"><span style="font-size: 20pt">300 MILLION YEARS OLD!!!</span></span>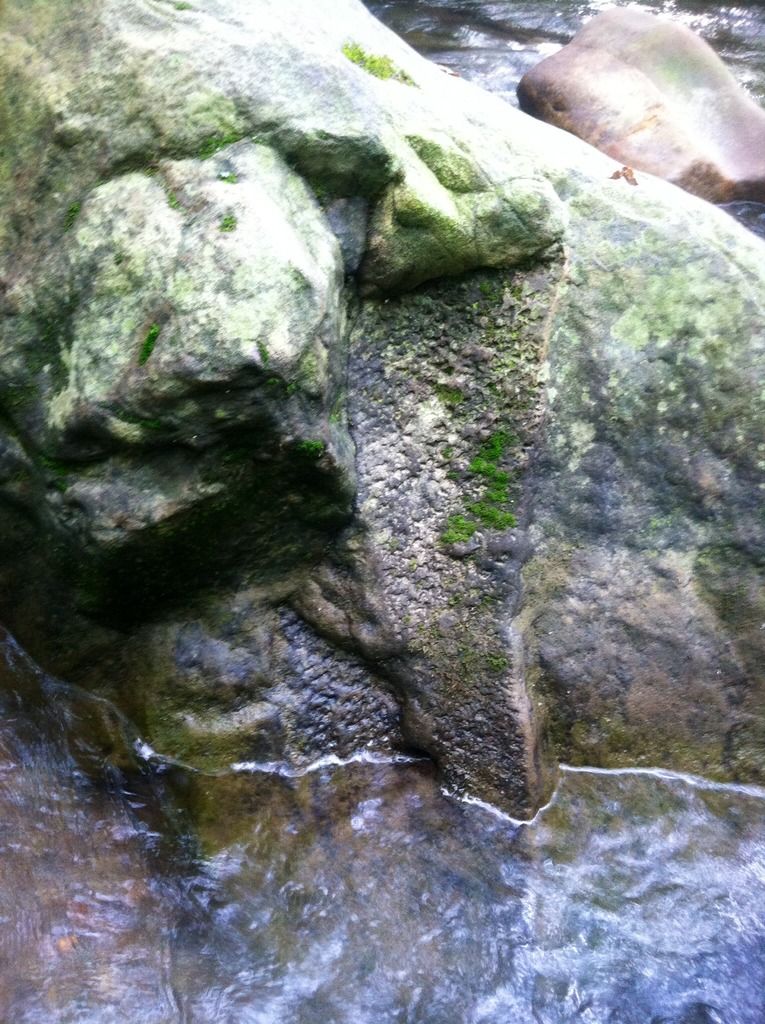 After admiring and contemplating the fossilized tree, I got down to business and in a few casts had the first trout, a 14.5" brookie. As you can see, my photography muscles weren't warmed up yet. I got other pictures of the fish, but decided to include this as I find it humorous to look back at my pictures at the end of the day and tally how many are of writhing trout.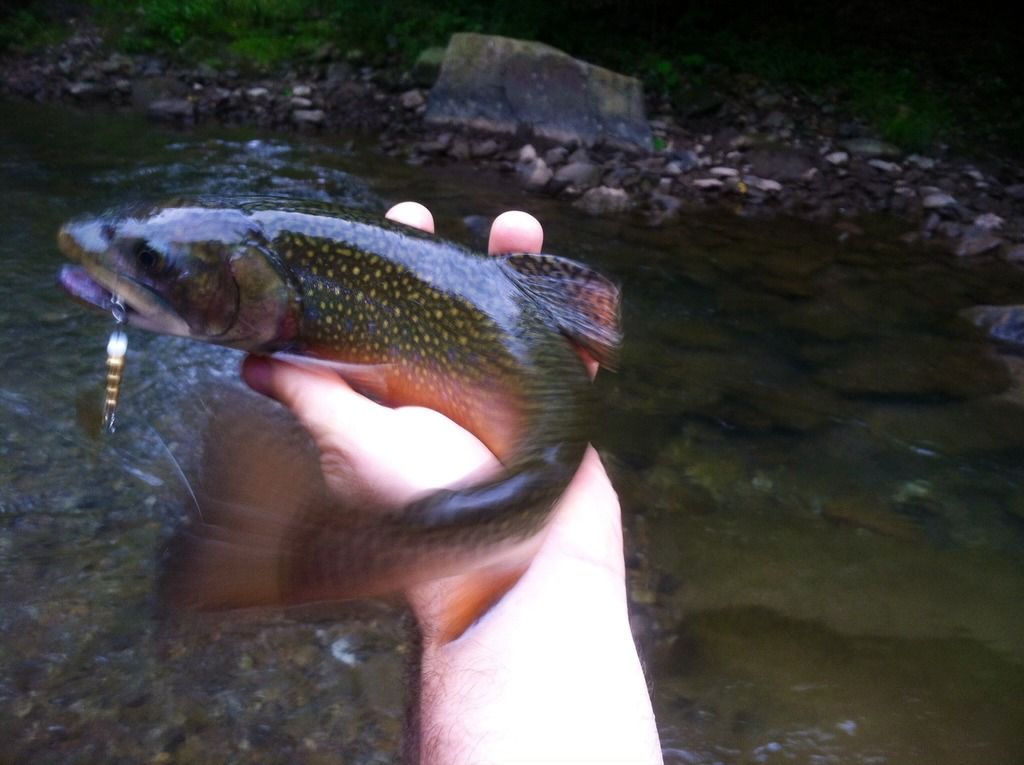 I was rewarded for my perfect cast which sailed directly to the back of this little cave by a darkly colored brook trout.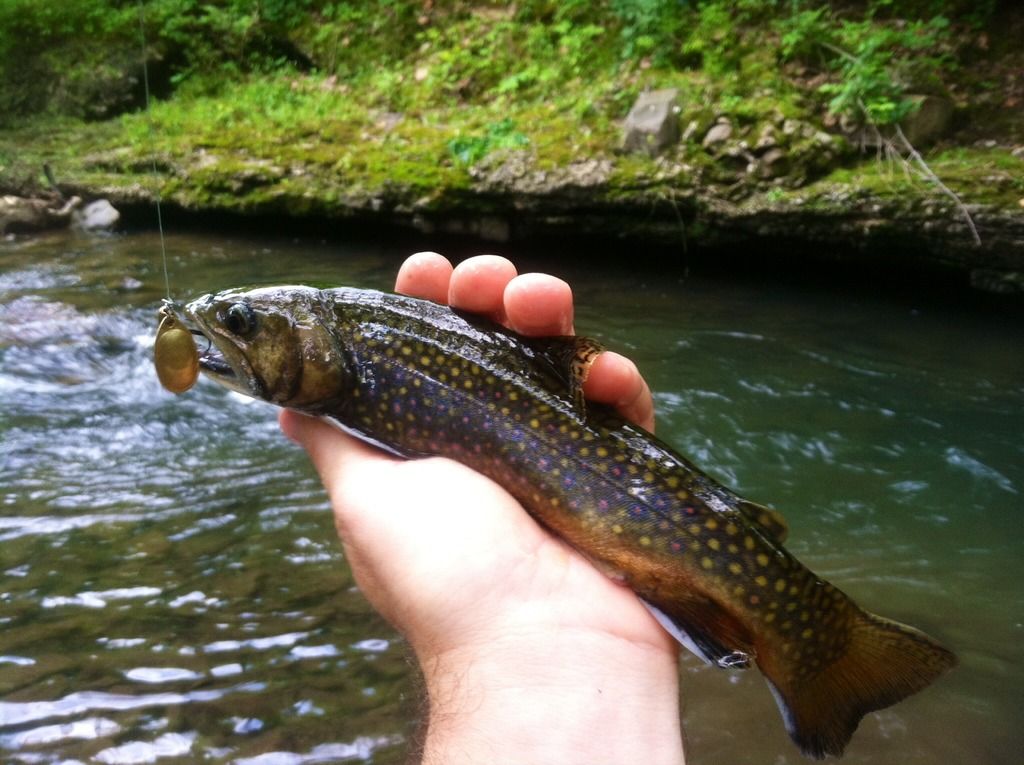 The stream still had a fair amount of water in it, but it was fading fast.
After having two half hearted pursuits by large trout, I connected with an aggressive 17.5" brown who struck the spinner before my bail was flipped over.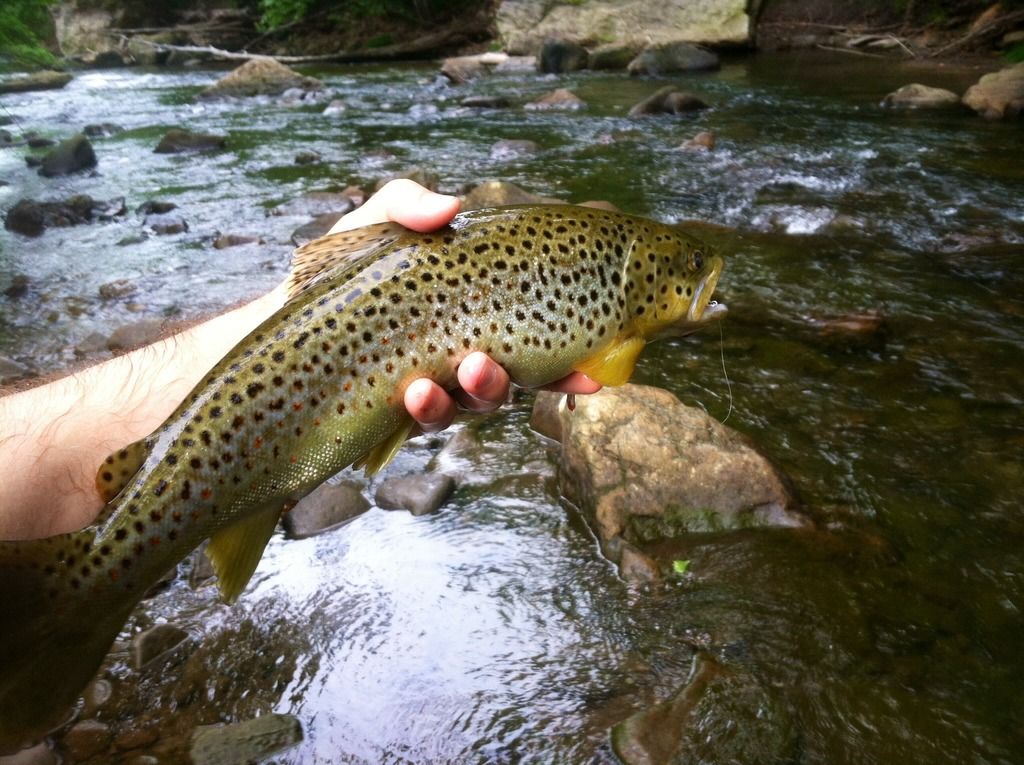 This picture was taken before I made any casts to this spot. You can see one large trout around 18-20" sitting atop the flat rock beneath the submerged part of the log. There was also a smaller 10" trout sitting just above it.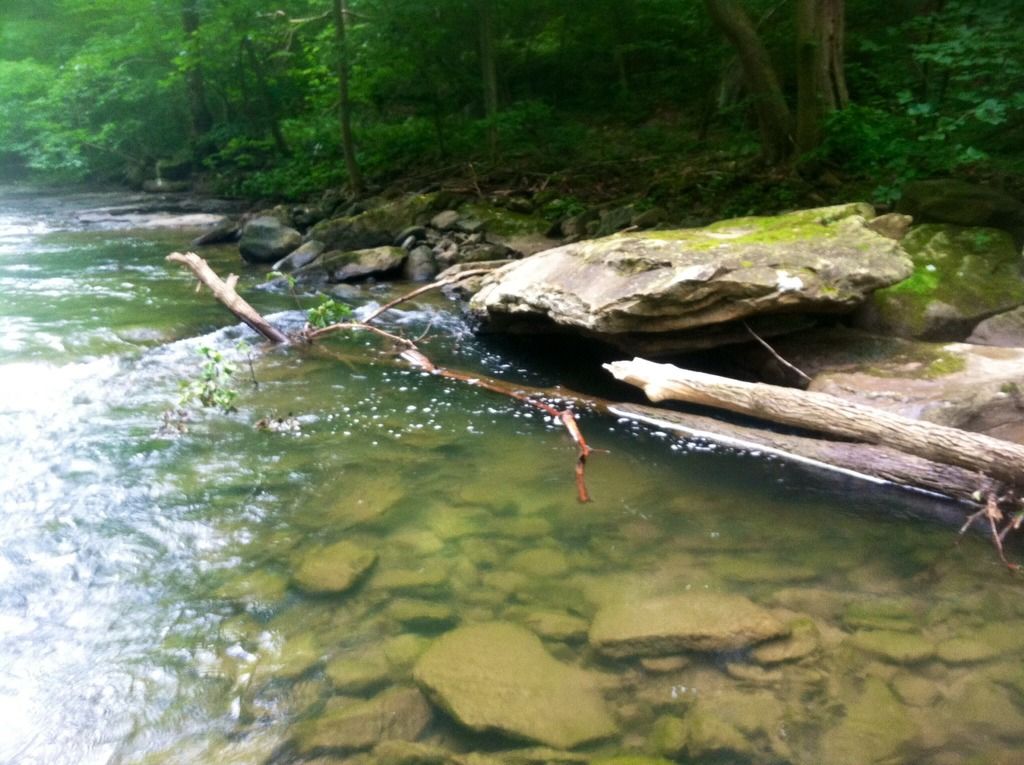 The predicament I had is that the current was flowing swiftly and diagonally from under the log to my left. It would have been ideal to bring the spinner down parallel to the log but current would not permit that. I tried one cast and hit up against the log, and then got two or three cranks before running aground in shallow water. The large trout turned and watched and then did an about face as the spinner was quickly in shallow water. I knew another cast was futile, so I climbed up on the boulder above the trout, laid down so as not to be seen, dropped my spinner in behind the log and under the boulder, and let the current take it down to directly above the trout. I felt a tug and immediately knew I had hooked the.......10 incher. The short fight spooked the big trout and it was doing laps around its hiding spot so I moved on.
I had 30 trout at this point in 2.5 hours, with only 1 large trout and the going was slow. I headed back to the vehicle, ate lunch, and re-outfitted myself with fly gear.
23 more trout were brought to hand in another 1.5 hours using foam ants in the shallow slow pools and white wooly buggers in deep, fast pools.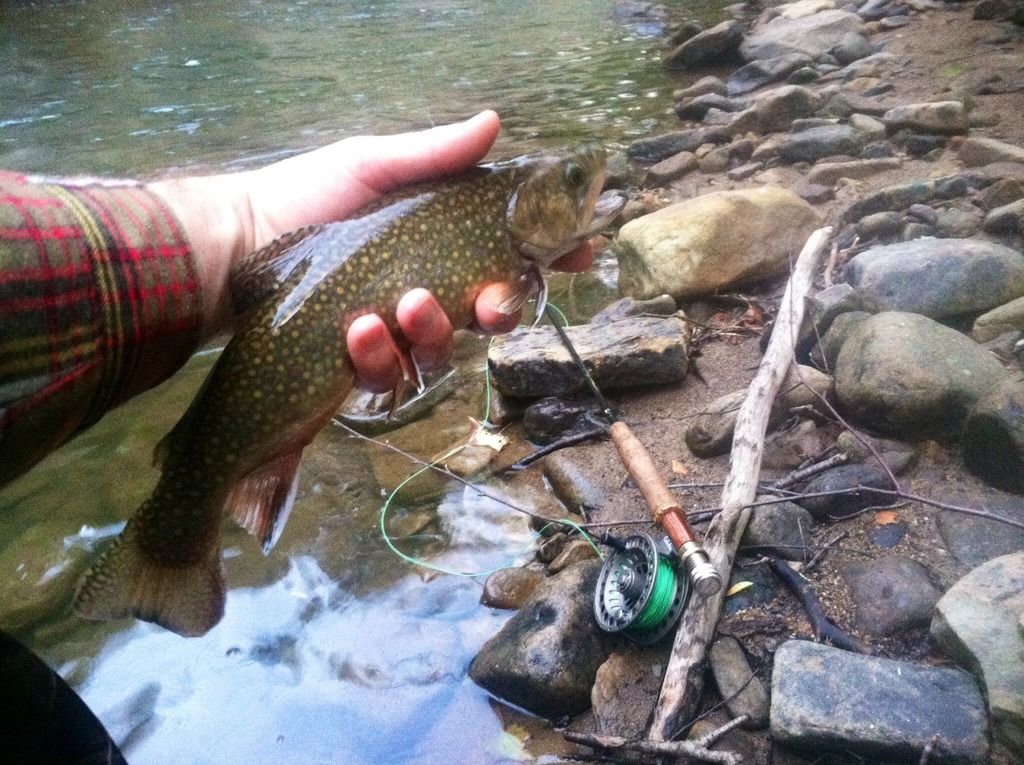 No more large trout were seen, so it was a small triumph ending the day with 1.
___________________________________________________________________________________________________________
TODAY I had planned to hit hawg destination #2. While driving to my intended destination, I crossed over another of my hawg spots (hawg destination #3) and it looked PERFECT. There were scattered showers last evening that apparently fell in all the right places within this watershed. I turned around and pulled in at #3. I will save #2 for another day.
I arrived pretty early since I had intended to drive further so I did not get many stream pictures early on. Some pretty, high flying rainbows were caught right out of the gate.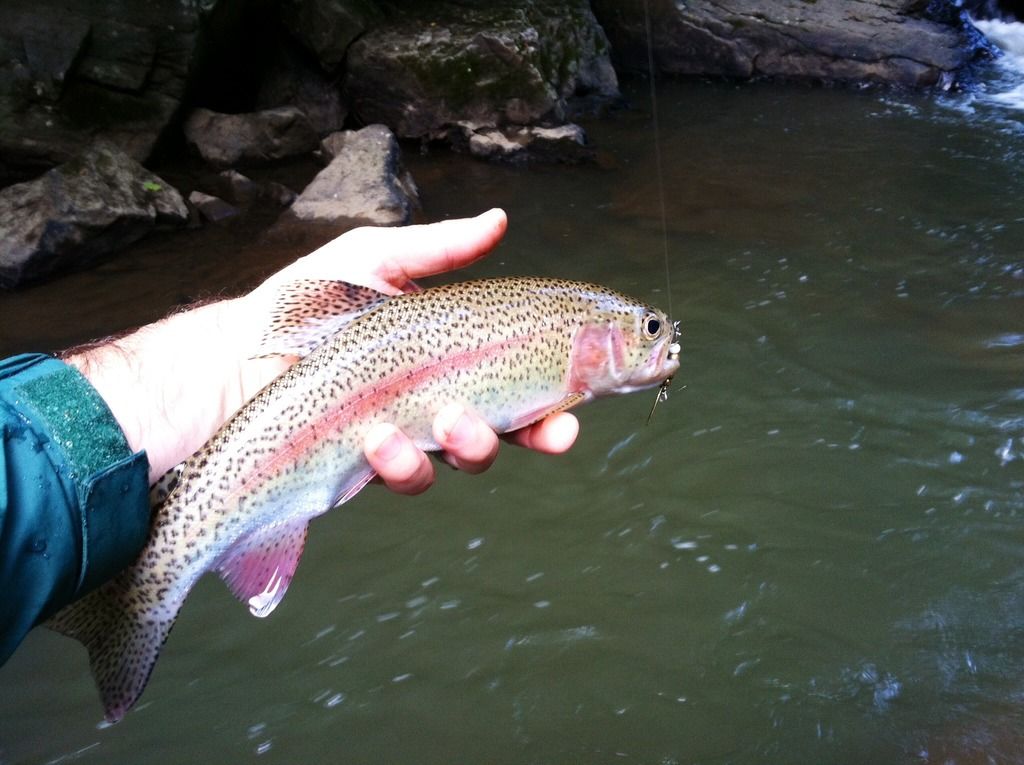 They were leaping 3-4ft in the air after being hooked. Some of the rainbows that shook free continued jumping just to rub it in.
The slightly stained water allowed me to get optimal positing for spots that I may otherwise have to work from far away. One such spot was a tight crevice between two boulders. The first cast moved something massive as I just saw a flash and then a quick retreat behind a rock. On the next cast my spinner was inhaled and I jumped out onto the rock to prevent the fish from burrowing under it. With the new line I put on last night I confidently worked it out into slower water, set up my new self timing camera app, and snapped a picture of this 23.5" brown trout.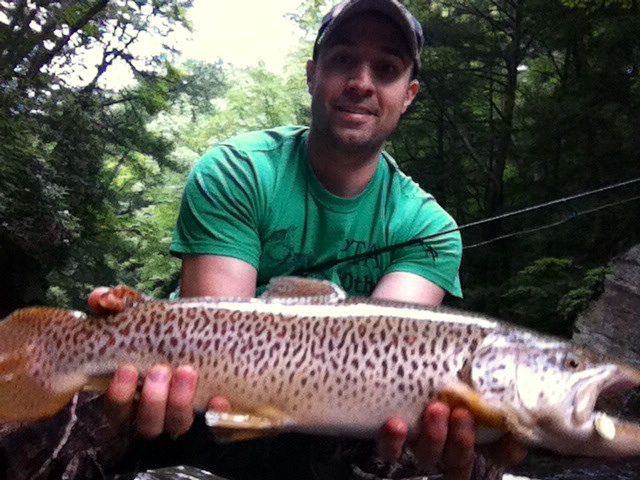 I was about as excited as you can be at 6:05am.
Continuing upstream, I caught more rainbows and even a sort-of out-of-place native brook trout.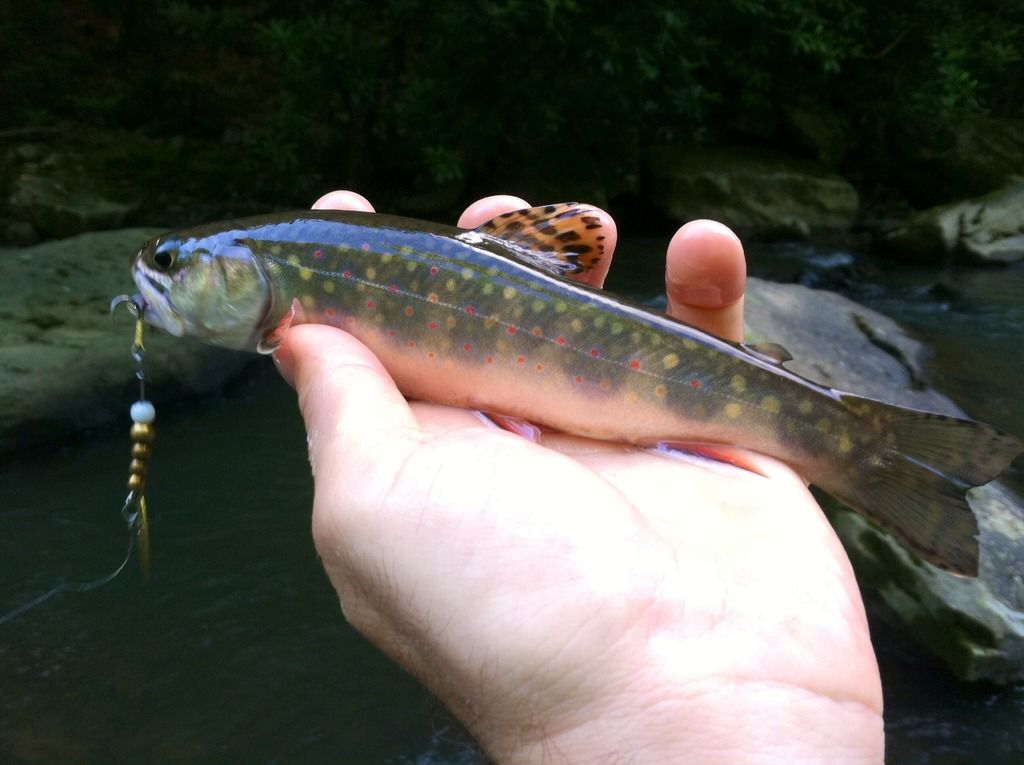 My adrenaline hadn't worn off yet when I casted into a deep pool, allowed time to sink down, cranked once, and hit a dead stop. The line moved a few feet to the left, and even with my rod doubling over, wouldn't budge. After about 5 seconds, whatever it was took off on a carp like run upstream with me frantically pulling out line from my drag by hand. The pool was between 5-10ft deep so I still had not seen any glimpse of what it was. Then, it took another run directly back at me and I rapidly reeled in line as it was becoming slack. I finally got a glimpse of the silver submarine as it moved into shallow water at the back of the pool before swimming through rapids heading downstream. I hustled along the bank to keep up. We came to a standoff in another deep pool where I basically just kept tension on the line with the fish pulling as I waited to tire it out. Finally I drug the fish near shore as I waded out to corral it against the bank. I set up the self timing camera again to photograph a 24" rainbow.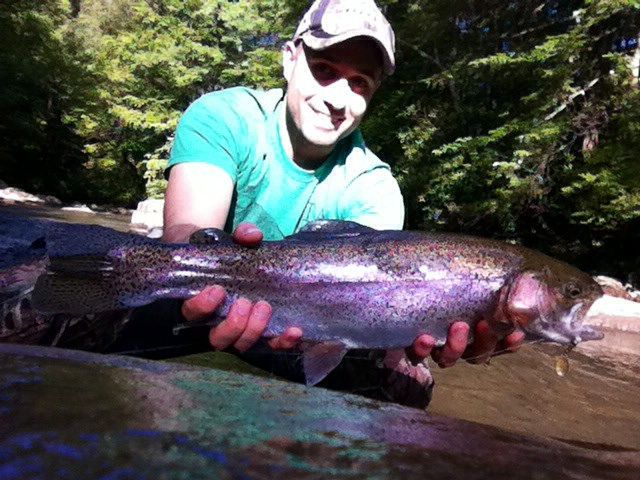 The behemoth was no worse for the wear as it darted off immediately upon release.
I couldn't believe my luck at this point. I had two trout that were a "couple" feet long. I put my soaking wet jacket back on after removing it for the picture and proceeded upstream.
I went through a slow period of just over an hour where I only caught 8 trout, including a semi- surprising wild rainbow.
I was not at all discouraged by the slow period because I kept thinking back to the two giants I caught earlier. I was half way through the section of water I had planned to fish.
A 16.5" rainbow snapped me out of my daydreaming. It hit hard and for a split second I thought I had another giant.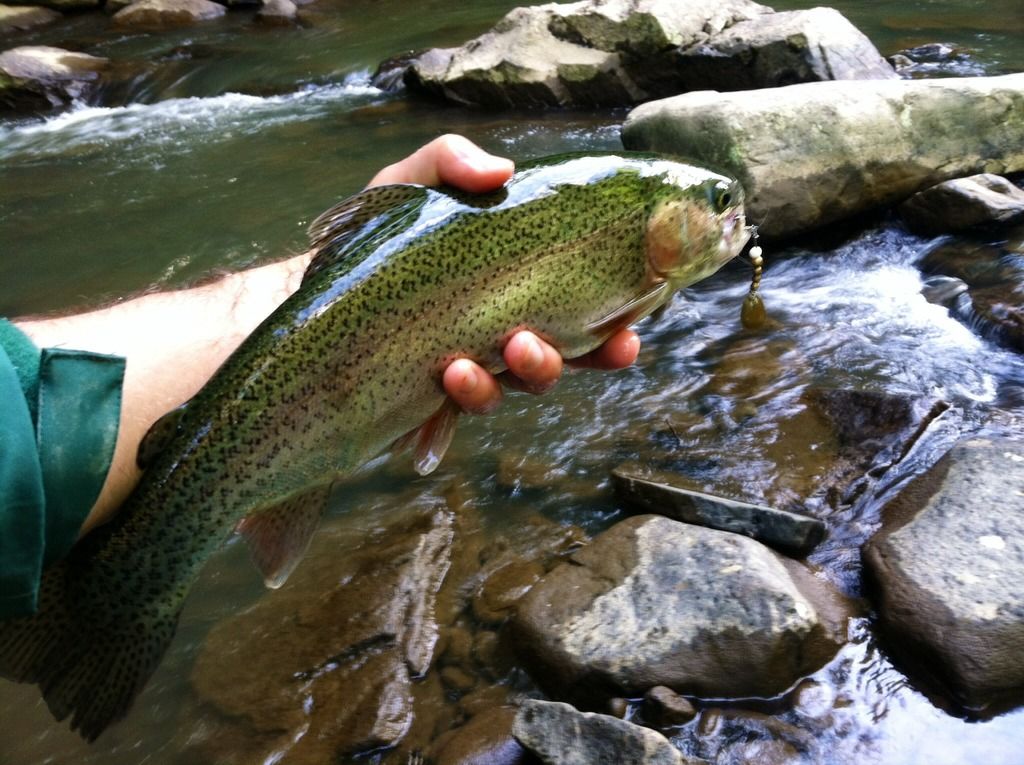 I have mentioned in a few previous posts about my golden rainbow trout curse of 2013,2014, and 2015. I shattered that curse a few weeks ago with a 9" and a 12" golden. Keeping with the theme of the day, I was again surprised by a 17.5" golden rainbow. I caught it deep down in a turbulent pool and it shot up like a rocket through the water column and continued a few feet above the surface of the water. I thought I was certainly going to lose it.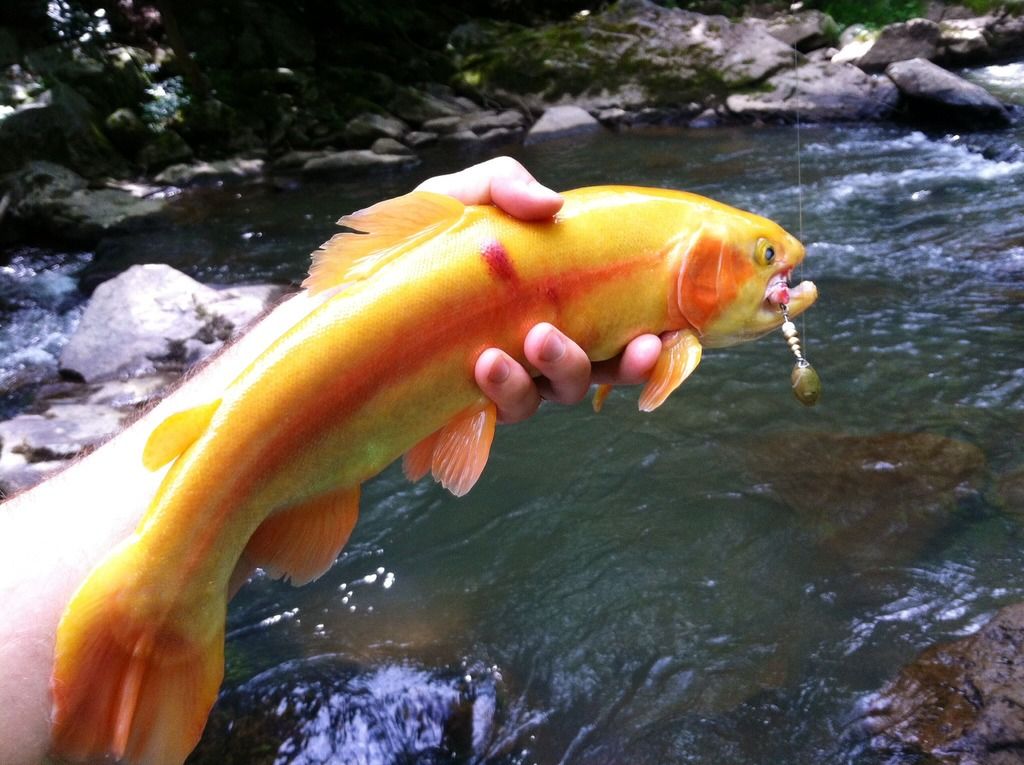 This fish looks like it has been through the gauntlet of being caught, being snagged, and trying to be eaten by a predator.
And...here was my first attempt at getting a picture of today's golden trout.
It landed in the water and I was relieved to see that it was still hooked.
The last large fish I caught today came in dramatic fashion from the side pool shown below, away from the main flow of the stream.
I brought my spinner down through from the little white water in the top to the tiny waterfall at the bottom of the pool. At the very bottom of the pool, a nice trout shout out and as I saw this, I let my spinner tumble over the falls. When I began cranking again after the spinner landed below the falls, the 16.5" brown was hooked.
I finished out the section I had planned to fish with a few more trout highlighted by a 14" rainbow.
Today was another relatively slow day numbers-wise with 61 trout in 5.5 hours, but the size of the fish more than made up for it. I hope to get out to hawg destination #2 in the next few days.