Discussion Starter
·
#1
·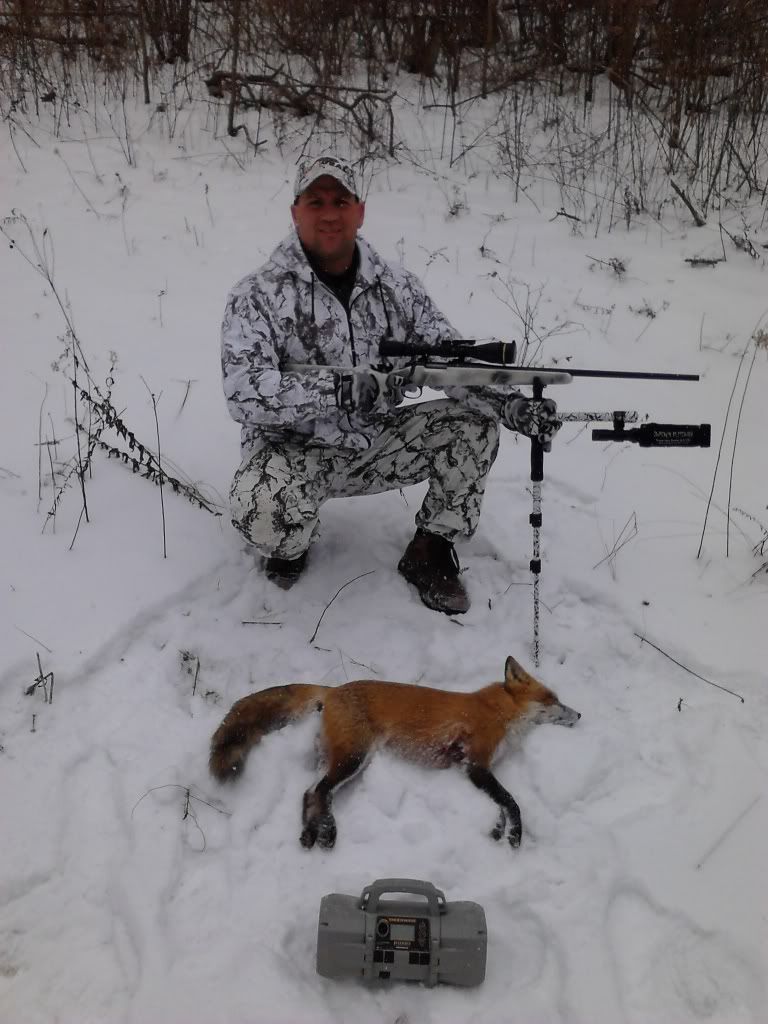 I had been hitting the coyote and bobcats pretty hard lately and this past weekend I was in the mood to target some fox over snow under a full moon. Foxpro was nice enough to send me the new Shockwave so I figured that I would give it a workout.
The fox were definitely turned on. The hunt was great conditions with a decent wind and ended up with four reds and two greys on the night. The call performed flawlessly even at the seven degree temperatures that I was hunting in for most of the hunt. It was so cold that the fox fur was sticking to my metal critter hauler which is no good when fur starts pulling out. Anyways I figured I would share a photo of my favorite fox of the hunt which happened to be my last as well. Below is the details.
Time: This past weekend at 0420 hours.
Terrain: Fields, hedge rows adjacent to a wooded ridge line. Four major funnel points.
Call: Foxpro Shockwave (bird in distress)
Response time: 7 minute mark.
Conditions: Full moon phase, 7 degrees with a 5 mph crosswind.
Weapon: Tactical 20 with 32 grain Vmax bullet.
Distance: Farthest one of the night. 151 of my large paces. The fox although it responded to the call was on a mission to get my wind giving me a broadside shot.
Sets: 8
Ratio: 2 reds and 2 greys. 2 reds presented no shot opportuninty so they are seed.
Fox: Average sized female that came in solo.
Light: EWT 100 Kill light on my head and a Kill Light 250 on the camo stick of death. Both equipt with Silent Halo Shields from Boondock Outdoors.
Land Owners - Very happy.
Snack: Peanut Chews and Wild Bills Jerky.
Side note: The wind forced me to sit wide open in a field which is not my preferred method of hunting on full moon nights. I knew that I was passing thru and would more than likely not be back before fox season closed so I rolled the dice.
Plan of attack: Due to being overly exposed I felt that I had to win the battle by spotting it from as far as possible and then hiding behind my light to avoid being busted. Guess it worked this time lol.
Kirk McKendree