Frank Nale's 2016 Trout Season Summary​
Introduction​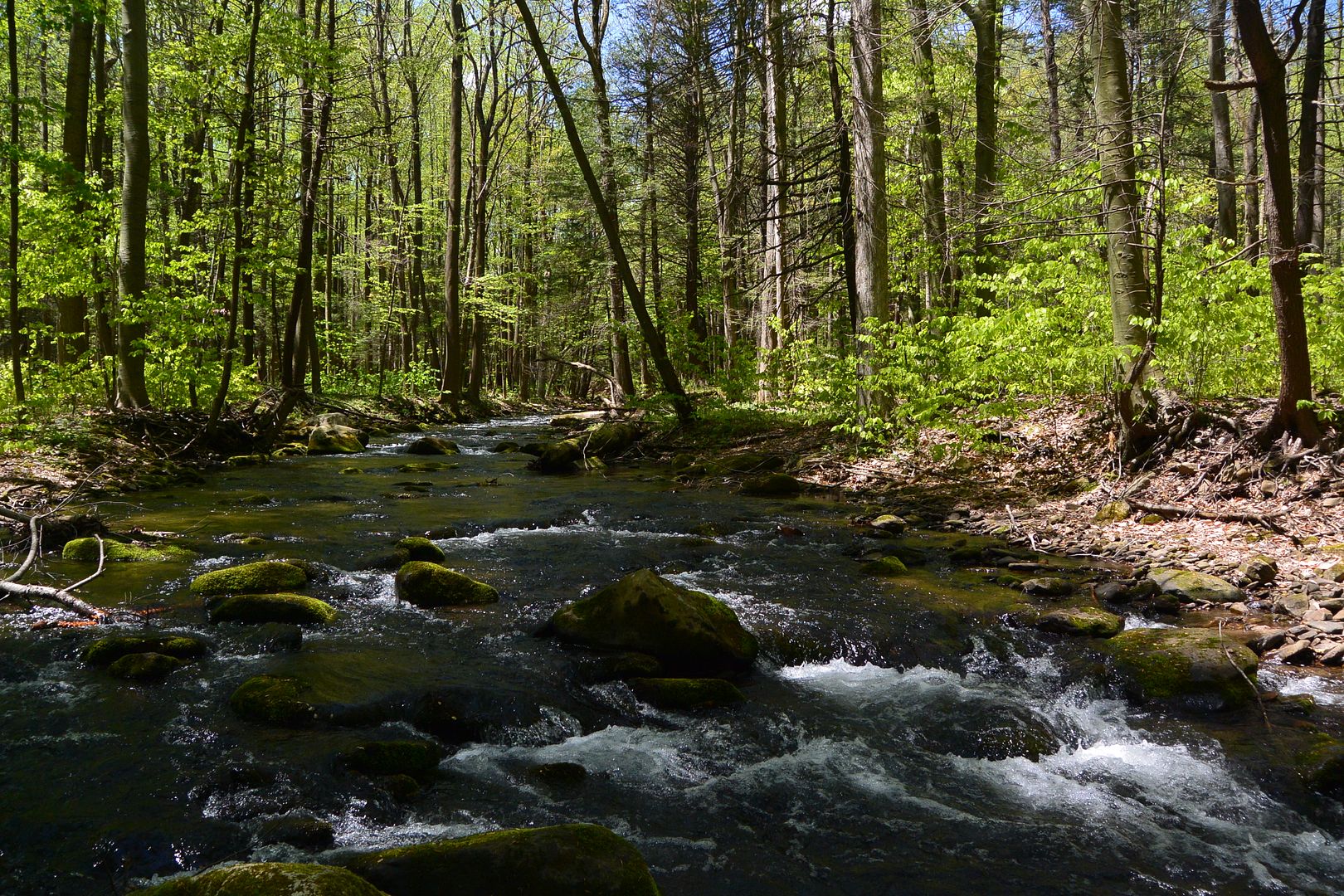 Every year has a unique personality with different obstacles to overcome. This year was defined by a lack of rainfall and very low water levels beginning in July and extending through autumn here in central Pennsylvania. This severely limited my options and made choosing streams to fish much more difficult, as well as concentrating other anglers. Due to this I often tolerated slow action for much longer than usual since moving to another stream had a lower than normal probability of success.
Offsetting the challenging conditions was the fact that I had a lot more free time to go fishing since I got laid-off from my job as Controller of UPMC Altoona (hospital) on June 24th after a thirty year career. I had known that I was going to get laid-off for over a year and had planned for it. I viewed it as a positive thing and considered it to be my signal to permanently bow out of the workforce.
With nearly unlimited leisure time for the second half of the year, I capitalized on this by mostly avoiding the weekend crowds and taking advantage of the best weather days during the week. Had I still been working and not been able to fish more during the week, I believe this would have been my worst year in over twenty years. As it turned out, when the year ended I had caught and released just forty-seven fewer trout than the prior year, though I had fished nine extra days.
In addition to catching thousands of beautiful wild trout on spinners, I enjoyed taking many digital photographs of the trout, streams, and flora that I found in the hills and hollows of our wonderful state.
Winter Aconite blooming on February 28th: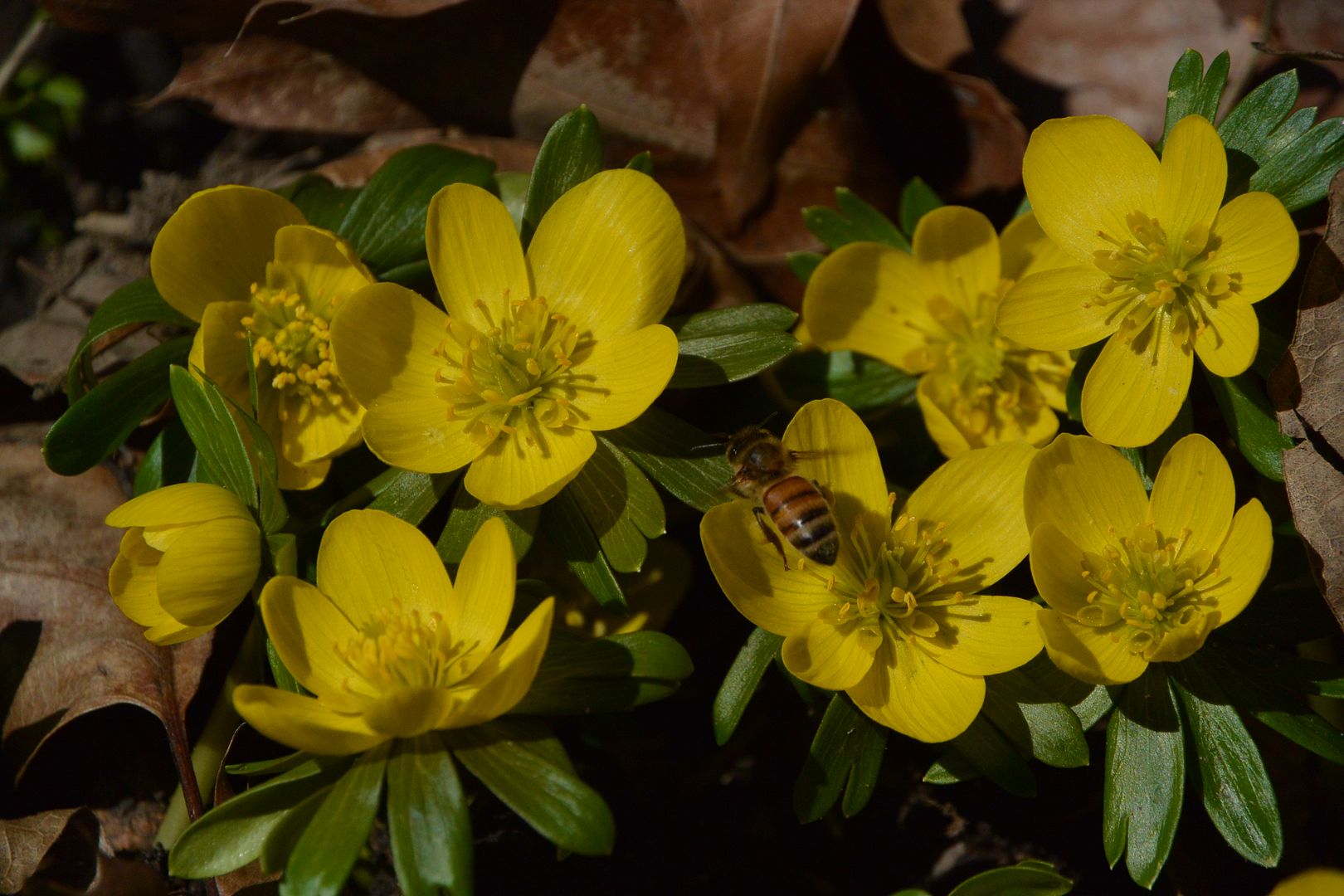 Skunk Cabbage and Lesser Celandine: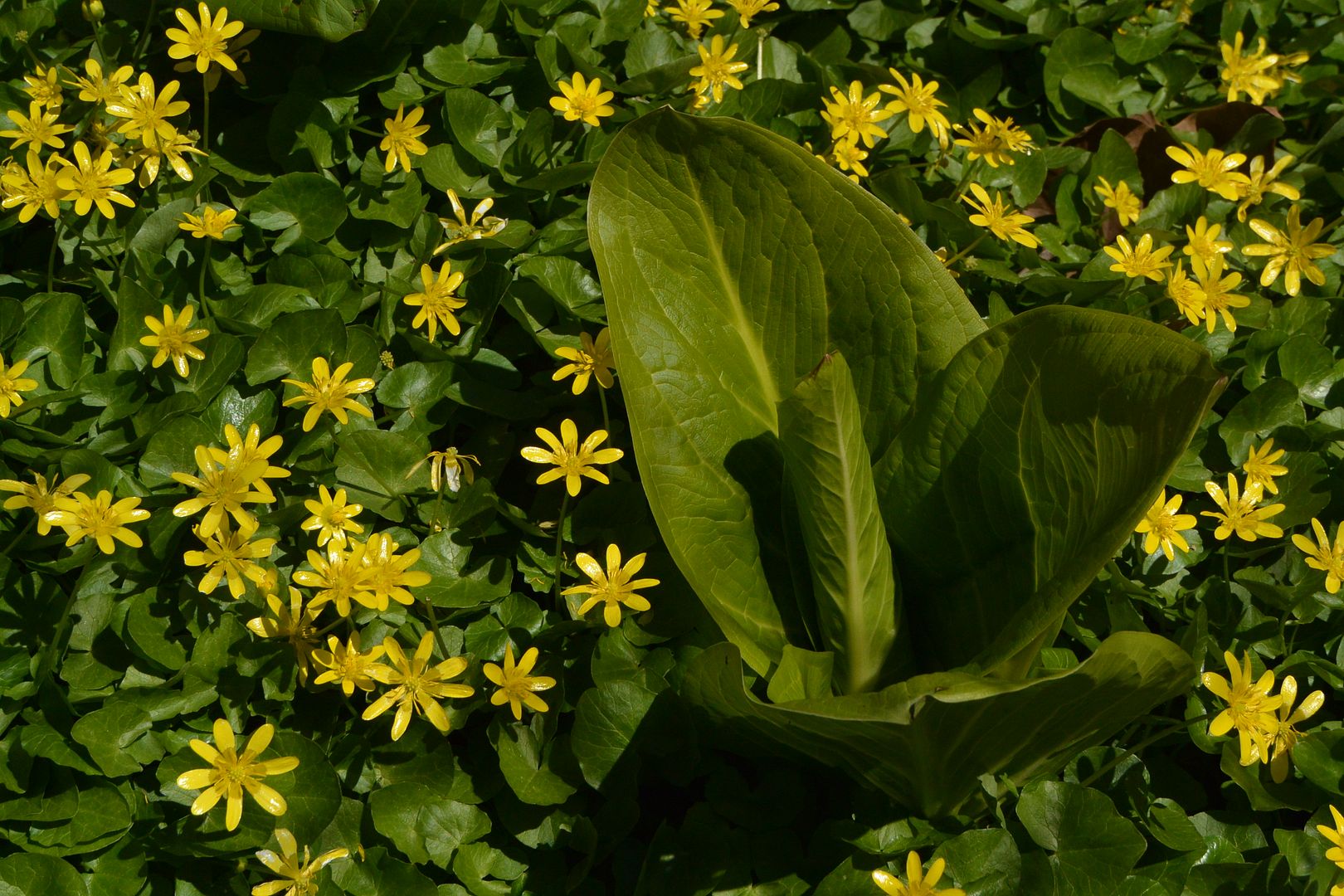 Hawthorn Tree:
Ferns: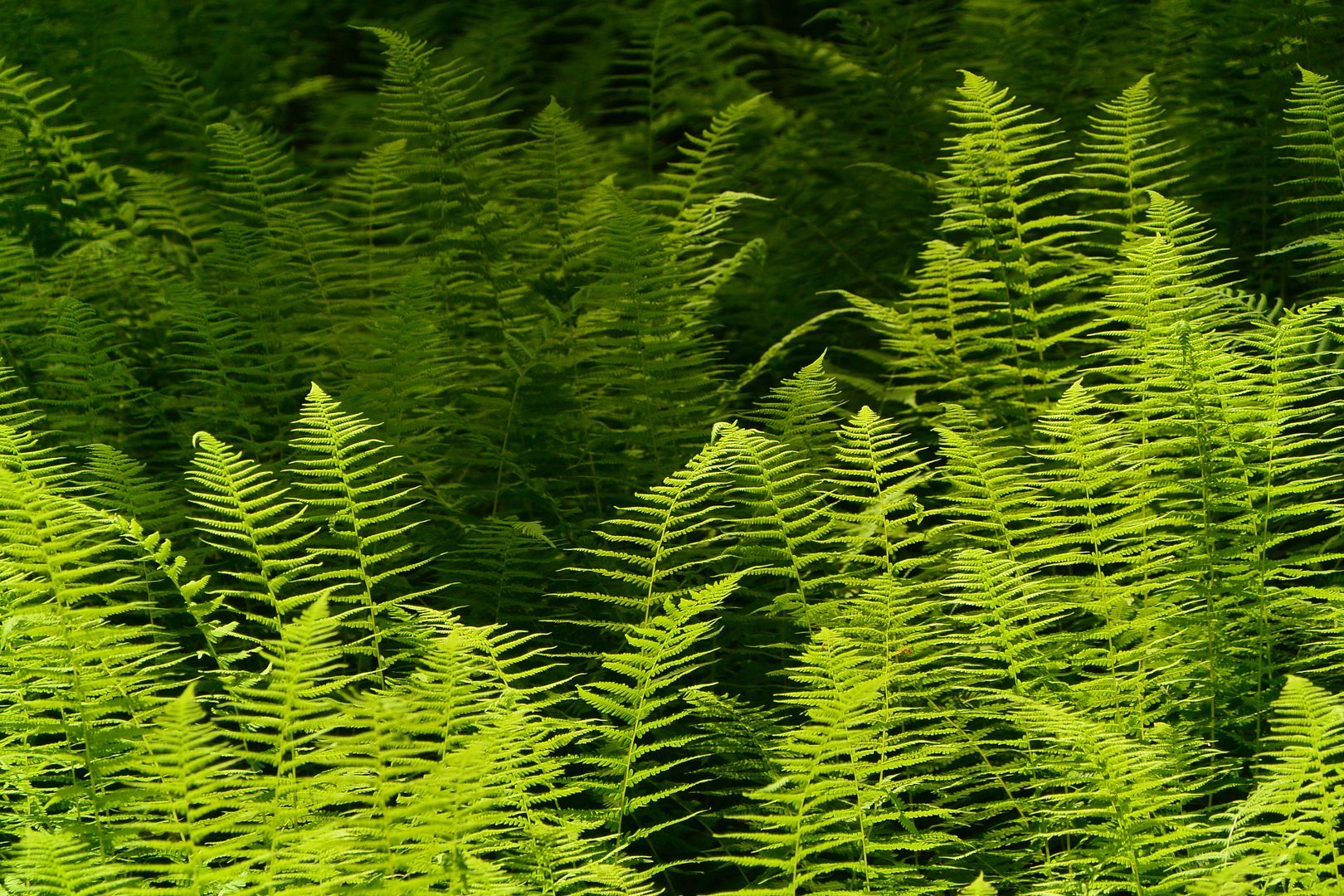 Disclaimer​
In this summary I will be mentioning numbers of trout caught and other statistics. This is not meant to be bragging but to give you a factual account of my fishing adventures. If this offends you, please read no further. If you choose to continue reading, I can assure you that my numbers are perfectly accurate. I carry a small tablet and pencil with me while fishing. When I get to a stream I write down the date, stream name and section, color of spinner, time, and the air and water temperatures. While fishing, I count only trout I have hooked, played, and landed. After catching a trout, without exception, I get out my tablet and record the size, species, and time-caught before making my next cast. This process takes only seconds and eliminates any chance of double-counting. I accurately measure my trout by holding them parallel against the grid of inch-marker thread-wraps that I put on my custom-made spinning rod. When necessary, I round the size of my trout down to the nearest one-half inch. When I finish fishing for the day I calculate the hours I have fished to the nearest one-fourth hour. I also try to quit at or very near to one-fourth hour increments. All of my fishing is done in streams open to free public angling.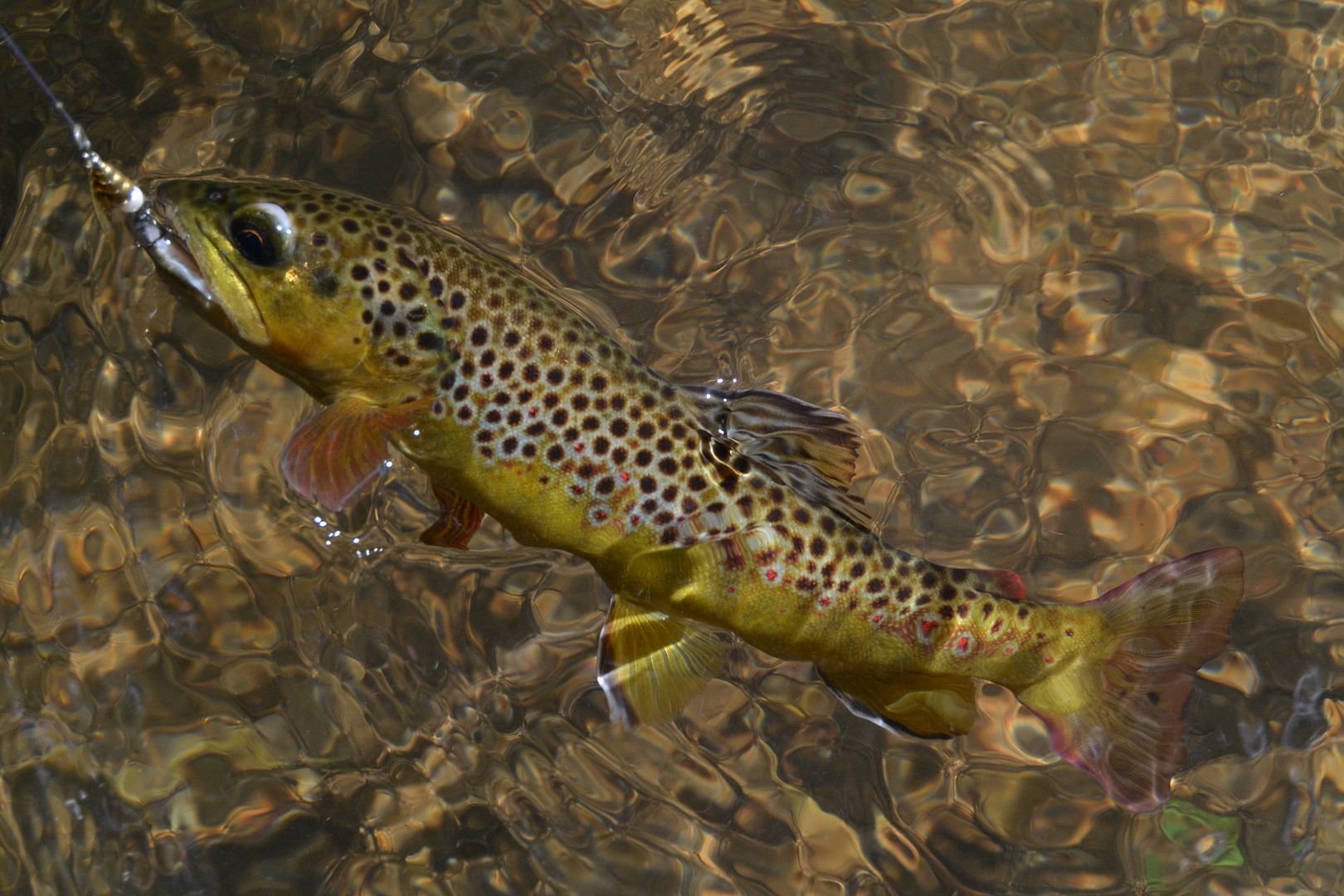 Trout of the Year​
Each year I like to christen one trout as my "Trout of the Year." This year's special trout will keep me coming back for more in the years to come.
Like many anglers, I have often heard and read stories about other fishermen catching big trout that migrate out of reservoirs and up little feeder streams in the autumn to spawn. Although I do not typically target big trout, in the past I had occasionally fished some of these places, albeit unsuccessfully. This summer, while fishing a little stream above a reservoir, the thought occurred to me that maybe this would be a good place to try in the autumn. I could not recall fishing here in the autumn before; in fact, I had fished this section of the stream only a handful of times in my life. I tucked this thought away in the back of my mind.
The stream holds both native brook trout and wild brown trout. Since it is a small freestone stream, it is not the kind of place that I would go to under low water conditions on a cold autumn morning, which can send water temperatures plunging overnight, but I planned to go here later in the day if the opportunity arose.
The air temperature was 40-degrees on the morning of Wednesday, November 2nd. I fished a large river until 2:30 p.m. and caught forty-seven wild brown trout. While walking back to my SUV I kicked around options for the remainder of the day and decided to drive to this small stream.
It took a half hour or so to drive to the stream and then another good twenty minutes to walk to my starting point directly above the reservoir. While walking I crossed through a spring seep and noticed a fresh set of black bear tracks in the mud. Robins were flushing ahead of me constantly during my walk. The flock must have numbered in the hundreds.
When I arrived streamside I found that it was very low, about three feet wide in a shallow flowing riffle. Yellow beech leaves clung to the many beech trees that lined the water, and globs of dead leaves clung to every exposed rock in the riffles, giving it a late autumn look. The air temperature was an unusual 76-degrees so I was not surprised when the water temperature registered 54-degrees. The sky was partly sunny.
In the first fifteen minutes I cranked out three small colorful wild browns, but the first few larger pools were vacant, much to my disappointment. Then I came to a pool that had a relatively long flat area about eight inches deep along the left side and a nice-sized boulder on the right at the head of the pool. The only truly deep area was a small wheelbarrow-sized depression along the rock where the riffle entered the pool.
I must have been in a daze as my first cast hit too far to the left. As I retrieved my spinner through the eight-inch-deep water a huge brown that had been lying unseen in the open turned and quickly charged and devoured my White Bead Gold spinner. When I set the hook his head came up out of the water, as if in slow motion, exposing his long hook jaw. All I could see was yellow as he sloshed in the water while turning around to go back upstream. He was a beauty.
I guess I was already thinking about how I was going to pose the monster for photos because when he torpedoed directly away from me I neglected to open my bail since there was no time to loosen my drag which I always keep completely tight for hook-setting purposes. My four-pound test line was no match for the power of this bruiser and snapped, sounding almost like a .22 shot going off in the distance. My heart sank. I had just blown a rare opportunity at one of the largest trout of my life.
I waded upstream to find out how big he was since there was nowhere for the hawg to hide. He was lying calmly in the deepest spot, about two feet deep, likely knowing there was no place for him to go. Gold jewelry hung from his hook jaw. My guess is he was about two feet or so in length. Not wanting to further disturb him, I turned and moved upstream.
Most anglers I suppose would have been totally bummed, but I always say it is better to have tangled with a trout and lost than to have not tangled at all. In fact, I think fishing would lose its appeal if I caught every trout that struck my spinner. Now I will get to dream about the big one that got away and anticipate a return visit in the autumn of 2017.
Three Trips to "God's Country"​
Technically, Potter County, located in north-central Pennsylvania, is the only county in the state that is nicknamed "God's Country." However, I tend to think of the entire remote north-central region as "God's Country," whether I am fishing in the Pine Creek, Kettle Creek, First Fork of Sinnemahoning Creek, or other smaller watersheds. Each year I try to make a few visits to the northwoods for the adventure. This year I made three trips before low water levels kept me at home in south-central Pennsylvania.
I typically do not travel to this area until after spring gobbler season is over near the end of May to avoid potentially chilly nights and because I believe angler usage drops significantly by this time. This year I got the urge to travel north much earlier in the year due to some unusually warm weather. I knew it was a big gamble, but I just had to go, if you know what I mean.
On Thursday, March 24th, I jumped out of bed at 4:30 a.m. and soon had my SUV pointed north. At home in Blair County the air temperature was 43-degrees with a full moon, which did not exactly match the overnight, 50-degree, cloudy-sky forecast. I hoped that as I traveled upstate the conditions would change for the better.
Unfortunately, the conditions worsened. It was a chilly 36-degrees and clear when I arrived at the small parking spot along the stream. I was fairly certain the trout-catching was going to be slow, at least until it warmed up significantly to the expected 70-degrees. I walked about a mile upstream before beginning to fish at 7:15 a.m. in the 43-degree water.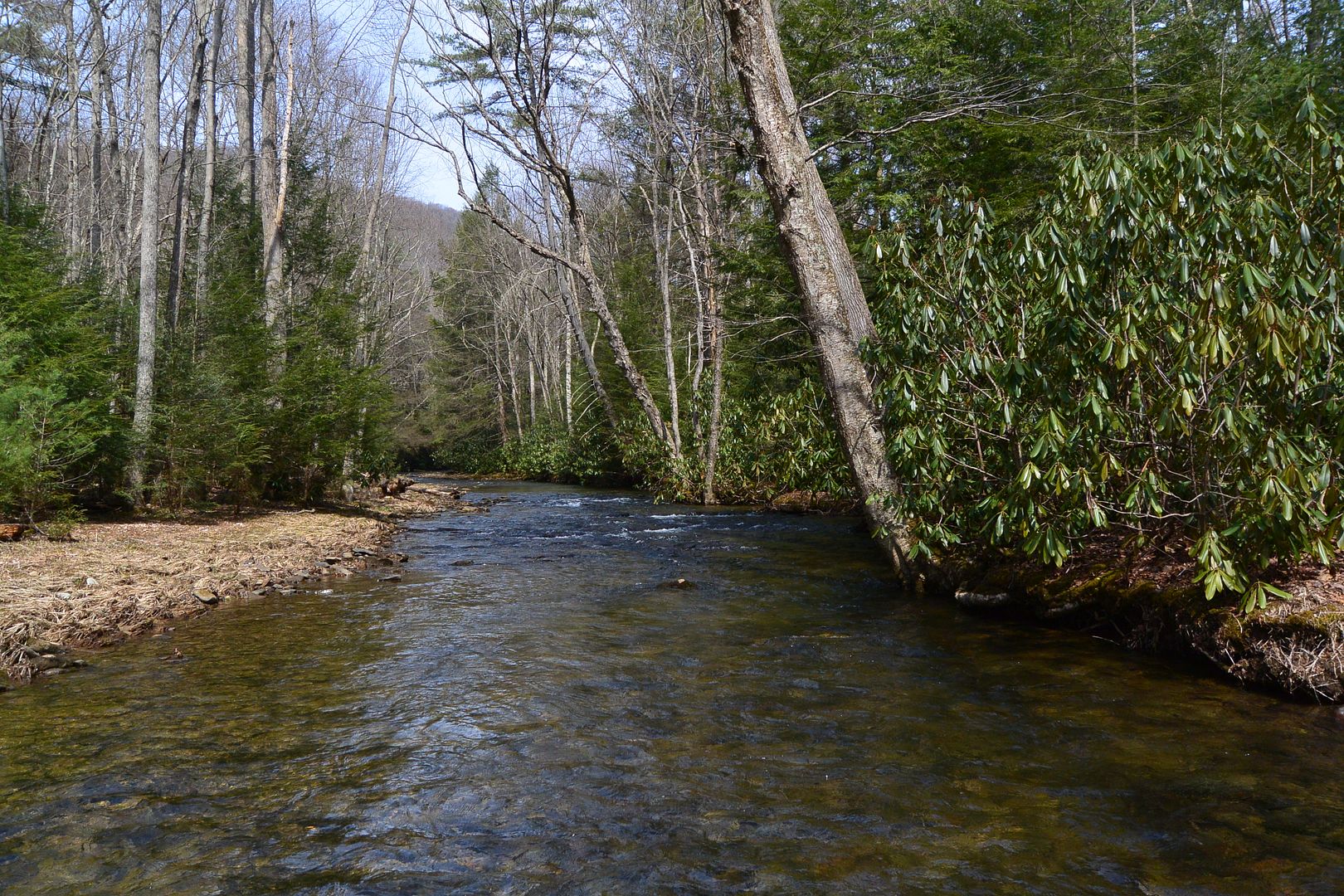 This stream is known for its highly volatile trout population, not just overall but also from section to section. The reason for this remains a mystery to me but I suspect it has something to do with the high gradient and lack of spawning gravel. I had not fished here in many years, but in the past it was common to catch trout after trout for an hour and then have hardly any action for a half hour, even in some seriously attractive habitat. I caught just two trout in the first hour. However, I was committed to staying here all day unless the action was a total bust.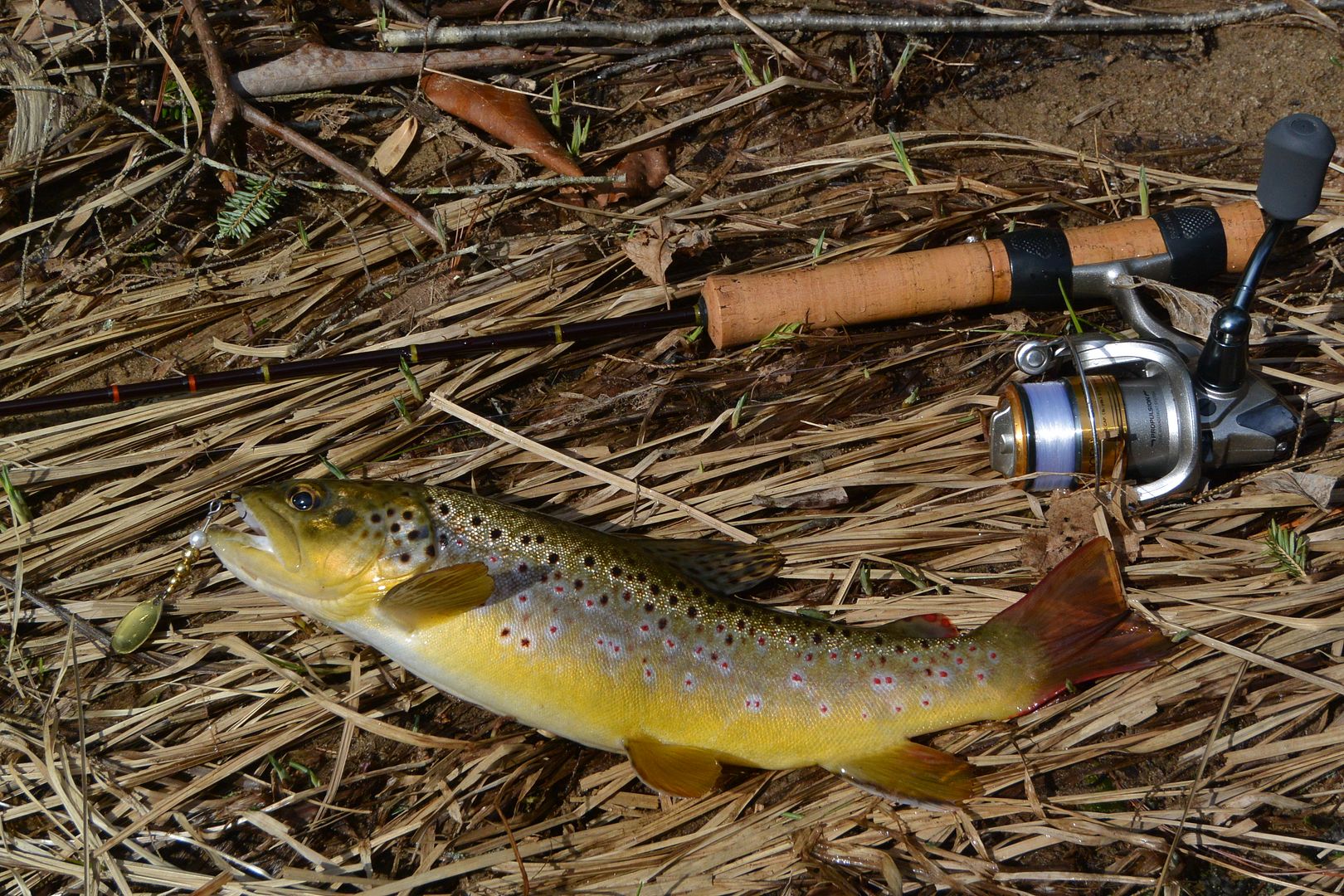 To make a long story short, I fished for 8.00 hours and caught and released 103 wild trout on this non-stocked waterway. Interestingly, the first two hours yielded just ten trout while the final two hours gave up 41 trout. My final tally showed 41 native brookies and 62 wild browns. The largest brook trout was 11" and the largest brown was 14". The air temperature was 72-degrees and the water was 49-degrees when I quit. It took two hours and two minutes to hike back to my SUV, repeatedly crisscrossing the stream each time it ran up against the steep side of the ravine, but I was smiling the entire way, knowing that my gamble had paid off.
On Wednesday, May 11th, I made a return visit to this stream and began slightly upstream from where I had stopped on March 24th. To get to the stream I had to hike down a beautiful moss-laden tributary for about 1.6 miles. A beaver dam greeted me on the main stream.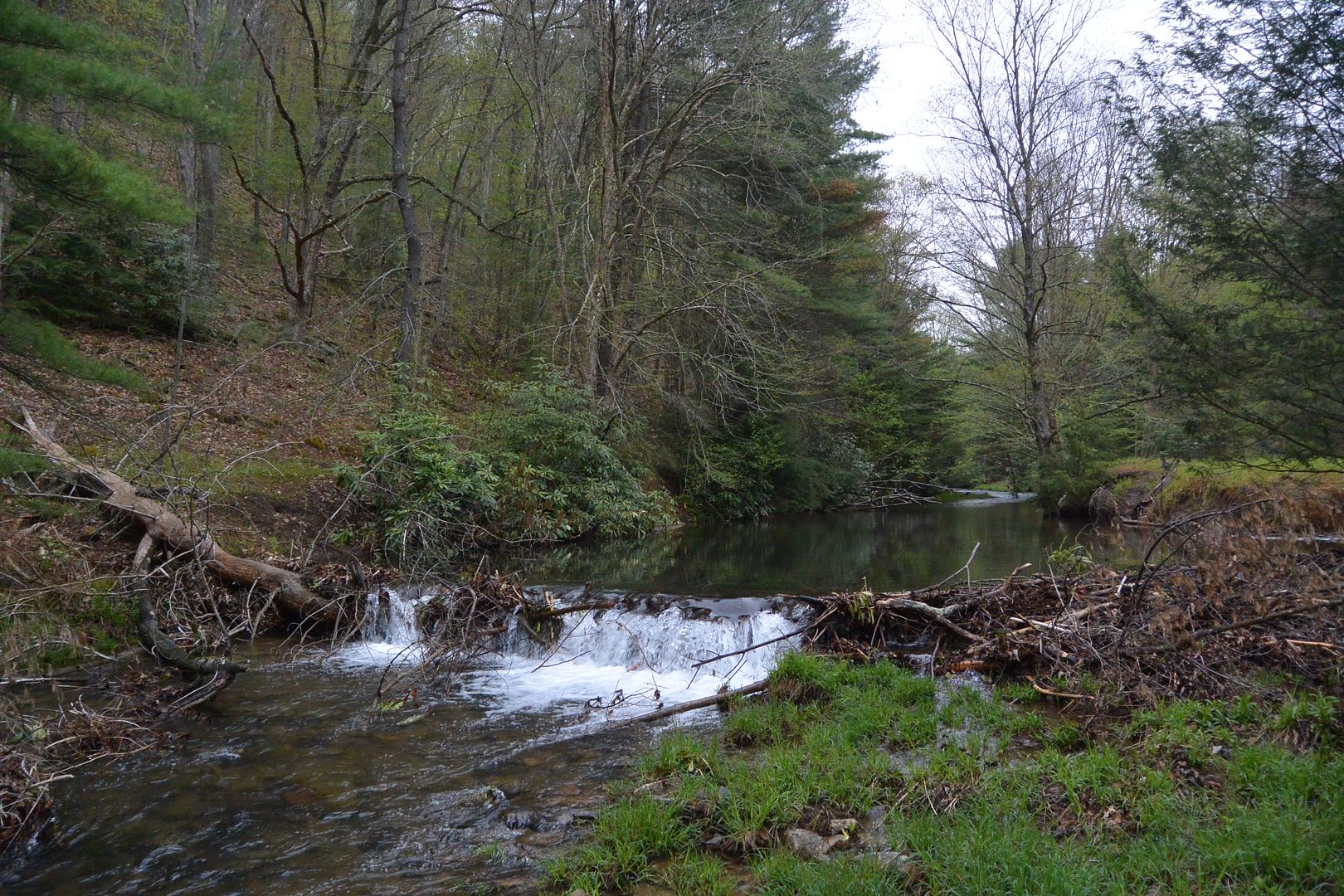 The action was slow right from the start. After all of the effort I had put in to get here, I was surprised and very disappointed to see a set of boot tracks in this remote area, likely from the past day or two, which was likely the reason for the lack of interest from the wild trout. I fished 7.25 hours, including short forays up three feeder streams, and caught just 72 trout. It took two hours and eleven minutes to walk back to my vehicle. I saw several white-tailed deer and some wild turkeys during the hike.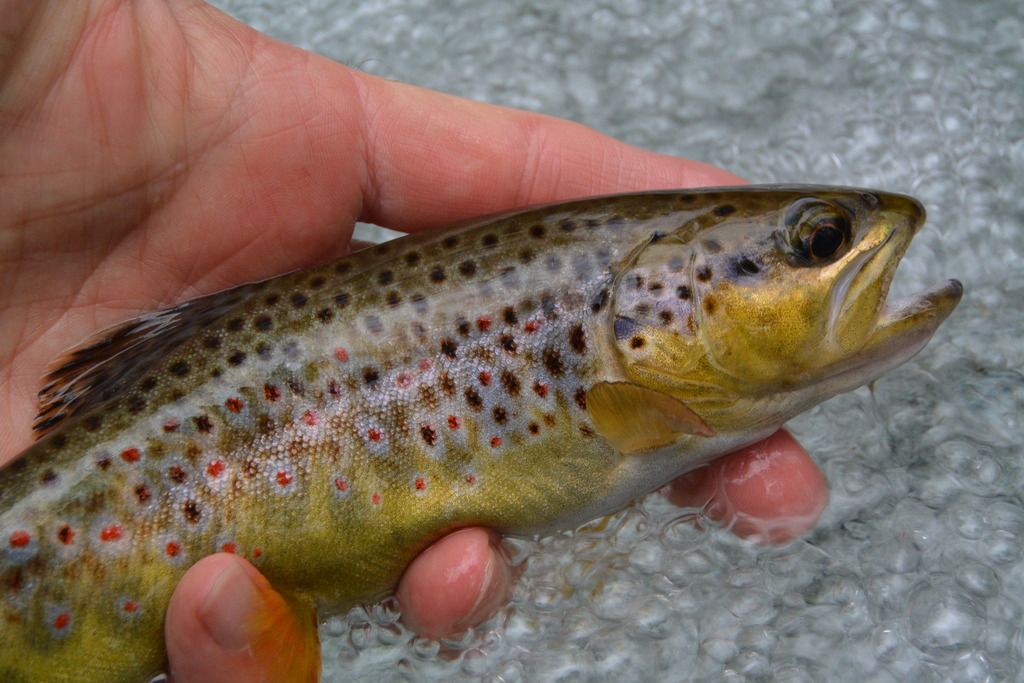 A small stream that I often fish when I head north was my choice for my third visit on Thursday, May 26th. Every time I enter this hollow it evokes the serene feeling that I am far away from civilization and about to have a wonderful adventure.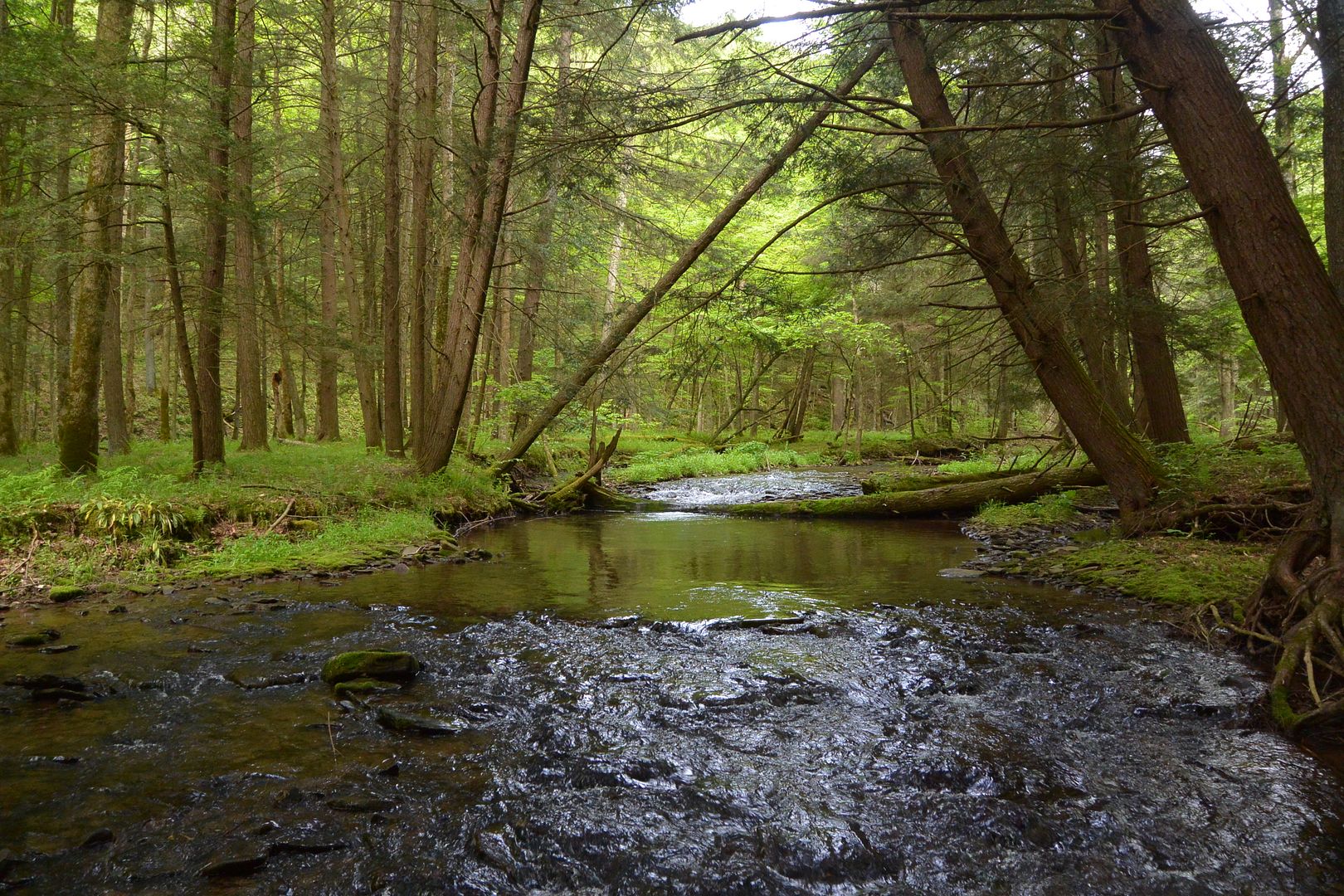 Today was no different. The native brookies and wild browns cooperated quite well. I cast my White Bead Gold spinner for 7.50 hours and caught 143 trout. A dozen of the 140 brook trout were in the 9" to 11" range, and the largest brown trout was 12.5".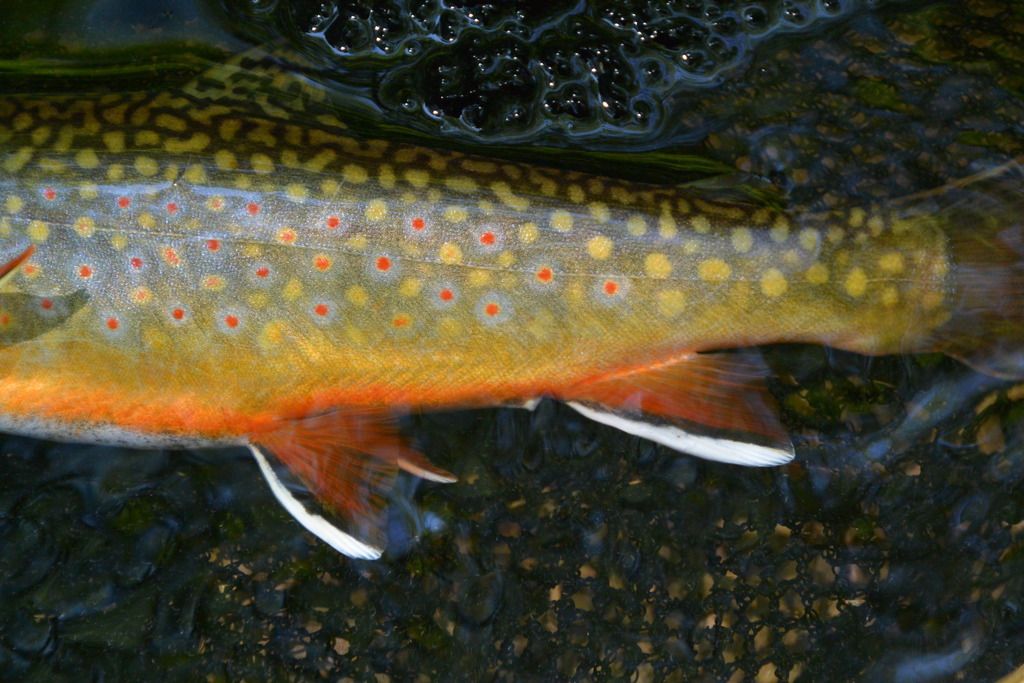 I did not return to north-central Pennsylvania after this trip because beginning in early June this region got missed by most of the few rain showers that moved across the state. Water levels plummeted. They remained this way well into November. I fear that some streams or sections of streams dried up completely.
Most Productive Outing of the Year​
When I go spinner fishing my goal is to attain the euphoric feeling that I am going to catch a trout on every cast. In the beginning it took just a few trout to feel this way, but as the years have passed expectations have risen and it has become more difficult to achieve this objective. But once in a while the stars seem to align and the fishing can be downright unbelievable.
On Saturday morning, May 29th, I got up at 3:30 a.m. and drove to a little off-the-radar stream that I can best describe as special. Five times in the prior ten years it had produced my best outing of the year, all with days over 200 trout and once over 300. After parking my SUV and donning my hip boots and camouflage clothing, I hiked downstream in the dark for about forty-five minutes and reached my starting point at first light at 5:40 a.m.
The 60-degree water was flowing well but was cloudy, perhaps from all of the big wild brown trout slipping back into the water just before daybreak after spending the night up on the muddy banks engorging themselves on night-crawlers. I feared this would negatively impact my fishing, particularly in the deep pools where it would be difficult for the trout to see my White Bead Gold spinner. The sky was mostly clear and the air was 62-degrees.
The action was slow for the first few minutes and no trout were caught in the better pools. But as the sky brightened the water did not seem to be as cloudy, and much to my delight, I began picking up wild brown trout with regularity on my five-foot, ultra-light spinning rod.
A bald eagle flew overhead with a still-struggling wild brown trout in its talons. This was the first bald eagle that I had ever seen here. But after catching nineteen trout in less than forty-five minutes, I looked ahead and saw another spinner angler working his way downstream. He was not wearing boots, so I surmised that he had probably just begun fishing since the area upstream from him had thick brush on both sides of the creek.
I gave him a wide berth and got right back into the action. By a little after 10:00 a.m. I recorded my one-hundredth trout of the morning in my little tablet, and shortly after 2:00 p.m. my two-hundredth trout of the day was brought in to my boots.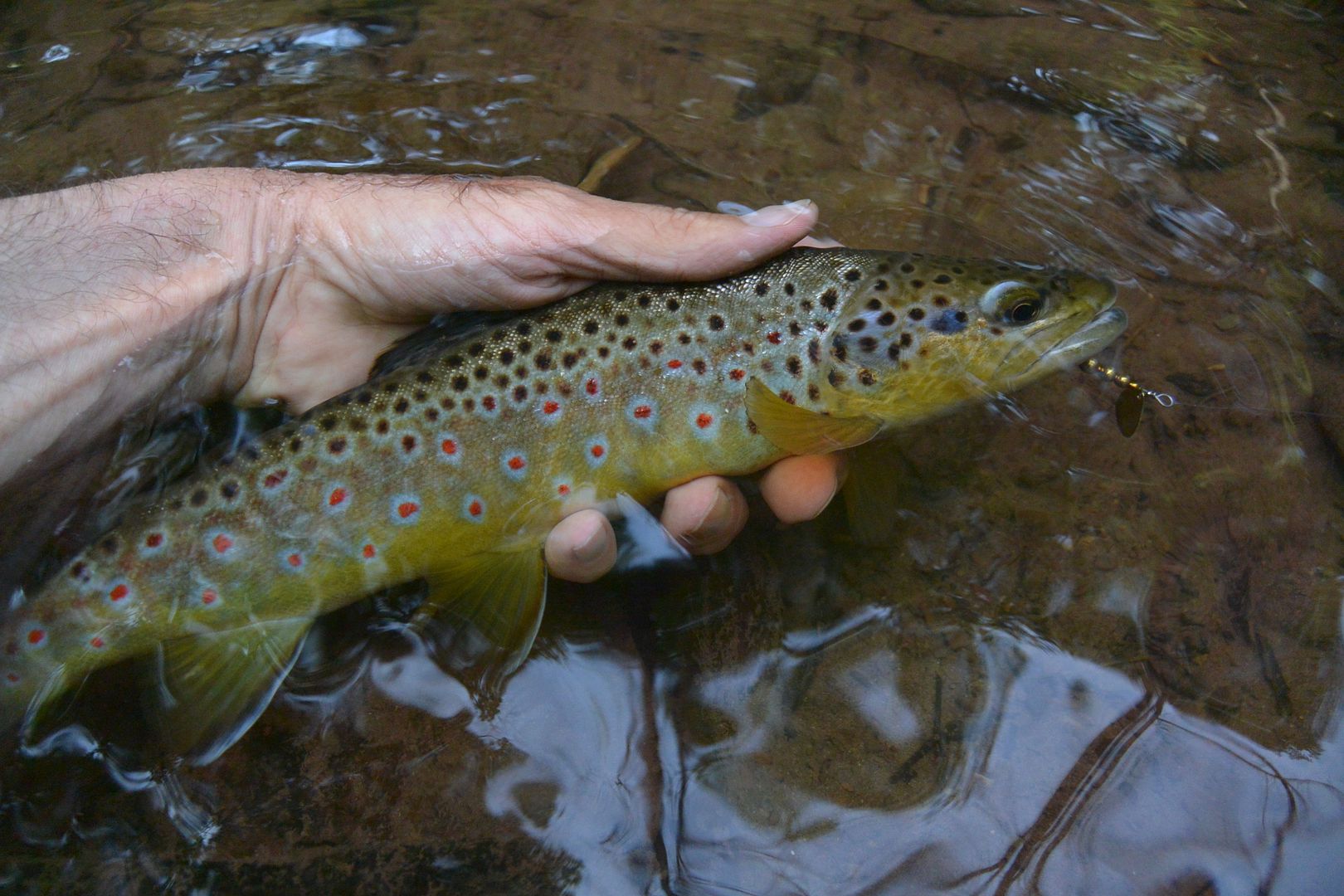 Time flew by as it always does when I feel like I am going to catch a trout on every cast. I ended up fishing an exciting, near-marathon 11.50 hours and caught a total of 279 trout. All of the trout were wild browns except for one small rainbow that likely was naturally reproduced in one of the creek's tributaries that is known to hold a self-sustaining population of wild rainbows. My biggest trout was only 13", but I had my chances at three browns in the 20" class. This day ended up being my most productive outing of the year and only one of two days where I caught over 200 trout.
Wildlife Event of the Year​
Each year while fishing I usually have a number of wildlife sightings, one of which is typically more memorable than the others. I like to christen this encounter as my "Wildlife Event of the Year." In past years I had seen a bald eagle attack an osprey that was carrying a wild brown trout, a mother bear with three cubs, two of which were cinnamon colored, and a mink hauling a large struggling wild brown trout out of a riffle on Penns Creek, as well as seeing rattlesnakes, coyotes, and other wildlife up close.
But as the years have gone by it has become exceedingly difficult to see something that I have not already seen, though I am still waiting for the first time that a large bull elk wades across the stream ahead of me. This year I did not have any particularly noteworthy wildlife events, but one day while fishing in the Little Juniata River Natural Area I watched a bald eagle through my binoculars flying along the nearly vertical mountainside. A dead tree stuck out from the other trees and the eagle landed on the tree beside another eagle that I had not yet seen. Though I probably had twenty-five or more bald eagle sightings this year, it just seemed so majestic to see this one for some reason. It made me feel like I was in Alaska or something.
...to be continued below.