Discussion Starter
·
#1
·
Food plotting can be fun and additive but I think everyone will agree it can be costly.I think of all the money I have spent on doing it and implements, from a small hand spreader to a 45 HP. Kubota.This isn't counting the seed,trees,lime and fertilizer I have purchased over the years.I thought I would try and share with you some of the things I have made that may have help keep the expence down.
first atree spade I made years ago a must for planting the 1,000's of trees that I have and will continue to plant.
This is a cultipacker I built out of 16" X 5 1/2' culvert,1 1/2" steel rod through poured concrete.(added steel to the rod to keep the rod centered when pouring in the concrete.)Milled out a piece of steel to fit over center rod and tapped with grease fitting,attached to frame.
IMG]http://i644.photobucket.com/albums/uu167/madilldw/2007_091220060108.jpg[/IMG]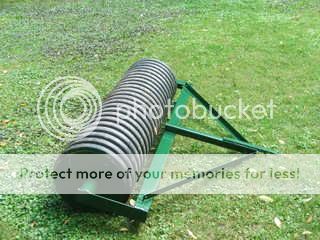 Next thing I built is a weed wiper that I attach to my 4 wheeler.This is a 4" X 5' PVC pipe that I drilled and tapped the wicking fittings too.Attached to some unistrut and fasten to my 4 wheeler.I got my parts from-
http://www.grnleafinc.com
The last thing is a nozzle sprayer.I wanted a boom sprayer for my 15 gal. sprayer.I knew I could rig up a hose and a valve to redirect my pump pressure to a nozzle on a boom.
So I needed to make a nozzle, I took a 1/4" pipe plug and cut it half way through the square end.Drilled an 1/8" hole dead center from the threaded end untill I came to the cut out on the square end.This makes approximetly a 5'fan at 3' high and I probably use this piece of equipment the most.I hope this isn't to long and maybe useful to someone.