Discussion Starter
•
#1
•
friend of mine went out last year once and found it to be fun so he asked me to come this year and I kept blowing him off figuring we wouldn't see birds and I wanted to bow hunt. Friday the wind was wrong and we knew of an area that was getting birds either wed-fri so we headed up at noon, watched not one but TWO groups with dogs work a field in front of us and were standing there trying to decide how to beat some brush for birds ( we are dogless) when we could hear some leaves crunching in the hedge row next to us.
now this hedgerows are THICK so I was looking inside and saw some twittee birds poping around and started talking, my little brother walked over I see him staring and staring and then a gun come up and he takes a bigs tep forward and BOOM two hens flush. we were all so caught off guard we didn't get shots off till they were far off, but somehow my littlest brother who just started hunting last year and ive never actually seen practice much with a shotgun since he was little nails one wayyyy off, and the other pitches.
I jog off to try to "drive" (?) this little patch to the field again to get the other hen, get a few steps down and put my hand on a tree to step through some swamp mud, turn around and theres a hen creeping behind the tree I was just touching shoot her and a cock bird jumps up right off the trail I just walked down. it was pure pandemonium with us 5 running back and forth jumping birds all over while the guys with the dogs are hunting fields way in front of us not getting any shooting. we ended up with 8 birds 3 cock birds and 5 hens, and had one hen get away. all outta one little wood lot that every single person who hunted had to walk through.
needless to say I had a blast on my first pheasant hunt and couldn't be happier I skipped deer hunting for the day, my best friend who happens to be the hunting buddy who talked me into it is now working on getting a dog to train for next season
To top off the whole story it is the first time both my brothers, my father, and me got to hunt together, and my littest brother who shot his first pheasant did so with our grandfathers Sears and Robuck 12 gauge pump gun that has some age on it, none of us ever got to meet him as he passed away before we were born and that gun is one of the things we have left of him that we can take places and do things with which is pretty cool in my book.
sadly the picture with all of us didn't save for some reason but heres a picture of me and my brother and my friend. im to the far right brothers are both down low and friend to the left.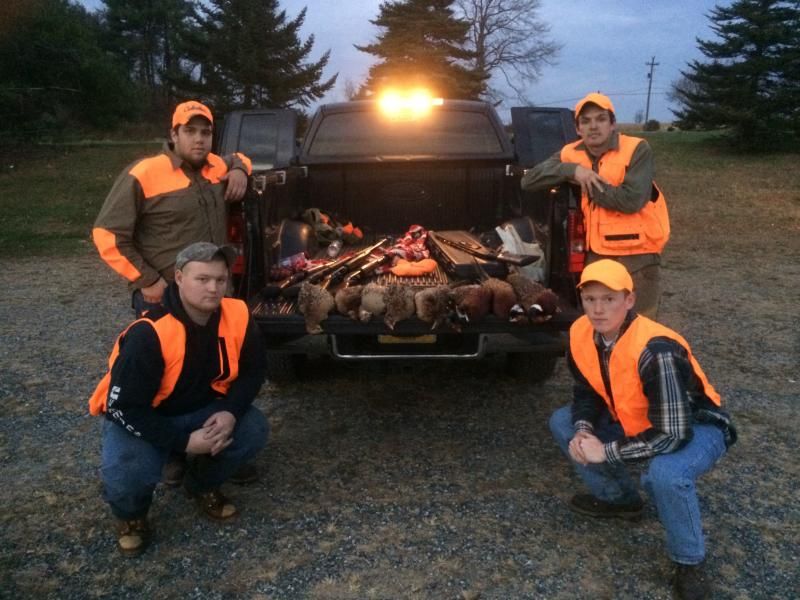 today they went back and got 4 more, and im taking off work again next Friday to go back and try our luck again. freezer is getting full between all these pheasant and the few deer I already got, and it aint even gun season yet!