Discussion Starter
·
#1
·
Finally made it up to the Erie tribs. Water was low and clear on Friday. Stayed up Thursday night into Friday morning and tied up all sorts of "steelhead flies", sucker spawn, jigs, you name it. Went to bed at 1:00 up at 3:30. We hit the road and were on the stream around 7:15 or so.
Went up there with my 8 wt, and took the 5 for back up. It was only the third time my 8 weight had ever left the house. We hit Elk Creek early and found a few fish held up under a bridge. The water was very shallow under this bridge but there were about 10 or 12 fish, so I had to try. I was trying the Czech techniques earlier and had a pheasant tail with a large stone fly dropper.
Trouble was there was a bridge over my head so holding the rod high was not feasable. Instead I fould my self roll casting upstream then "dragging the nymphs" through the shallow water. BOOM! Instant hook up just about every cast for about 15 mins, as long as I could keep tension on the flies it was similar to Czech nymphing but with the rod turned and the nymphs dragged side ways, similar to swinging I guess. I bet i looked like a complete idiot with this but hey it worked. The shallow water put a hurting on my hooks however with snags, and was unable to land a fish under this bridge. I would have a good hook set and this whacky style of fishing had caused my line to get a tangle and for a pretzle. Well having this happen when a 24"+ chromer is screaming upstream= instant snap. I had hook about every one of these fish in the hole but could not land them. this was quite amusing to my buddy who is a steelhead vet.
I grew tired of not being able to cast/mend the line on my 8 wt and decided to bust out the 5 wt. I figured I would rather fight them for an hour then not be able to connect with feeding lies, or hook them. Also I really wanted to test out my Risen Ichthus reel. I figured if it would pan out on fresh Erie chrome I could count on it for any trout I would catch in PA.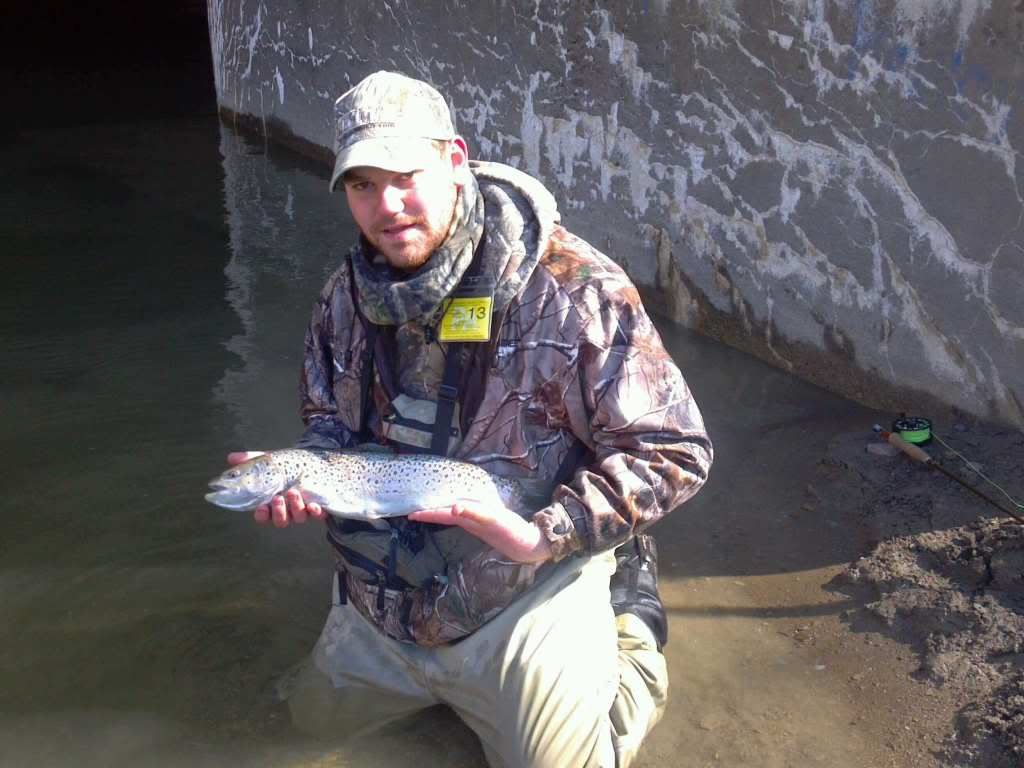 Discouraged I went to another spot with two tubes coming through the mountain. I stuck with the 5 wt, and we had success in this spot. My first fish was this beautiful brown. She took a size 6 white conehead bugger on the dead drift. It was awsome to get such a decent brown in Erie. My buddy had caught a 17" brown just before, and was pretty much the reason I switched to the conehead bugger.
The rest of the afternoon was spent at this spot. We each had double digit hookups. I ended up landing 3 all on the 5 wt, 2 chromers and the big brown. My buddy (steelheadwisperer on paff) ended the day with 6. the last fish was a hammer about 8 pounds. He was having all the luck on buggers, and I had all the luck with nymphs. It was a blast but a lot of work to get fresh chrome on the bank with light tackle. All my fish except for the brown were on size 14 BHPT. This is by far my favorite fly for versatility.
I did not use any of the flies that I had stayed up to tie. In the future I will just tie up a bunch of BHPT, BUGGERS, large stones, and standard nymphs. I think these flies are better for late season than the Sucker spawn and such, but would not leave home without them
. At least for this trip that was the tune, and I have a fully stocked steelhead box for next time.
I will now be in trout mode and am sure I will be bummed when I set the hook on the 5 wt and not hear it scream. I thought the Risen Ichthus 5/6 performed amazing with these hard fighting fish. It definetly took more abuse than a 5 wt should. Very long runs were a result of this light tackle. But every time the fish stopped the drag would stop up. The smooth reeling action made it easy to catch back up with the fish if if turned suddenly. With all of these long runs and hard battles, the reel never bird nested or tangled. I only had to adjust the drag 1 time to tighten down when the fish would get tired. It definetly surpassed my expectations. Ryan offers a good products for sure. In the future I may buy a new 8 weight and his Anakim reel, but the 5 wt was a lot of fun. I wish my camera would not have died so I could post the chrome.
This weekend should be great if they get rain. We talked to a guide who said that not many fish came in with the last rain, and they should be waiting to come in. He anticipated this weekend to be the best, if the get the rain that is coming in from the mid west.
Good luck to all who head up, and thanks for reading.
P.S. This trip was the longest ever. Left at 3:30 am and got home at 11:30 pm. A wreck on 79 made for a long wait. After a long day of fishing in the 40 degree temps and having the wind tunnel effect from the tubes. I only stayed awake for about 5 more minutes after my shower.