Discussion Starter
·
#1
·
Cashed in my father's day gift of getting some time out on the stream to do some trout fishing. After reading a lot of the posts on here about spinner fishing for native/wild trout I really wanted to give it a shot.
I spent a couple weeks previous looking through the wild trout stream listings, maps, access points and any history I could find online of the various streams I was targeting.
I settled on an area I was familiar with near a stocked stream I have fished for 20+ years that had several Class A and wild trout supporting streams around it. I mapped them out in logical order and planned my starting point and next stops in case they didn't work out. I didn't have any previous experience on these streams, so wanted to have plenty of options, including the stocked stream as a possible back-up.
The first place I targeted had me on a gravel road heading through SGLs. At about 1 mile out from the stream this gate decided I would be walking in the rest of the way.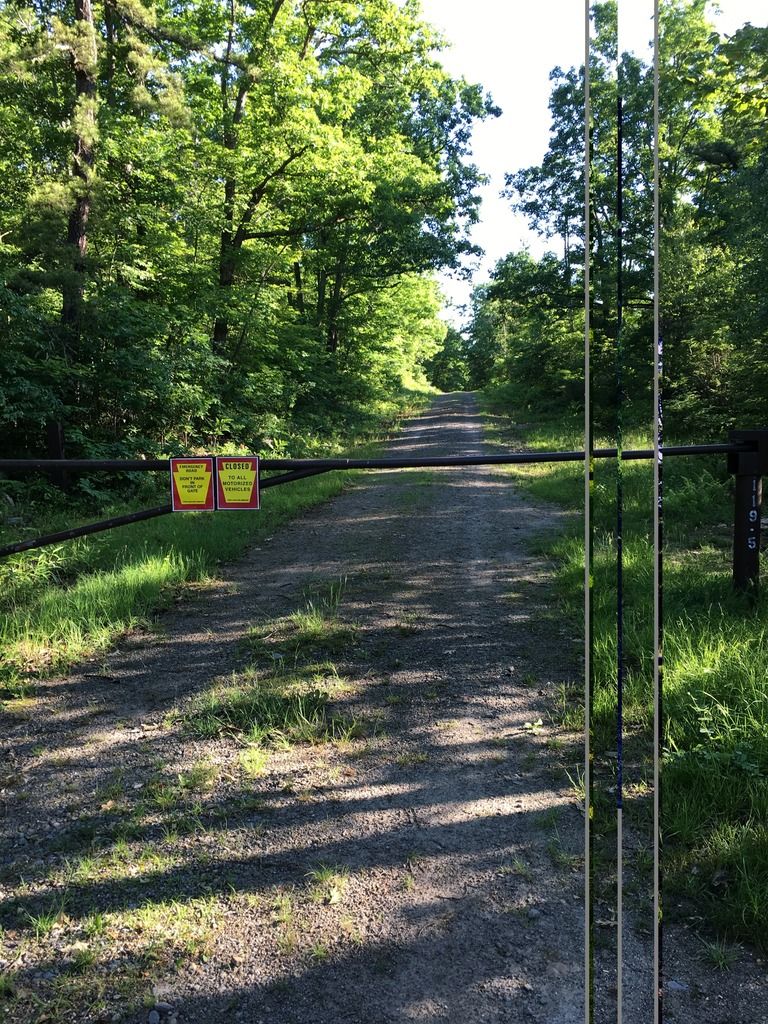 I arrived at the stream, but it was probably a little bit too low/small. I tried upstream and downstream a little bit, but didn't really find any fishable water so decided to return to my car.
On the way out I cut across these tracks and realized I wasn't the only one exploring this area:
I then traveled to a downstream portion of this stream after it received a tributary hoping to find better water. It did seem more fishable, but posted signs on both sides of the road caused me to change plans again.
The next closest stream was the stocked one I was familiar with, but haven't had time to explore a good bit in a while. It runs through a state park and offers lots of remote access with almost no other fishing preassure. Stocked trout seemed to be absent, but to my surprise I pulled this native brookie out:
Shortly after, I came across this young buck who didn't seem to mind my presence at all: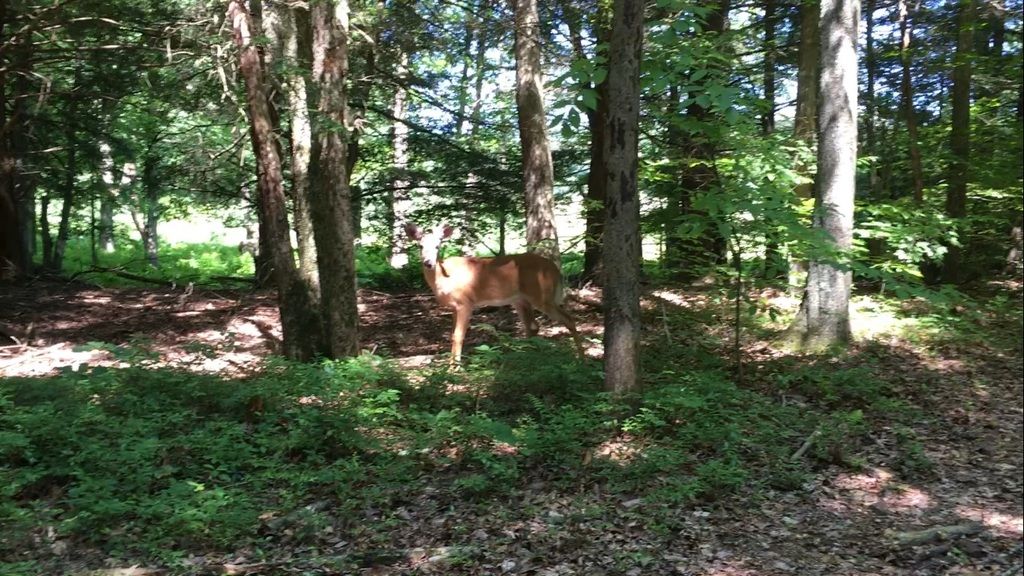 After reaching this meadow and only catching the native and a stocked brookie after a couple hours, I decided for another plan.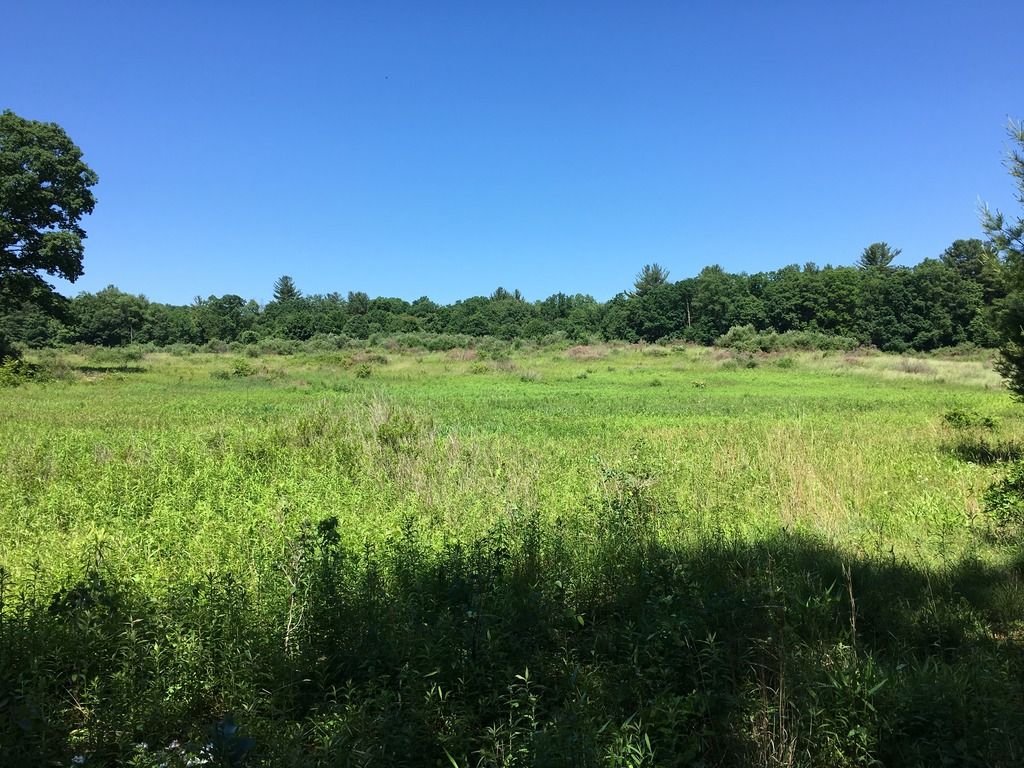 I checked on another stream, which again seemed low and had a truck parked nearby, so I decided to pass.
I had one more option at this point and was running low on time. I mapped out an area where a class A flows into another stream that supports wild trout, but ran through a semi-residential area.
I pulled up to the stream and immediately had houses to my left and right and several posted / no-trespassing signs. One of the landowners was outside and after a quick friendly conversation I had access to the stream. There was probably only 200 yards of stream access available to me, but decided to give it a shot.
I proceed downstream on land a little bit and then headed into the stream to begin throwing spinners and making my way upstream.
My starting point was in these shallow riffles:
The first cast produced this wild brown:
Most other casts either had more follows or strikes by similar sized fish. I was surprised by their aggression.
I moved upstream and noticed a deeper area under this bush:
This guy was living there: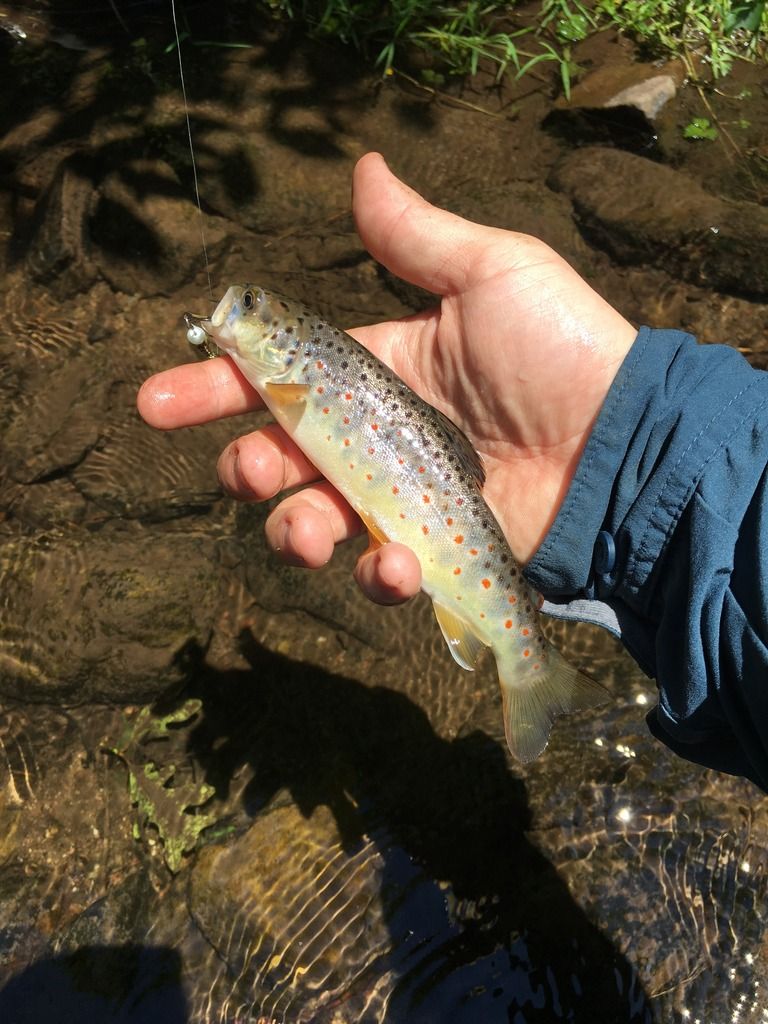 After several more fish and many misses and short strikes I quickly arrived at the end where a class A stream enters:
The trout in this hole were slightly larger:
Unfortunately, I could not fish any further at that point and it was ready to return home, but had blast fishing that short section and catching these wild browns in just a short section of stream. I never really 'got into' a section of wild/native trout like that before and was really surprised how aggressive they were to the spinner and how many fish were present in just a small area. Had a ton of fun and the last stream really saved the day. Now I just have to plan my next trip
Not sure if he is on here, but also wanted to say thank you to Craig who provided me a quick shipment of spinners in time for my trip!