Discussion Starter
·
#1
·
Since the Cicadas have come and gone, there has been a noticeable fatness to some, but not all trout. Some trout seem like they are about to burst, while others look completely normal. I got to fish 5 days last week. This post will cover two of the most exciting days.
Fishing trip 1...
We got some rain mid last week, and I finally made it to a stream that should have been fished in April because of how quickly it shrinks in size. I arrived early and made entry at the bottom of a long, slow hole.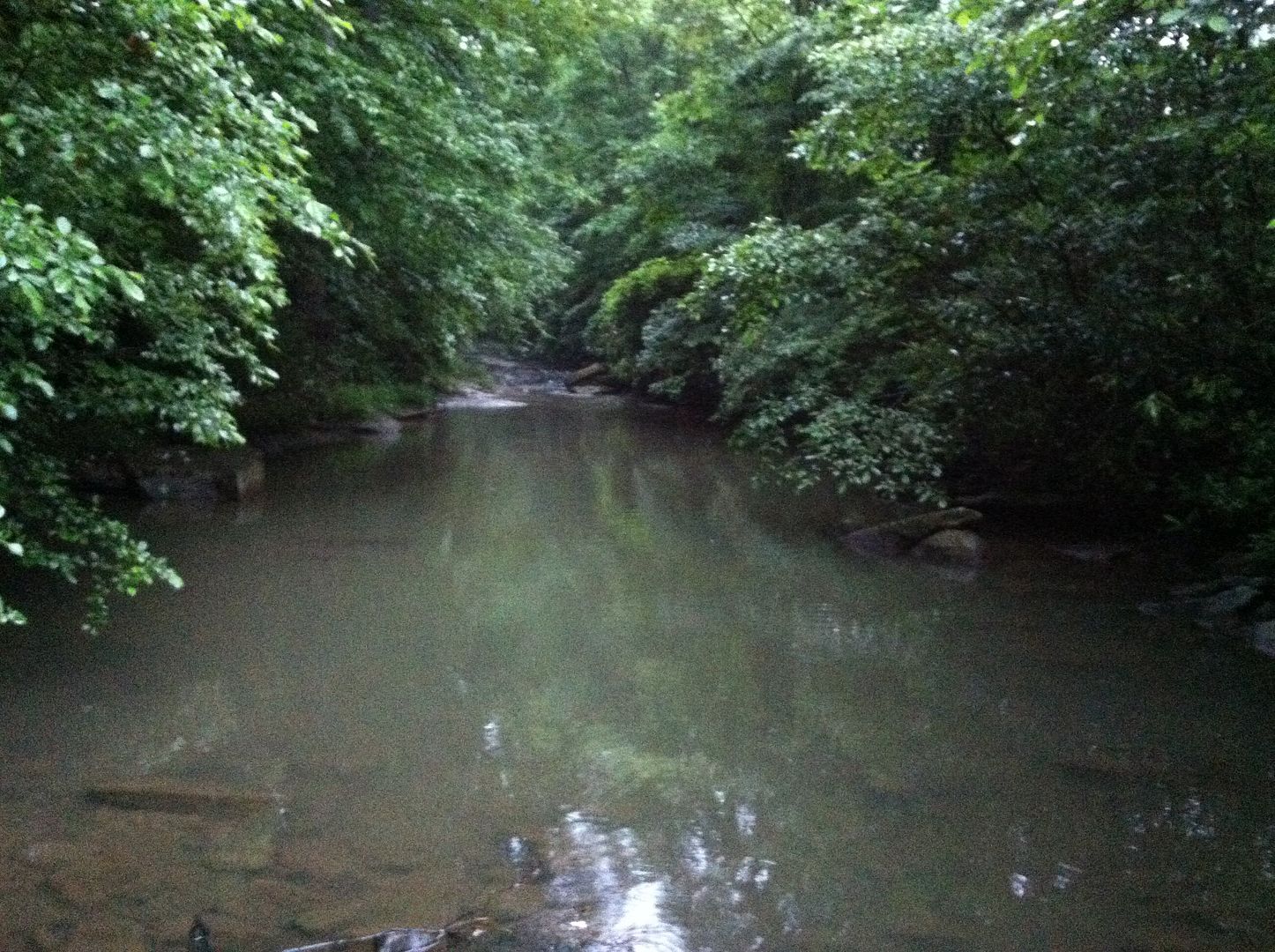 The slow water had a bit of a stain to it, while the fast water was clear.
The first 4 casts brought in wild rainbows.
I don't have any records on that sort of thing, but I can't remember catching fish on my first 4 consecutive casts.
After moving up into position to work the top of the hole, I spotted a big fish doing the "wave" to hold its position in the current. I ran a spinner past him and he gave a delayed chase. The second cast elicited no reaction. I was pretty sure a third cast would be ineffective and possibly even spook the fish. So... I tied on a little trout magnet, landed it a few feet upstream, bounced it down to him and he enthusiastically wolfed it down. I catch quite a few big trout each year by employing this trick. I would say I only try this once every other fishing trip.It measured 18.5"
You can see my snake chaps in this picture. They are protective from the knee down and are comfortable to walk in. I only wear them when I will be doing a fair amount of walking through the brush.
On the way upstream, many wild rainbows were out and about in the riffles.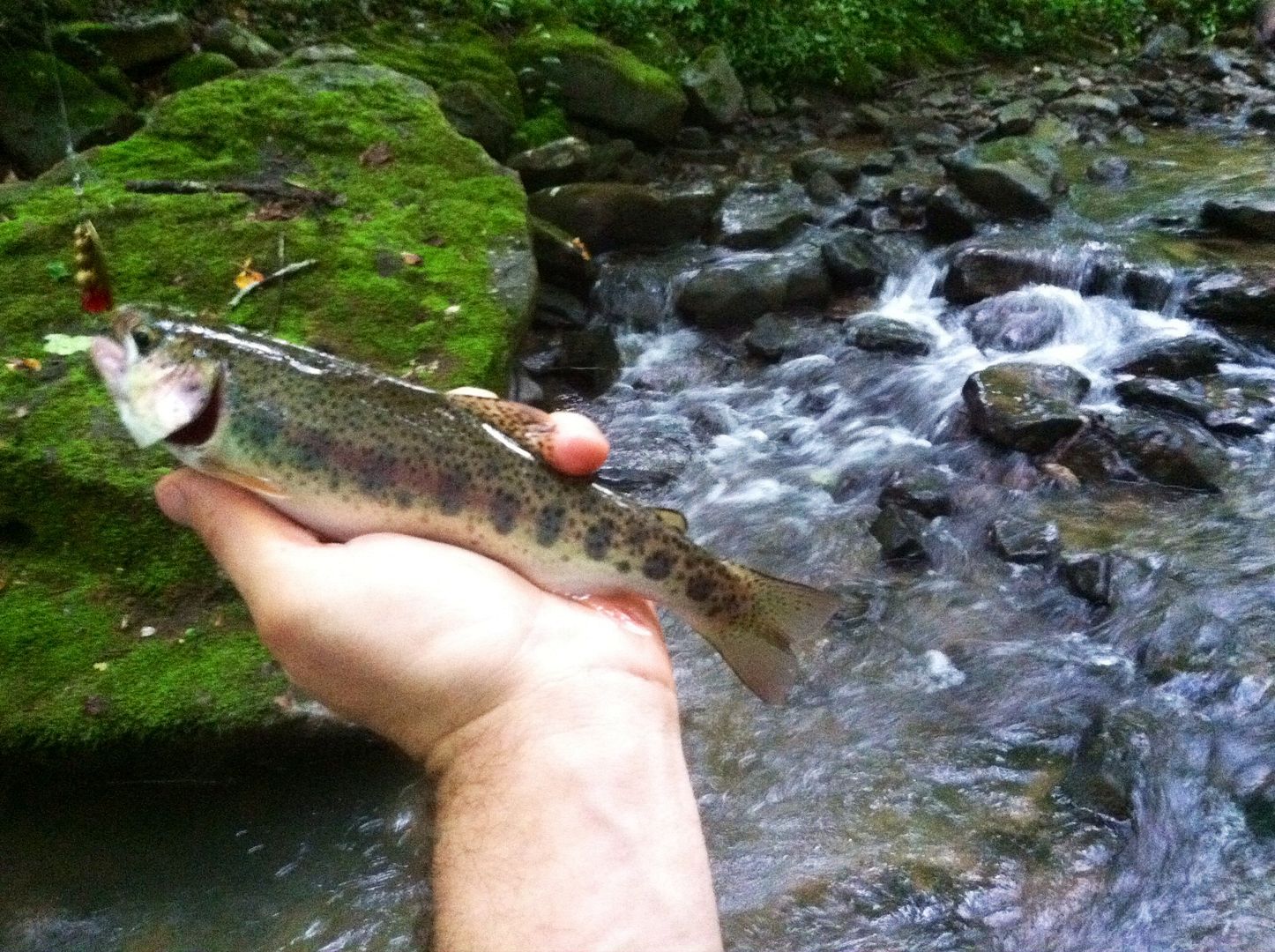 And as the title suggests, some of them were incredibly porky.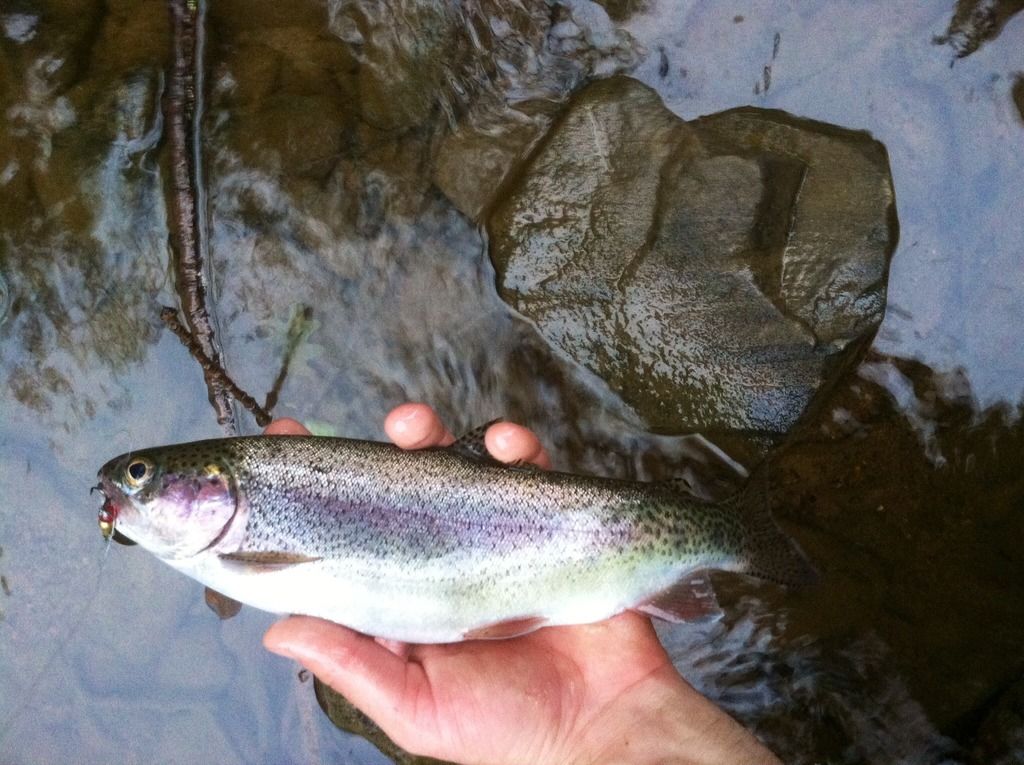 This brown trout also looks like it hasn't missed any meals recently.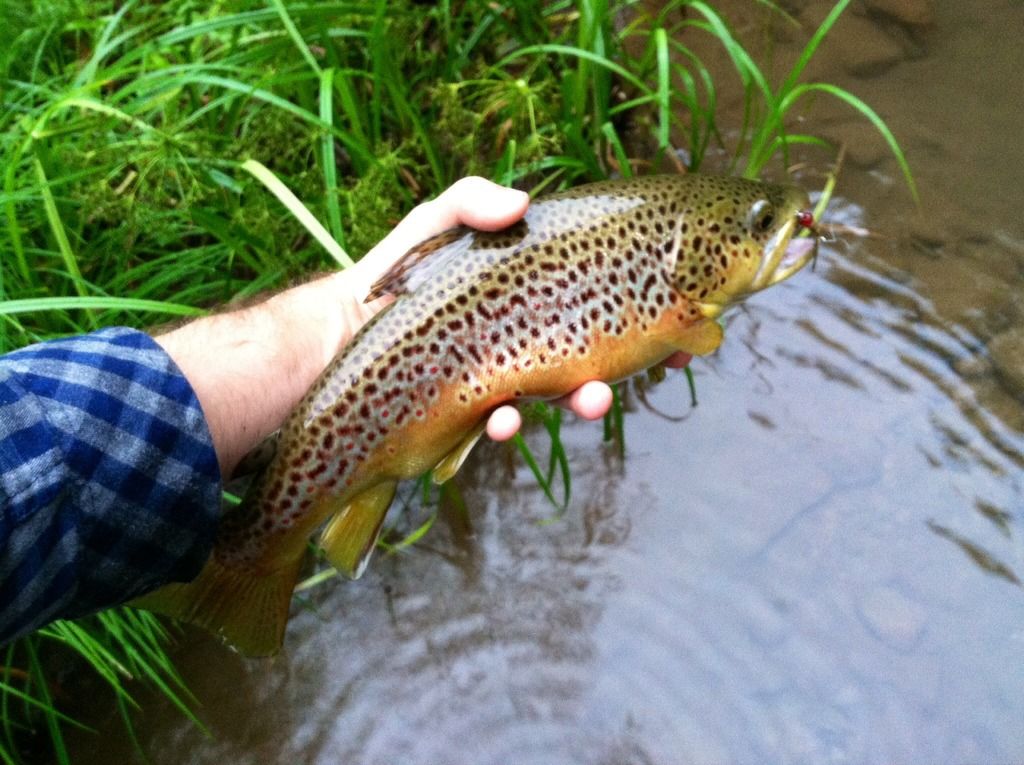 I arrived back at the parking lot to find a copperhead sitting in the gravel waiting for me. I am glad it was not in the brush that I had just walked through. It looked as though it had its tail run over on the road and made its way down into the parking lot. It was still very spry and active.
I had time to spare before I needed to be home so I headed to a place where I could pop in for an hour or 2 without interfering with future trips. The water was flowing nicely here as usual.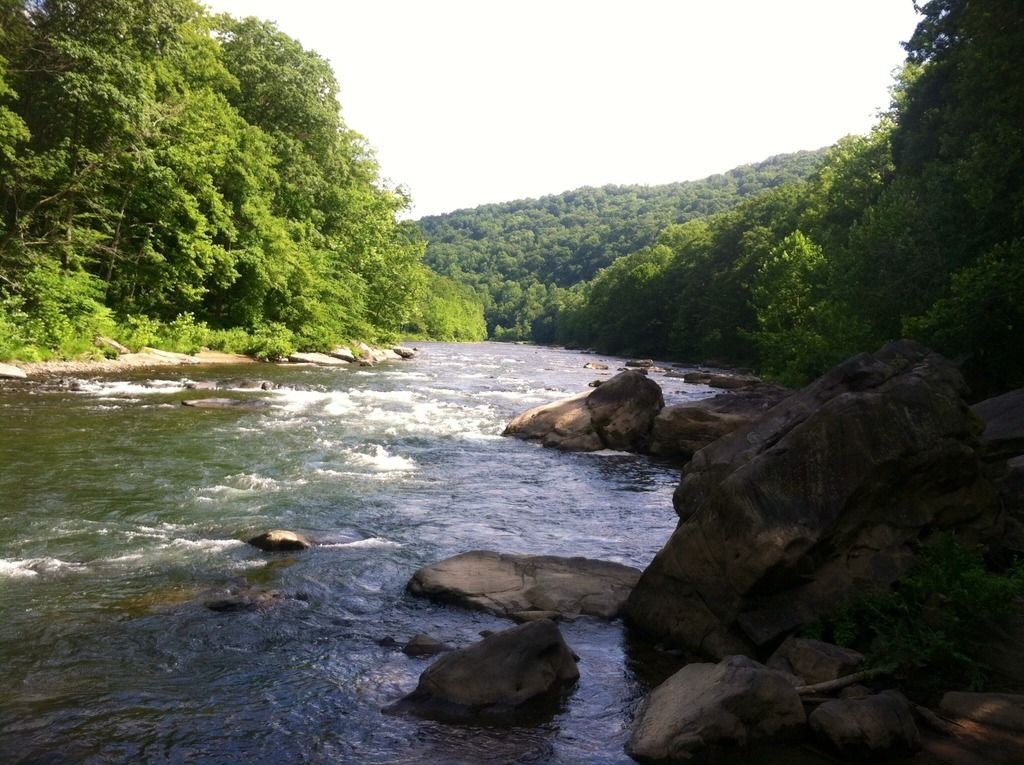 I have had great days here, and I have had terrible days here under similar conditions. I caught a dozen rainbows here in an hour and a half which was O.K.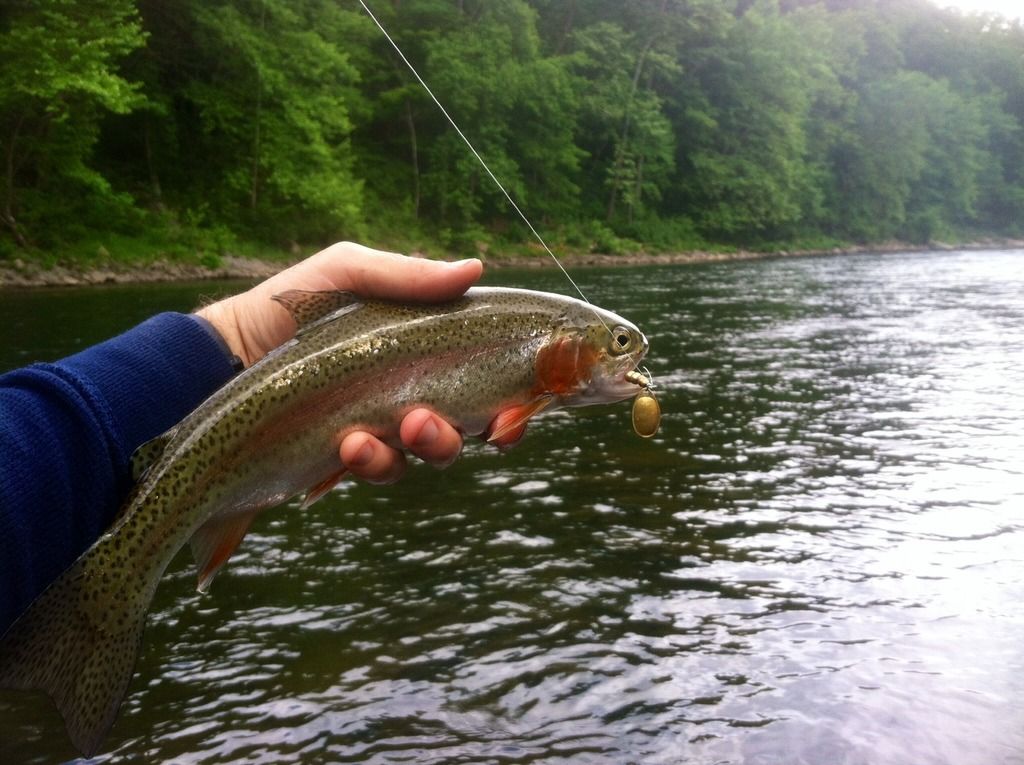 I kept holding out to take a picture of a large fish, but as it was nearing my departure time, I settled on a photo of this fish.
_____________________________________________________________________________________________________________________
FIshing trip 2...
I can only get people to fish with me 1 out of every 30 trips on average. This is mostly because I fish primarily on weekdays during the summer when most people who aren't teachers are at work. On this 2nd trip, I convinced TWO friends to join me(Matt and Angelo). I have never spinner fished with 3 people before. I knew that while spinner fishing with one other proficient spinner fisherman, the day moves at an incredible pace. 3 spinner fishermen proved to be even more intense.
We got on the water dark and early with the first few fish being caught in the dark. Tying line was impossible without a light. We caught some chunky fish in the early dawn.
I caught this football brown trout of 16.5"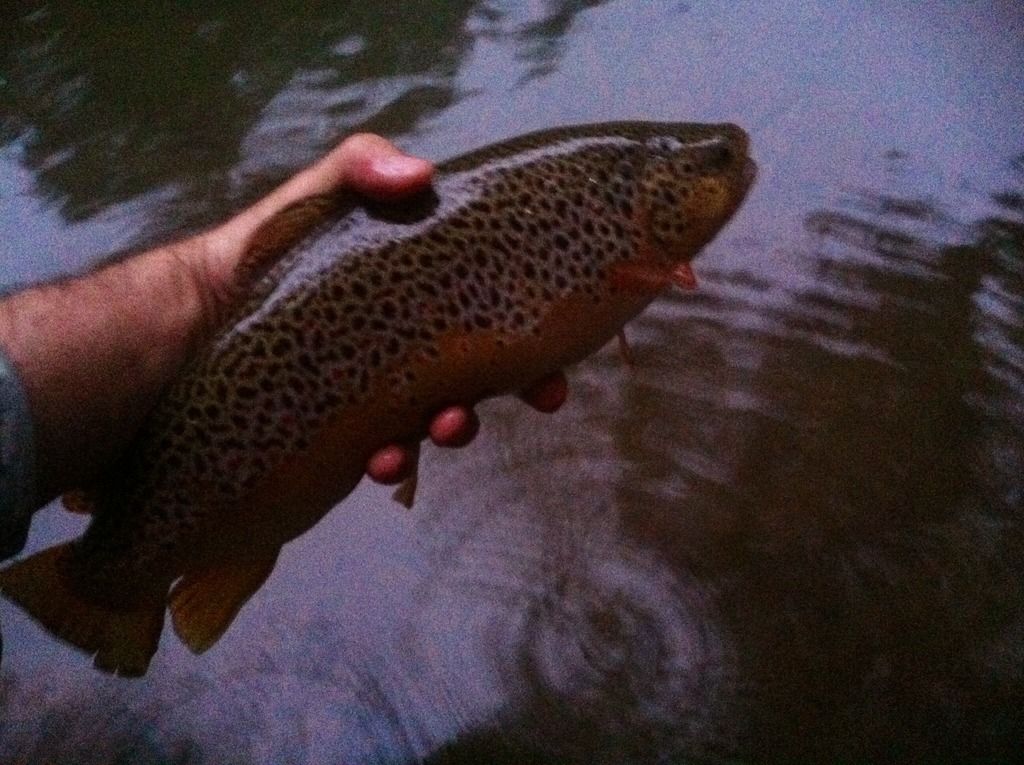 Matt caught a 21" rainbow. I tell him he needs to smile in his pictures but he refuses.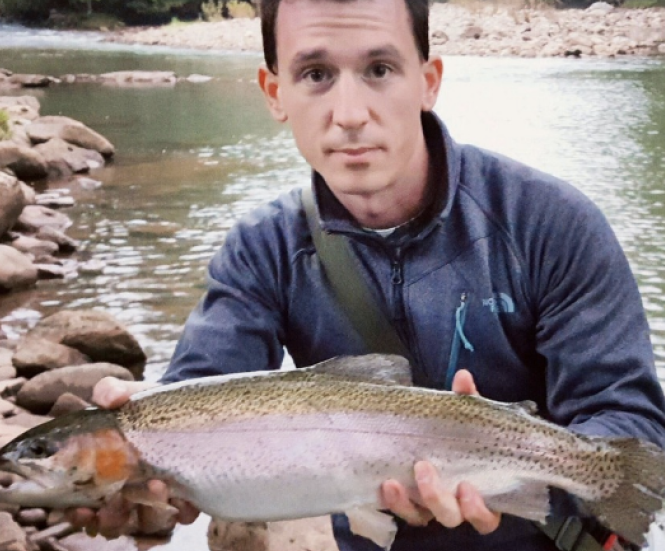 Angelo caught an 18.5" lunker brown.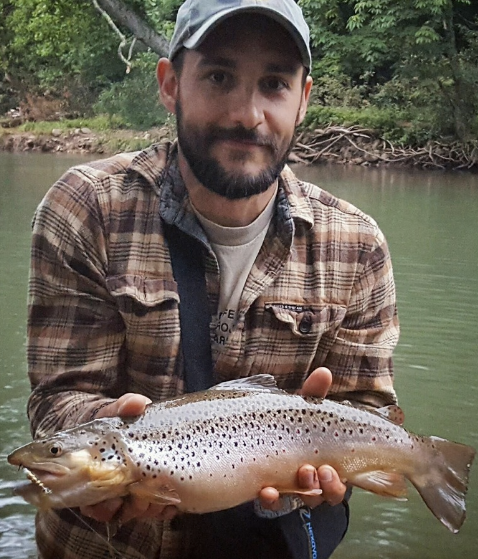 The brightness was adjusted on the last two photos. There was barely any ambient light when these fish were caught.
We continued to cover more water at a ridiculous pace. We basically leapfrogged in front of each other as we moved up the stream. It seemed as though somebody was always running from last to first position. It worked very well. In the picture below, Matt was in "last" position and took the opportunity to get a great picture of Angelo and I working a deep run above a waterfall.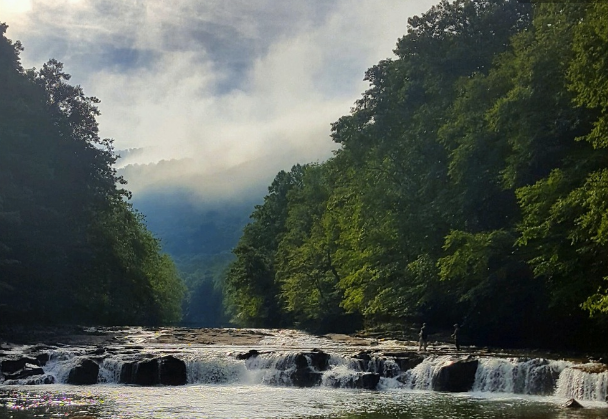 Just above the waterfall, and possibly while this picture was being taken, I thought for a second that I saw the largest trout in freshwater history. A dark, 4ft long figure shot through the deep water like a bullet. It was quickly followed by 3 more. They all turned in unison onto their backs, and 4 adult otters floated around the hole looking curiously at us. I didn't have time to get my camera out before they took off upstream.
I know how bad it can be fishing after ducks glide through a hole, so we decided to take a food break and reconvening in a different stream, not wanting to fish in the wake of 4 deadly trout killers.
This 2nd and last stream of the day was a stream that has not been stocked in 12 years. I have never fished here before, but my research told me that wild fish exist here. There is no denying that the water here was pretty low as I thought it would be. The WT here was 55 so I felt ok fishing it.
Despite it not being a competition, I was constantly being reminded that I had the smallest big fish of the day. The odds were not in my favor as we pulled into the small, skinny wild trout stream.
Many small wild fish came to hand from each deep pool. Trout were absent from the riffles due to low water. We had many doubles which usually occurred as soon as we sent a barrage of spinners into a new hole.
Nearing the end of our fishing day, I found myself in lead position to cast into a narrow but deep channel. As I retrieved my spinner, a wake was created from the back of a fish. The fish missed, missed again, and as I slowed my spinner down to a crawl so as not to run out of real estate, he latched on. This wild brown trout fought more vigorously than any other trout I have caught this year. It repeatedly attempted to dive under rock ledges and nearly went between my legs a few times. After landing it, Matt instructed my big fish pose to best show the 21" wild brown. This is my biggest wild brown trout to date.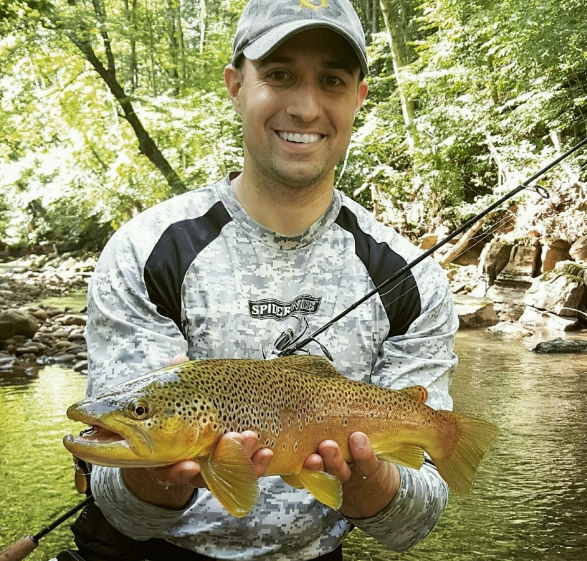 Matt caught another nice wild brown here at 17" but it escaped during the photograph process.
It still amazes me how fast we moved with 3 people. I will most likely be back to solo trips and a slower pace for a while as long as I can find water to fish.