Discussion Starter
·
#1
·
Took out the Lab to an abandon strip mine where I had seen a few dove in the past. Parked the jeep and got out to walk down the gravel atv/quad trail that runs up the middle. Nice CRP/Golden rod type cover and she hit it hard. I was loading the gun and looking down when right in the middle of the road about 3' from my legs stand 2 chukar. LOL I couldn't believe what I was seeing. I imagine someone put them out for training. The wind was not at all good enough for her to smell them so I called to Lilly.
"LILLY, BIRD, RIGHT HERE"
She takes off right towards me bounds across the road into the golden rod on the other side.
At this point the chukars split and take off down the road. I whistle point Straight ahead and Lilly follows the command.
She gets on the road and instantly goes into BIRDY mode. SHe is following her nose, and I am cracking up at the chubby birds booking it down the trail.
She then picks her head up and flushes one of them. THe poor birds were so fat Lilly was about a foot from them in their flight. I called her off as there was no way to get a shot at the things anyway. I figured they are better off there for practice or coyote bait any way. LOL
So I let the chukar settle, then had her find them again. SHe flushed both so that was good enough practice for me.
I found my spot in the golden rod where I expected the birds to get a drink from a half dried up puddle before roosting in some pines behind me. I set out 2 decoys. Walked back to my "blind" and called Lilly over. If you could have saw the look on her face when we were hunting and I made her sit you would have died laughing. LOL she caught on quick and just relaxed a bit.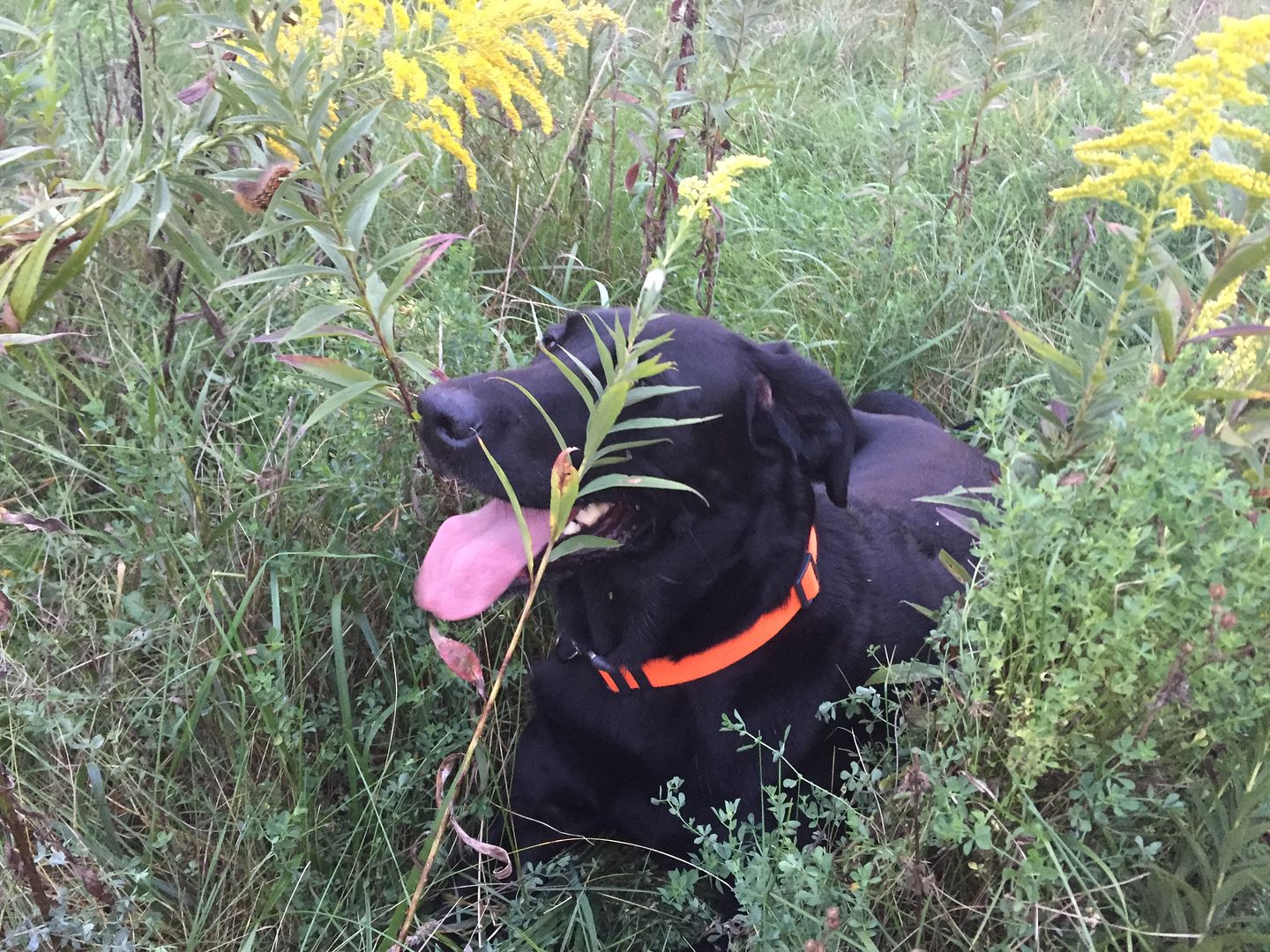 Here are a couple shots of how we were set up. I was expecting the birds to come in either from in front or over the pines.
Well we sat a little bit and in about 15 minutes the first solo dove fired itself right over those pines. My shot was right above me. I spun quick as the first shot missed, and the second shot also missed.
Lilly had no clue what just happened but leap frogged over me to go find the bird. It was quite a sight to see.
I called her back but now she was on to the game a little. Any time I would move my gun she would lock on to it.
LOL Look at her eyes focused on my gun.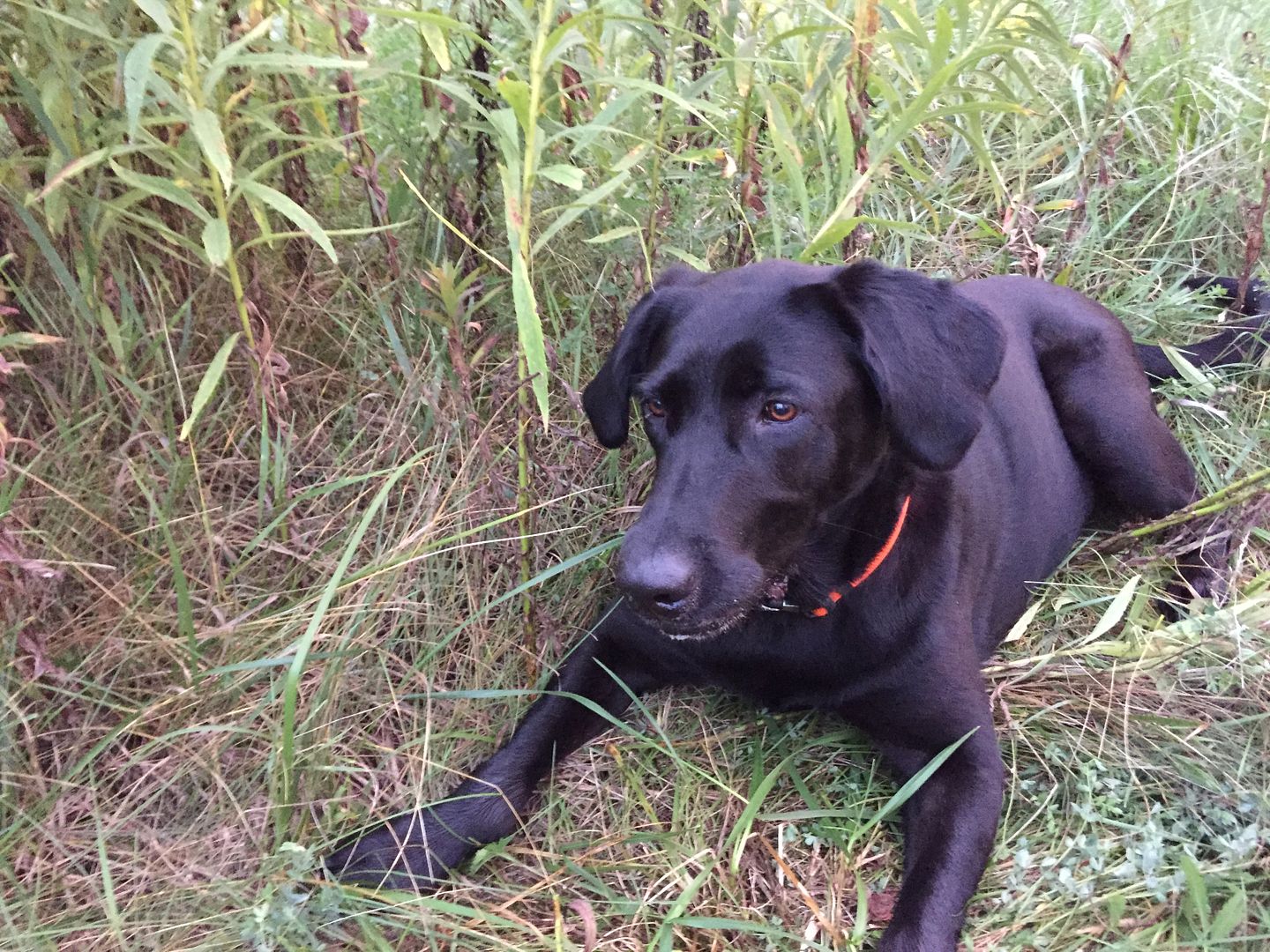 After about 20 minutes, 2 more dove went behind those pines above the water hole then banked out in front. My first shot missed, and the second shot I saw the lower dove bank right quickly. I thought it was an indication of a hit and I saw a single feather float down. I decided that would be it for the night, and loaded up the decoys, and sent Lilly looking for the bird.
She was looking for it but we didn't find it. I don't think I did any damage to the bird and maybe it was just diving at the sound. Non the less we had fun. She got to experience a new kind of hunting. And she got to watch me miss as I always do. Poor dog needs someone who can hit something.
Cant wait for grouse season but right now dove is a lot of fun for both Lilly and my boy Corbin. He didn't get to go out with Lilly yet, but we shared a few hunts.