Discussion Starter
·
#1
·
As I had killed my buck here in Pa in archery season, I decided to go back down to Deerfield Plantation in South Carolina for another hunt. Didn't know what to expect as I'd never hunted there this late in the season.
Had a great hunt. Saw 20 deer including 6 bucks (2 spikes, a five point, a seven point, an 8 point and an unidentified big buck. Saw one sow hog with piglets, couldn't get a shot at it.
Killed the seven point the first evening.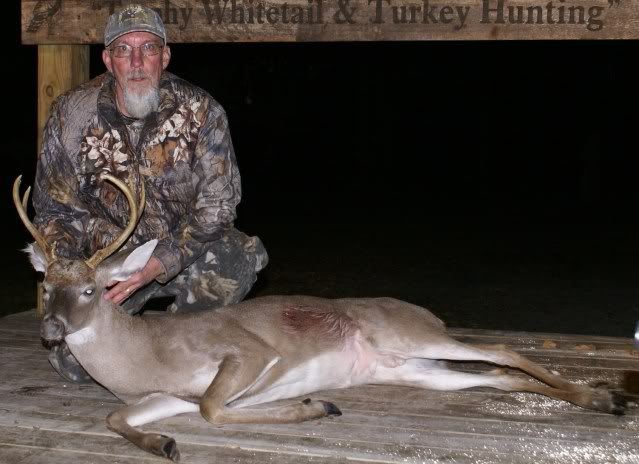 Saw twelve deer total the following day and killed a doe on the morning sit. Saw 6 deer the third morning including the five point (which I could have killed) and a big buck that I had no chance for a shot. After that I went for four sits without seeing anything.
The afternoon of the last day I was back near the stand where I'd seen the five and the big one Saturday morning, only I was in a tripod down in the swamp below the food plot I'd sat on Saturday. About 4pm had the sow hog come through but she never stopped and it was just too thick to shoot. Couple of minutes after 5pm I looked down an old skid trail I was watching and there stood a big deer at about 120 yards or so, it was facing me straight on and looking up my way. It was dim in there and at first I thought it was a doe, then I realized that it was a buck and it's horns were so wide and dark that I was looking in-between them! At the shot the buck fell, then got back up and ran, but I could hear it crashing through the swamp and knew it went down.
After a few minutes I walked down to check for blood as it was very wet in there with a lot of standing water and I didn't want to wait for dark to look. At the spot I didn't see any blood so I moved to the side of the trail and was getting ready to make a small swing through the woods when I happened to look down the trail and saw something out of place. Walked a few yards toward it and I saw the horns sticking up. Holly crap! I had no idea how nice it was when I shot it.
I may have to venture down there again next December.