Discussion Starter
•
#1
•
I had a little bit of everything this weekend. Some great, some good, some not so good, and some downright bad. Water levels remained tricky and my data remained inconsistent as I'm sure will be the case most of the summer now. There's more than one way to skin a cat though…..and I love eating cats haha!!!
The 'weekend' started off on Thursday with a trip to a familiar stream. It's produced well for me over the years but despite excellent water levels things just weren't working out. Frustrated over the 6 trout I'd caught in the hour I was there I tucked my tail between my legs and started off for Plan B. I had a hunch all along that B should have been A but I didn't roll the dice this time. I should have because the fishing on Stream B was breath taking at times. Water levels were excellent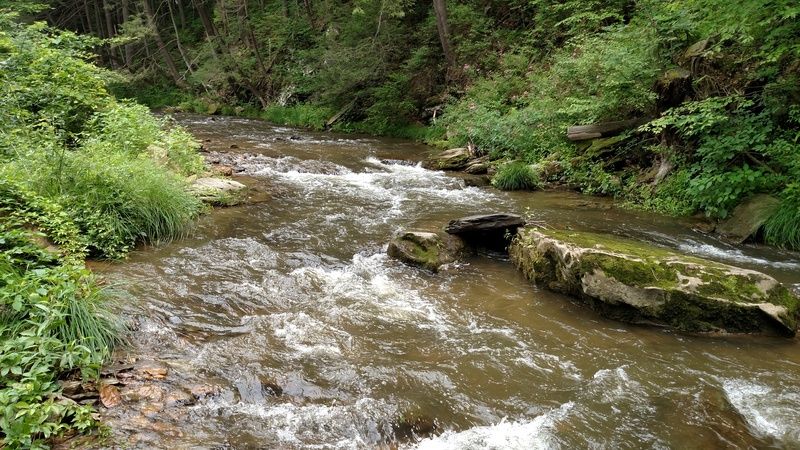 And the browns were coming to hand quickly
I even caught 2 browns at one time!.......oh, but one was dead…This would become a reoccuring theme of the weekend.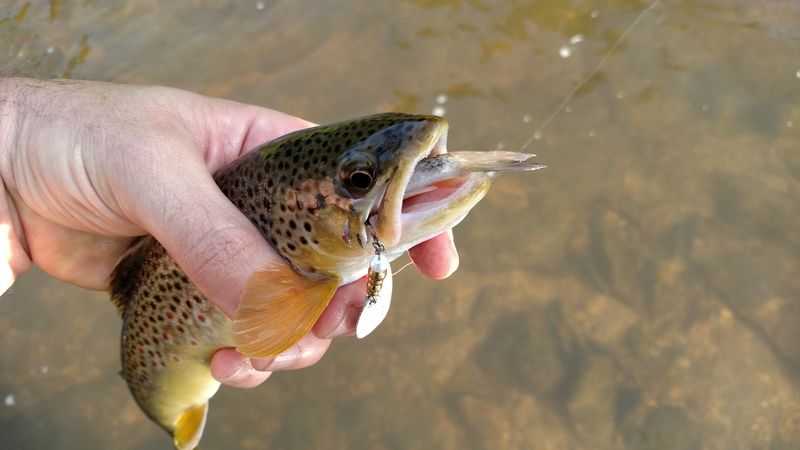 The scenery on this creek is awesome considering its location. You almost have the feel of being in the mountains yet you are far from it.
I fished a long day till 4PM. That's a long day for me anyhow. I finished with 181 trout. During the walk back on a quiet country road I came across this field of daylilies. It was a sight to see….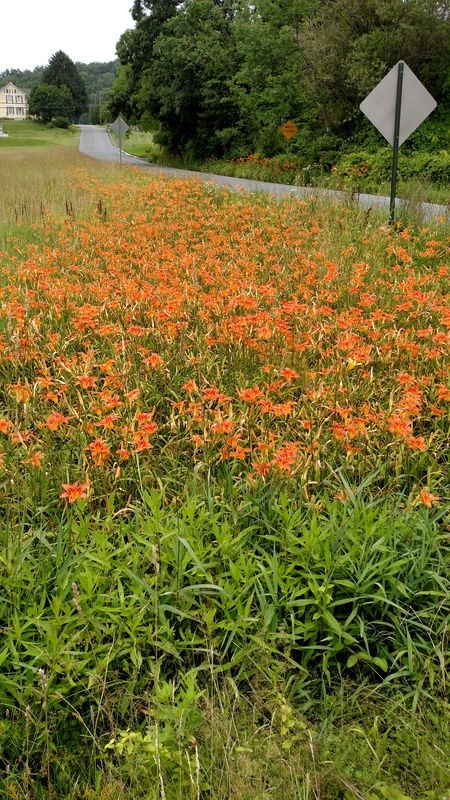 On Friday I was pretty worn out so Craig and I went on a leisurely trip to a stream fairly unfamiliar to either of us. I was impressed by the number of holdover rainbows even if the fishing wasn't heart stopping.
The Craigster doing some damage.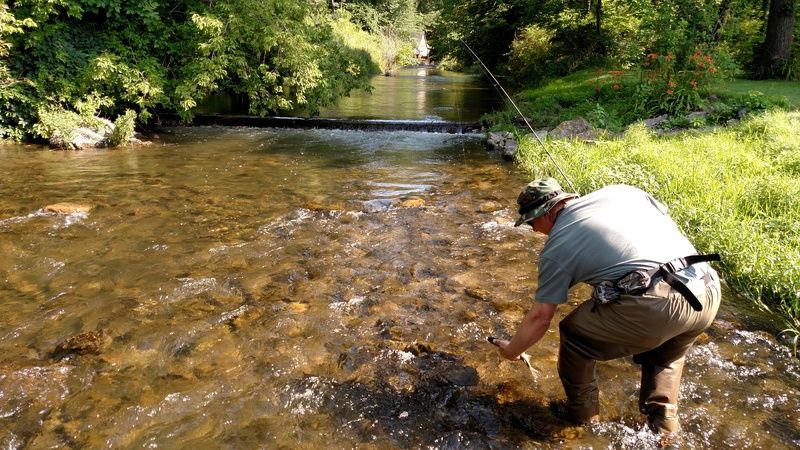 And sometimes we did damage at the same time!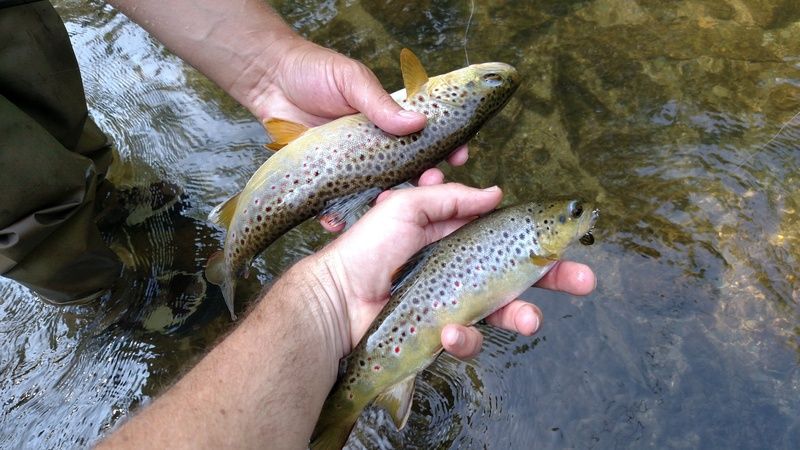 This trout narrowly escaped death from the mighty Blue Herron.
The highlight of the outing came when I hooked a small 5" trout from a big pool only to have a much larger trout zoom up and engulf the trout I was reeling in. Too bad I had the little one hooked so well as I would have liked to have caught and released both…..alive haha! It was exciting none the less to see. I've caught 2 trout on the same cast before but never after one ate another. That would have been interesting. Either way, I felt bad for the smaller trout! Imagine that 20 second experience from the moment it turned to hit my spinner……crazy.
After a good night's sleep I had big plans for Saturday. I was excited to fish a stream I hadn't fished since last year and thought water levels would be ok even though I had no real way of knowing for a change. As I drove I couldn't see moon or stars so I was happy. When it started to drizzle I was happier. It was a long drive but when I arrived the water looked excellent. I ditched my bike way upstream, hoping for a long outing, and went to work. From my usual starting spot on my 2nd cast…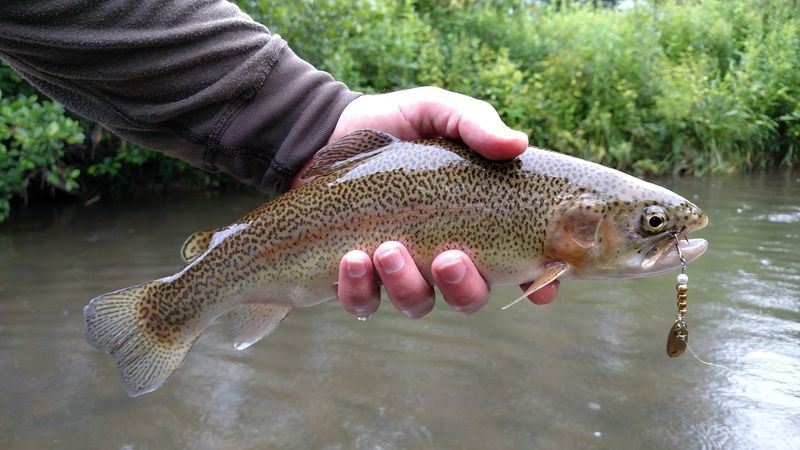 3 smaller wild browns followed including another hungry little bugger.
I knew I was off to the races on a big day but the only issue is that I was missing a TON of trout. Snap my rod over my knee type of stuff haha. At one point I must have missed 20 straight fish or worse yet, hooked and fought them to my boot only to lose them last second. At the end of the first hour I had caught and released just 8 trout. It should have been 30. I just stayed the course though and things got better (a little). I keep it in perspective though. The action was great even if I wasn't landing fish as well as I would have liked. It's hard not to be happy when streams are flowing so well.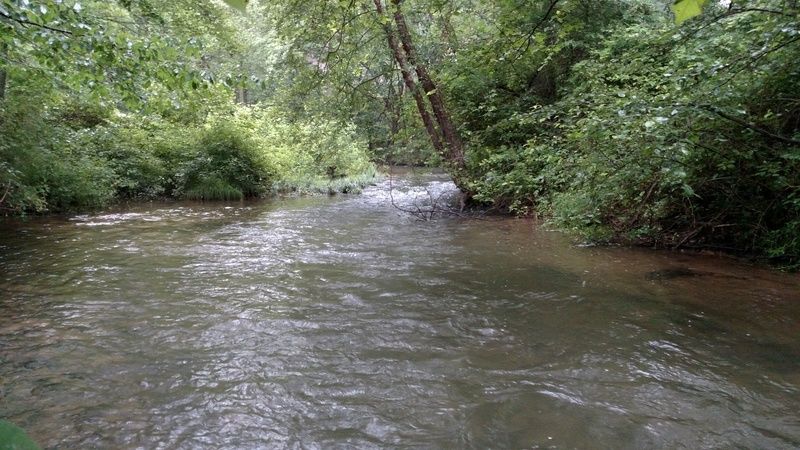 And the browns and brookies are hitting so aggressively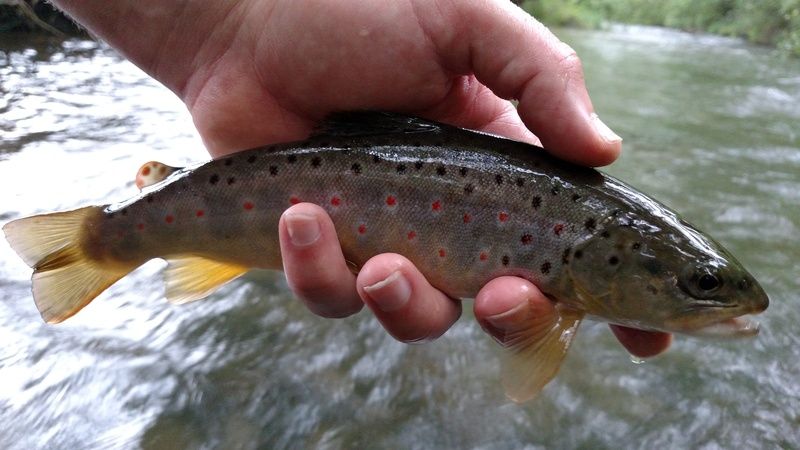 I reached my bike early afternoon with 207 trout caught and released. Many many more received the gracious 'long-line' release along the way. Had I even remotely been landing at my usually 30-40% rate who knows how many I would have caught. A lot more, that's all I know. I'd fished a long way so I was happy to see my bike….it's something that I wont be seeing again most likely as it was stolen out of the bed of my truck last night in my driveway. Wonderful.
I took Sunday off but hit the trail this AM when I saw clouds were on order in the forecast late last night (it was sunny this AM haha. I tried a new stream that I'd never fished before but always wanted to
I was expecting big things and the water levels were nice but the fishing was just so so although I did catch yet another trout inside of a trout!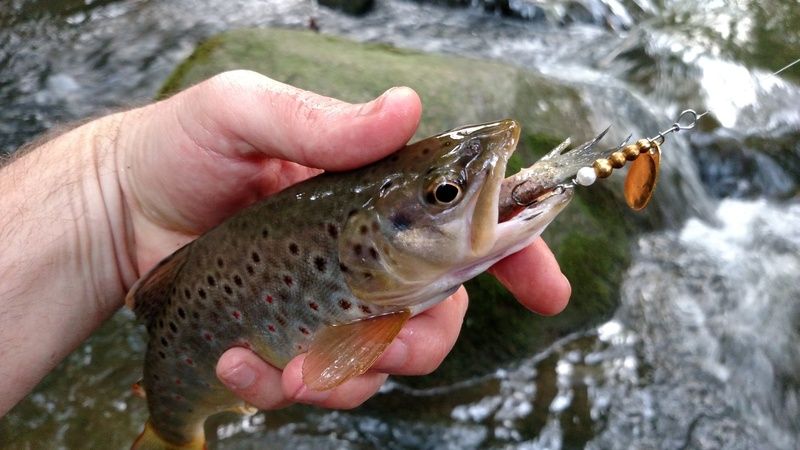 Obviously the trout have been feeding well….too well for their own good this past week.
After only 30 minutes and a few trout I decided I'd seen enough. Stream 252 was added to the list of trout streams fished and I'll most likely never return. Nice place but it's not making 'the list'. I left there and headed to another new section of a familiar stream.
The trout were much more cooperative there and I had a lot of trouble pulling myself from the water in time for work. I never really knew this section of stream existed but it will see my shadow again next year. I enjoyed the time fishing but my highlight of the morning was happening upon this massive Hickory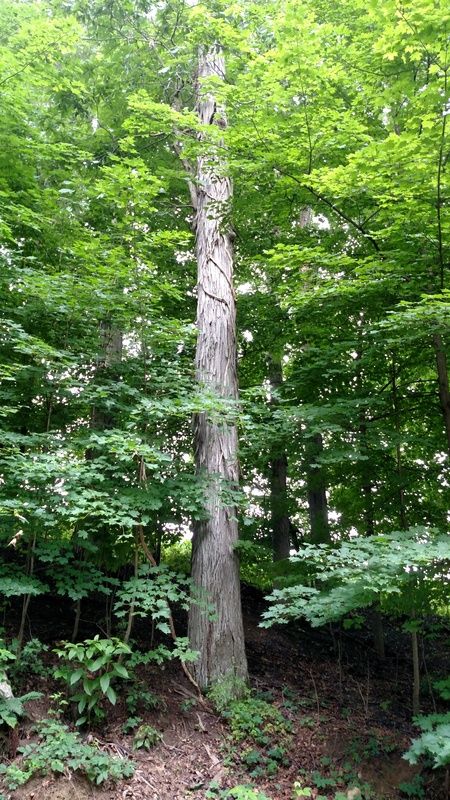 The thing was over 3' in diameter at the base! Hickory's like that around these parts are something to notice. There was actually a handful of them in a big cluster, healthy and vibrant. True monarchs of the farmscape. I love trees!
I've got high hopes for this coming weekend. We'll see what this rain down all week.