Discussion Starter
·
#1
·
With 1-3 inches of rain falling over the area yesterday, I developed 4 different options for today. Based on the data I was reading, option 1 looked like a long shot, but I drove over it on the way to the others. I stopped to take a peak and it actually looked ok, right on the edge of what I thought could provide good fishing. I decided to give it 15 minutes to see if I could make it work.
Two casts in and a 13.5" brown lunged at my white bead, glow-in-the-dark blade spinner.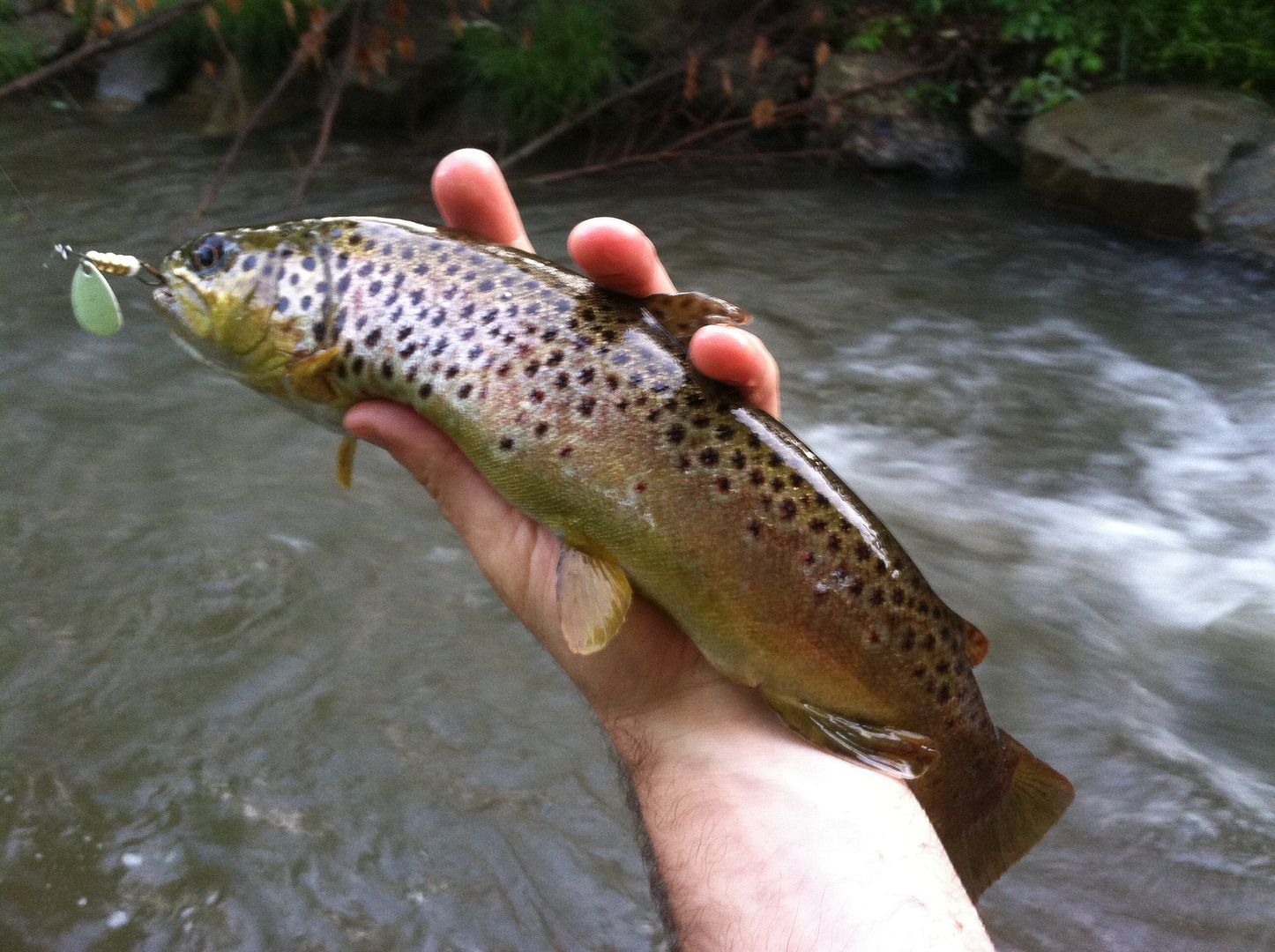 A few casts later and a 14.5" brown was also pulled toward the light of my new spinner.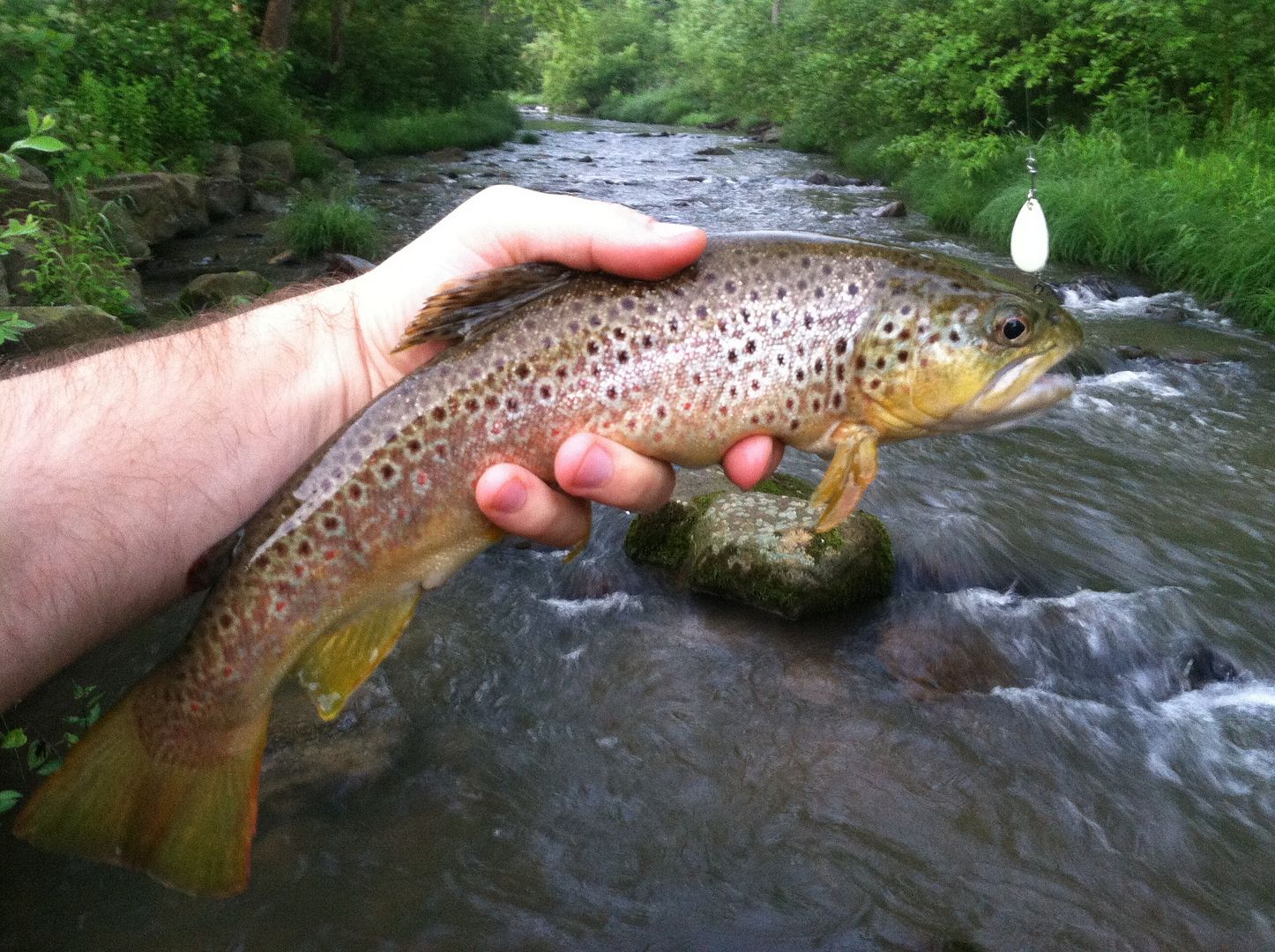 My notes show that this stream has great holdover capacity all through the summer. Last year I fished this stream late in june and caught quite a few decent sized holdover browns. This was happening again today, so I made the decision to ride the morning out on this stream. My glowing spinners seemed to be overcoming the turbidity.
Side note...It has been over 5000 trout since my last golden rainbow. I never target them intentionally, in fact, most water I fish is not even stocked with rainbows. Thus, I understand that my chances are low, but one might think... 5000 trout and not a golden??? I lost 2 last year, and the year before I never saw one.
Today, from the murky depths and unseen to me until it broke the surface, was this monster...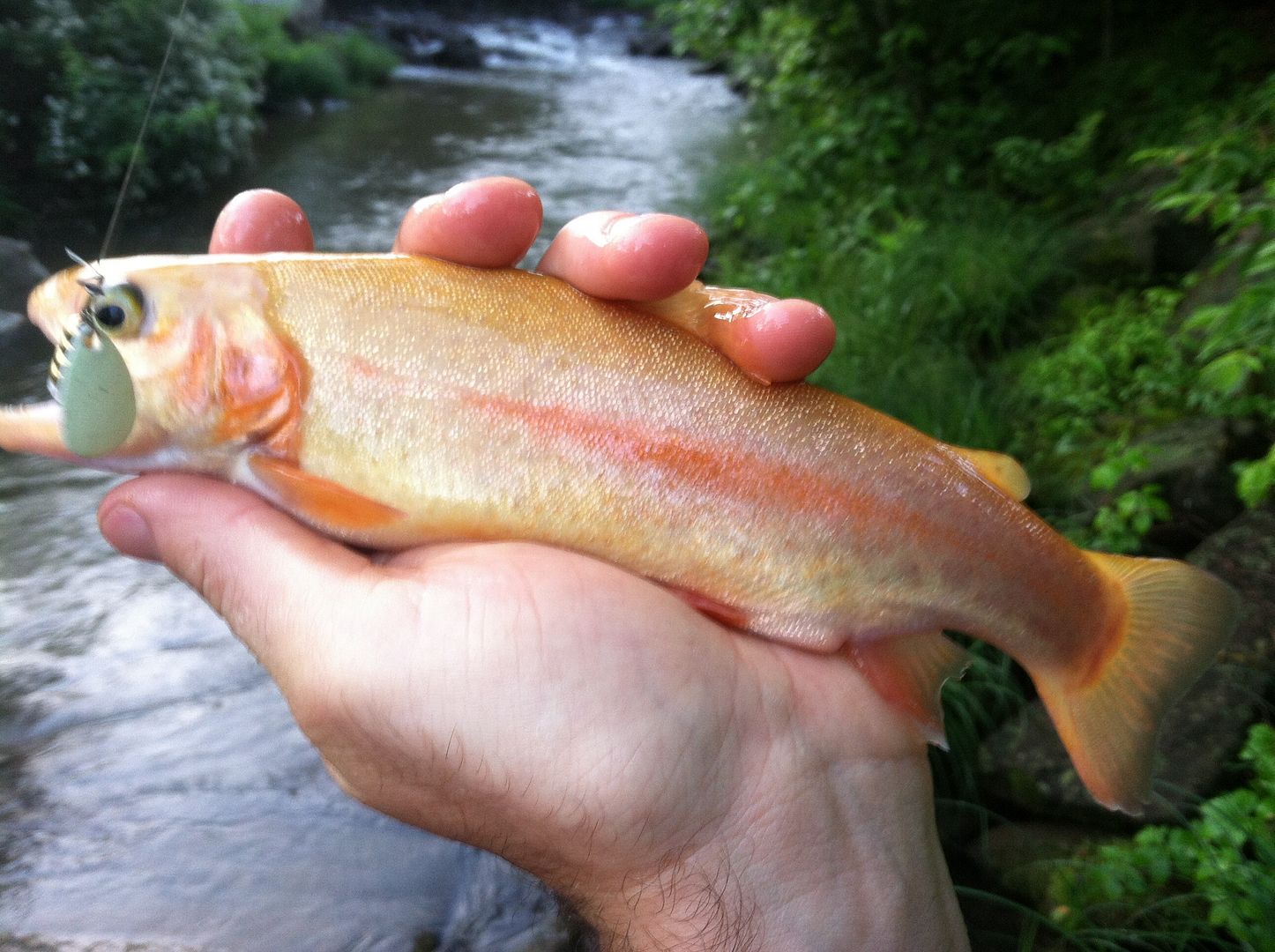 It was most likely the smallest golden stocked by the state, but I treated it like a two footer. I played it carefully, eased it to the bank, and took a few photos for posterity.
This stream also holds some respectable native brook trout that persevere despite the many hefty browns that are stocked here every year.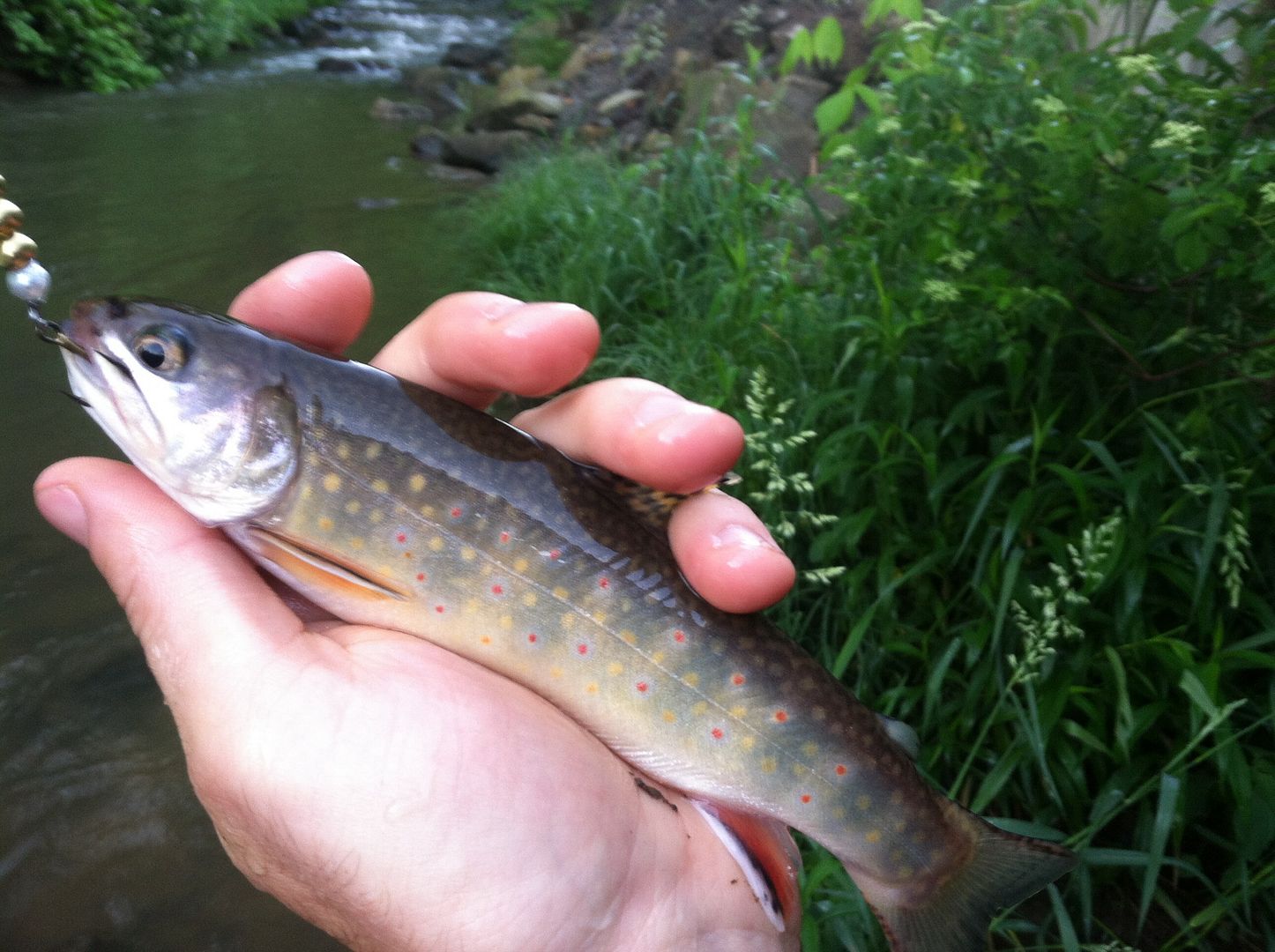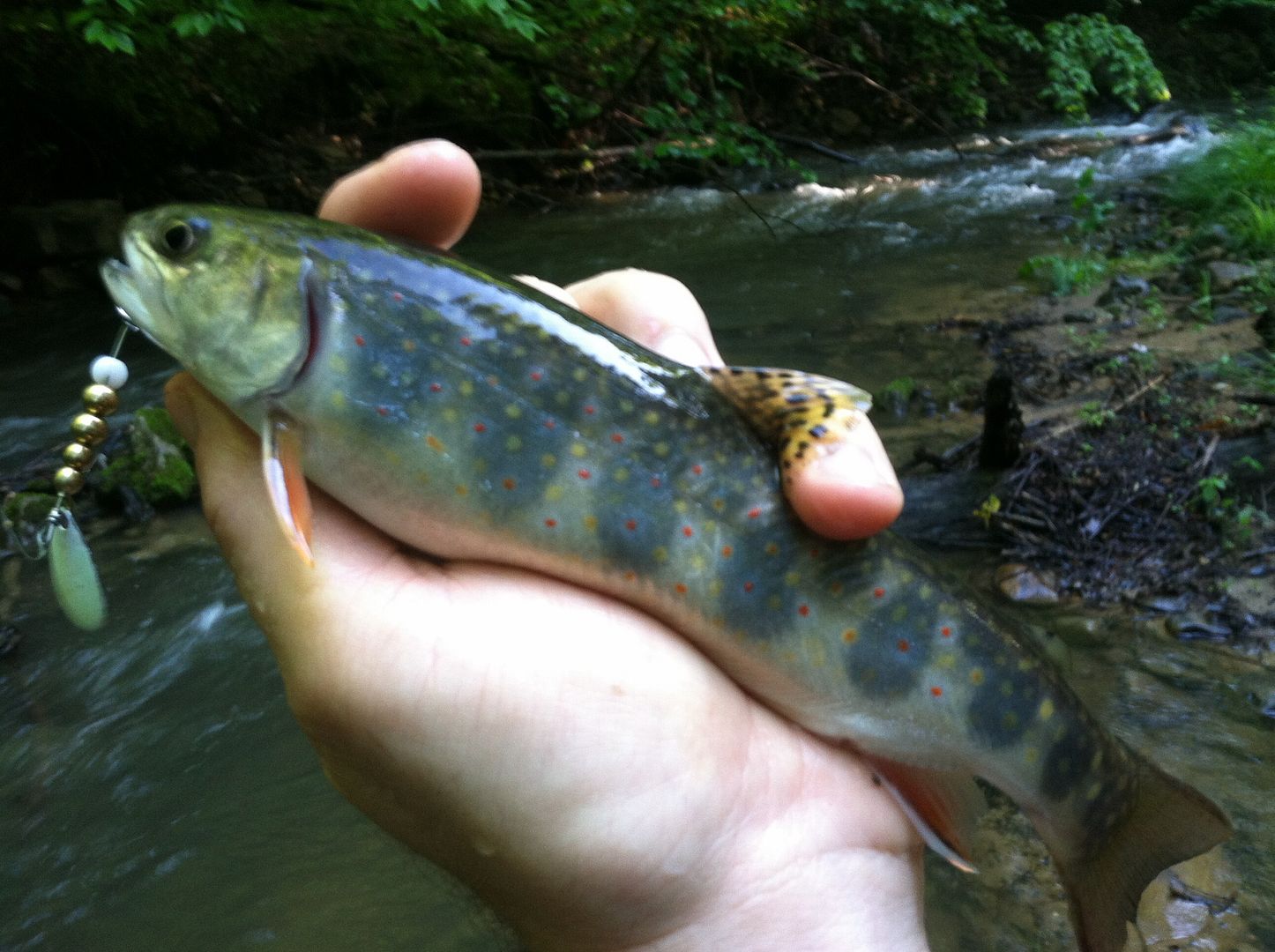 The almost-big browns persisted as I moved upstream. This one measured in at just over 15".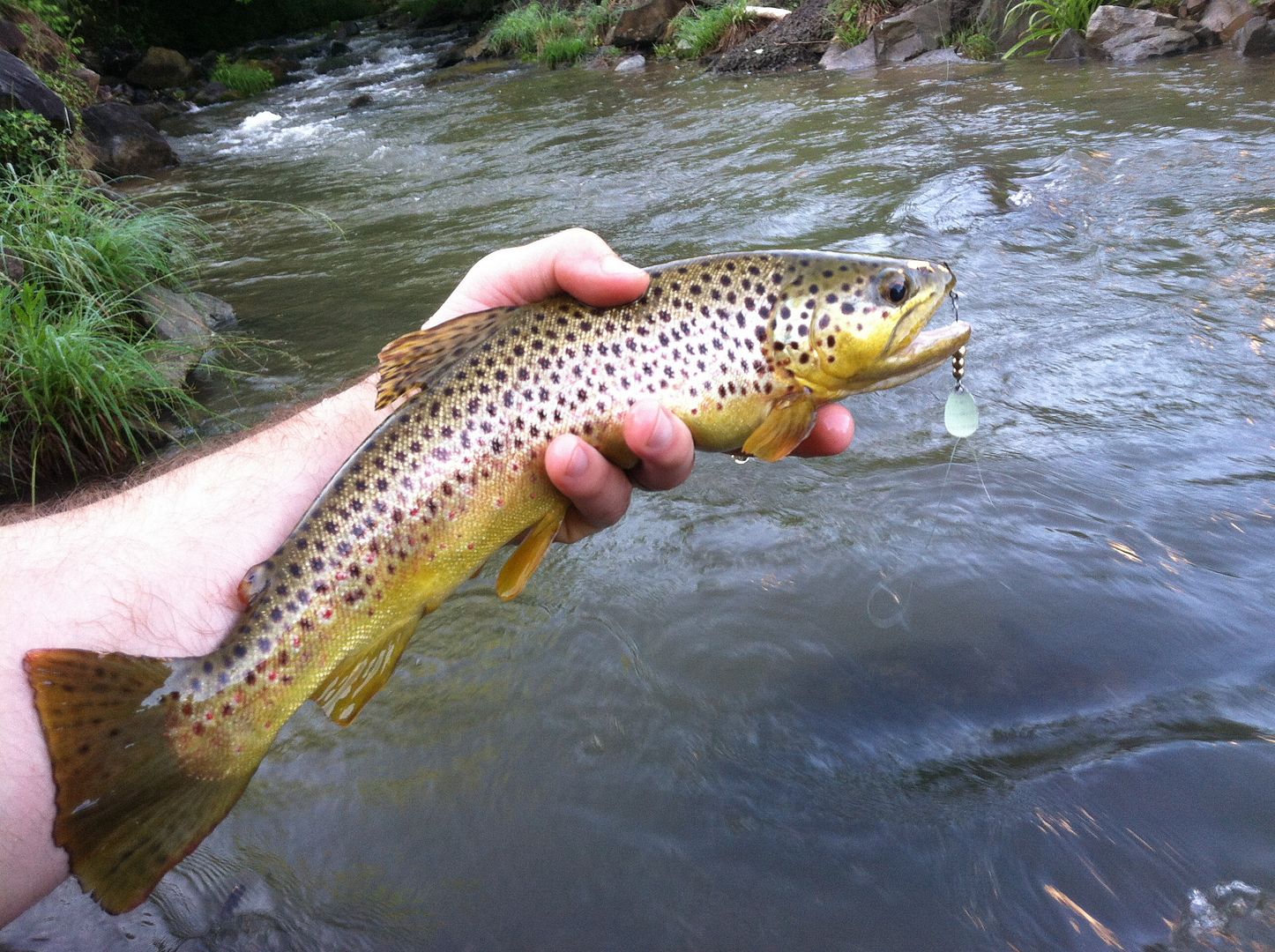 There were some stocked brookies present as well, although unimpressive.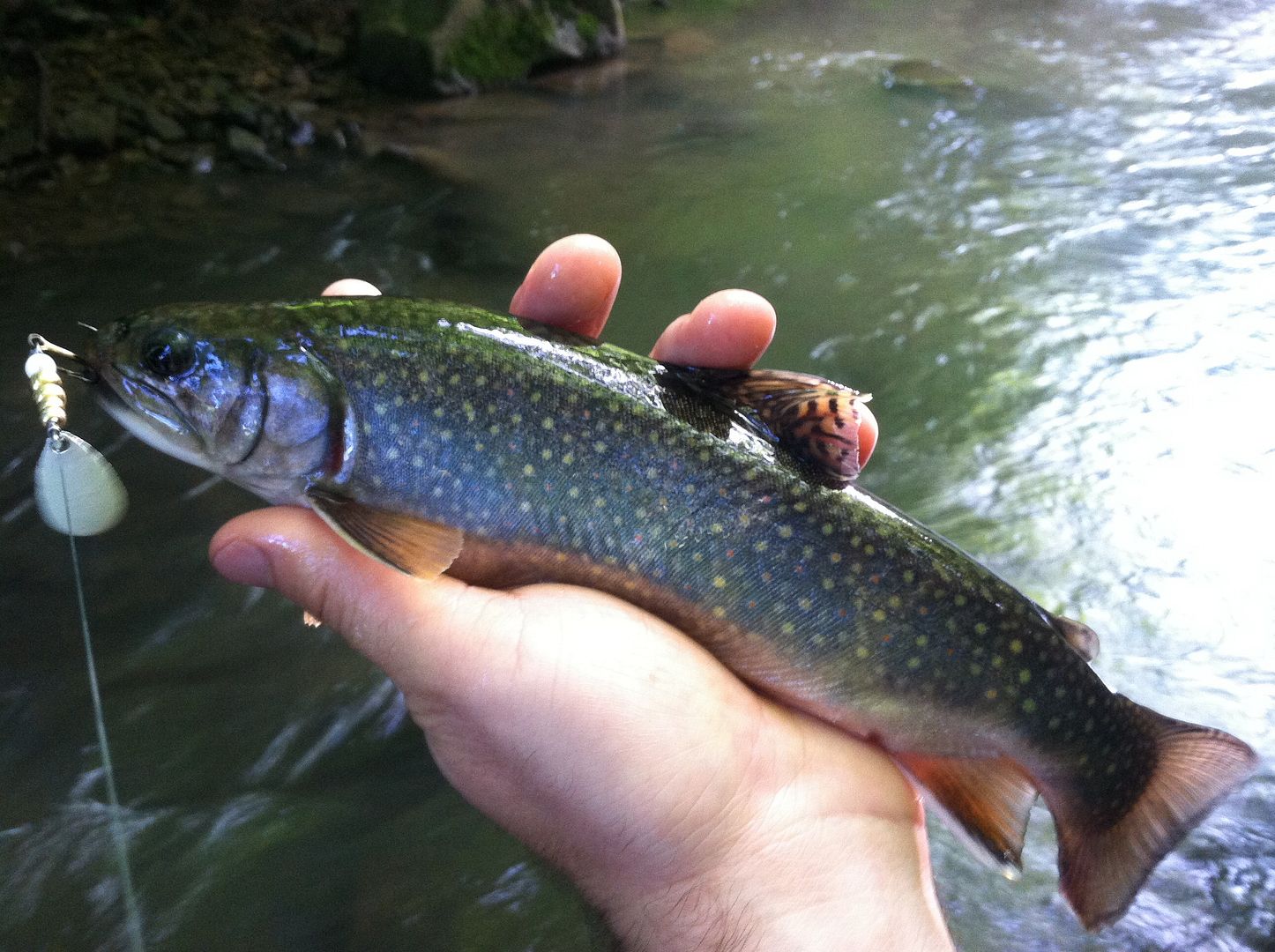 After passing some smaller tribs that were dumping in muddy water, the stream was clear enough to go back to the WBG spinner. I was glad to do this because I feel that I can control the colorado blades much much better than indiana blades.
The WBG spinner earned its keep immediately with the largest fish of the day, this big headed brown which measured in at 16".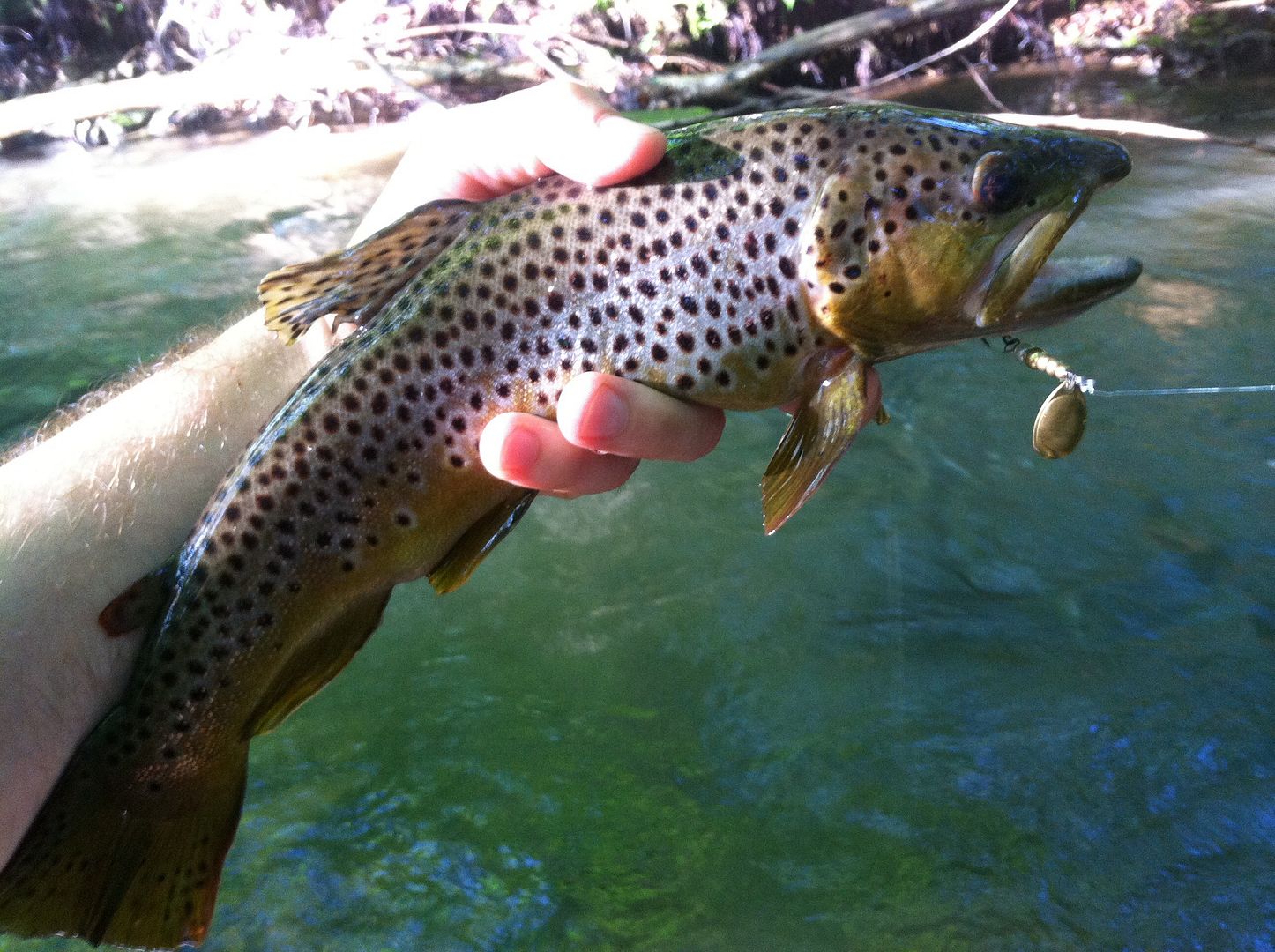 The natives became more numerous further upstream, while stockies maintained their numbers.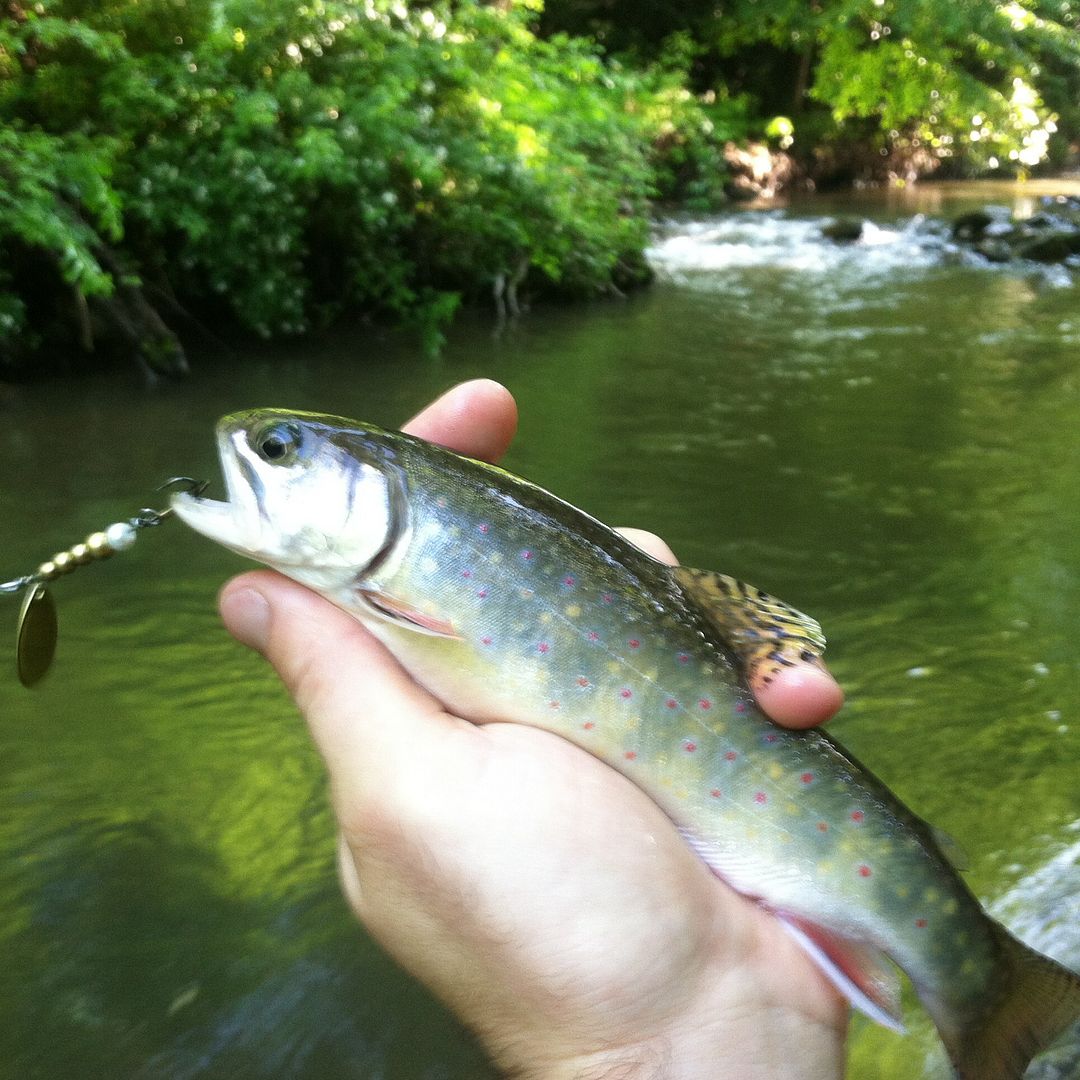 I can't remember a time when a classic "leaning tree" hole didn't give up a trout, even if it is just a modest native.
This stretch of water was murder row last year when I fished hear with something like 15-20 trout caught here. Today it only yielded 3.
I liked the pronounced par markings on this fish.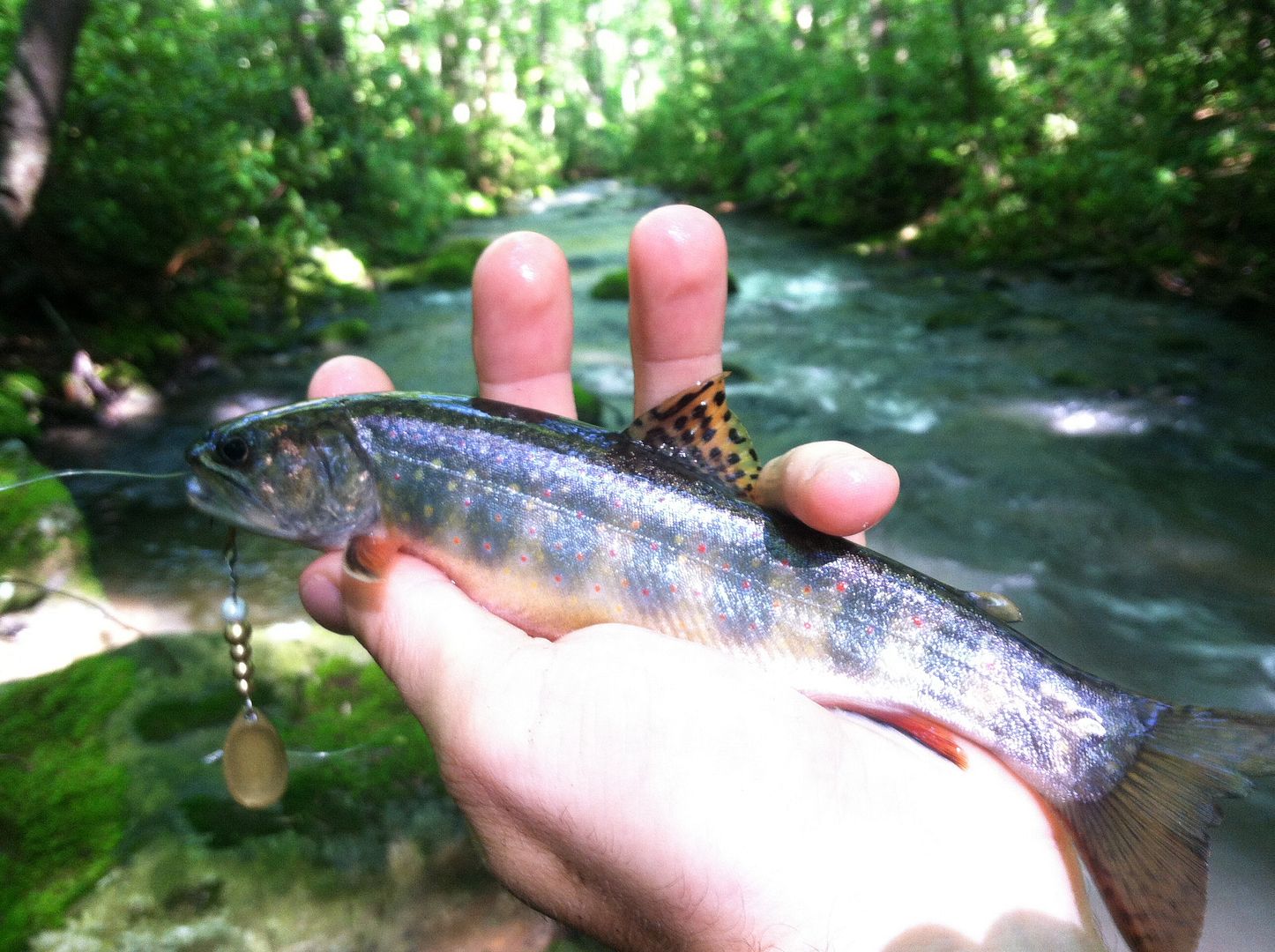 The confluence of these two streams is always a pleasant sight. Both tributaries can provide a mile or so of quality fishing, but only one of them has a road to use as an exit point.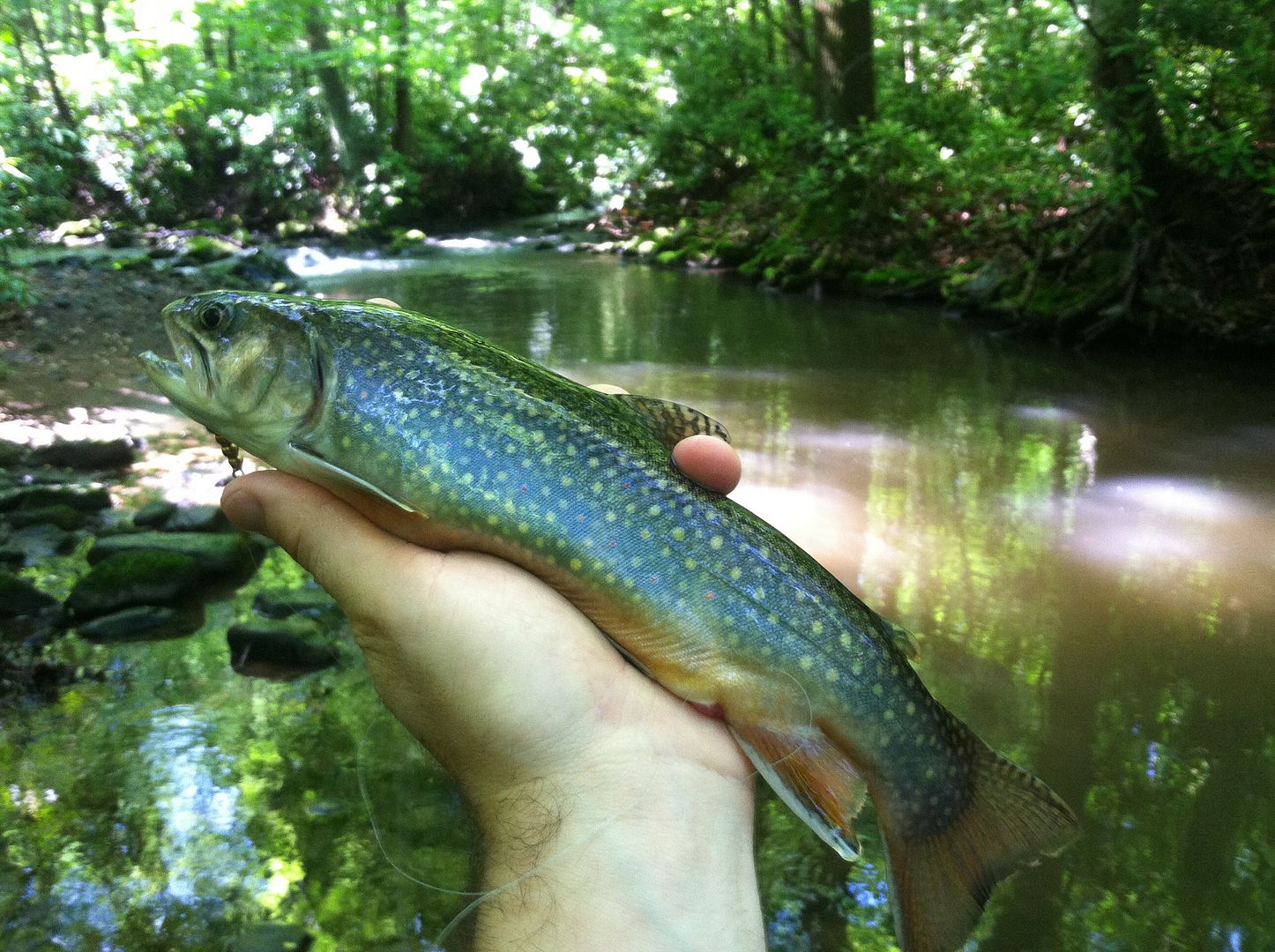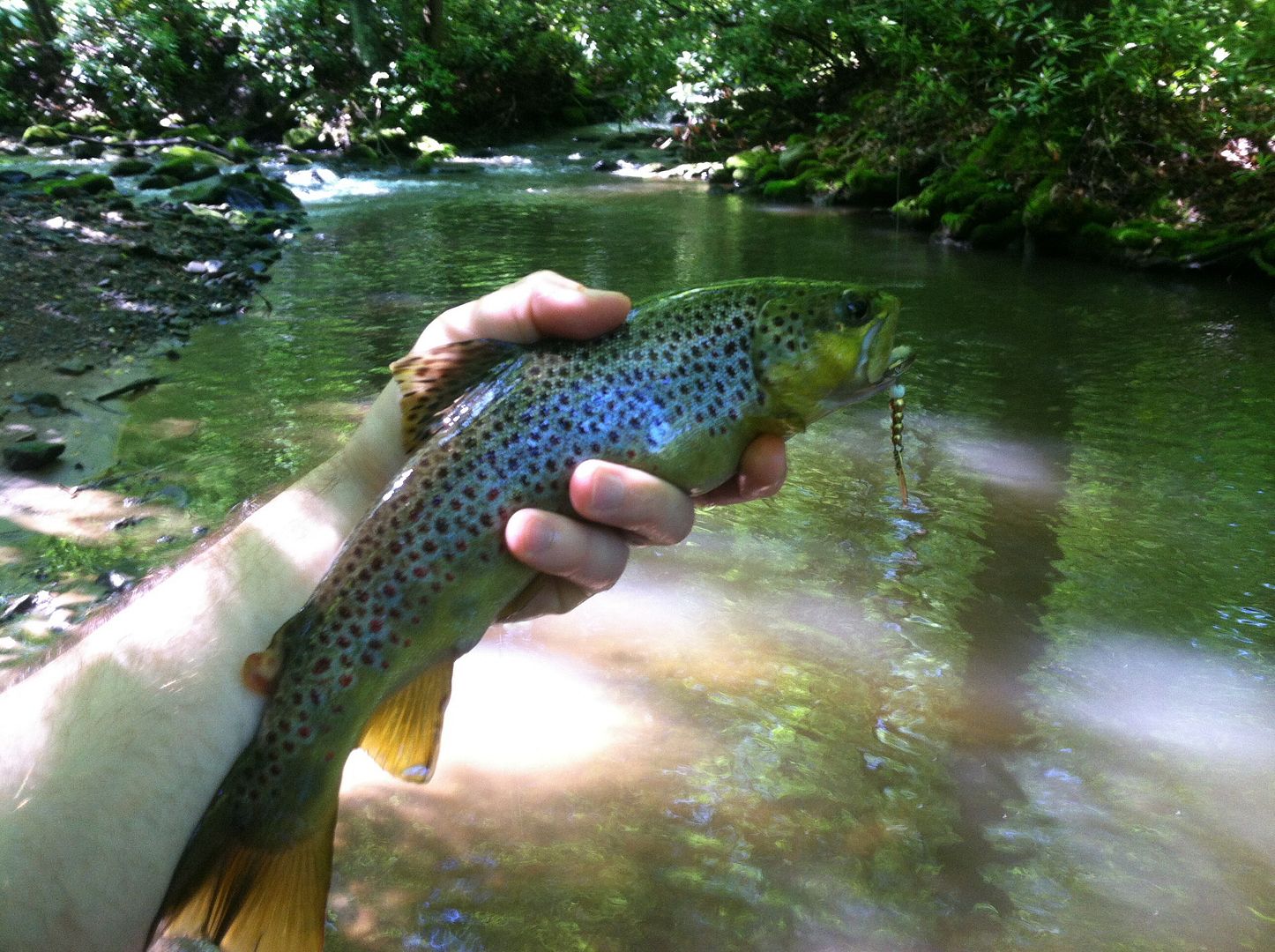 The last trout of the day put my 4.25 hour total at 78. I fished this exact same stretch last year and caught 60, so I was satisfied with that, but more satisfied that my golden rainbow curse has been lifted.