Discussion Starter
·
#1
·
Still up in the air on what I am going to keep, but I am thinking quail would be my best option.
This is what I have so far. I got started last night around 930 and put about 2.5 hours of work into it. It was a little rough with just one guy, but I got it pretty decent so far. She wont win any beauty contests but it will be fully functional. Constructed from 1 x 3 s, long drywall screws and short drywall screws.
tools used, pencil, square, miter saw, electric drill (USE A CHORDLESS WITH A SLIP CLUTCH, THE 1 X 3'S ARE EASY TO CRACK!!!), small drywall screws, and long drywall screws, I phone calculator.
I did a quick estimate on materials needed for the fly way and came up with 16 1 x 3's for the basic structure.
I started out by creating the top, and bottom sections of the roof, and floor.
over all measurements are 4' x 8'.
(4) 1 x 3's 96" long
(4) 1 x 3's 46.5" long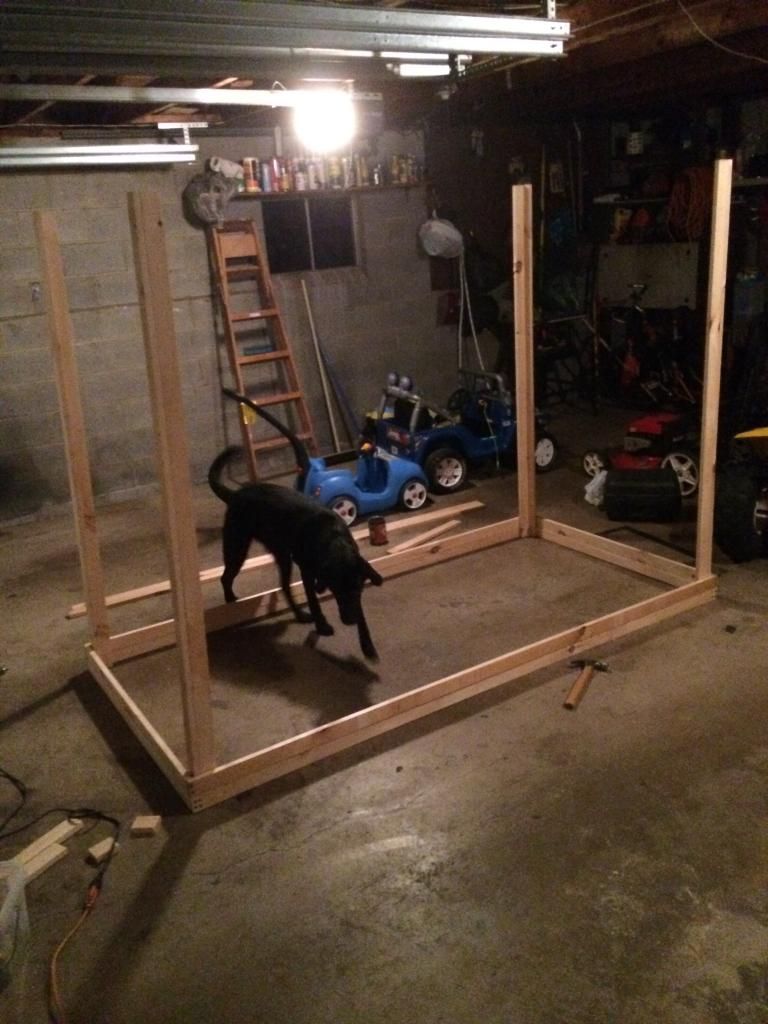 I then butted two of the 1 x 3's together to make and L shape for my upright for a bit more stability and easier fastening. I left the roof on the ground and fastened it to the up rights.
(8) 1 x 3's 72" long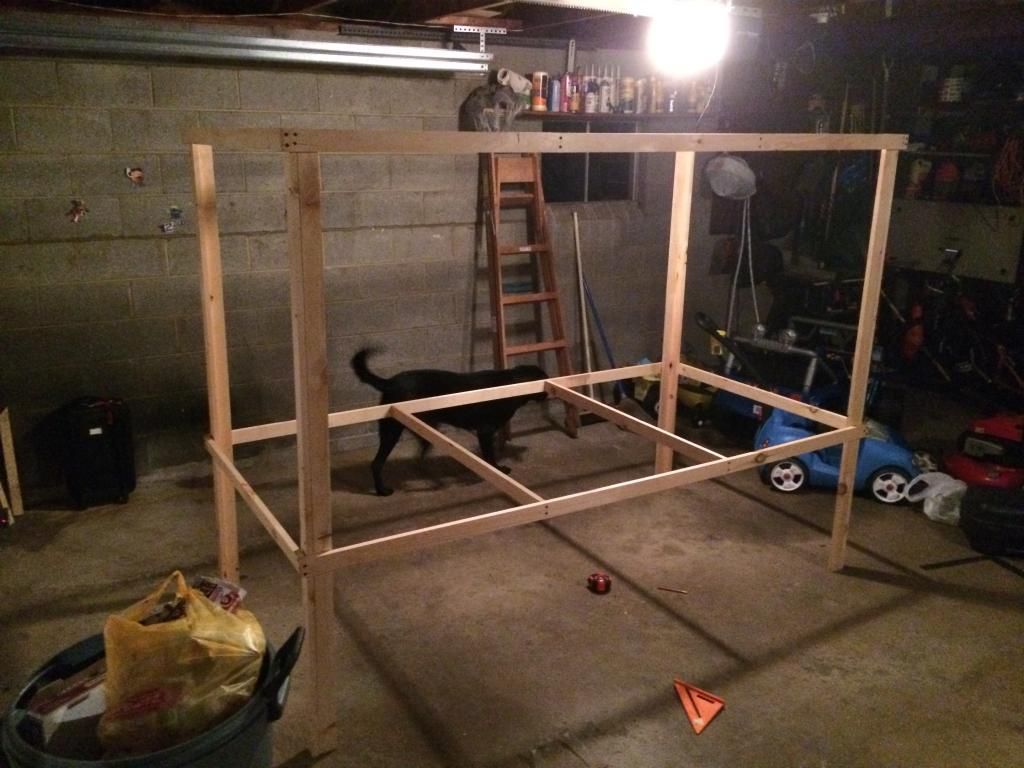 I then lifted the floor section up and brought over a folding 6' table to set the floor back down on. This was no easy task with just one guy. I was constructing this upside down so I measured 24" (as a suggestion from members on here to keep the birds up off of the ground. Going with 6' over all height left me with a 4' tall fly way. The main reason I did this was to allow no cutting of the wire when it is installed. I can simply attach it at its pre fabricated length.
I also cut cross braces to go in between the horizontal flooring and roof members.
(4) 1 x 3's 46.5" long (2 per run) I may add more if needed to keep the floor rigid, to decrease the impacts from predators trying to get in.
After the structure was up I wanted to gusset the side of the pen, and may do this as well on the ends. These gussets are going to serve two purposes:
1) strengthen the structure
2) allow me to insert a perch to the structure as well.
I am planning on putting either a dial rod, or something along those lines at the front and rear of the pen near the top. Not sure it is needed but it will strengthen the structure and give them a place to get up off of the wire.
Here are a few more pictures of the structure after the gussets were installed.
I was pretty excited as to how easily I figured this out and put it together so far. Lilly was there every step of the way supervising. I started this a little after 9:30 and put about 2.5 hours into the construction. Right now I am at a little over 31 dollars for the wood, and used some left over drywall screws for the fastening of it together. I would suggest a finder thread screw about 2" long or so would be much better. Also not having a cordless drill handy really made it tough as I cracked a lot of the boards.
At the end of the day here is a pic of all of the tools used and all of the left over scrap.
Needless to say I was very happy with how little scrap I ended up with. I will be drawing up the plans for this and have it all broken out for anyone who wants them. It will be a 100% finished print with bill of materials, part call outs, and parts drawings on how to cut the gussets and such. I will let you all know when I get these done, and you can have them for free. Just shoot me a pm.
After all of that work Lilly and myself were tired and both had trouble getting up today. Typically she is sitting there about a foot away from my face waiting for me to get up. This morning I hit snooze on the alarm every time and had to get up with my wifes alarm. Lilly was not waiting for me.
I got up and went downstairs and got my shower. She still was not waiting outside the bath room. I went up stairs to find my Lazy lab laying in her bed snoozing away. I got my clothes ironed and had to force her to get out of bed to go pee. This was the look she gave me when I woke her up.
We took a step out side and did a few retrieves for exercise as we missed our morning walk. She was happy for this.
I went inside to get one last look at my start and snagged a picture of her doing her QC work on the project.
I will be constructing the house section soon. I have plans to paint what I have done so far, and then install the wire. Going to place boards over top of the wire in all locations to not allow any access to the pen by predators.
There will be long members running the full length and width at ground level as well with wheels on the side where the house will be, and a balance block on the rear to keep it level. Along with a nice handle system to make it easy to move around to other places if I want to. I will be installing loops at the bottom to allow me to stake it down, incase a bear wants to try and tip it over or something.
Future plans are:
-add a door to access the fly way
-construct the house, with one door, and step runway into the house, ventilation in the roof
-outside access to house
-a pan underneath the house to collect waste
-a rope/pully system to attach to the door to allow me to lift the door from the outside
-under the house I am going to create a mini structure to place a call bird to get the birds to come back to the structure once release, and istall a predator save re-entry door.
-house to have a flip up section for cleaning and such.
This is very fun, and something I can take pride in. I nearly bought a small pen offline for 140 bucks yesterday but decided to try this myself. I will keep updating this as I get time. Will be doing this work at night whenever my tired out pregnant wife gos to bed so no family time will be taken away.
Thanks for all of the help and stay tuned for how I make out. I will be taking photos of every step along the way and placing them on here. When it is all done I may put together a blueprint with an installation manual, and put it in pdf form for anyone to use.
Thanks again for the help,
Mike