Discussion Starter
·
#1
·
I'm not a story teller so I'll keep this short and sweet.
Friday - Pull out is 5:00 AM. My brother, father, and I arrive at my grandfathers brothers house. My grandfather, his son, his son in law are waiting by one truck with my grandfathers brother and his buddy waiting by theirs. The three trucks depart and were on our way to deer camp. Above Williamsport we pull into the Trout Run area and stop for breakfast at a small diner. After our bite to eat were on our way again. We pull into camp around 10:00 AM. The remainder of the day was spent getting the camp and garage heated, un packing, and getting settled in. One of the guys at camp had a NY doe tag left and filled it that night. Friday evening found us at the Bear Track in Westfield.
Fog lifting on way up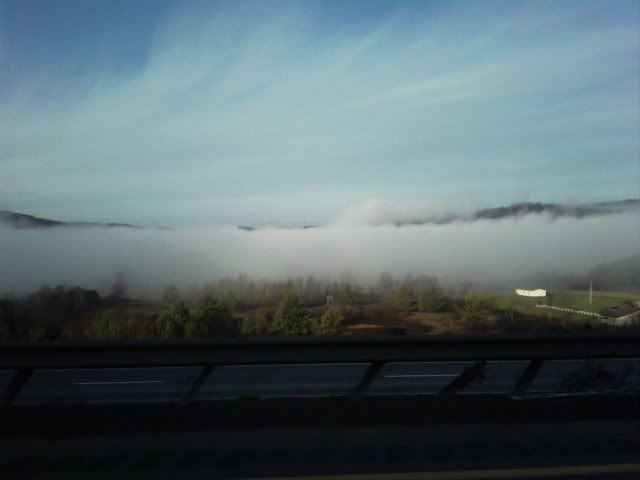 Snow when we got to our camp
NY doe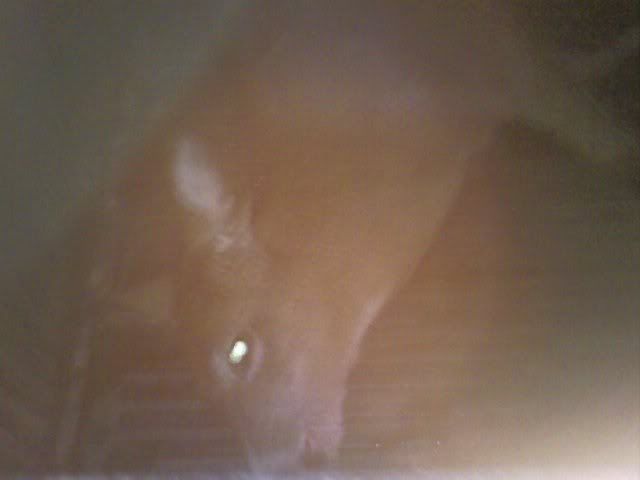 Saturday - College Football and chopping, splitting, stacking wood (10 truck loads) took up most of the day. While splitting the wood in NY we found a decent sized buck which appeared to have been shot. No one from our camp had seen this buck on our land so we are guessing a neighbor hit it and couldn't locate it. We trucked into Westfield to check out Ackleys and boy was that full, the Remmington reps were there. Saturday night found us at the Gas Light and Yo Mommas Mug in Wellsboro.
One truck load
Dead buck found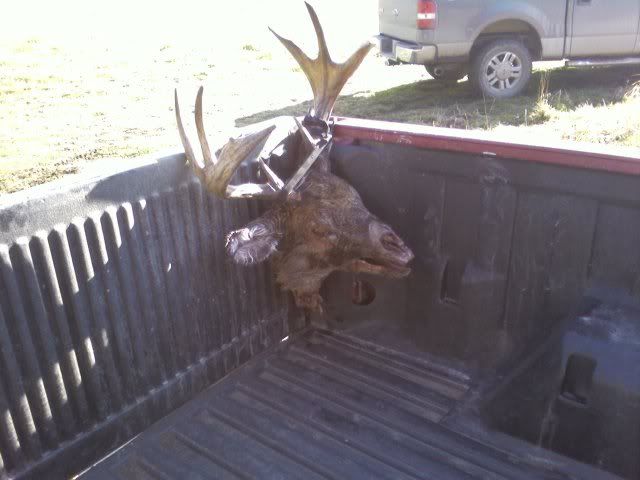 Sunday - NFL Football, sighting in guns, and our traditional thanksgiving dinner filled most of the day. Man did the Steelers disappoint me.
Monday - Our group hit the farm we had permission to hunt. Everyone in the group saw deer, some more then others. The morning brought a handful of smaller bucks - 2 spikes, a three pointers, and a four pointer ... bummer. At about 9:30 I caught movement out of the corner of my left eye, a buck was making his way down a rocky valley toward a logging road below. I easily syped its rack but couldn't make out the brow tines, I grunted hoping he would stop so I could get a better look. The buck stopped but decided it was best to stop behind some brush - still can't see the brows. The buck continued down the hillside and I let out one more grunt, the buck stopped again almost broadside. I could now make out the three points on one side and settled the crosshairs on the deers chest and squeezed, he went down immediately. One or two leg kicks and it was over, I hurried down the hill to take a look at my trophy only to leave my heat-a-seat and backpack up the hill. After hoofing it back up the hill and getting them I proceeded to tag and gut my deer. This year I used the Butt Outt and I have to say I'm very impressed with it and will continue using it. The drag took me about a half hour back to the truck, I loaded the buck up on the truck and decided going back to camp was pointless what was I going to do there? I placed my gun and gear in the truck and just watched an open field the rest of the day. While watching the field I was able to count 17 deer cross it and enter the woods we were hunting. 14 of these were doe. As I mentioned before everyone saw deer but no one wanted to take a doe, and all the bucks spotted were illegal. Monday ended with my buck being the only kill.
Buck
Buck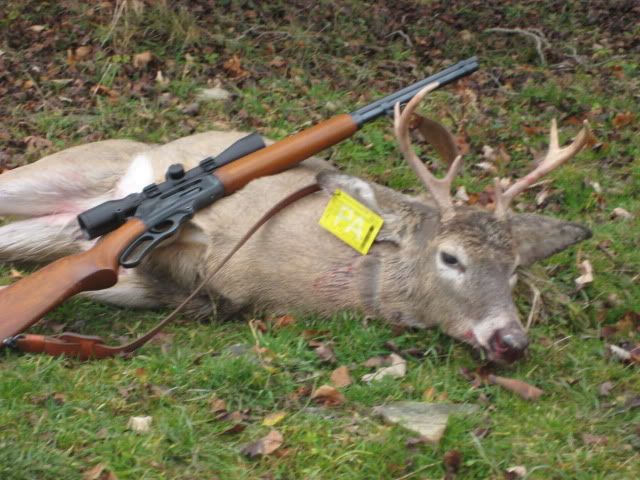 Buck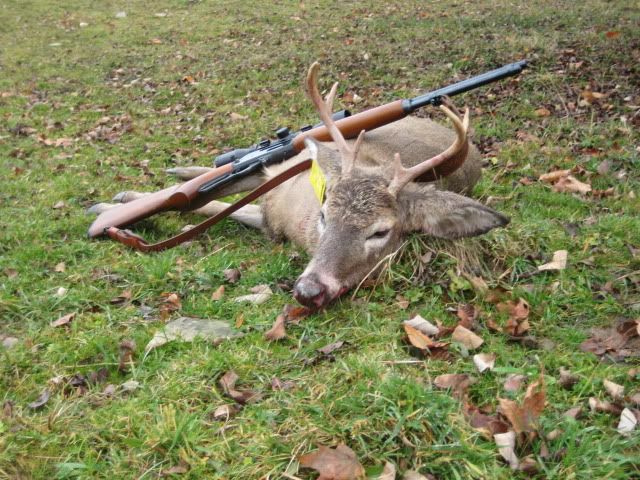 Tuesday - Our group hit the farm again. Luckily we had snow when we woke up which made for a beautiful morning. The mountain sides surrounding us which were covered in orange the day before were now bare. Tuesdays hunt came and went without a shot from our hunting area. Only 6 deer were spotted and they were all doe. The lack of pressure surrounding us really hurt us, IMO. Tuesday night came which meant our time at camp was done, we got packed up, headed to the butcher to pick up my buck and some NY deer, and then headed for home. We all stopped at the Turkey Ranch above Williamsport for one last dinner together, good byes were exchanged in the parking lot and we all headed our separate ways.
Parking area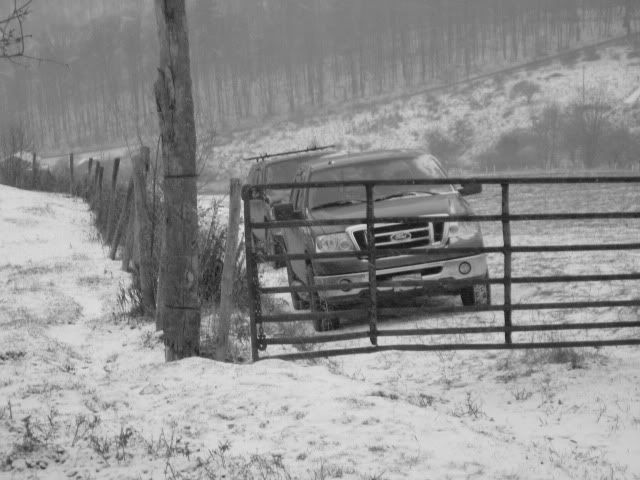 View across valley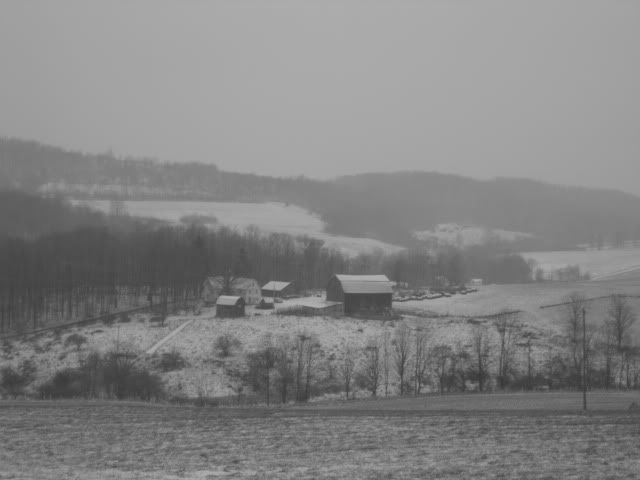 Pond on the farm