Discussion Starter
·
#1
·
The pattern for my last few excursions has been "boom and bust".
On Wednesday, the cycle started with a "boom". I have been very consistent over the last dozen or so trips with my first cast splashing down at exactly 6am. This makes it easy to keep track of time.
Wednesday's stream selection was a stocked mountain brook with a respectable native brookie population. This has been a once-per-year stream for me the last few years. In the past, I have started at the mouth, made my way up to its first tributary, and then fished up that tributary. For the first time, I skipped the tributary and found excellent water as I continued up the main stem for 1.7miles.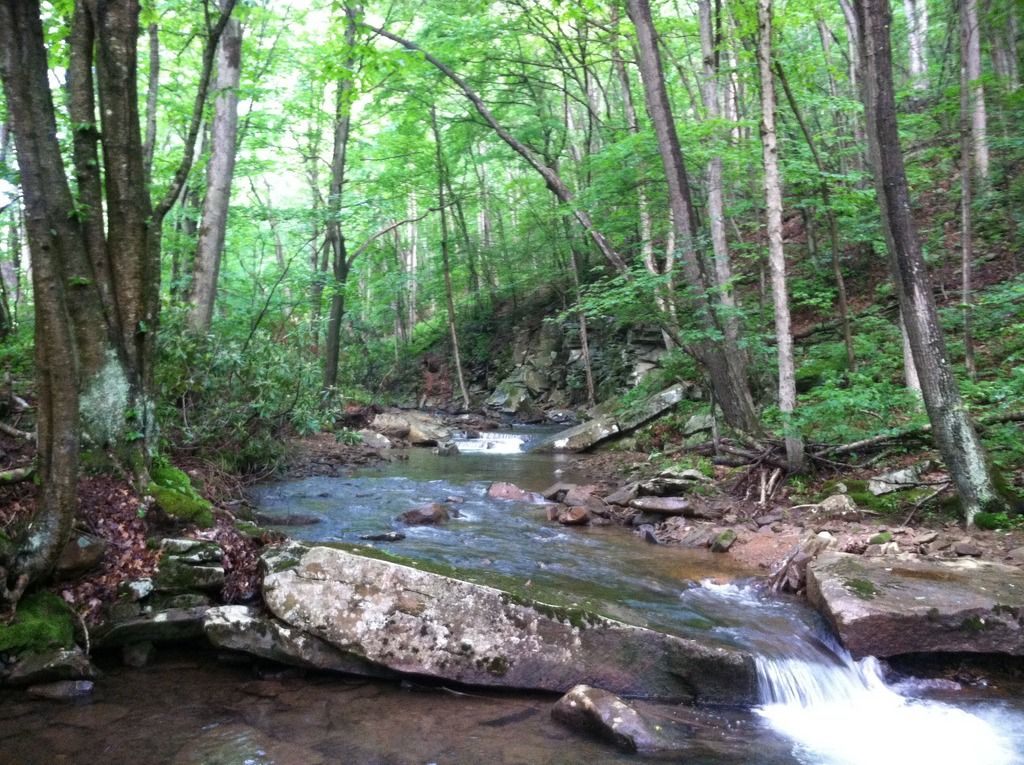 There were average sized stocked brook trout in each likely spot.
Some rainbows were mixed into the stocking as well.
This 9in native took the prize for the most colorful fish du jour. I took 5 pictures but was never satisfied with how my 5 megapixel camera captured the colors.
This 4 hour trip ended with 117 trout. I was so pleased with those results that I made plans to return on thursday to fish the tributary that I skipped.
Thursday, was a "bust". I started at 6am at the aforementioned tributary and by 6:30 and almost half a mile later, no fish were even seen. Toward the end of that foray, I was covering water very fast to at least try and elicit a follow. I knew it was time to abandon ship. I was sitting in my vehicle at 6:45 with the interior light on, looking at a map to choose my next destination. There was a slam dunk stream nearby that always produces no matter the conditions. However with 1 out of 4 hours already eaten up, I opted for a stream I had been eying up for 2 years. It is stocked and I suspected that it also held wild fish.
I arrived there shortly and was satisfied with the flow. However, the temperature was a bit concerning at 59.2 degrees. All other streams in the area are sitting around 53-55 degrees.
I started a quarter of a mile below that bridge, and by the time I made it back, 5 stocked rainbows were landed.
I continued upstream for another hour and only caught 3 small natives. If it weren't an exploration mission on new water, I would not have stayed that long.
Thus, in 3 hours of fishing on wednesday, only 8 trout came out to play.
Saturday started with a "boom". I love fishing this stream, but I sort of dread traversing its challenging terrain. Climbing and crawling ate up most of the first hour of fishing.
However, fish were still extracted at a rapid pace. The first hour ended with 27 trout, which as I said, was impressive due to the time spent moving through the brush.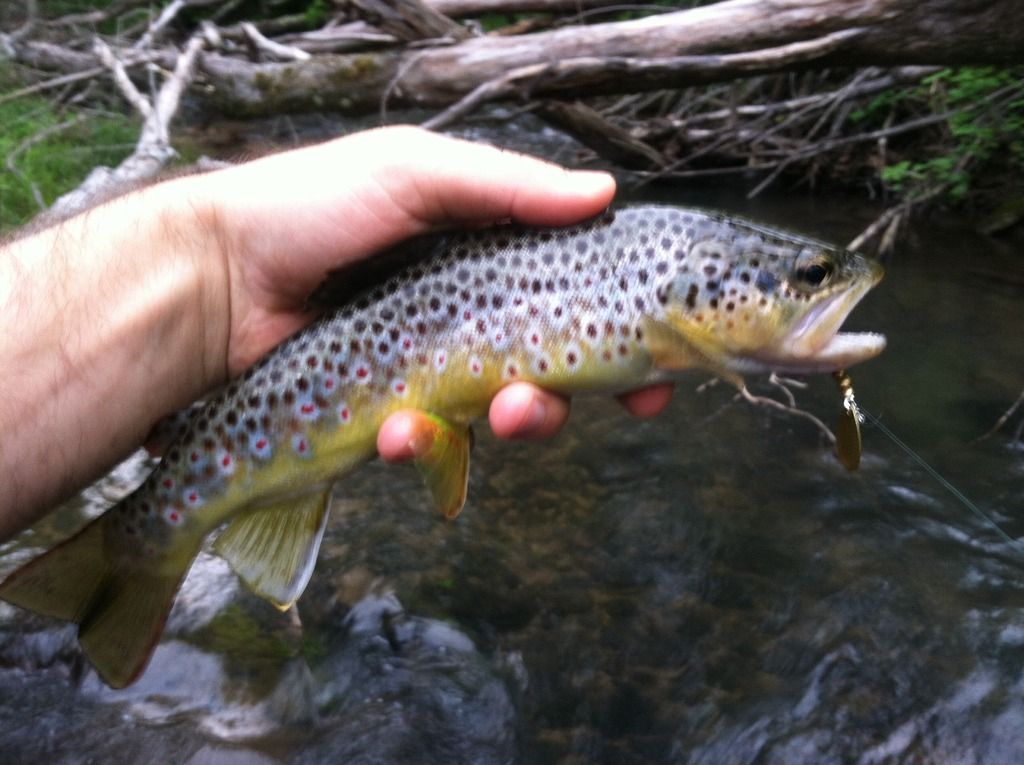 Finally, the meadow of fallen timers ended and I appreciated how easy it was to move through the forest.
This american toad watched quietly as I pulled 3 wild browns from the whirlpool hole in the background of this picture.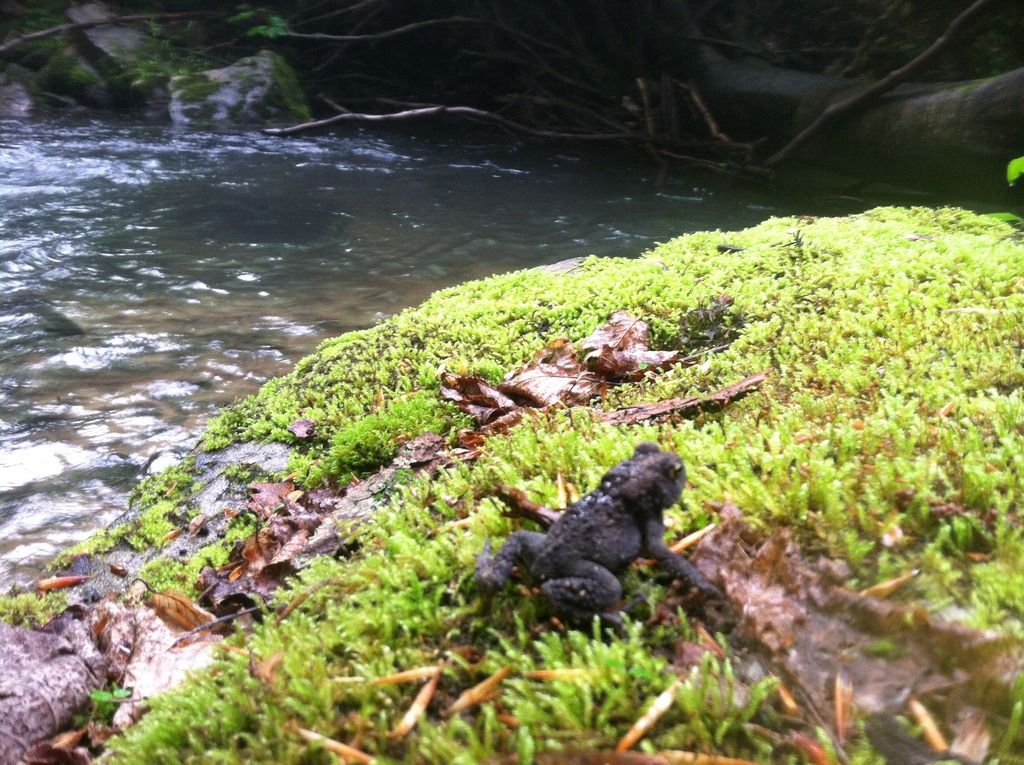 I always find these whirlpool type pools difficult to fish. Usually, shallow, fast, water dumps abruptly into a small, deep pool which is created by a log jam on a bend in the stream. The logjam makes downstream retrieval impossible, so the best that can be done is a very brief lateral retrieve.
A short downpour caused the moist, warm air to condense against to cool waters creating a fog.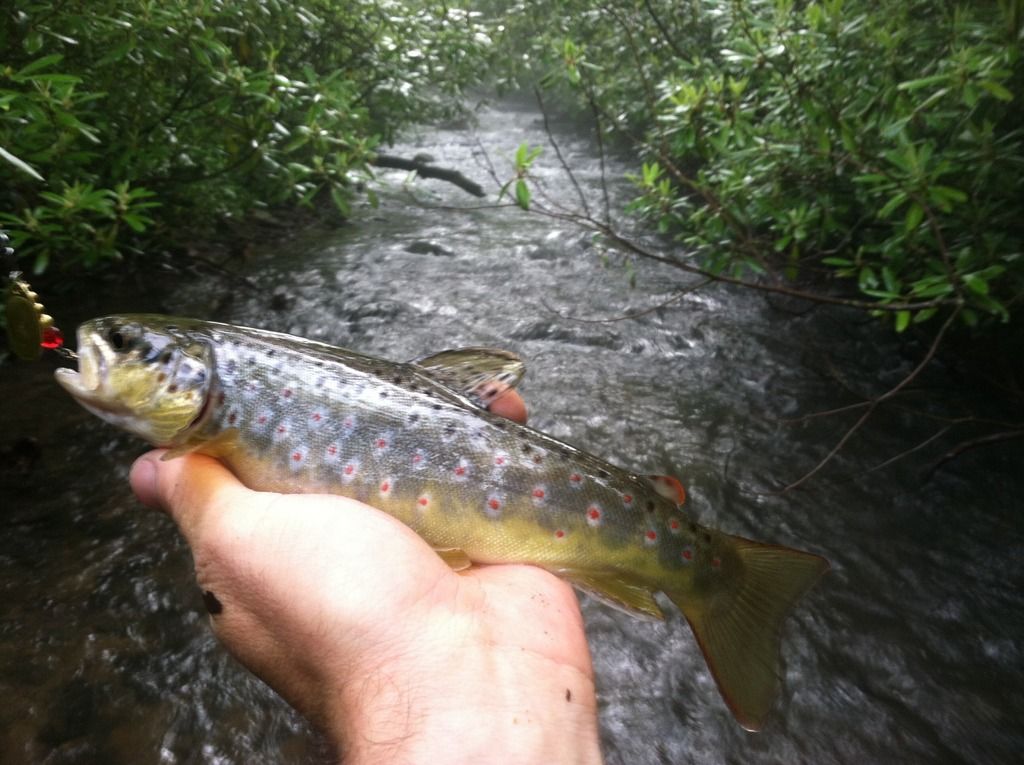 The long, slow pools lived up to the hype they brought.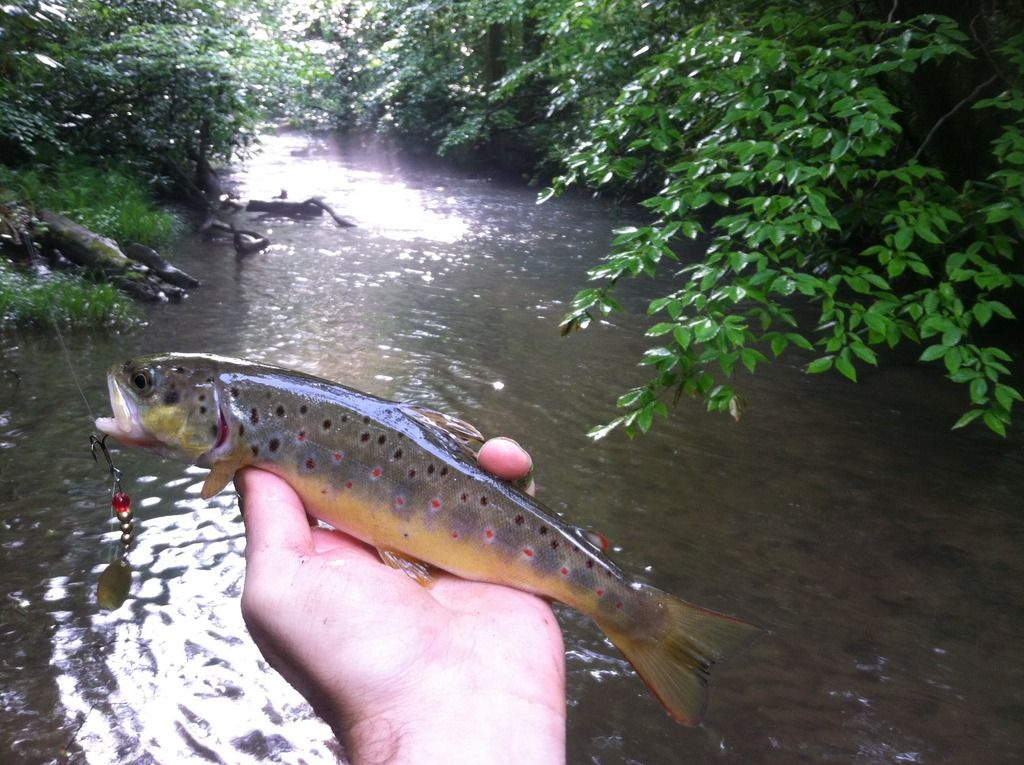 This tiny tributary that is less than a foot wide has a gargantuan pool right before it empties into the stream. No trout were present there today.
While scaling this log, I noticed that either a raccoon or a mink had eaten a crayfish at that exact spot.
To end the day, I headed up a tributary where I caught a wild tiger last year. I know that the chances are slim to none of another wild tiger being there, but I had to try.
A few more wild browns were tallied here.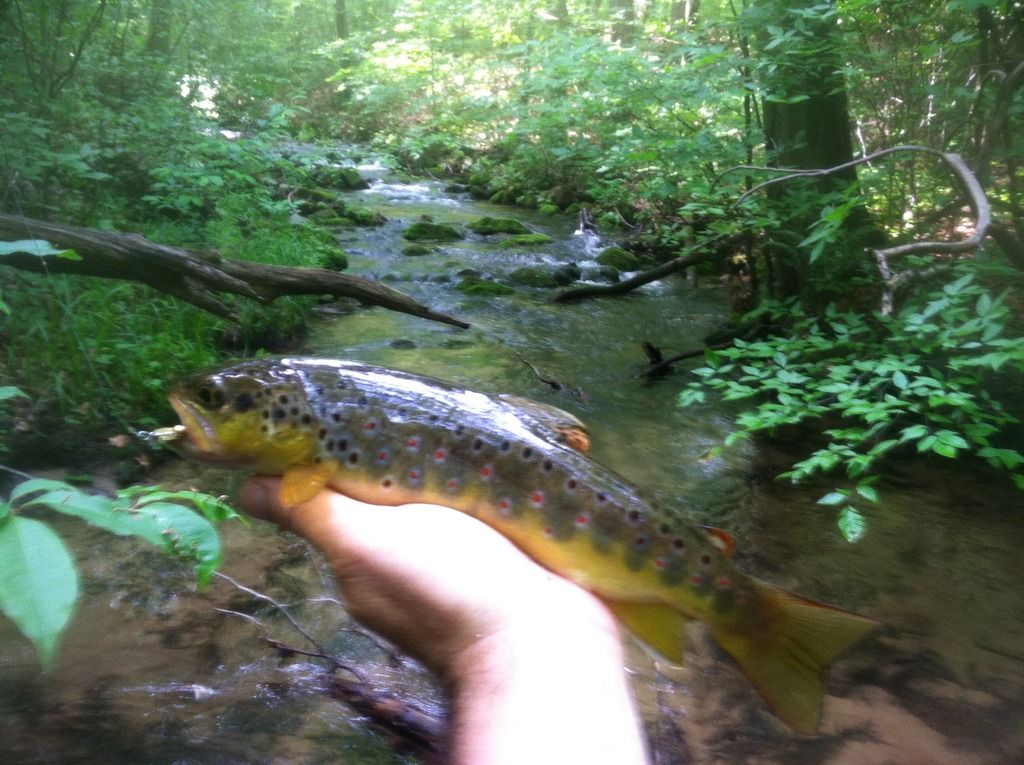 This 4 hour "boom" concluded with 103 trout.
After jogging back to my vehicle and setting down my equipment, I realized that I was in for another "bust". My keys were missing. They had fallen out of a previously zippered compartment in my fanny pack. I began weighing my options. There was no cell service at my location and I would have to go at least a mile to get out of the valley. My wife would have definitely come to get me. However, I didn't want to push my luck by asking her to load up the little one and drive out into the backwoods when I am sure they both just awoke. Coincidentally, I had worn running shoes instead of wading boots, and I knew it was only 12-15 miles home, so I just ran. I would have gone for a run later in the day, so it wasn't terribly inconvenient.