Discussion Starter
·
#1
·
Well folks. It has been a heck of a year for me. The hunting god smiled down upon me yet again yesterday on the last day of flintlock season.
For those that know me well, I have become obsessed with trying to put myself in a position to add a Pennsylvania coyote to my hunting bucket list. I will be the first to tell everyone, I am no master caller or predator hunter but spend many a hour in the woods always hoping that wile coyote happens to wander by me.
I have come close over the years. I have seen 6 over the past five years but they never presented a shot or a had the wrong weapon to make it happen. Last year I had one sneak by me at 25 yards while I was archery hunting but I could never get a shot.
I have personally put harvesting a coyote above my desire to kill what I consider a big buck for Pa. Many consider coyotes vermin but I have always considered them the elite of the elite to kill in this state.
My quest ended in high fashion Saturday afternoon in the flintlock woods. Not only did I harvest my first Pa coyote, but to do it with a flintlock and to have it be such a beautiful specimen brought me to tears as I walked up on this creature. I shared it with my best hunting buddies who always get together no matter the weather of the season.
This coyote was trying to sneak out the back door of our last little deer push of the day. I saw her coming and couldn't believe me eyes when the black shape began to take a course that would put her at 30 yards from my hiding spot. I franticall searched for a opening to try to stop her if she cotinued her course. She did and a lip squeak stopped her at 25 yards.
I have missed plenty of deer with the flintlock and her stood my quest with the flintlock cocked and ready. I consciously told myelf to keep the sights steady until I felt the recoil. The recoil shoved my shoulder and through the blackpowder smoke, I saw her crashing downhill with some stagger to her gait. When she dropped out of sight into a creek bottom and waiting and then saw her stumble up the other bank and disappear into a blowdown.
She never came out. I was shaking like a leaf and relaying what had expired to my buddies. After 15 minutes I began to slowy sneak down and finally picked out a set of ears in the brush. I kept fixated on those ears with my binoculars as my buddy headed that way. As he closed, no movement occured and he let out a war woop when he found her.
Words cannot describe the emotions I felt walking up to her. I was beside myself and do it on the last day with the smokepole with my buddies being there made it all the better.
My quest for a Pennsylvania coyote is over. How can one do better than this. Black and silver to boot with perfect fur. She will be properly displayed in full body mount fashion so that I can relive the moment daily.
Where I found her after pulling her from the Washington County blowdown. The TC Firestorm shooting 100 grains of 2F pushing a 245 grain PB Aerotip laying across her.
On our camp scale she weighed 30 lbs. Unbelievable color on her for sure.
Stretched out and beside one happy hunter.
And the business end. No doubt a killing machine and a elite Pa. predator.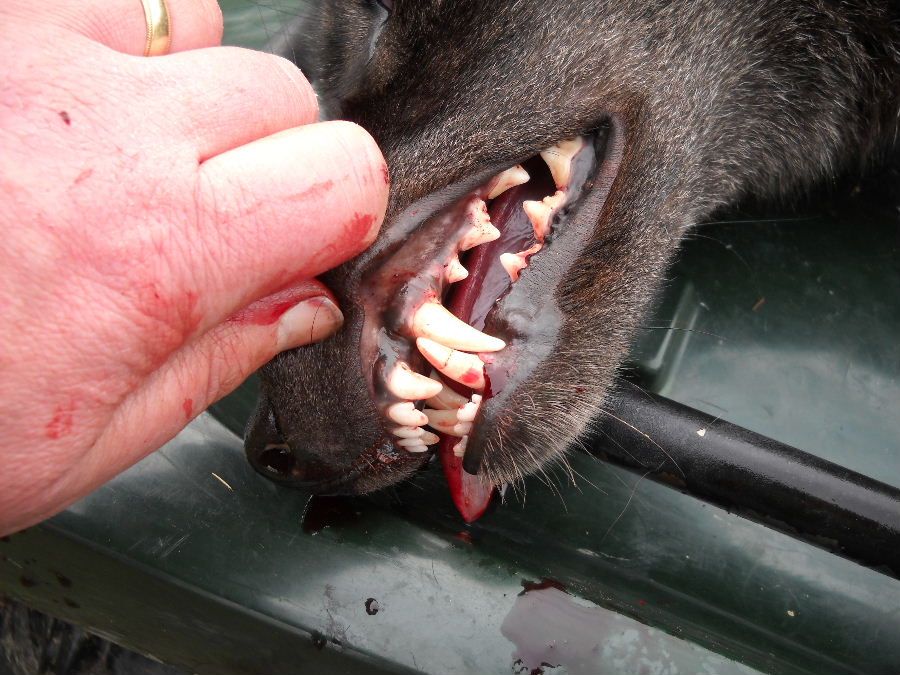 A fitting end to a another Pa. hutning season. I am truly blessed to be able to experience it and am very fortunate to be have some great friends and a wonderful site like HPA to share my stories.
Thanks all and enjoy.