Discussion Starter
·
#1
·
It's become an annual tradition for me to fish my rear end off during the 4th of July weekend and I figured why break from that! As most around the state have experienced, rain and water is at a premium right now. Choosing the right place to fish on a trip by trip basis is the difference in lots of action or very little. My weekend started Thursday evening in the usual way.....Me sitting in front of the computer for 30-40 minutes studying data and cross referencing historical info with current water levels until I finally narrowed down a plan A and plan B. I was quite confident in my first thought and knew that for me to leave it was going to have to extraordinarily bad fishing. Beggars can't be choosers this time of year so even if the fishing was slow I was going to persist patiently.
It was quite the drive but since it was dead clear out I arrived well in advance of day break. I needed to take advantage of the low sun angle as long as possible. Water levels were in great shape. Really the only stream in the state that I personally could have located in such condition although I'm sure there are others.
As usual, to start, the fishing was slow but I didn't care. I was content fishing good flows and sorta knew I'd figure it out as I went along. Within 20 minutes....I did.
At the second pool after catching a few nice 10-12" wild browns I made a good cast to a slot in the riffle entering the pool and my retrieve was instantly rejected by a large wild brown. He showed tremendous power in his attempt to escape the photo op but in the end I hooked her solid and scooped up the 20" brown for her 'Say Cheese!' moment!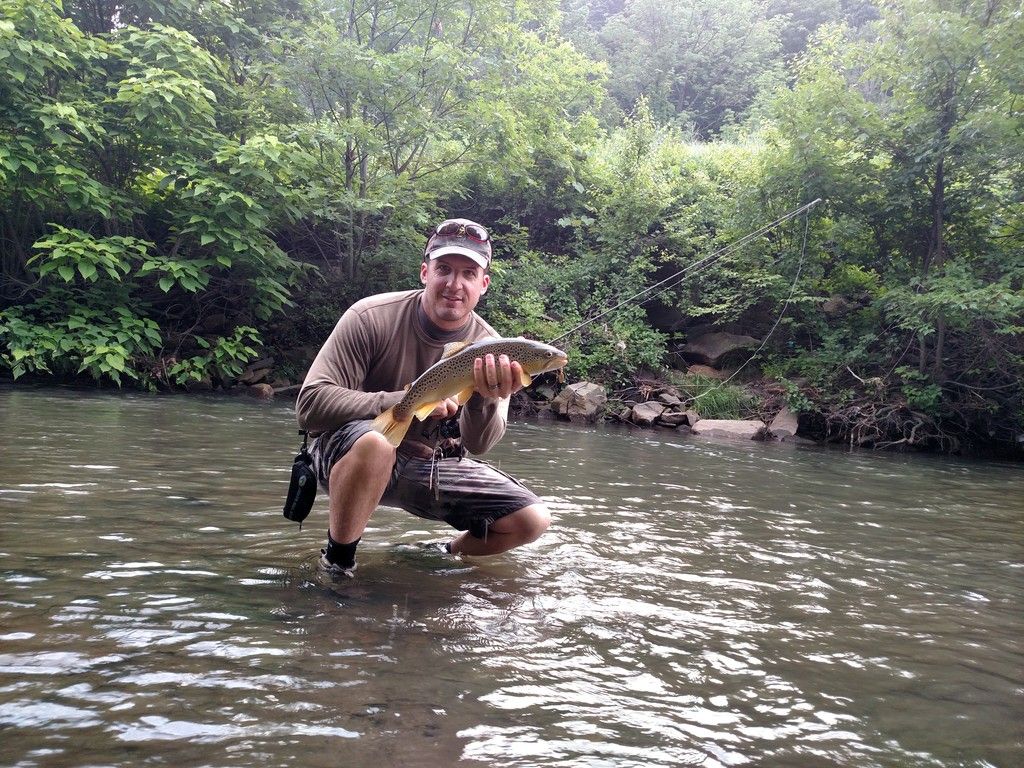 A few trout later and I approached another pool that I'd never taken a big fish from. To my surprise my first cast to the tail of the pool yielded an aggressive follow from a large brown. The next cast gave a half hearted follow from the same fish. I figured that was that and the next 5 casts showed nothing. 95 times out of a 100 that's it with a mature fish, you rarely get more than one chance, but on the final cast overtop of his location he exploded from the bottom and the fight was on. I just chuckled in surprise and I landed the 19" holdover brown.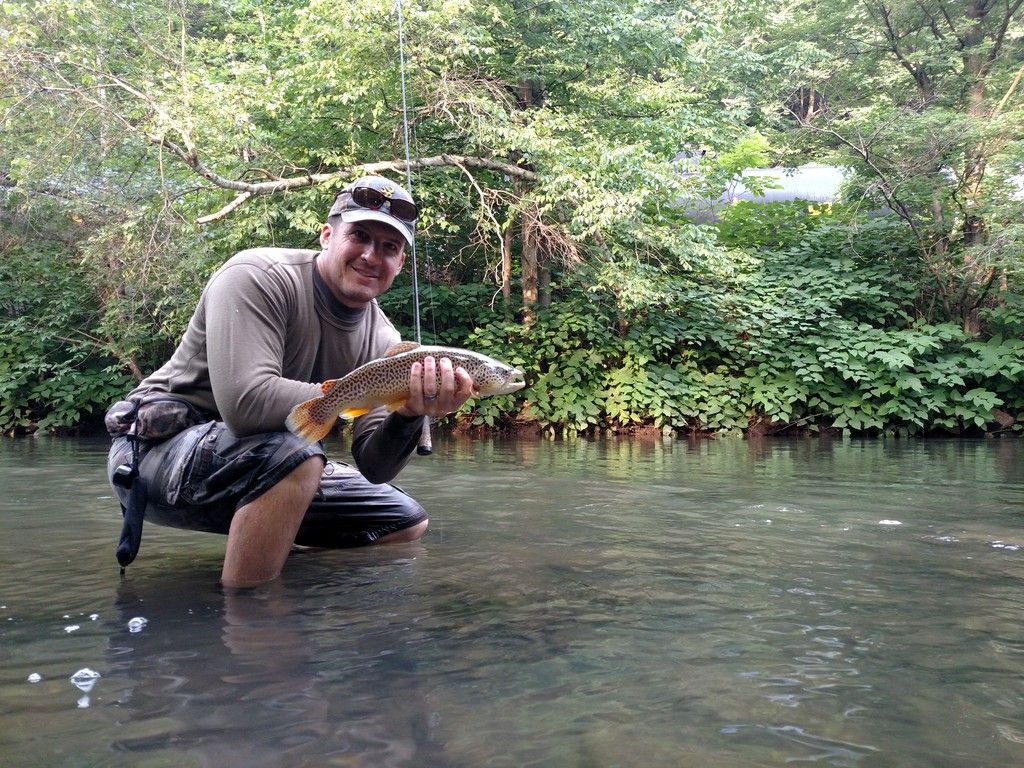 for the remainder of the day I was throwin' ace's (great casting accuracy) and the big trout were fallin' in the cool 61 degree flows.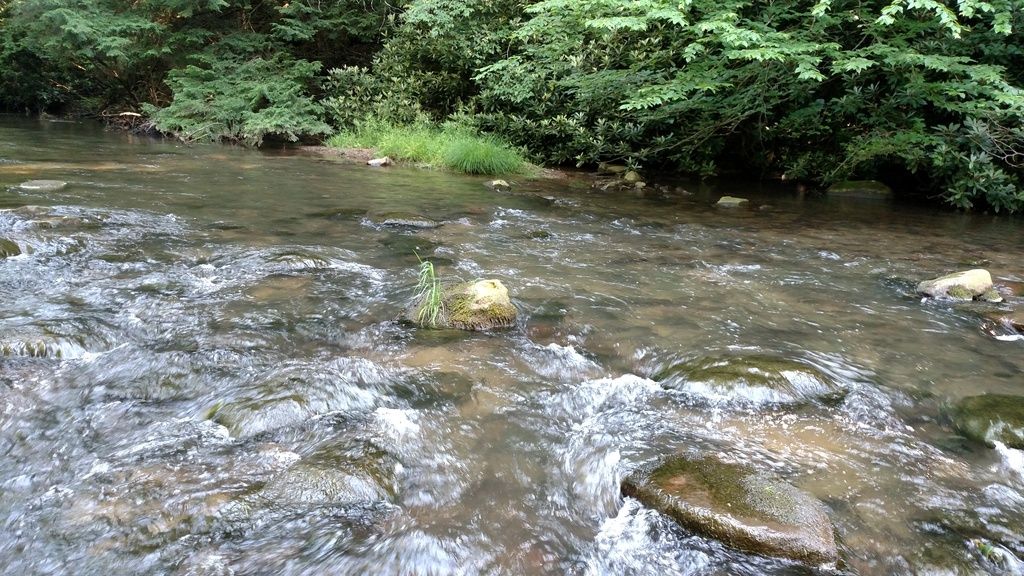 This 18" brown fell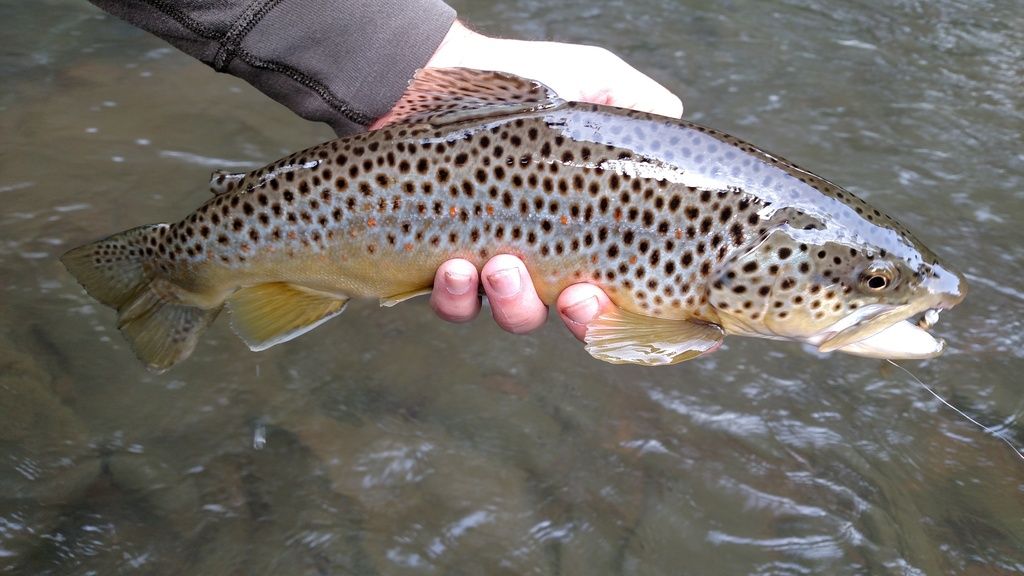 This 16"er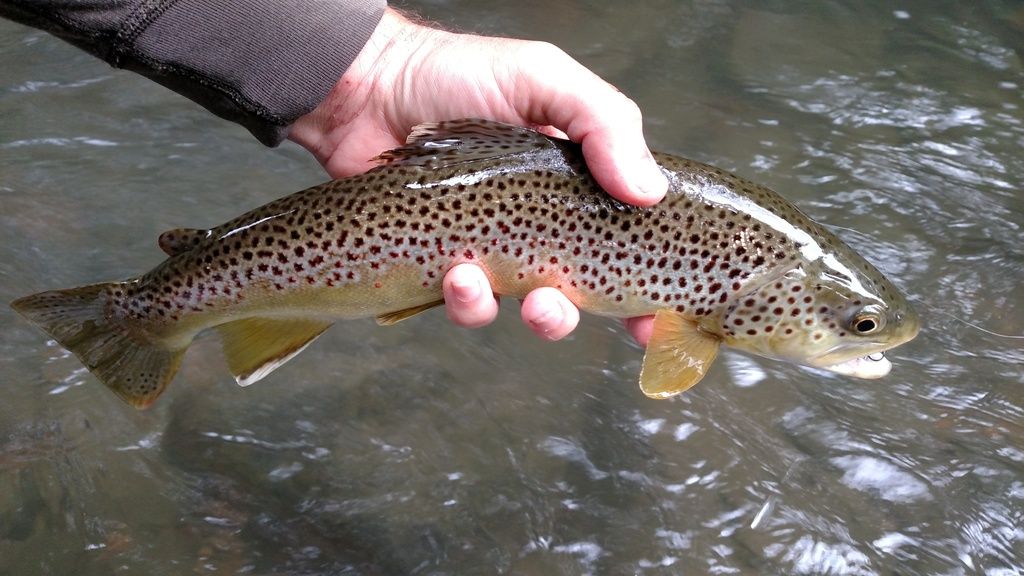 This 17"er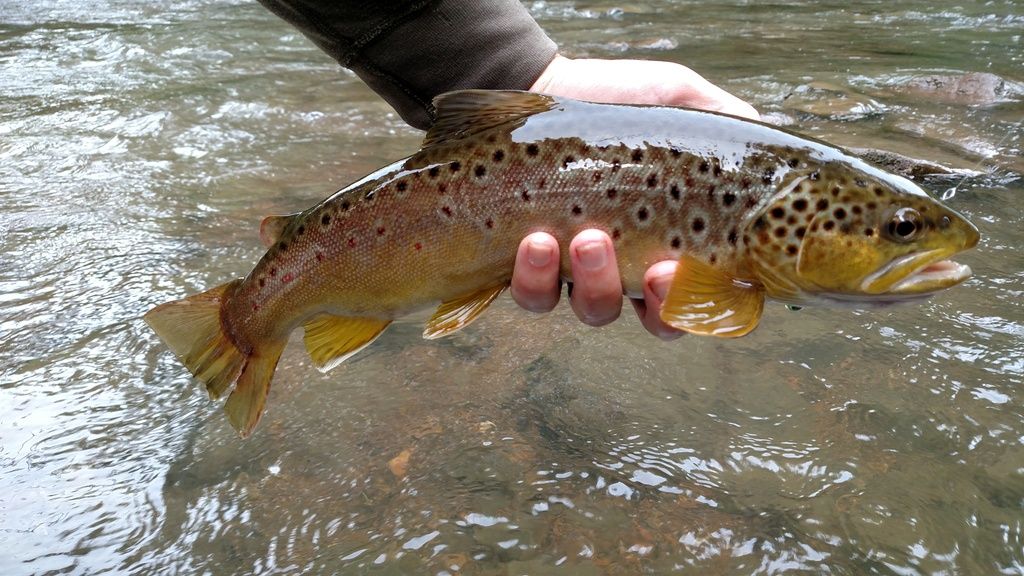 On the very next cast its 17" friend also succumb to my best effort.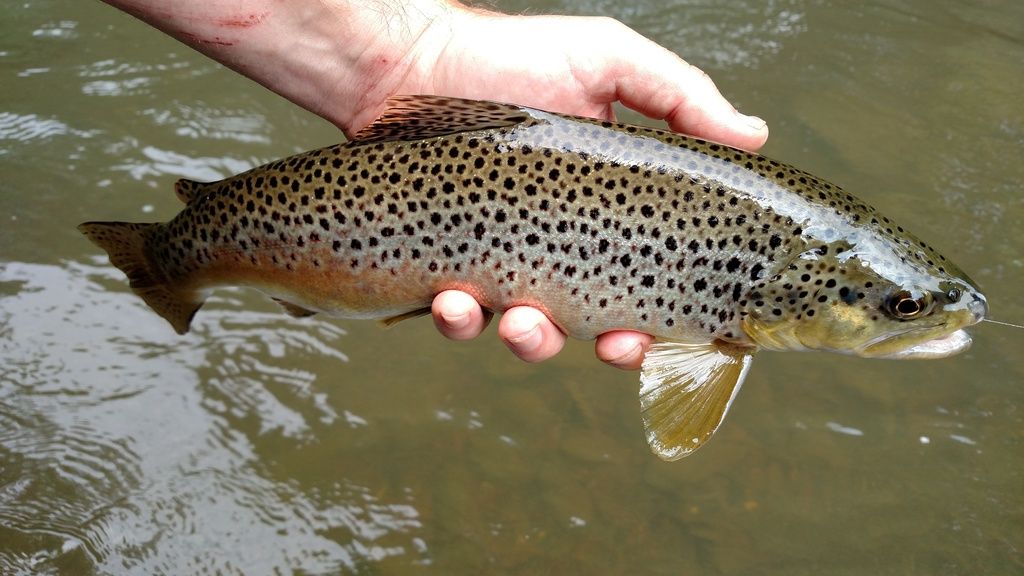 This 16" rainbow made an appearance too!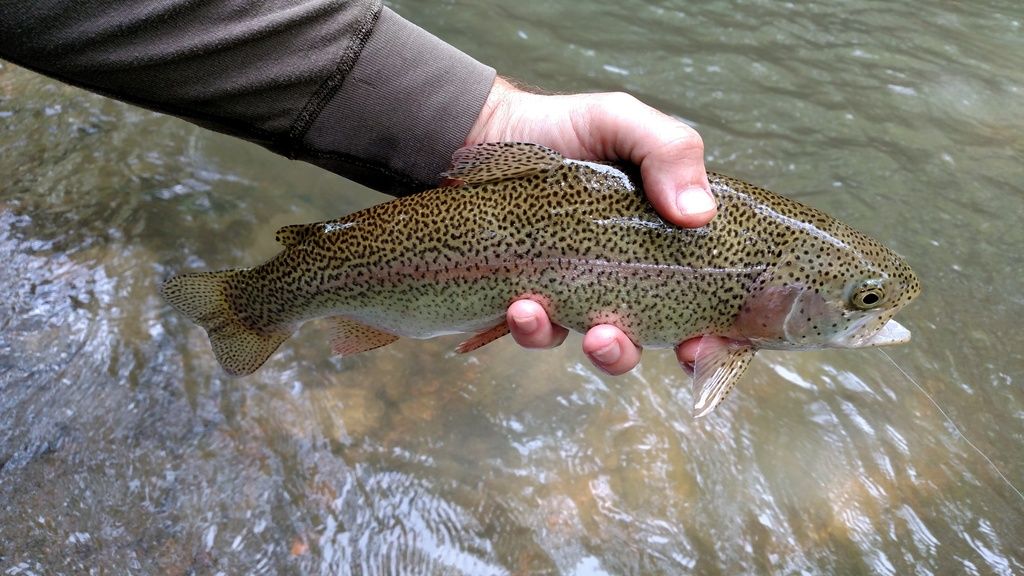 Plus another 17.5" brown that I didn't get a photo of as I felt it needed to get back into the water faster than it was going to snap a pic.
For the day I broke the century mark and caught 7 big trout in the process. Definitely one of my better days this year.
On Saturday I met Kwright on a different stream. He hadn't been out in a while so I was happy he was available. Again we were successful in finding water.
Here's Kevin landing the first unlucky fishy of the day.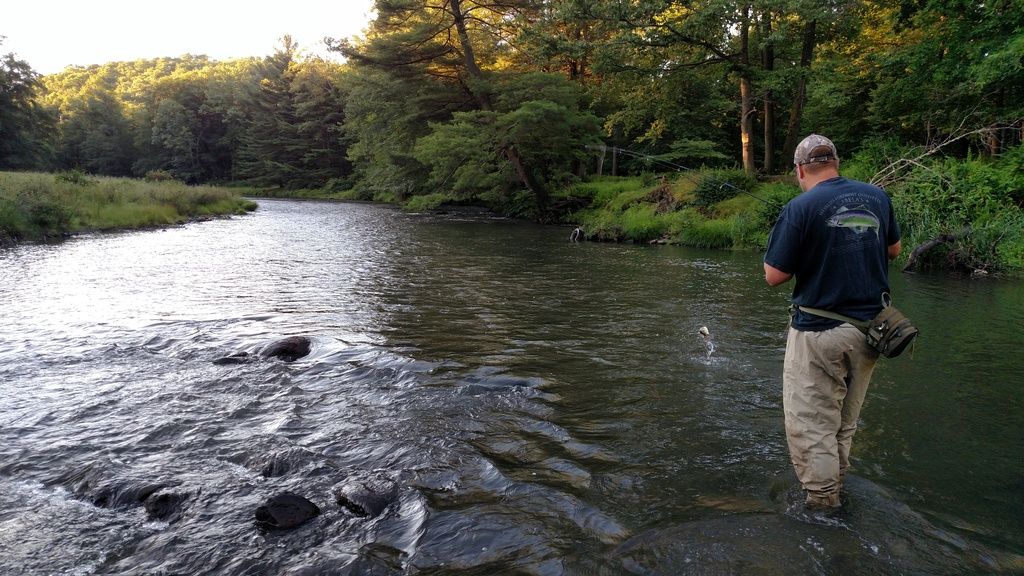 I was excited to see the mountain laurel was in bloom. Not many but I found a few here and there. By next weekend it should be rockin'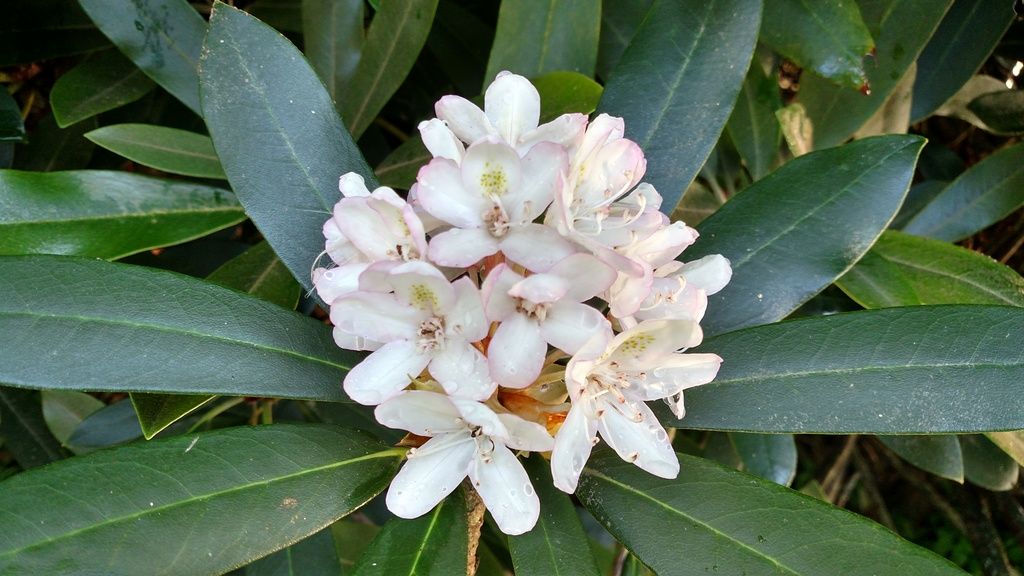 Kevin was working a pool pretty good and hitting all the obvious spots while I picked at some leftovers when I sent my cast into the most innocent of holding areas only to have it stop dead in its tracks. I slammed the drag two cranks to the right to allow some 'give' and the fish anchored itself the bottom. After a few seconds I proclaimed it was a smallmouth by the way it was fighting. It was just grinding me down into the rocks on the bottom of the stream just like all smallies do to me. It was a few seconds before I surfaced the fish and I was surprised and excited to see a real whopper of a wild brown on the line. I felt I had him tied down pretty well but fought him carefully anyhow. Eventually I wore him down and dang what a fish it was. It was 20" which isn't the biggest but its head and mouth…WOW….I've never seen a brown with the bucket capacity that this one had. My fist could fit in him mouth. Just a tremendous bull dog of a fish.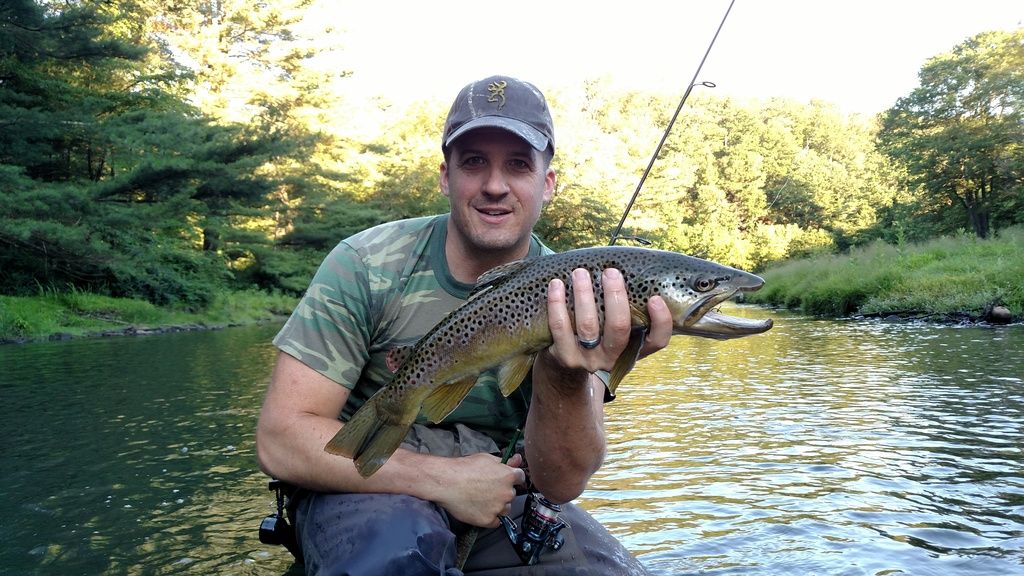 It was only 6:45 am and I felt like my day was done. Cloud 9 type of fish. For the remainder of the morning we felt our way around the streams currents and caught good numbers of fish from most likely looking spots. Even a few doubles came to hand.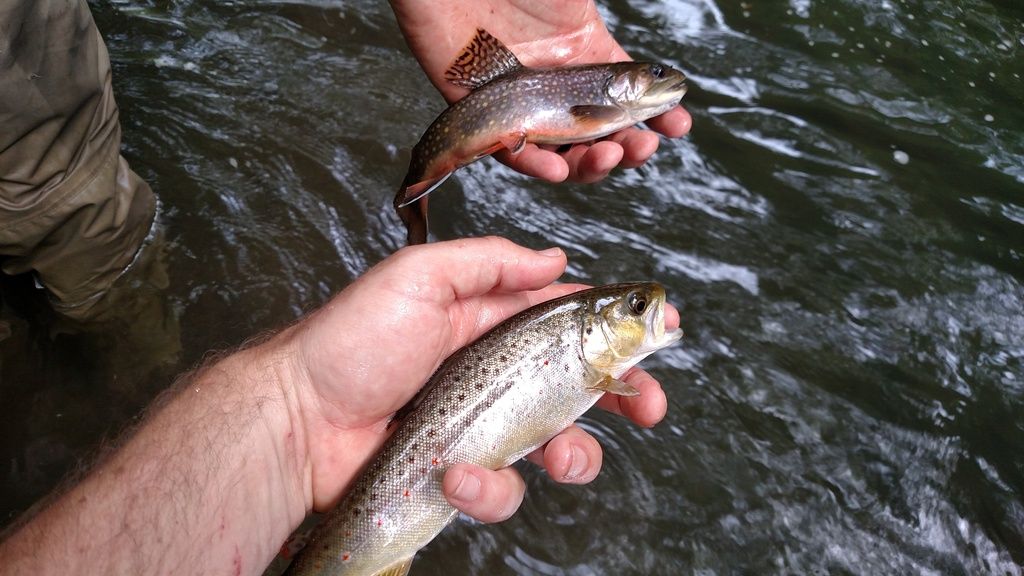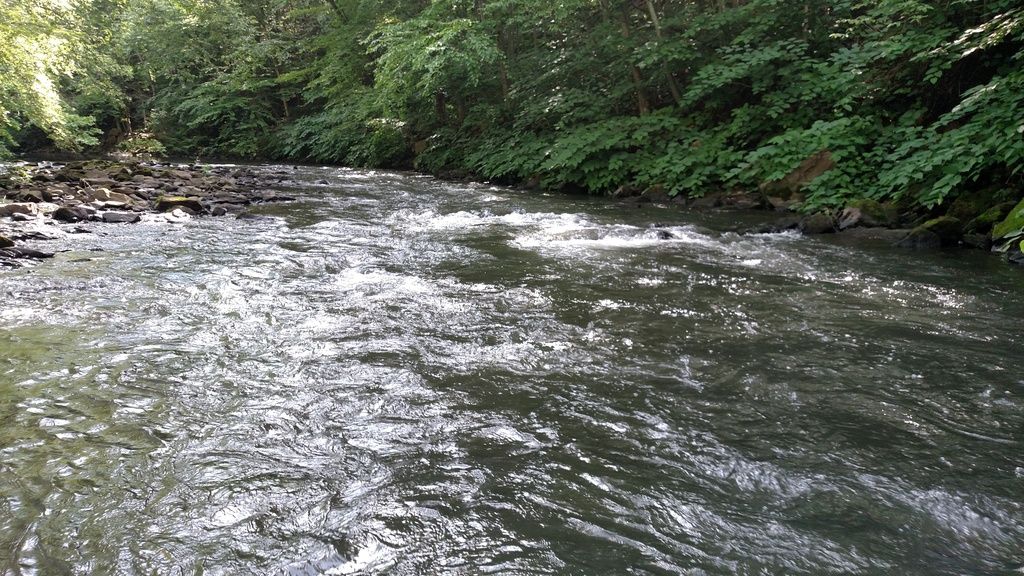 Although the fishing was just getting good I needed to 'exit stage right' to head to the store with my wife haha but another great day on the stream was had.
I took Sunday off to hang around the house but this AM came and it was time to go again. I invited Kev along again and we picked where we left off Saturday.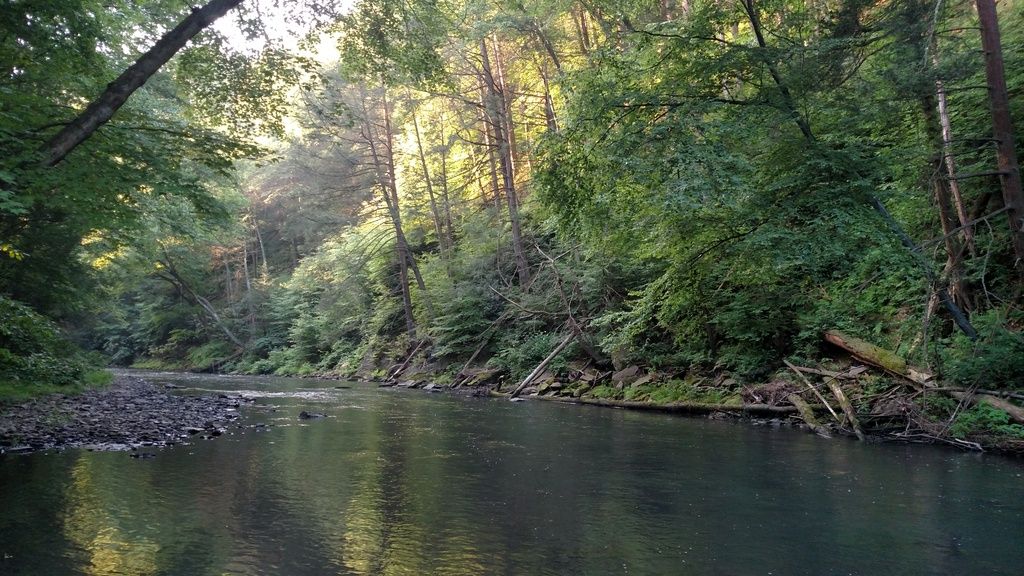 Kevin was doing a number on the trout all weekend and today was no different.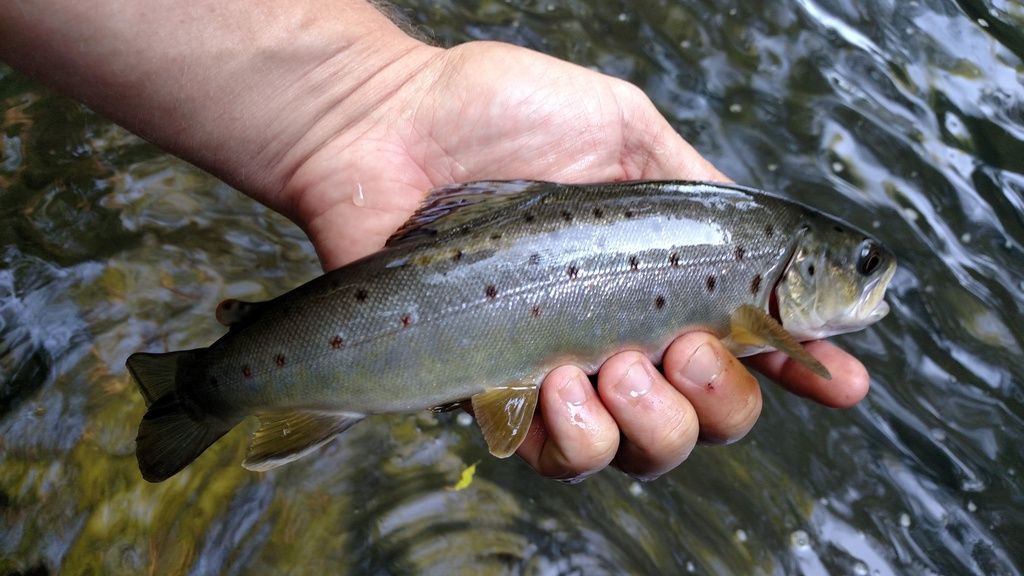 And not to steal Frank's post theme but these 'forget me not's' were stream side and, man, they are the prettiest and daintiest dang flower out there!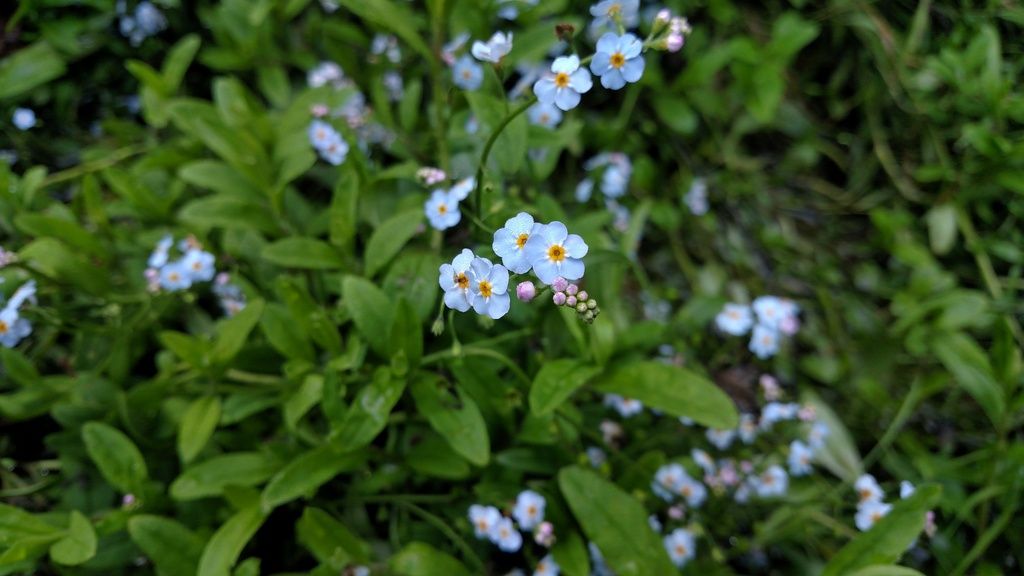 A little while later I coaxed this 16" wild brown from the tightest of lies under a bush next to a swift deep run, my 9th trout of the weekend 16" or larger.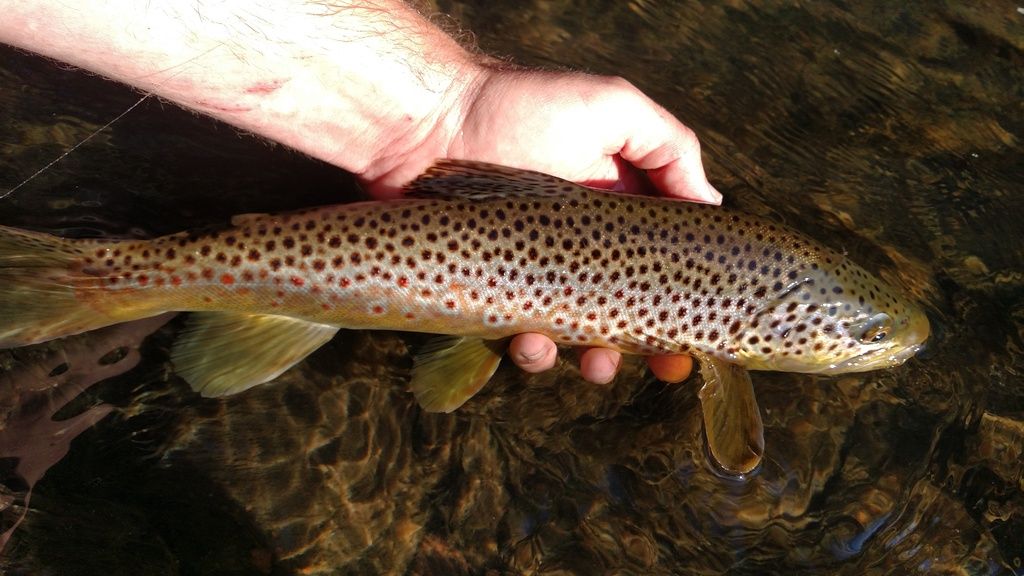 And as we rounded the final bend of the weekend and caught 3 more wild browns the woods opened up to an amazing view. Heck, even a mature bald eagle buzzed over top to complete the 4th of the July feeling.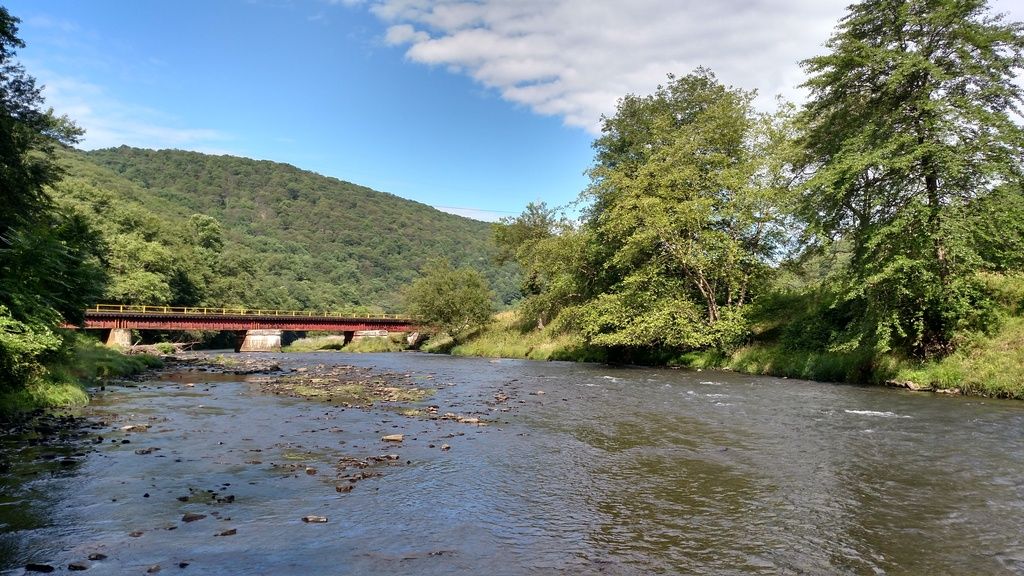 The 4th weekend proves year in and year out to be one of the best weekend of the season for me. Never fails and this one was no different. I didn't set any records for trout numbers and we had to work very hard for what I got but I appreciate those days as much as I do the ones when trout are coming to hand easily. Finding water during dry times and making it all come together is my favorite game. Still…..I'm hoping for rain haha.