After talking with him about it for the last couple years my oldest grandson, who is autistic and has very few hobbies finally came to Northern Potter for his first ever time hunting on the second Saturday of the season. He had been studying the rules and regulations for a few months and said he was ready. Well Saturday morning we had 4 doe walk past at 7am, too dark to shoot, but he did see deer. Nothing the rest of the day.
Monday we go to a spot I was seeing deer all week.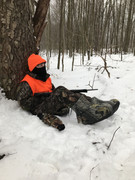 At 8am I spot a nice sized deer coming down thru a hollow towards us. I alert him as the deer turns and starts walking broadside at 50 yards. I watch as he steadies the .243 on his knee and fires. The deer jumps 2ft off the ground and bounds off. I watch as it crests a hill out of sight. We wait an hour until his excitement cannot be contained. Walking to where the deer was walking I find the tracks but no blood. We follow the tracks for 30yds and the sight of red snow bring a smile to his face.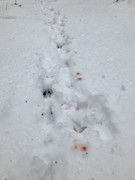 Well now I text his uncle, my brother to share the event. We follow the increasingly heavy blood trail until be see the deer 75yds ahead laying down unable to get up. My grandson steadies the rifle against a tree and puts a final shot in the neck of the big bodied spike.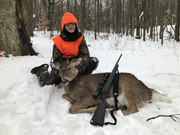 Now, I told him I would gut the first one to show him how its done but didn't he stick his hands in assist. I think he just wanted to warm his hands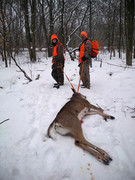 All in all, a beautiful, COLD day in the northern tier!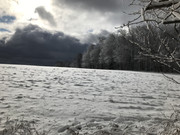 I think I have found something he likes to do and believe he's hooked. Al I can say is the feeling I had teaching him and then watching him succeed was my best hunting experience ever!
Stetam