Discussion Starter
•
#1
•
My family and I just did back to back weekends of camping in the Poconos. Although the streams were super, super low on both weekends, I figured 'bad fishing' surely beat 'no fishing'. The area of the Poconos we were staying was fairly new to me, so I was pretty excited about getting out and exploring some new streams.
<span style="text-decoration: underline">Saturday, May 23rd</span>
As we sat and ate dinner on Friday night at our campsite, we were once again bombarded by an unexpected rain storm. The rain was coming down hard and lasted over 45 minutes. Unfortunately when I checked the USGS gauges a few hours later, there was minimal impact to the local stream flows. Not to be deterred, I packed my fishing gear for the following morning's trip and went to bed.
When I reached my intended stream on Saturday morning, I was a bit surprised how big of a stream it was even in low water conditions (I really struggle on the larger streams).
The fishing started slower than anticipated with a few larger trout taking swipes at my offering, but failing to pound the spinner with the ferociousness I have come to enjoy. Every time I did hook up, it seemed like most of the trout would throw the hook after a few acrobatic leaps out of the water. I was able to bring few to hand, but most of the trout beat me hands down this day.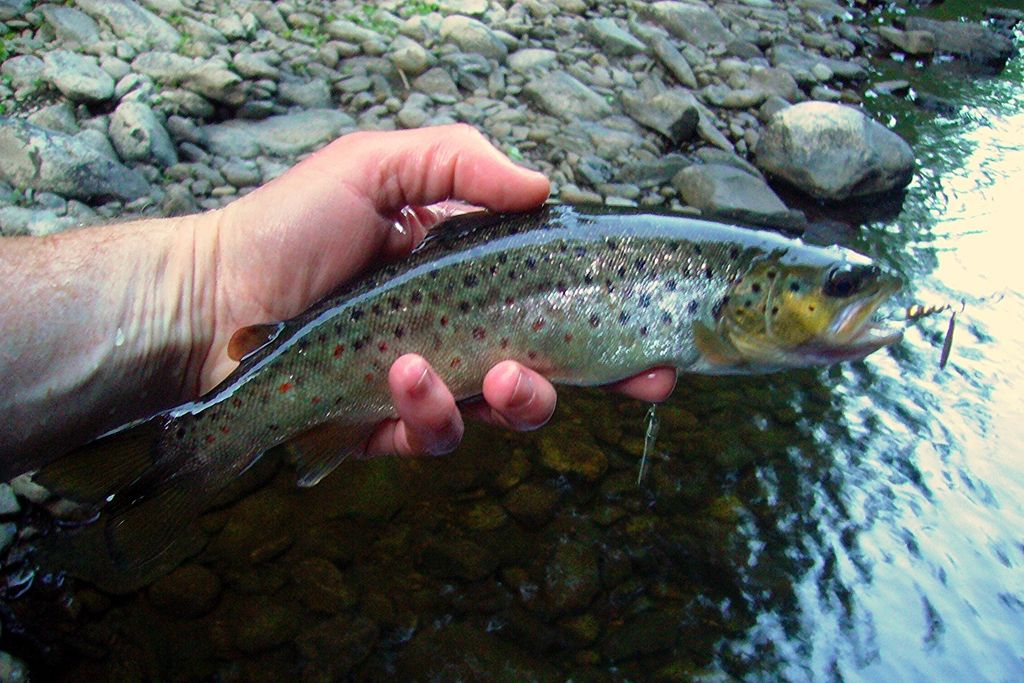 I found what I presume to be a dead eel, in a nice looking pool. No trout action in the pool however.
Although the fishing was so-so, the scenery was great.
Looking down on the stream from 50 feet above.
About 30 minutes into my outing, I made a huge error in judgment. As I was moving upstream, I stepped on a dry, moss-free boulder that was angled downward. As soon as I put both of my studded boots on the boulder, down I went – and hard! I landed on my right forearm hard (my rod went flying). After I gathered myself, I thought I was okay and kept fishing for another half hour. It wasn't until I was heading back to my car that I realized I had some intense swelling in my forearm. Luckily (from what I could feel), it didn't seem like I broke anything – just a deep contusion.
This was 2 hours later after I had taken an anti-inflammatory to reduce the swelling.
Nice sized lump
I then moved to another section of the same stream and fished for another 45 minutes until I hit a lot of slow, slack water and decided to call it a day. Although the conditions were far from optimal, it was nice to get out and explore a new stream.
On Sunday of Memorial Day weekend, I took all 3 of my boys (ages 7, 4, and 4) out on a boat for the first time. We were mostly catching sunnies and small bass until my oldest landed a decent (and unexpected) rainbow trout. A great way to end a weekend of fishing.
<span style="text-decoration: underline">Sunday, May 31st </span>
With even lower stream flows than the previous weekend, I had planned to just hang around our campground and do some bass fishing from a kayak. However, with a local forecast that included possible thunderstorms for Sunday morning, the campground closed the lake to boating. With that, I decided to explore a different section of the same creek from the previous weekend.
Similar to the previous weekend, the fishing started slow. It wasn't until I got above the confluence of a tributary stream that the action finally picked up. On the first couple of runs, I brought to hand multiple trout from the same run. The stream section above the tributary was more in my comfort zone – medium sized with plenty of decent habitat.
The size of this stream section was definitely more my speed.
Big trout of the day.
I fished for another hour and a half before calling it a day. There was still plenty of fishable water in front of me to be explored at another time. Later in the afternoon, we signed a one year lease for the campsite we were staying at, so I'm sure I'll have plenty of time over the next 52 weekends to do some more stream exploring in the nearby area.