Discussion Starter
·
#1
·
August of 2016 has been very challenging as far as trout fishing. It has been more challenging for me since I am a "homebody" when it comes to trout fishing. I rarely drive more than 30 minutes to fish. It has been really dry here in august. All of the storms seem to be missing us to the north or the south.
I watch the precip maps every day and have noticed one tiny tiny (maybe 10 square miles) area near me that has been getting a lot of rain every time we just get a sprinkle. For example, the general area recieved half an inch of rain the other day, and this area showed 3 inches. When rain would miss the south, this area got in on the action. This pattern has been occurring all summer. This area does include some 2800ft ridges that are further west than any other mountains in the state, which explains why they get dumped on with precipitation. However, this area is so small that there are only 3 tiny native streams within its watershed. I have spent some time there while everything else was all but dried up and caught many fish like this.
You can see how small the stream is. It was pretty neat to find a microclimate like that, and it gave me a few days of fishing when everything else was a no-go.
Elsewhere, things have been as usual for august, waiting on storms and trying to time my trips at the high end of the receding and clearing water.
The trout were usually cooperative when I timed my trips correctly.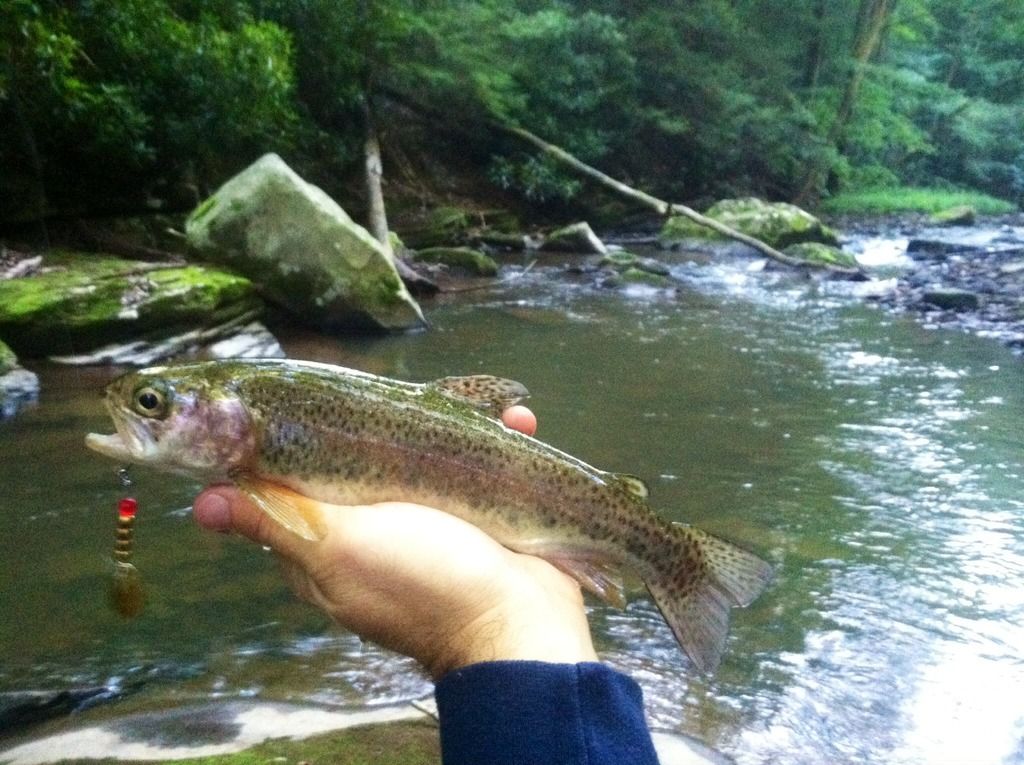 Prolonged periods of low water make stocked trout vulnerable to predation, even if the predator only gets to eat a dorsal fin.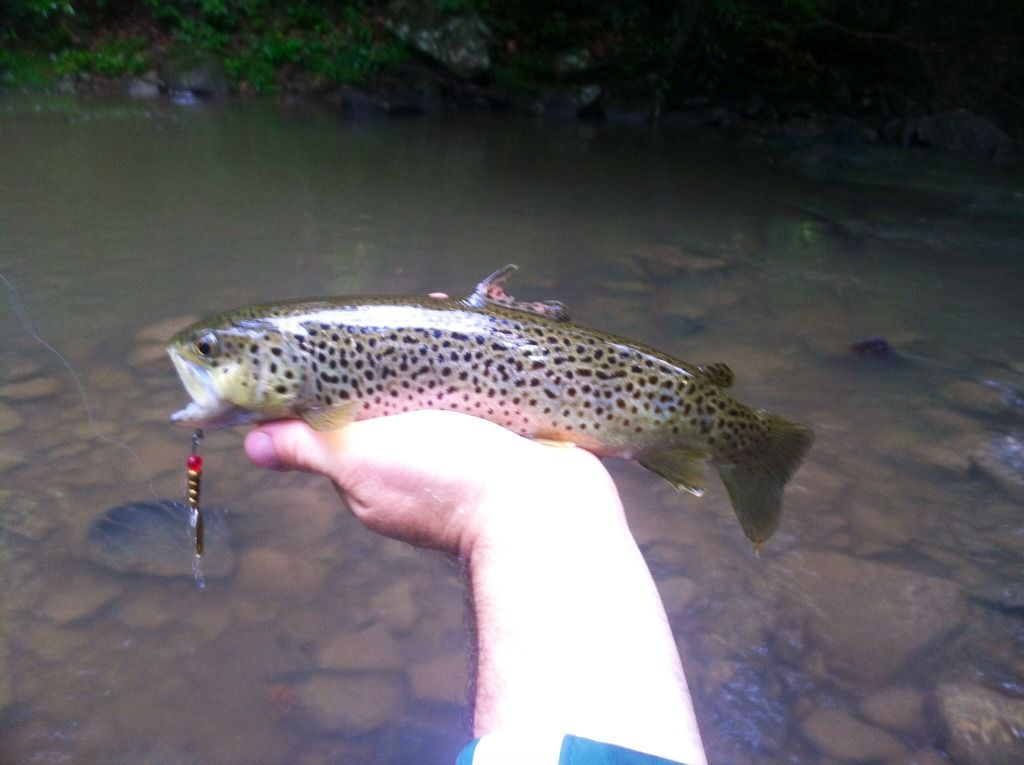 The horse chestnuts here were already turning color.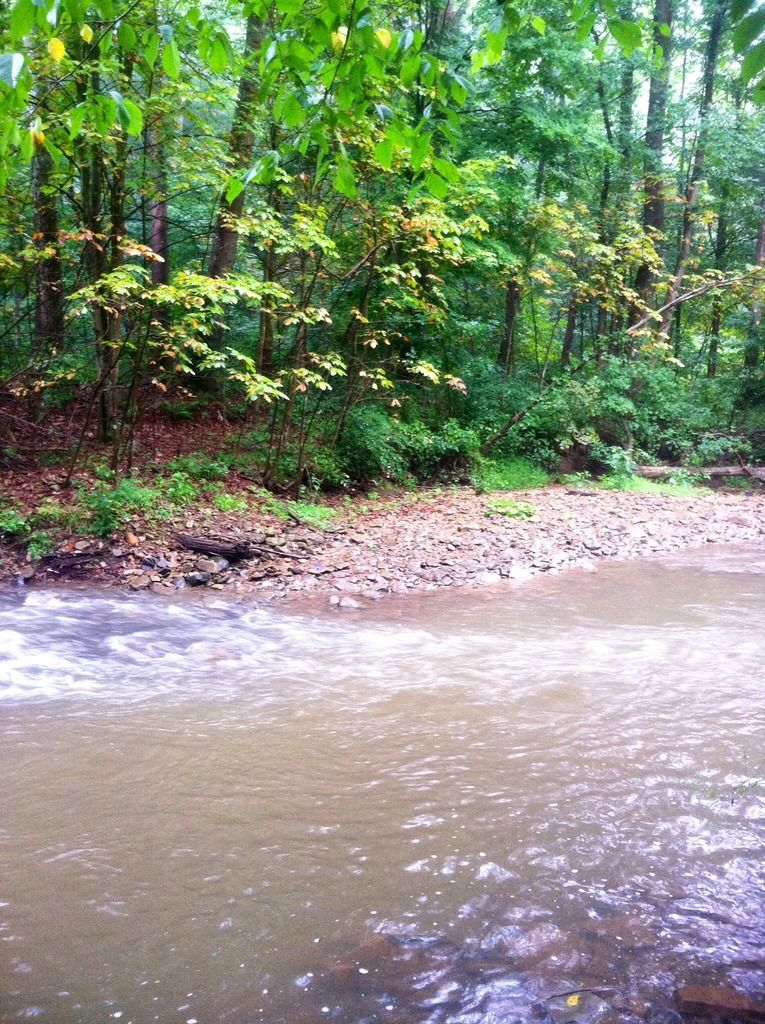 But I have found larger streams that would normally be around 64-66 degrees, warm significantly when storms drop rain through 90 degree air. The WT at some places was just too warm to fish. I checked the temp one such wild trout stream, and before turning right back around, threw one cast and was not surprised by the result...
When spinner fishing opportunities are scarce, I tend to do more fly fishing just to keep me out there.
I caught this chubby 17.5" brown on a wax worm fly on an exploratory mission waaayy below the stocking limits of a popular stream in a section that I have never really fished before.
Today was a great day for fishing. I was able to make it out to a wild brown trout stream that has been too low for over a month. Today, it was just inside the "fishable" zone.
While climbing down over the bank, before any casts were made, I stepped down within an inch of the largest water snake I have ever seen. When I initially noticed its scales through the grass, and saw the girth, my first thought was "rattlesnake".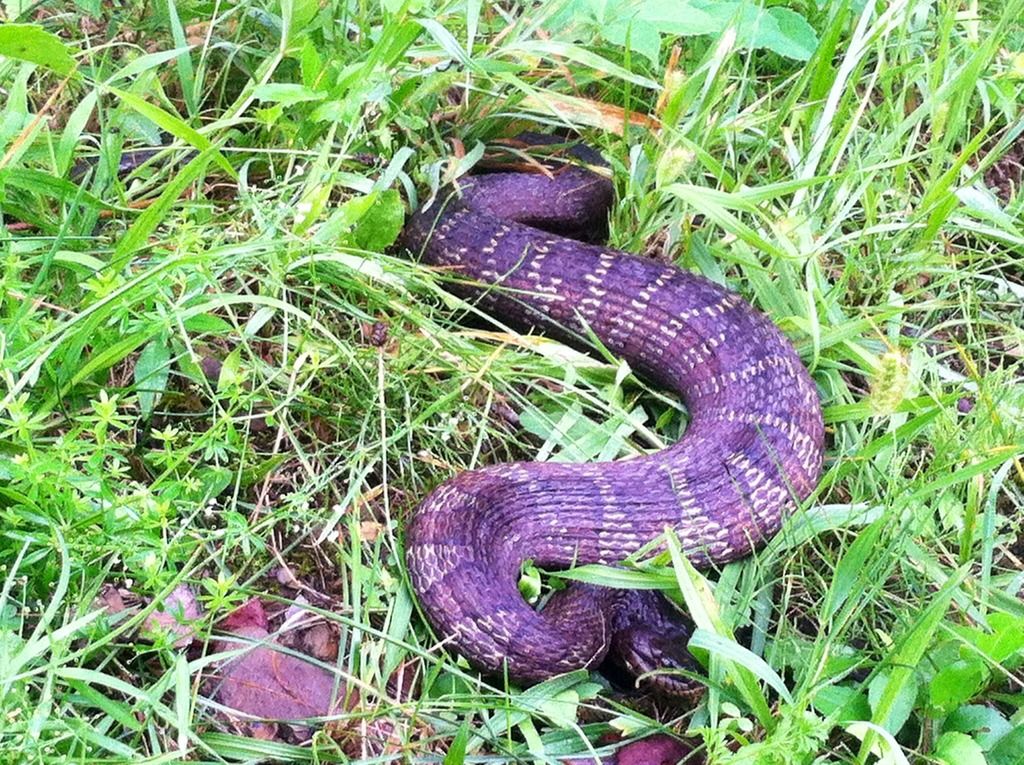 This water snake had the girth that only the largest of rattlesnakes have. After quickly pulling my foot away(Ok, I jumped backward), and looking again, I realized what kind of snake it was and I pulled my phone out for pictures. I spent maybe a minute trying to get a good picture, and it struck at me 4 times.
I forgot about snakes once the fishing started.
Then I spotted a more modestly sized water snake hiding in some beech leaves.
This snake never moved as I walked right past it. The curvature of a snakes body is what really sticks out to me. After seeing relatively straight and angled sticks all day, a smoothly curving line in the water is easily spotted.
The serpentine action wasn't over yet. I made it back to my car, and for the 2nd time this year, a copperhead was waiting for me, literally right under the drivers door, reminding me not to let my guard down even when I thought I was nice and safe at the car.
I have seen dozens of snakes this year, but also a relatively high number of venomous snakes (7). All of this is done while trying fairly hard to avoid them.