Discussion Starter
•
#1
•
I was fortunate to have another successful rifle season in 2H. That makes 4 bucks in my last 5 seasons, and on public land, I appreciate the element of luck involved in being at the right spot at the right time.
On opening day I missed a 6 point mid-morning. I heard a noise behind me to my right, and as I looked over my shoulder it was just in time to see 3 bucks walking literally right under my climber stand. A 4 point, the 6, and a half rack legal shooter. Worst possible angle from a climber stand so I knew there was no shot. They were alert, but not running. I figured I just needed to not do anything stupid and remain still while they made it in front of me. That's when the 6 stuck his nose in the air, and with a click flick of his tail they made a 90 degree right turn. Next thing you know they are about 175-200 yards away, but still angling their way back that they could come into range. There were a few small windows where I knew I could possibly get a shot. Sure enough, they eventually headed in the direction of the last opening I had for any shot. It was between 125-150 yards. They still weren't running, but making quick moves between some cover. No way was I going to take the shot if they were running or even moving quickly.
I watched the 4 point and the 1/2 rack walk through first, and felt that I had a sight picture I was comfortable with, so waited for the 6. Sure enough, he slowed as he walked through that opening and came to a stop. My crosshairs had time to get right on the mark, but just as I squeezed, the slightest movement had the crosshairs above him and I had that Kodak moment etched into my memory of what I knew was a high shot. They didn't run more than about 20 yards, but there were no more openings to get a shot.
2-3 minutes later, I heard another shot from the next ridge, so figured there was a good chance he was down even in the remote chance I had wounded him. Still, I knew it was time to climb down and walk the path of my shot just to ensure there was no evidence of a hit. No evidence found, so I was now sure it was a clean miss. I saw a total of 9 deer on day one, but the rest were doe - and all but one passed directly under me withing 10 yards of my tree.
Day 2 started with another 3 doe walking right under me. They were followed by another very large doe about 50 yards to my left.
I have come to call this stand my 9 o'clock stand. It seems that every year between 0845 and 0915 I always see deer. I had a feeling it was getting close to 9. Checked the watch and it was 0846. Almost on cue, I saw movement far off in front of me to my right across a small clearing. Even at long range and through some cover, I was sure I had seen antlers, and a quick look through the scope confirmed that this was a good buck. I know the movement patterns at this location, and was pretty confident I would have a good shot to my right, or even better if he crossed the small clearing towards me. It took him about 8 to 10 minutes, but it was clear he was slowly making his way directly to my stand from the right. I had plenty of time to slowly get into a comfortable position with a solid rest on the right rail. When he was 75-100 yards to my right and moving in, there was a large tree in my line of sight. I knew he was still there, but boy did it feel like 10 minutes waiting to see where he was going to appear for a shot. If he went left, the shot angle would be even better. To the right, still a comfortable shot. Finally I saw his head and rack come into view, and we has moving left. At about 50-60 yards he walked into a perfect opening and stopped. No question about the result this time, and it was about as perfect a shot as I ever made entering just behind the L shoulder and out through the right, and later confirmed to have gone right through the heart. He only ran 20-30 yards and conveniently made his final stop not 5 yards from a small stream.
After a quick call to Dad, I made sure my legs were steady enough for the climb down.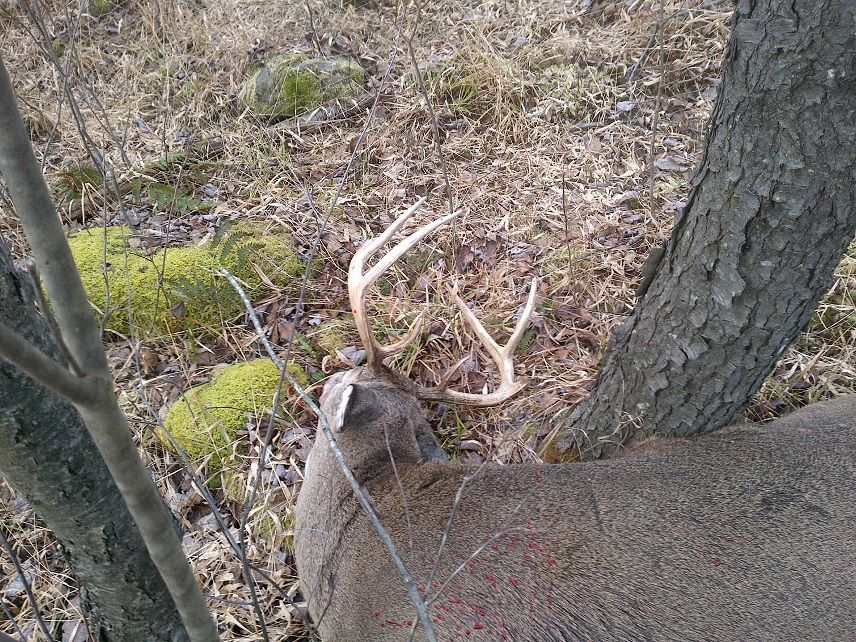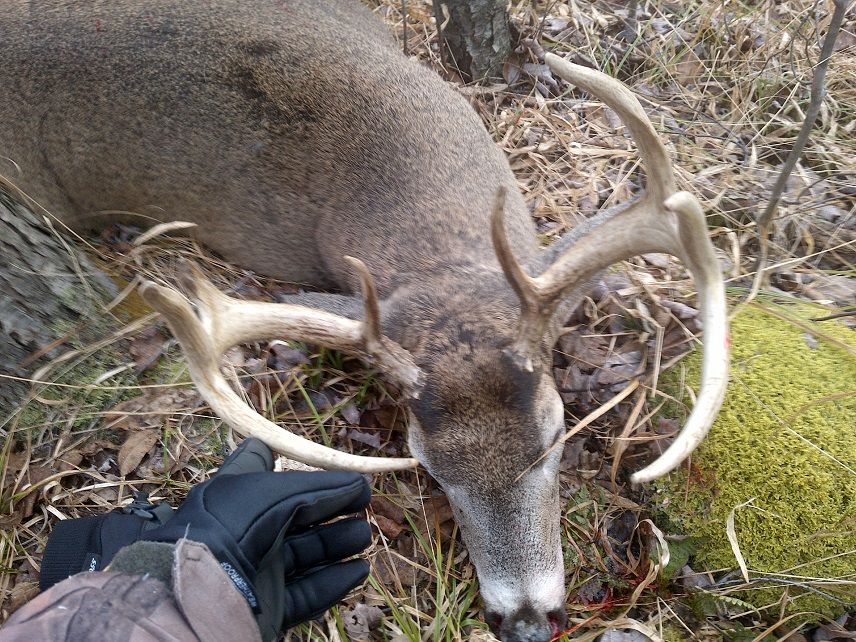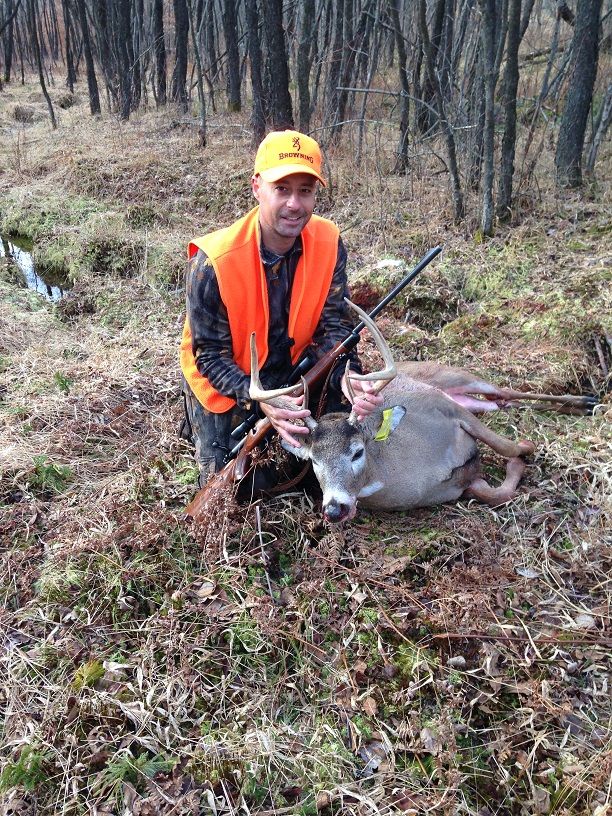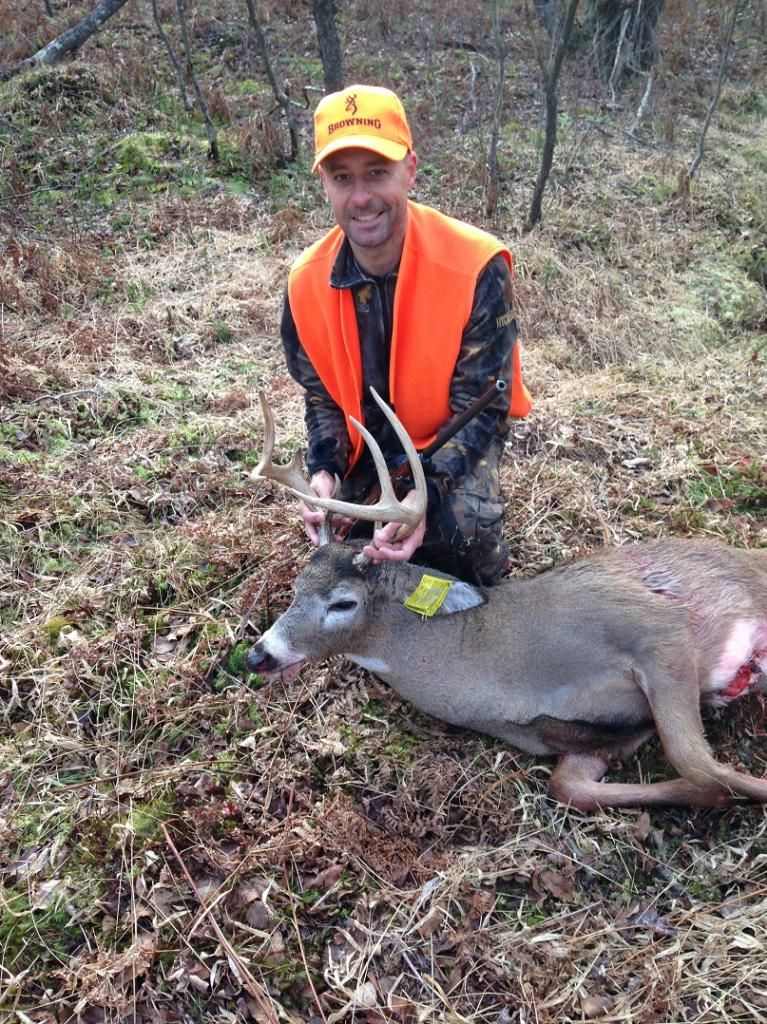 Back at camp, we confirmed that we had two recent pics of him on trail cams. These were the only 2 pics of him on cams that have been up since May.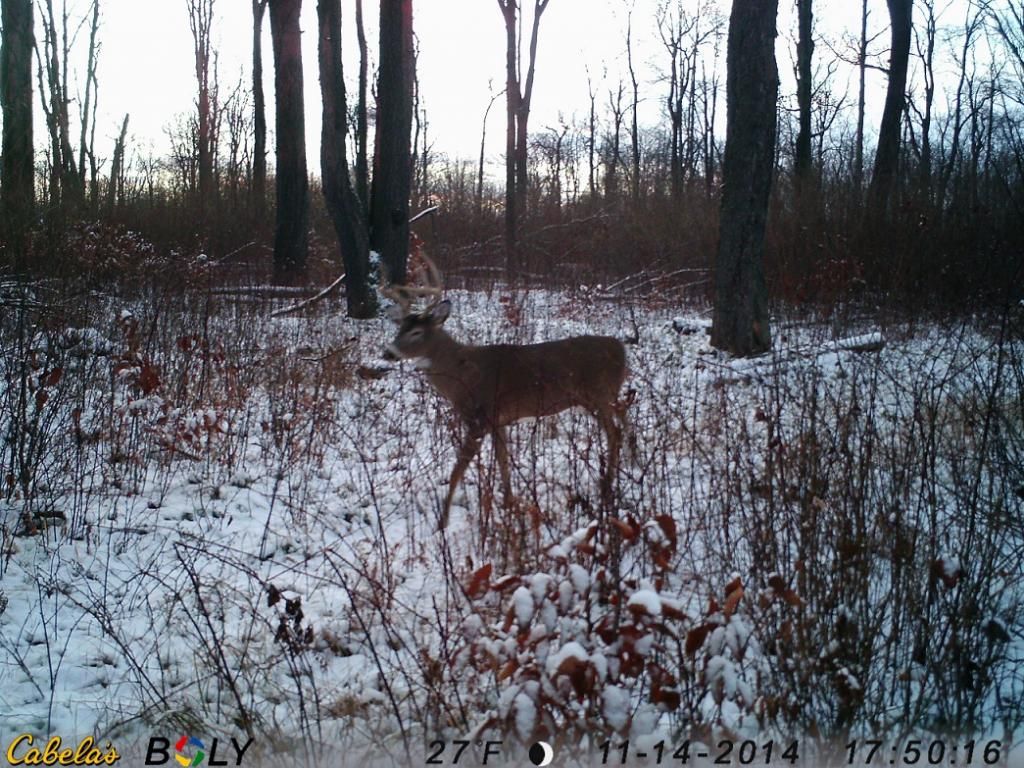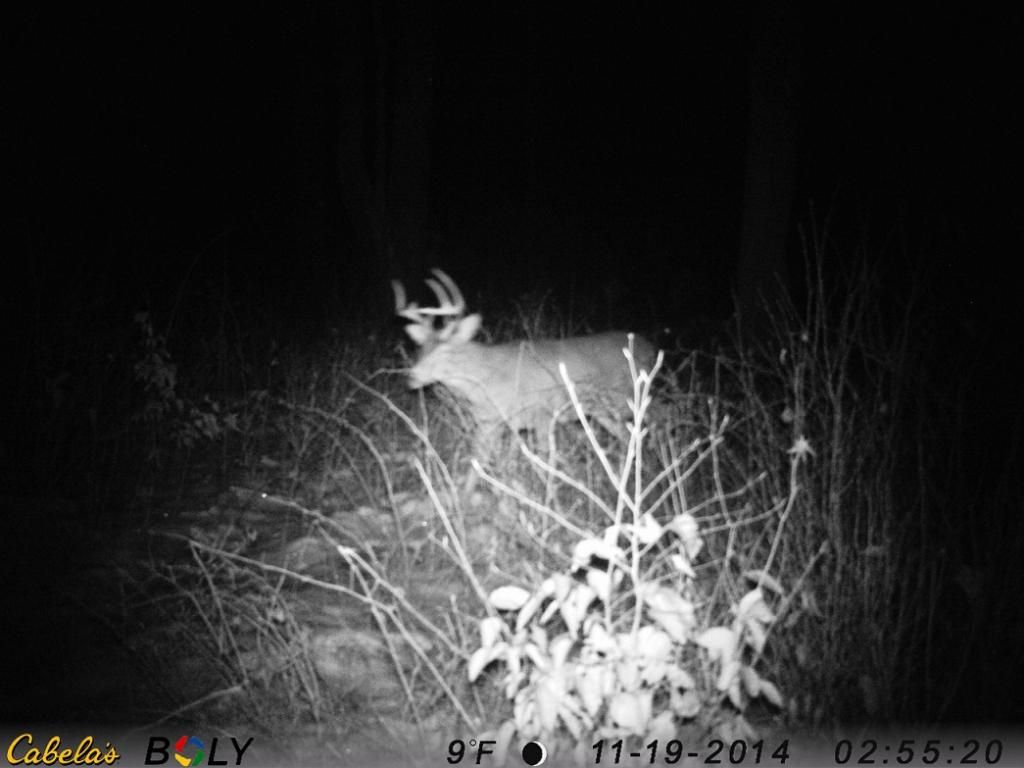 We also got a few pretty cool pics of the gutpile that I'll post in the trail cam forum.
Dad continued to hunt hard and was in the woods from dark through dark every day Mon-Sat. I averaged 6-10 miles a day pushing and scouting for him, including through some of the thickest and thorniest stuff I could find, but just couldn't get him one. I did find a few more promising spots for stands next year. Another great season in McKean County.