Discussion Starter
•
#1
•
hunter has had quite a year of firsts...a nice longbeard in the spring, first deer, a big doe in the early season youth hunt and now his first buck all at age 10.
We were hunting in tioga co 3a near little marsh at my dads camp he has w/several old college buddies. Mon morn there was lots of shooting all around us even some close but we only managed to see 4 deer in one group about 9:30 and that made for quite a long day!
about 12:30 hunter was more antsy than usually and although he wasnt cold I knew a short little walk would do him good. I had gotten a txt that my brother had killed a good buck near his house first thing that morn and he had drove over to camp and was waiting to show us so we headed back to camp. hunter and his uncle aarons buck...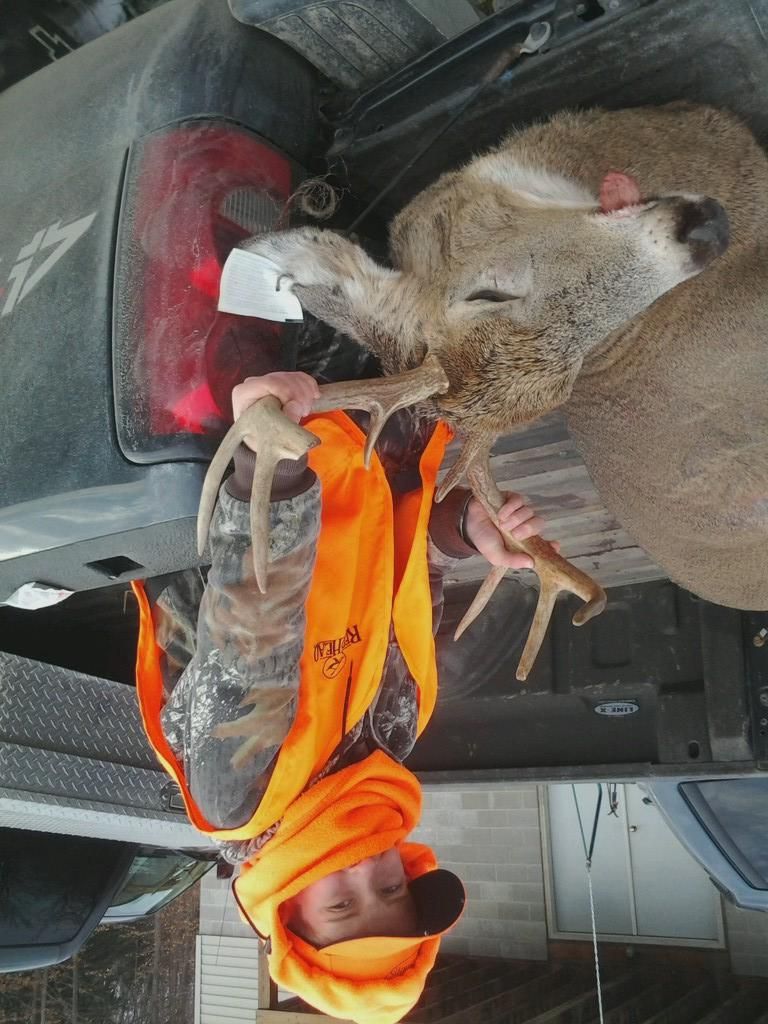 we were back in the stand about 2 and I almost puked when we neared our watch and saw the fresh tracks in the snow right at the base of our tree! I explained to hunter how important it is to try to sit all day the first day and we chalked it up to a lesson learned and the evening ended w/no more sightings.
the plan tue was to sit till about 10:30 and then all the guys were gonna meet back at camp and organize a cpl drives. the fog was rolling in and out and our visibility went from 30 yds to 100yds many times. it was another slow morning only broken up by those evil tree rats...which we will be thinning out next fall!
around 10 we were intently watching the far left, far right and behind us in stand since these areas are typically where the deer come from. I looked forward in front of us to stretch my neck a bit and that's when I saw the rear end of a deer about 80 yds out slip behind a big tree. I whispered to hunter "deer in front" and he quickly shifted around and got on the gun as it leaned on the shooting rail of the stand. He found the deer immediately in the scope and saw it was a buck...I hadn't told him it was a buck at this point.
the buck was feeding and walking slowly directly down hill at us and entered a good lane about 60 yds out. hunter already had the hammer cocked on his rossi 243 as he watched the buck. 3 steps into the shooting lane the buck abruptly lifted his head and started back stepping...the jig was up! I whispered to hunt shoot now...now...BOOOOOM!!!
the buck mule kicked and went totally air borne as it crashed and ran directly at us and I knew he was done as hunter fumbled to reload his single shot rifle but a second shot wasn't necessary. the buck crashed 20 yds away and never flinched at all. im sure it was dead when it was running.
that 243 tore him up good and he tore the heart in 2 pieces! the frontal shot isnat always the most ideal but in this scenario I knew he could do it with a good steady rest and clear path to the buck. hunter is calling him his "bull horn buck"...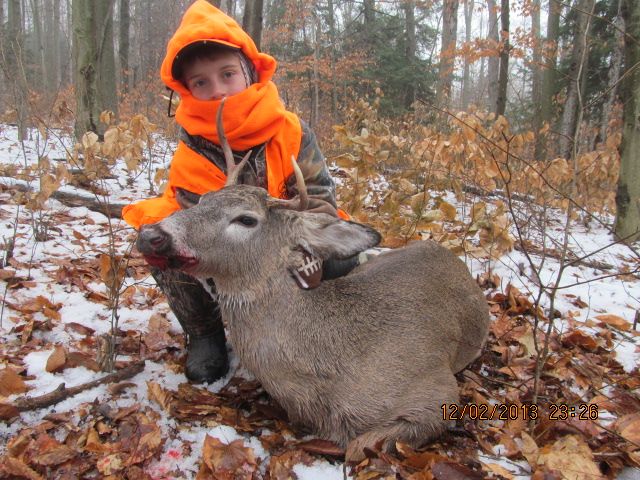 my dad wasn't to far away and he was there in about 10 mins along w/another camp member. 3 generations...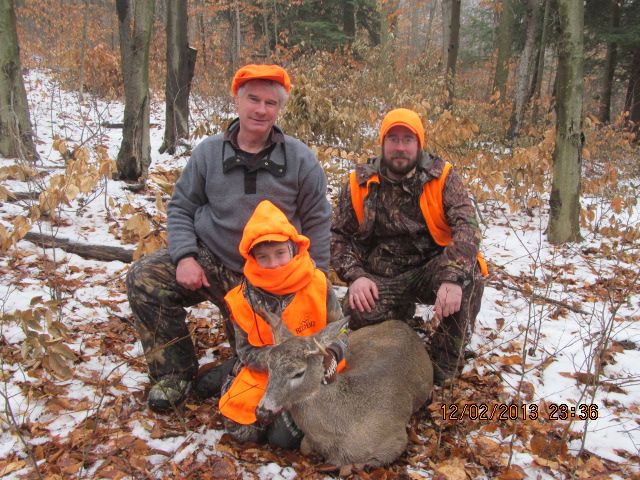 I gotta get my dad a different hat! LOL
another cool thing that I was able to do was gut hunters first buck with the same knife I cut his umbilical cord with when he was born! the doc looked at me awful funny 10 yrs ago when I told him I wanted to use a buck knife to cut the cord but he was more than happy to accommodate my wish and made sure the knife was properly sterilized. my plan is to gut every deer hunter gets from here on out with this knife and then give it to him at age 12 as a gift and tell him the story...he doesn't have clue at this point.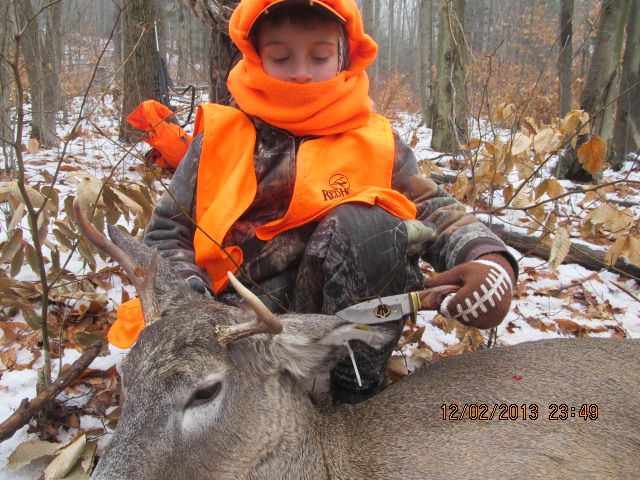 getting some help from the "old guys"...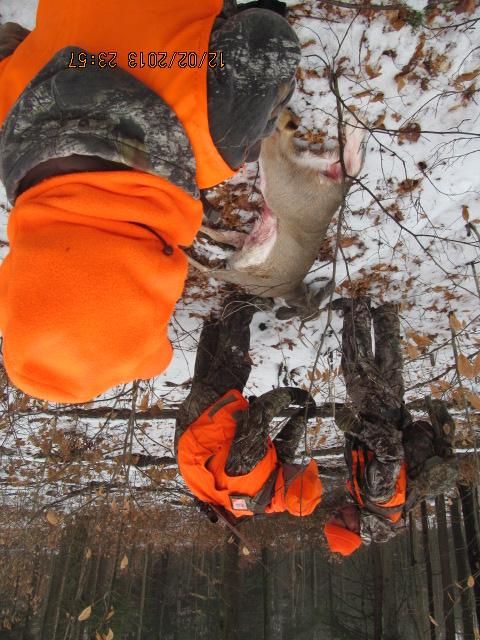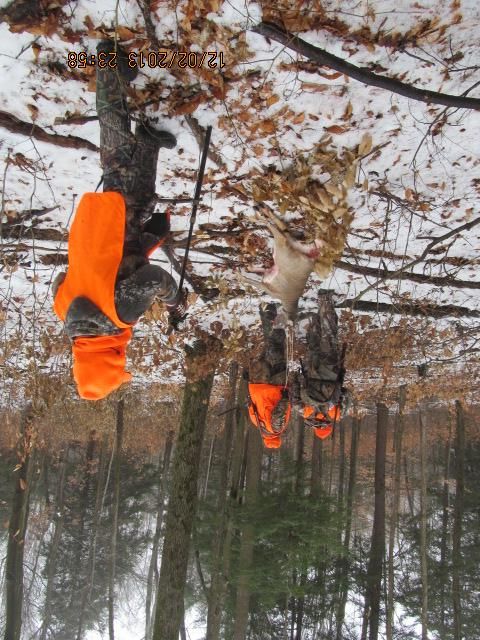 thanks for looking!