Discussion Starter
·
#1
·
Every year at some point during the summer I make a trip back to SWPA to take my crack at some trout on my home turf. Although I haven't lived there full time for some 17 years it's still a place that's near and dear to my heart from a trout fishing standpoint.
In stark contrast to the my current home out east, the SW has had a very wet early summer here which instigated my trip so early. It's like night and day. That being said, Tuesday evening on my drive back into town things were certainly starting to dry out and I spent 4 hours contemplating what to do Wed AM. I knew after watching the forecast that Wed was going to be my only constant weather day of for the next few. Not only was I concerned about water levels but in recent years I also given consideration to places that Troutdoorsman may have fished as well. He's good at what he does and fishing much more then most people so the last thing I wanted to do was spend any time in his wake. So with all those thoughts in mind I pulled the covers up and caught some Zzzzzz's before the alarm.
I was pretty confident on the ride Wed AM. I knew water levels were good and stream #1 had a great history for me. It was a bit warmer out then I would have like but I decided to fish in waders anyhow. I didnt feel like getting wet for some reason. The fishing was pretty slow at first and my usual impatient self was already considering a plan B when the first wild brown gave me a tussle.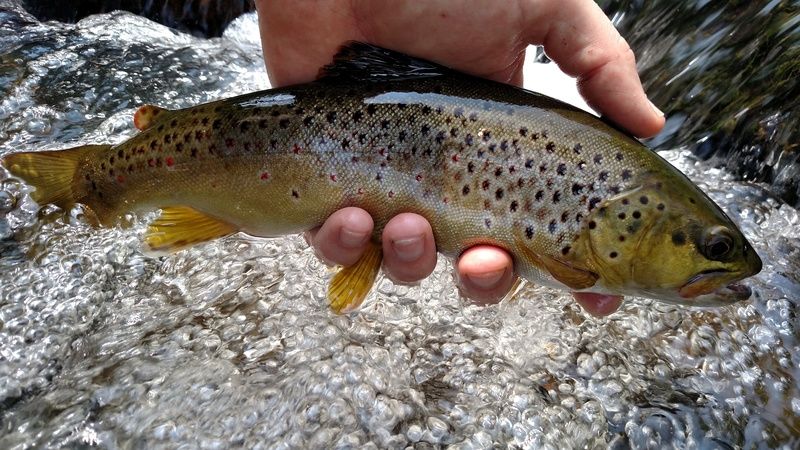 After that the fishing turn on pretty good and I hammered the trout for the next 30 minutes. I was thinking about some serious numbers when it just shut off again. That continued for most of the day. I've catch 15 trout in 10 minutes and then nothing from excellent habiat for 15-20 minutes. I didnt' have an answer for it but I just accepted it and kept moving. Some of the stockers were real beauties!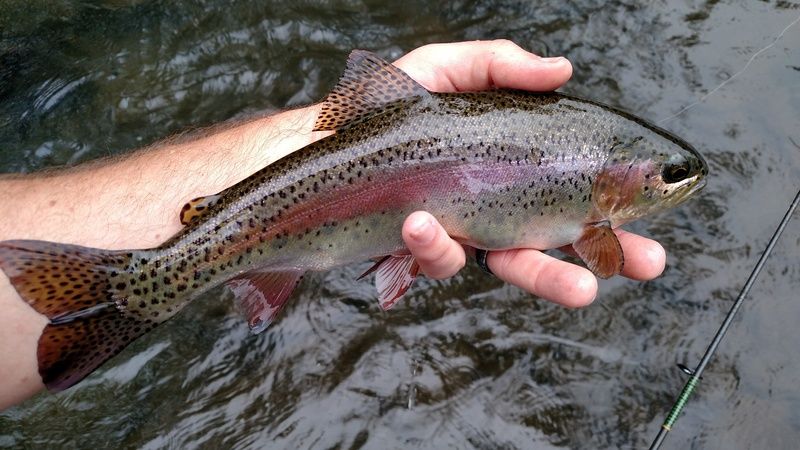 I skipped this spot cause I figured TDM already fished every overhanding tree in the area haha.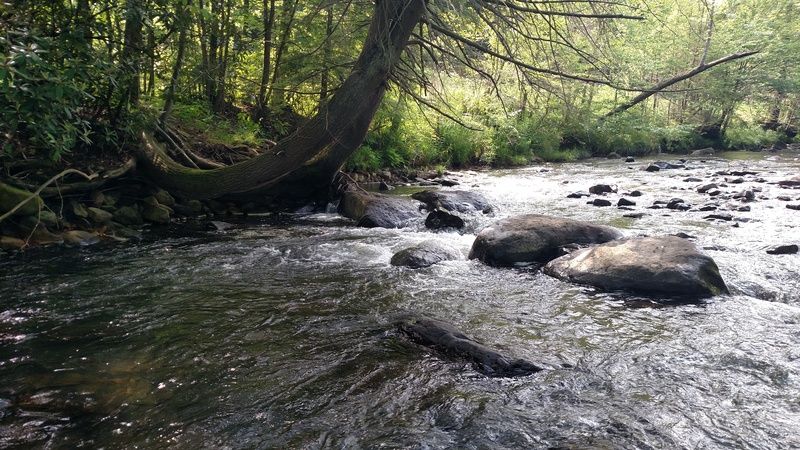 Just kidding! Caught this guy under it.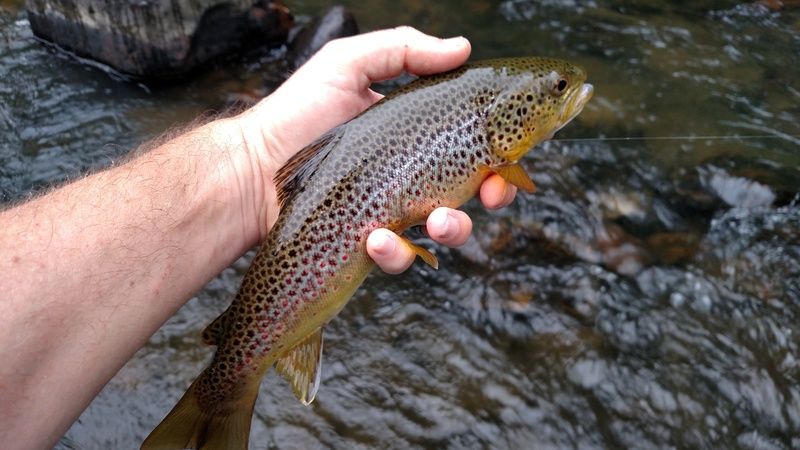 and the habitat on this stream can be excellent at times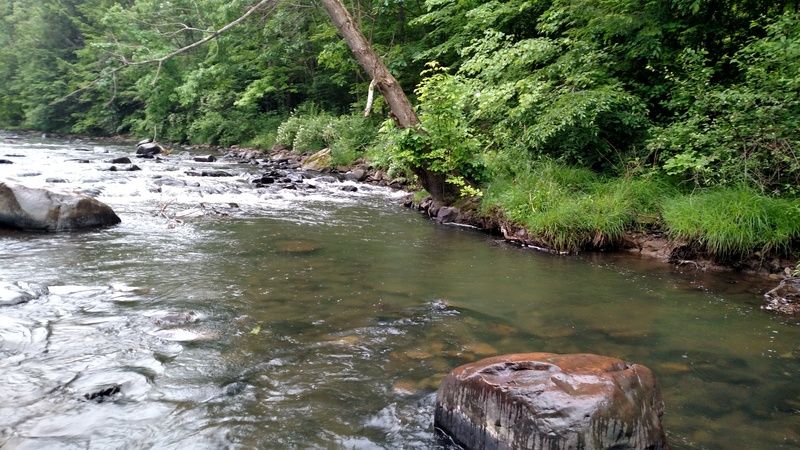 in general water levels were excellent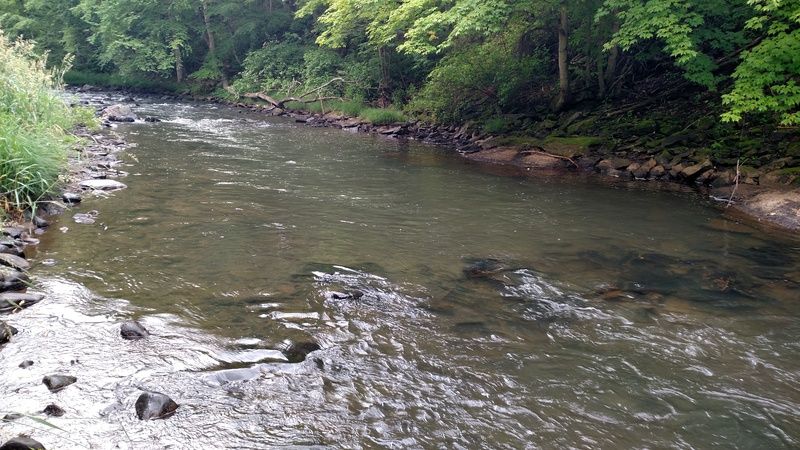 By the time I reached my bike I'd caught and released 226 trout on the AM. The bike ride back was a bit longer then I had anticipated. It was hot and I was worn out.
Later Wed the rains came and roughed up a few of my best ideas and missed some of my better ideas. I made the call to go back the same stream again cause the fishing was so good but after catching 25 trout in no time the fishing just dried up and I didn't want to fight it. Off to thursdays option #2 which was a long drive away unfortunately. The rain had chaulked up #2 just enough and although it was pretty low the fishing was pretty darn good.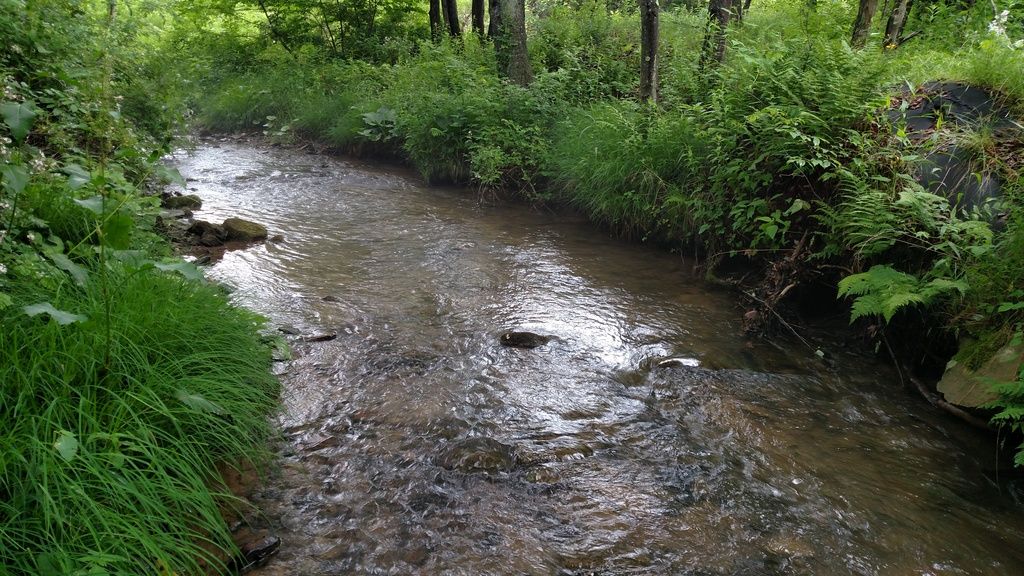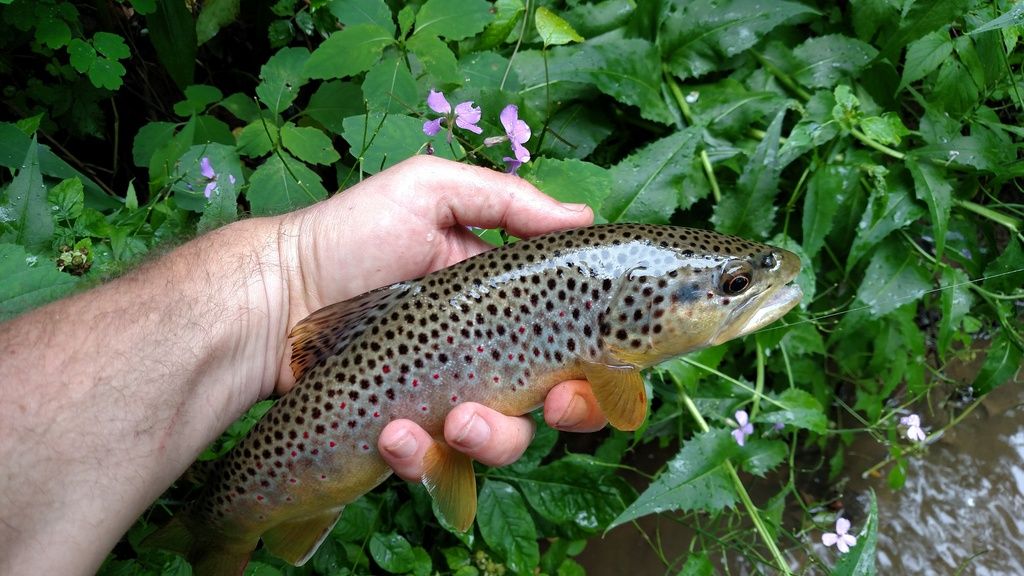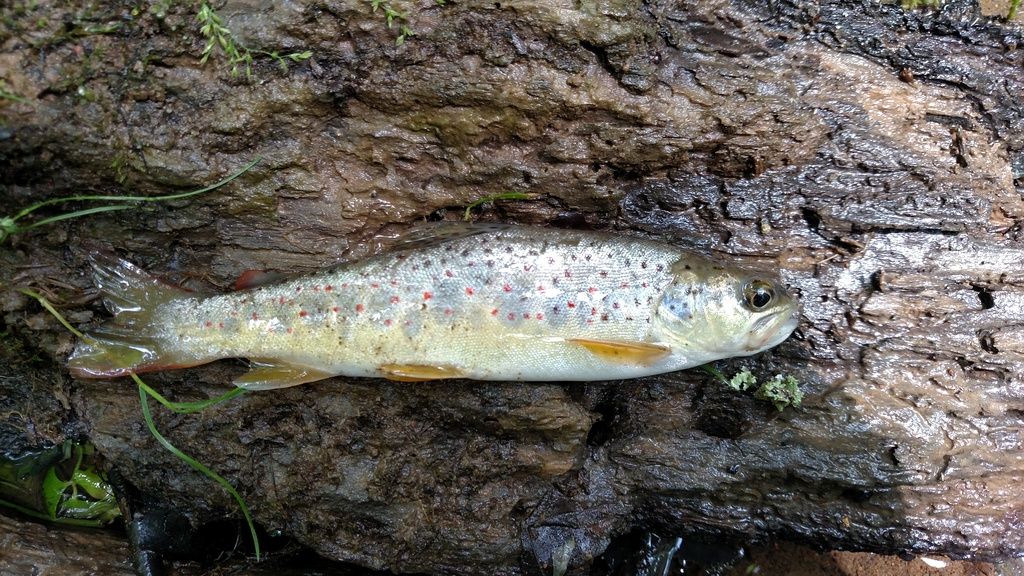 I could hear the thunderstorms coming for a good hour and apparently so could every gobbler in the county cause with ever boom a gobbler would hammer around me. I just kept fishing as the storm approached. At 126 trout I knew it was time to grab the bike and head back to the truck on the double and as luck would have it the skies opened up the second I closed the truck door and I headed for the home-front to prep for Friday.
The storm came hard Thurs night and although I had a good plan in place, as usual, an overnight storm trashed the stream I planned to hit so I was scrambling for an idea at 4 am. Stream #1 looked 'ok' but my gut said it wasn't. Stream #2 I felt real good about but it was raging torrent. Stream #3 I felt even better about but it too was high and muddy. I debated going home and watching the 'The Reverant' and taking a nap but decided to just take a shot at a stream #4. After almost 3 hours in the truck I pulled in the usual parking spot at the crack of 7:30 to find water that was actually a tad on the low side.
It would have to do so off I went. The fishing was surprisingly good and for the next 5 hours I caught trout at a steady pace to the tune of 103. Most were brookies but a smattering of browns did show up.
Some of the Brookies were striking in appearance!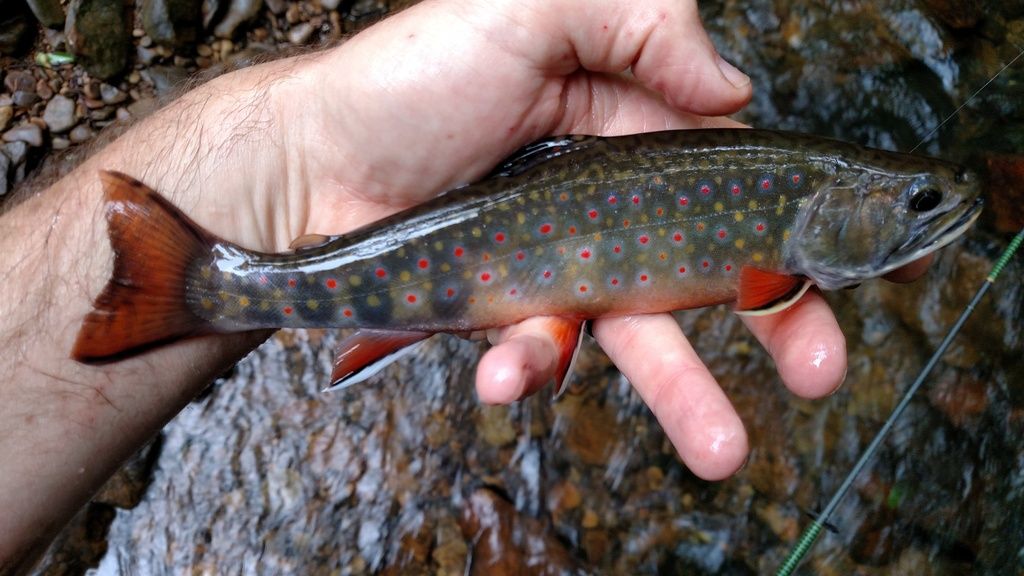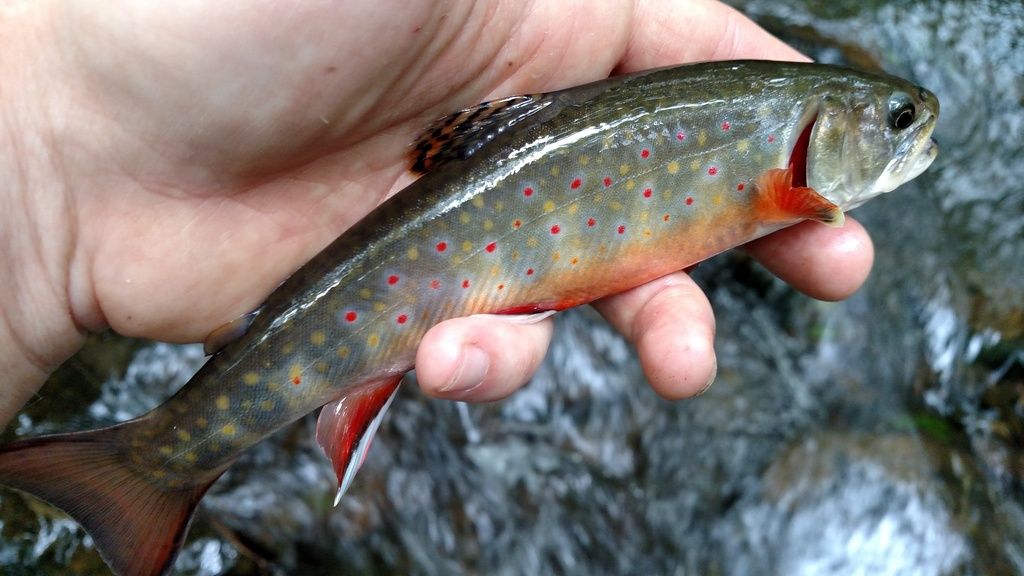 And the few browns were their equal.
I bumped 3 fawns out on the way back to the truck and the Rhodenderon was in full bloom all around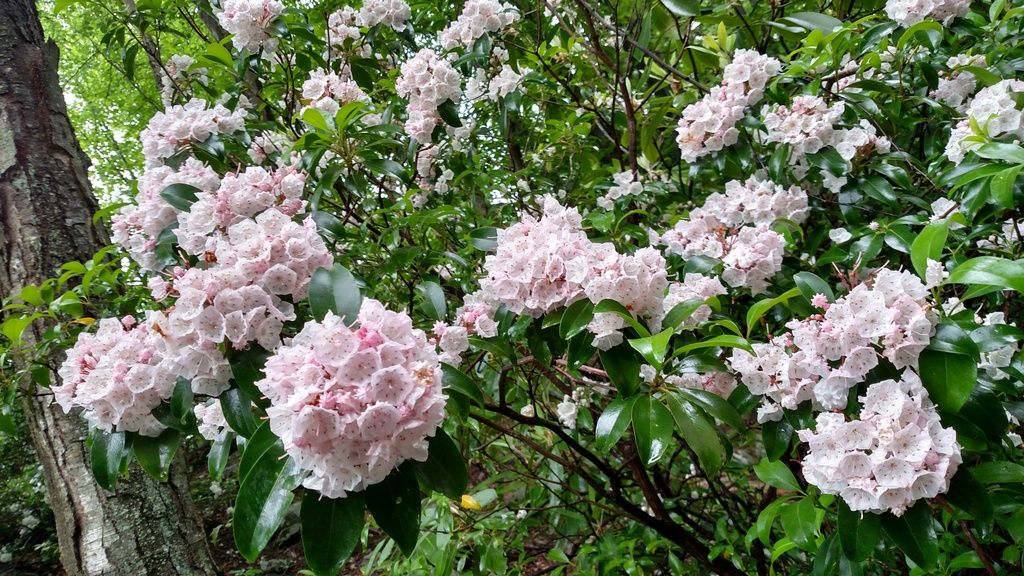 It's been a great first 3 days and I have one more left to beat the area up. I scouted out a bunch of water this morning and after fishing. I think I have it all figured out haha.......