Discussion Starter
·
#1
·
As marginal water levels continue to plague the state I found myself once again in search of a decent place to spend the AM. Earlier in the week I'd made the choice to 'waste' a day in search of some new low water spots. There was a stream I'd been wondering about for years and with how this summer has been I figured it was as good a time as ever rather than fish the same ole low water spots I always fish.
The entire drive to the stream was spent daydreaming about the hope of finding the next great thing. What if this was the next stream I can count on when times are tough. They're rare so it's something to get excited about. There was a short hike through the woods when I arrived. No trail was present so I knew the stream didn't get much pressure. When I finally got my first look I wasn't blown away by water levels although they were 'ok'.
The habitat was very good and the water was cold at 61 degrees. I waited for the first trout to dart out and hit my spinner. And waited……..I fished for 30 minutes and didn't even see a fish. Not even a minnow. No life under the rocks, no crayfish, larva, nothing. One can never be certain but there were no signs of life. The stream appeared effectively 'dead'. I really gave it a good go but eventually as I passed some very choice habitat I knew it was time to strike this one off the list. Maybe someday………
It was 7am and I still have a whole morning ahead of me so I figured I'd continue on the exploring trend. I had another idea in mind so I departed on the 30 minute trek. I had to park along a very busy road and even at 7:30 on a Sunday AM the cars were zooming by. Not to be distracted I scaled the steep litter strewn bank. When I made it to the stream I was shocked! Small but bank full. The current was oozey and fertile looking!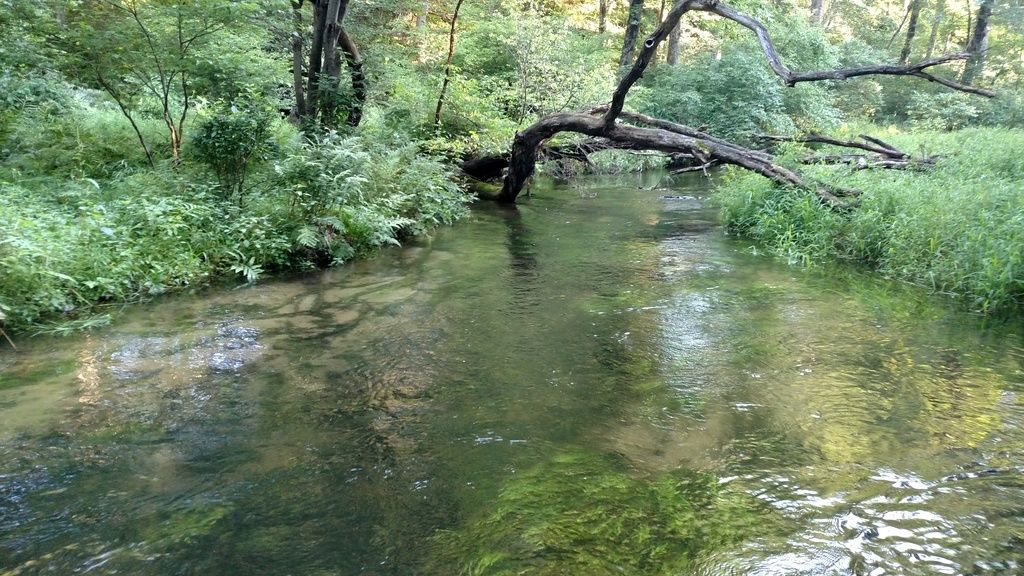 And it wasn't 2 casts before the first trout darted out from cover for the hit.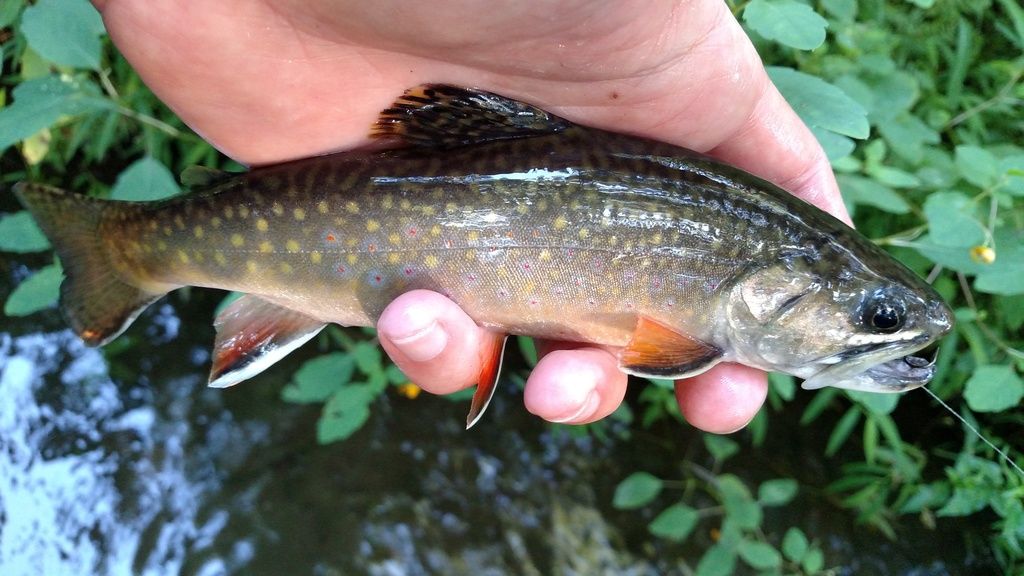 That was followed by a few more. The habitat was excellent in most cases.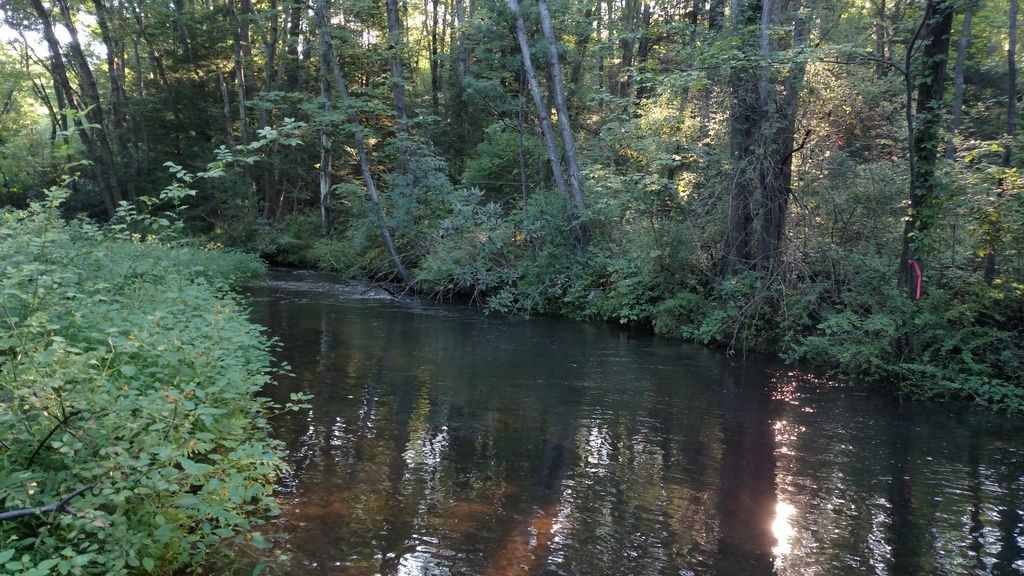 I fished there for a little bit and the fishing was decent but not enough to break the trend of the day. I'll log that in as a low water option and make a full trip another day.
I hopped back in the truck and off to my third and final shot for the day. This was a stream I'd fished before but never this section. I didn't see the stream at all after parking but instead just hiked downstream a half mile. Once I made a hard left to the stream I saw that it was loaded with water.
And man were the trout unpressured. They weren't large but they were hitting pretty well!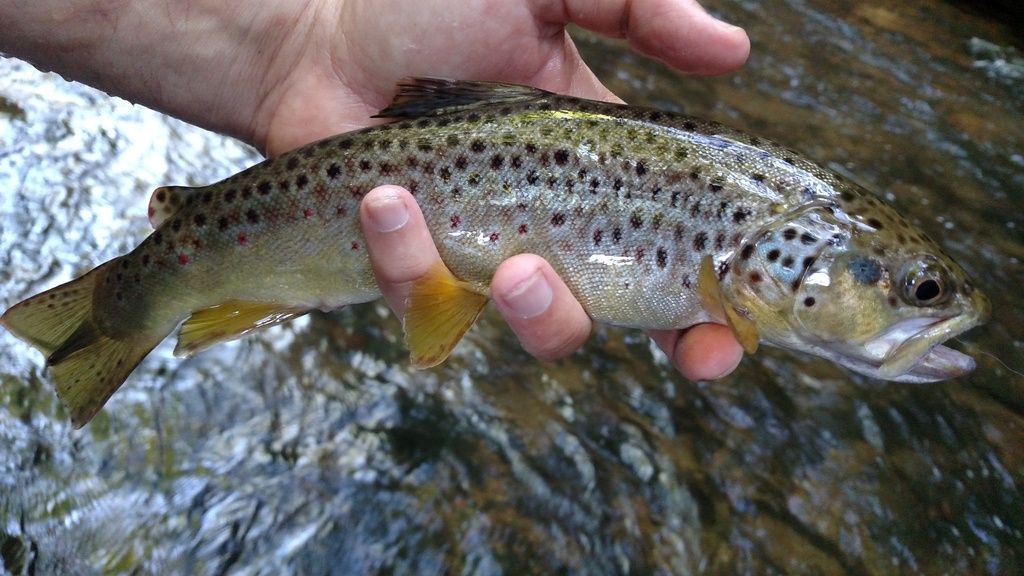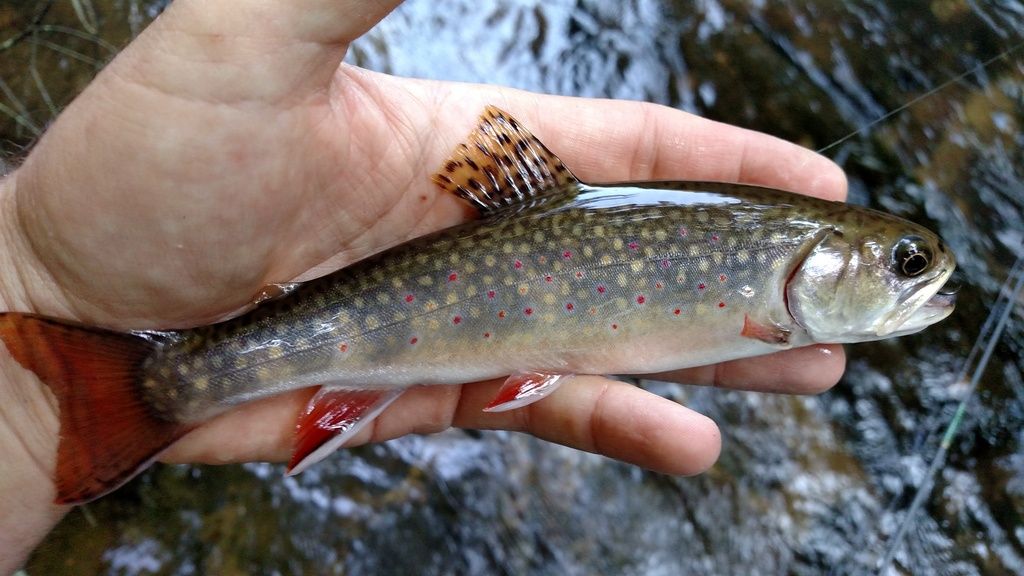 This pretty rainbow surprised me from a deep run.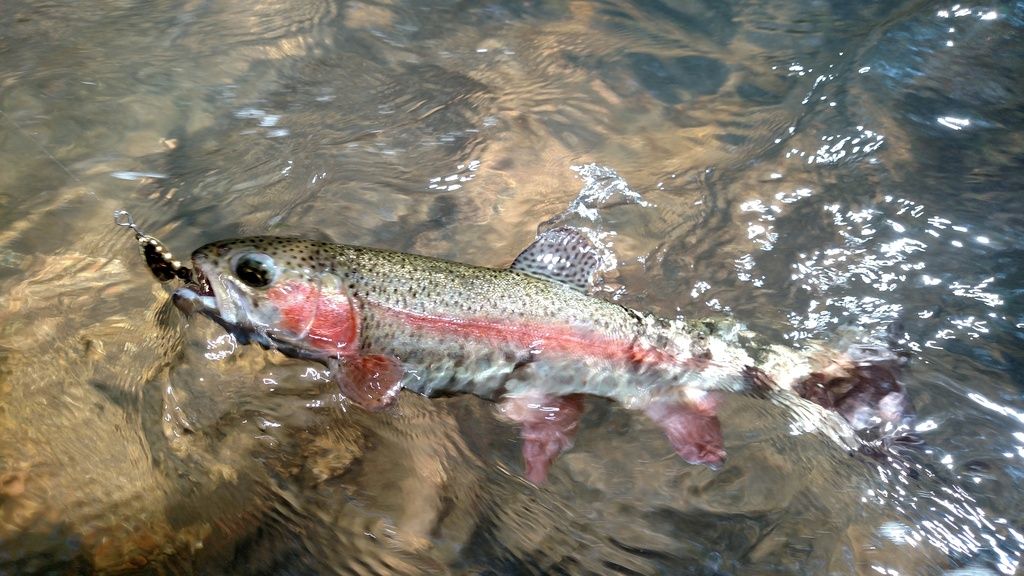 And even more surprisingly, to complete the grand slam for the day, this Tiger hit me up!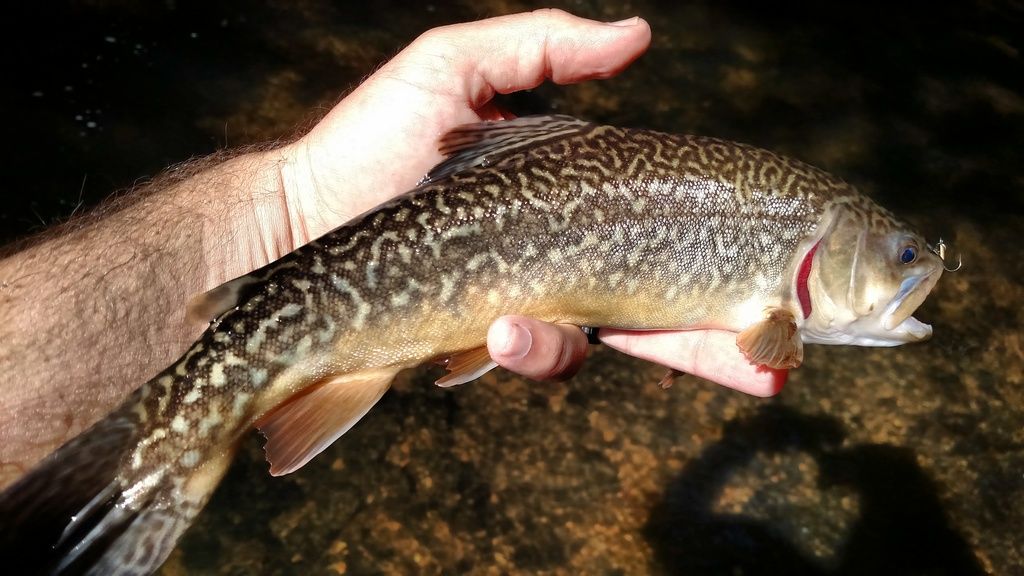 It's pretty rare to catch all four from the same stream in one trip so I was pretty excited. I've probably only accomplished that a handful of times. I was hoping to find a golden but I knew that wasn't happening…..
I enjoyed the sights and sounds that each corner gave.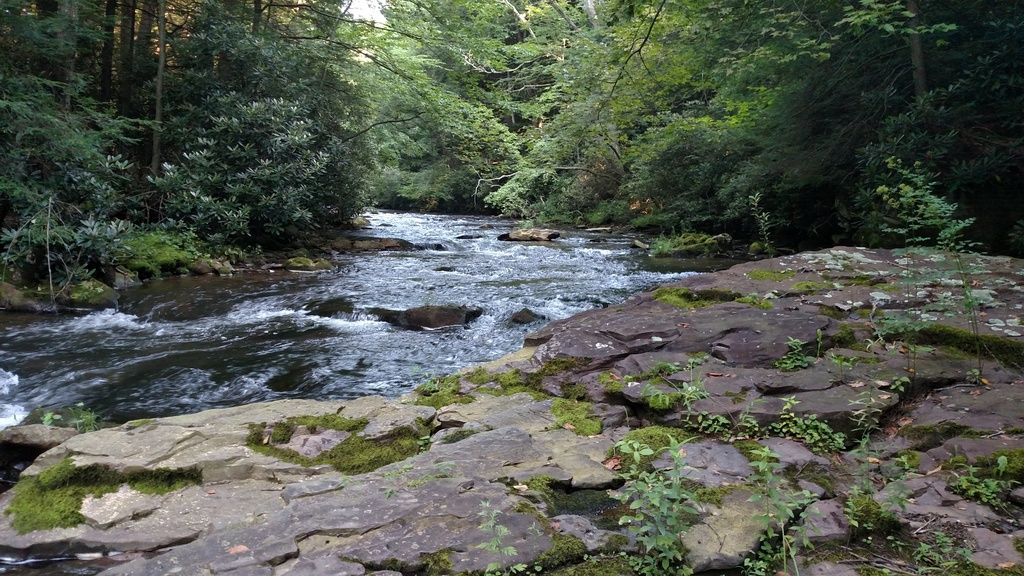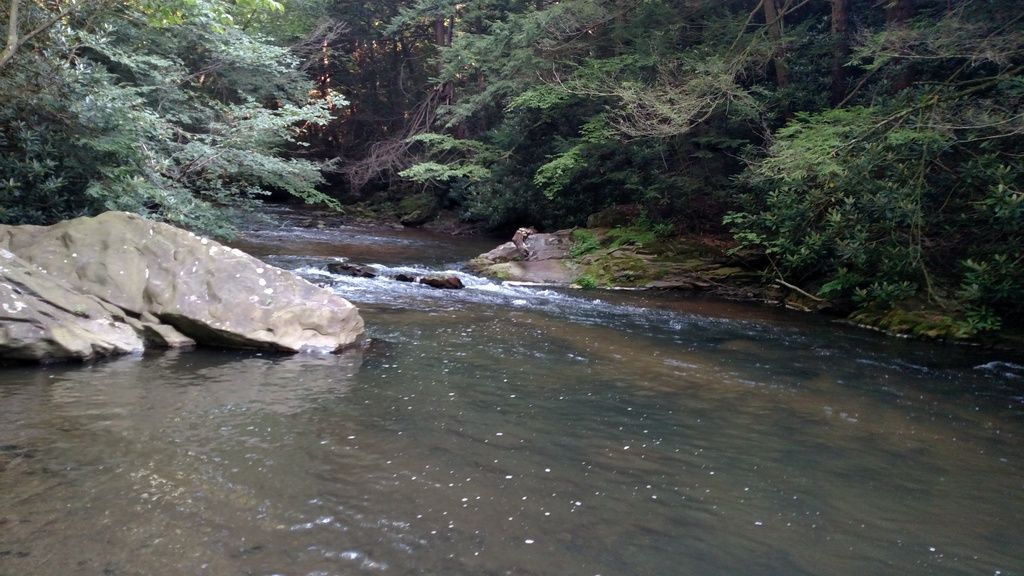 And eventually the stream started to move away from the road and really picked up gradient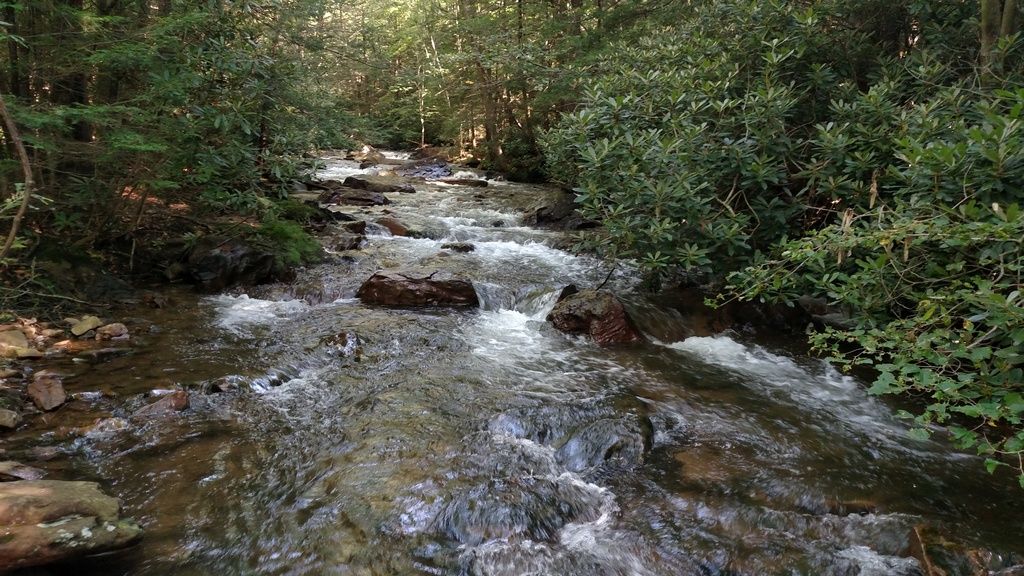 It was time to commit or bail as the roadless stretch ahead was going to take me some serious time. At 10:45 I wasn't ready for that so I just shut it down right there. I'll start back up here next weekend and see what's going on upstream. There's another 2-3 miles of stream to explore there.
Last night's rains were great. A little boost for the local waters. I'm more happy for the trout then I am for me. They need a break in most cases.