Discussion Starter
·
#1
·
Friday afternoon several members of the North Central Chapter 630 of Pheasants Forever loaded up their dogs and gear and headed out to a licensed Pheasant Propagator's where we helped capture and crate a hundred pheasants and chukar. From there we headed down to Rosebud Mining's Quennstown Hunt Club in Armstrong County to meet members of Brady's Bend American Legion Post 488 and a group of Wounded Warriors.
After our arrival we were introduced to the hunt organizers, five of the pre-selected Wounded Warriors, the ones' Caregiver Wife and another Warrior's Service Dog. There were a couple other Warriors slated to arrive Friday evening and another Saturday morning but due to unforeseen issues and a late winter snow storm a couple canceled and we ended up with only five Wounded Warriors and the Caregiver Spouse as hunters for Saturday and Sunday.
As one of the Dog Handlers I didn't get a lot of opportunities to take pictures but perhaps HPA member Nes can jump in and post some of the many pictures he took on Saturday. Since Nes' dog was away for training he did most of the still photography Saturday while an other member spent the entire weekend taking professional grade video footage.
Unfortunately I didn't get any pictures of my morning hunters, Warriors Carlos and Tony, or their harvests but I did get a picture of my second two hunters, Warrior Mike and his caregiver wife Sonya with the birds they harvested in the afternoon hunt.
Warrior Mike and Caregiver/wife Sonya along with one of the event organizers and 17-year-old member Cory and me with our dogs with the afternoon harvests from that hunt.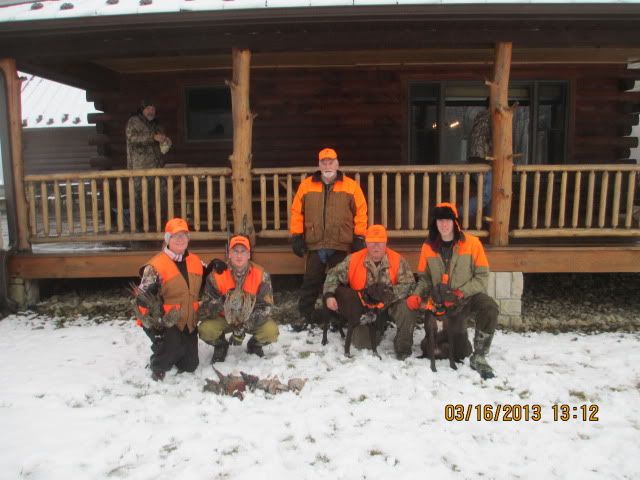 At the end of the day on Saturday we got a group photo of the Warrior hunters, the dog handlers with their dogs and the Brady's Bend American Legion event organizer. Also pictured are the day's harvests.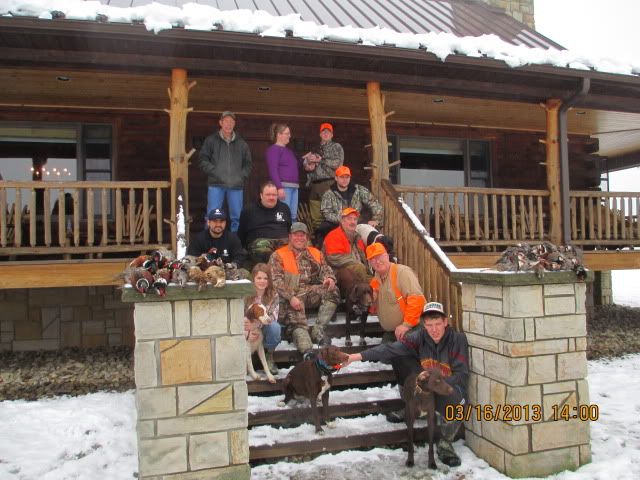 After the days hunt the Warriors went on an ATV ride while some of the event organizers cleaned birds and others worked on preparing a delicious evening meal sponsored by Rosebud Mining. Then after dinner everyone sat around the beautiful lodge relaxing in conversation as we all build friendships with the Warriors and other event volunteers.
Sunday morning we had breakfast then stocked the last thirty birds into three separate hunt areas and once again broke into three hunt groups.
The hunters I had Sunday morning, Warriors Judd and Brian, did very well and harvested nearly all of the birds we had released in their hunt area and only failed to harvest a coupe birds that simply didn't get high enough to offer safe shots over my dog.
After the morning hunt I did manage to get a picture of Warriors Judd and Brian with Rosebud's Mining Vice President Dane, my dog and I.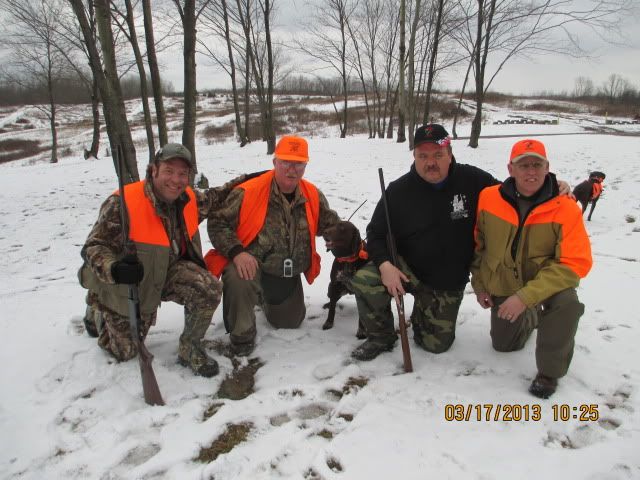 After the Sunday morning hunt I got a picture of the Warriors, Caregiver/wife Sonya, Service Dog, Kane, and American Legion event organizer Bruce standing behind the morning harvests.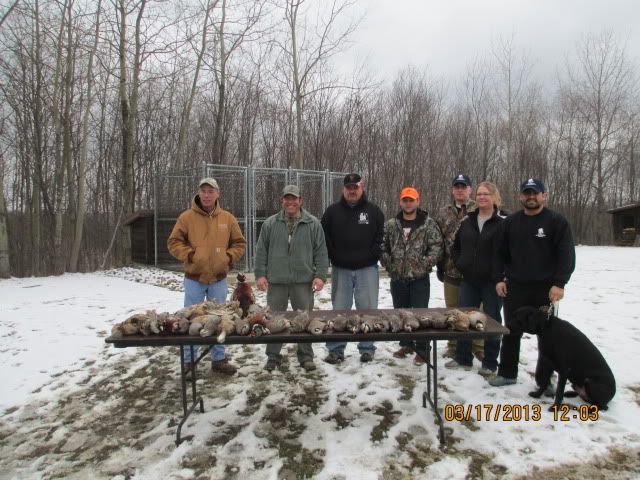 And finally a picture of the Warriors, dog handlers and some of organizers and support staff. Several others were involved with preparing the outstanding meals either weren't present at the time or to busy to get into the Sunday group picture.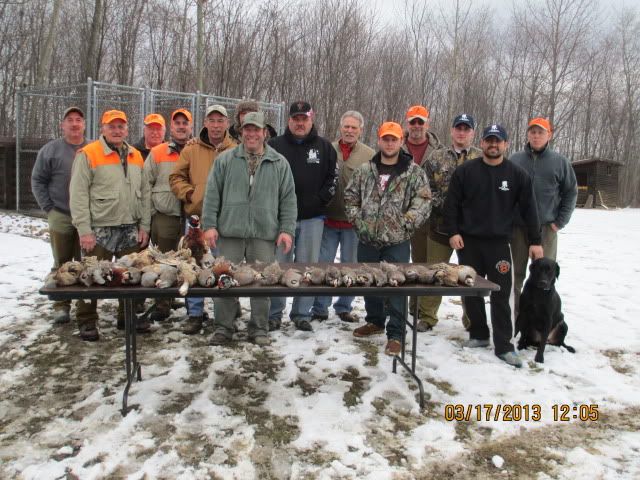 This was a great event that was very well organized. I am also confident that the event helped in both the healing and bonding process of some of our Nations Wounded Heroes. I feel honored to have been able to have met these brave men and encourage others to get involved with such events within you areas. It really was a very rewarding weekend.
Dick Bodenhorn