Discussion Starter
·
#1
·
On December 27 2012, Gentleben and I headed out on a trip to NC to hunt deer. Hunting deer over dogs is one of those things that I always wanted to do, once. Even though our trip was not successful in harvest, it left me wanting more, so a few more trips in the future are certain!
I was lucky enough to be invited to stay with Dick's (Gentleben's) friend Lowell. He and his wife Linda made us feel right at home. The first night we drove out to the "camp" to talk over plans for the following day's hunts with Ben. Upon arriving at "camp" it became obvious to me that I had descended into the depths of North Carolina's backwoods and that a learning experience was ahead of me. This place screamed redneck and moonshine whiskey. Upon meeting Ben, the owner of the camp, his friendly demeanor set the tone of the night as we all mixed up drinks and sat around talking. A few minutes into the conversation, I noticed the Masonic symbol on his hat, questioned it and told him that I was currently a Fellow Craft Mason. With that info, the conversation started flowing more freely and I was instantly accepted, though I still carried the name "Yankee". I had the pleasure of meeting one of NC's great football players and ex Buffalo Bills, Shelby Mansfield. He owned a few thousand acres and was gracious enough to invite us to hunt his place while we were in town. After some conversation and planning it was off to bed.
Hunt day 1 started early, dogs were collared and crated and off to the fields we were going. I was put in the middle of the patch which was about a 400yd walk inside the wood line. Let me tell you, NO picture can do justice as to how thick this place is, not to mention the fact that I was in water up to the top of my boots the entire walk in. I finally found some high ground in the form of thick grass growing from the swamp and I called that home for the rest of the day. The hounds were released and after a little while it was evident that they were walking a bear. Apparently they won't chase a bear, only walk around with them. This went on for over an hour when suddenly another hound burst out and the chase was on. Twice I had dogs within 10ft of me but even that close they were tough to see, it was that thick! Heard a lot of splashing which could have been deer or bear, but never did see them. At the end of the night I walked out and noticed bobcat tracks inside of my boot prints at the few spots where there was shallow water. He was within 20ft of me at one point, but I couldn't see him. At the end of the day, 7 hounds were still out there, GPS showed that they were still running. This was new to me and I was surprised when told "we'll check back for them tomorrow". Knowing now how thick the swamps are, I understood why we couldn't just go get them.
Hunt day 2 was rainy, just terrible wet and soaking with a biting cold wind. New dogs were brought in, while two of the missing from the day before was retrieved before the hunt started. Five still out there.
This day found us doing more truck sitting than anything. As the locals say "it is the dog's job to bring the deer to us". This was the day I realized I wasn't in PA anymore. All of NC's lax rules and regulations were a breath of fresh air and made me realize how out of touch I had become with my inner redneck
Don't unload that gun, get in the bed of the truck, stand on that dog crate, just make sure your feet are on the ground, use the truck as a gun prop, nope we don't have to be 30ft from the vehicle. Wow, it was a totally different world where you just hunt, no worry about how far, how to, can we etc… We had deer out that afternoon, one of which was taken by one of the younger boys.
Suddenly it hit me, no wonder these guys are all smiling all the time, you just HUNT however you want to, so long as you have a tag for the animal you are pursuing and you are practicing safe gun handling. The comradory, the lack of competition, the stories, the laughs, jokes, food etc… This is how hunting is supposed to be, how it used to be at home. In their words "we don't have a lot of money but we have a lot of fun" you could see that they truly meant it. What an amazing time, never knew so much fun could be had without even lifting the gun myself. These guys showed me the side of hunting that I had long forgotten here at home.
The day ended with us returning to look for the remaining 5 hounds from day 1, but they were still far out according to the gps. I was told they found them later that evening, chasing a deer out into the field, they never quit for 2 days!
I've talked with people in the past who just don't understand or approve of the use of hounds to hunt deer. I really didn't know where I stood on it either, until now. Walking into the swamps of North Eastern North Carolina shows why dogs are needed, there is no way a bunch of people could ever push out these patches and effectively kill deer. In areas like this, hunting with hounds isn't just an option, it is the only option once the deer become educated and stop coming to the fields.
For anyone looking to hunt NC, the true backwoods of NC, I have some advice. Take boots, tall ones, very very good ones! Expect to get wet, very wet. You will not see far, you will not walk around much because you can't. You will, however, have the best time of your life if you can get grouped up with the right people. Don't judge a book by its cover because if you do, you may miss out on meeting some great new people who could become lifelong friends. Since arriving home, I've stayed in contact with 2 of the men who hosted us. I have already been invited back whenever I want and branded as their Yankee brother from PA. They are seeing me through my 3rd and final degree into the brotherhood, which is tonight.
This was an experience that I will never forget. It helped me find the hunter of old inside of me, the hunter who laughs, jokes and enjoys the company of others hunting with him. I had gotten so far out of touch with that side of me that I never thought it could return. PA deer hunting had turned me into such a cold, calculated killer with an agenda that gets followed to a T, year after year. While that leads to success, it takes a lot of fun out of the hunt and also tends to make me forget about the friends around me for a few months. There is more to hunting that just punching your tag, and it took a trip to Camden County NC to remind me of that. Thanks to Gentleben for his friendship and the offer to hunt with him, I can't wait to do it again!!!
The "camp" :
The road we drove in on, just ends! not a road you'd want to drive on after a few drinks, you'd end up swimming
A few of the dogs, ready to roll!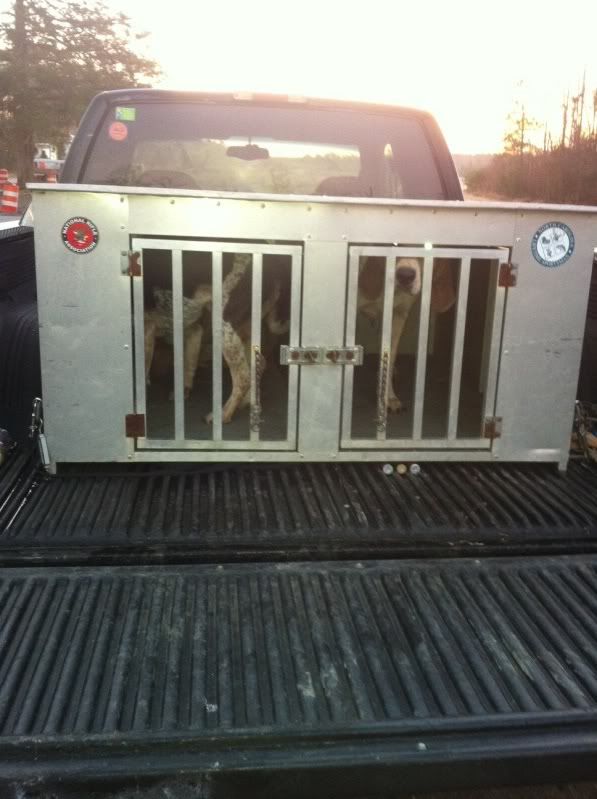 My day 1 views: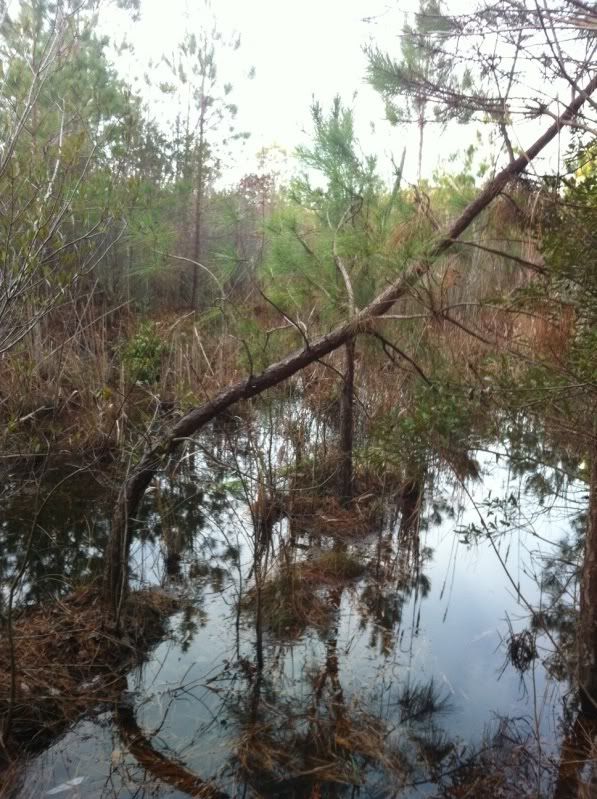 There is a white dog less than 10ft from me,now you see how thick it really is!
Day 2 views, you can see how full the drainage ditches are and all the standing water in the fields, imagine how the swamps look!:
after a cold, wet hunt, the boys had the heater in the camp stoked up, look at that pipe!: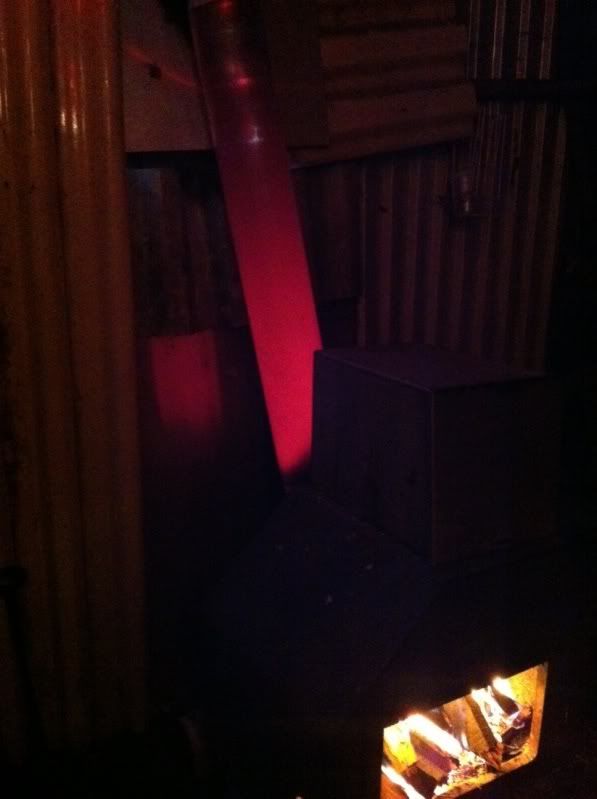 the sunrise on the ride home, a nice view welcoming us to the Chesapeake Bay Tunnel: