Discussion Starter
·
#1
·
I posted this Thread up in the Turkey Forum but after further thought I knew some readers here in the
Spirit of the Hunt
Forum maybe dont visit Turkey Hunting would also enjoy.. so i posted here for your read as this wasn't just a run of the mill turkey hunt in many respects. For those who have read my post up in Turkey hunting i sincerely thank you for all your kind feedback, your read time, thoughts etc. & very best wishes to you for a great season!!
Loggy Bags Fall Turkey With A Lil Help (I think)!!
Hunted out of my Sullivan County Camp Sat & Monday. Sat I covered many miles in the heavy rain(AM) & the afternoon. Couldnt locate any turkey not find any fresh sign. Only one turkey weighed in at Hillsgrove store on Sat. Not a good day.
Monday i decided to hunt an area of Lycoming State Forest where my Dad while on the Earth killed quite a few turkeys. It was the mountain where I killed my first deer & where Dad killed his last which I helped drag out just before cancer took Dad back in 1987.
While hiking up the Mtn Monday I was recollecting all the fine times i spent with Dad in this God given paradise. To add to this hunt I was wearing Dad's ole Weinbrenner Woods-N-Stream boots he bot about 2 years before he passed to guide me to his favorite hunting grounds about 2-3 miles up the mountain.. Mom said Dad felt bad about spending $25 hard woodworkers dollars for those boots. Makes me feel a lil guilty about my Danners costing 10 time that.
On with the hunt. There were no vehicles parked in the access area so i knew there likely was no one hunting the mountain. After about 1-2 miles up the mtns I heard a faint yelp that was barely audable. I pulled my Cody Woods Slate out & yelped a few time, waited & nothing. I then started to slowly proceed up the mtn & then I heard the turkey yelp again...a lil closer. I immediately set-up in frt of a big tree in some heavy hemlock/grape vine cover. I called again on my Cody & the turkey answered again & was on the move down the mtn towards me. I called again & nothing. I then mixed it up with my Madd Ship Wreck mouth call. Immediately got another answer. This back & forth went on for about 1/2 hour. I was mixing things up, using silent treatment & anything else up my sleeve..
Then I was looking thru the thicket & I saw the turkey but just its head with neck/body behind tree. It looked like around 40 yards. I then put my safe off & was ready. I waited for about 1 minute(seemed like an eternity) & then the turkey stepped out offering me a good neck/head shot. I centered my Tru-Glo Aimpoint F.O. on the head/neck & squeezed off and sent a load of 12 Ga. 3.5 Mag HV Federal no. 5's on its way. The sound of my shot roared down the mtn lauder than I ever can remember. The turkey flopped for about 10 seconds & that was it.
I stepped shot off & it was 51 yards. A lil further than I like but tuff to estimate range in the Big Mtns where shots are many time a lil longer than in the low country. Plus, I was comfortable what my Browning with Briley Ext Ex Full choke can do with the Federal FliteControl load. Turkey's head/neck was hammered w/neck broken!! (see pic below)
I know I didnt break the flock & know whose boots lead me to a successful hunt. I would like to dedicate this turkey to Dad feeling in my heart that he played a part in my hunt. To what extent I will never know. Also, thanks Dad for teaching me to be a good woodsman/sportsman.
Me & Turkey (15 LB Hen)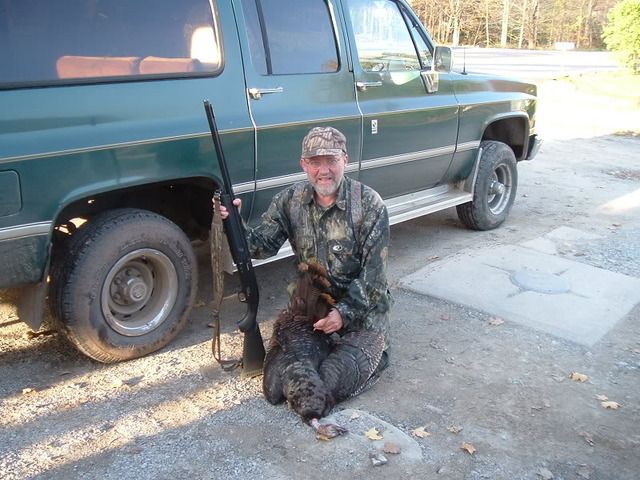 Turkey & Browning At Camp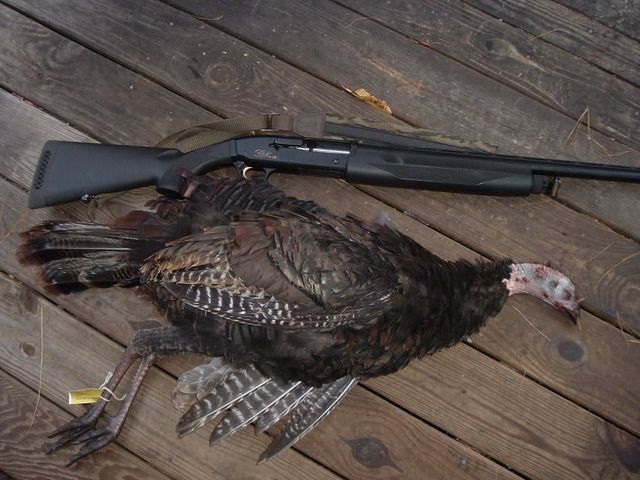 Turkey Head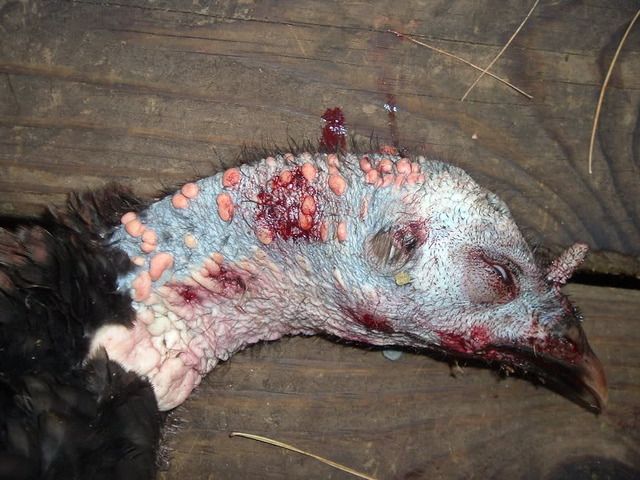 Dad's Ole Weinbrenner Woods-N-Streams w/screwed Vibrmans!!