Discussion Starter
•
#1
•
My 10 yr old, Ty, and I headed out after school for a pm hunt with the inline. Ty has been hunting hard, with his bow, and since Saturday with the inline, and was determined to kill his first deer. We chose to sit in an elevated box blind overlooking a thicket on one side, and Ag fields on the other. Almost immediately upon settling in, I spotted two button buck browsing through the thick briars in front of us. Ty readied the muzzleloader, but in the twenty plus minutes we had the deer in range, they never offered Ty a "clean" shot. The next group we saw were six doe and fawns. They came from the woods into the field we were overlooking, but were at 160 yards. That was too far for my young hunter, so all we could do is watch. Half an hour had passed, and we were still watching the group of deer when Ty spotted a lone deer feeding within 75 yards of our stand. Once again I handed him the smoke-pole and he eased the gun to his shoulder. The button buck was unaware of our presence, and was working his way even closer. At 60 yards Ty cocked the hammer, and prepared for the shot. I gave Ty the green light and the gun cracked. Ty made a perfect hit and the deer fell in it's tracks! It was a great first kill.
Getting ready for the shot
Seconds before the shot
Seconds after the shot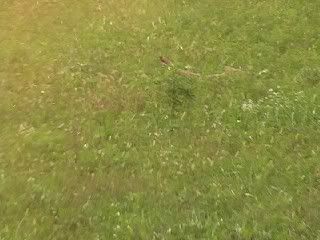 A happy young man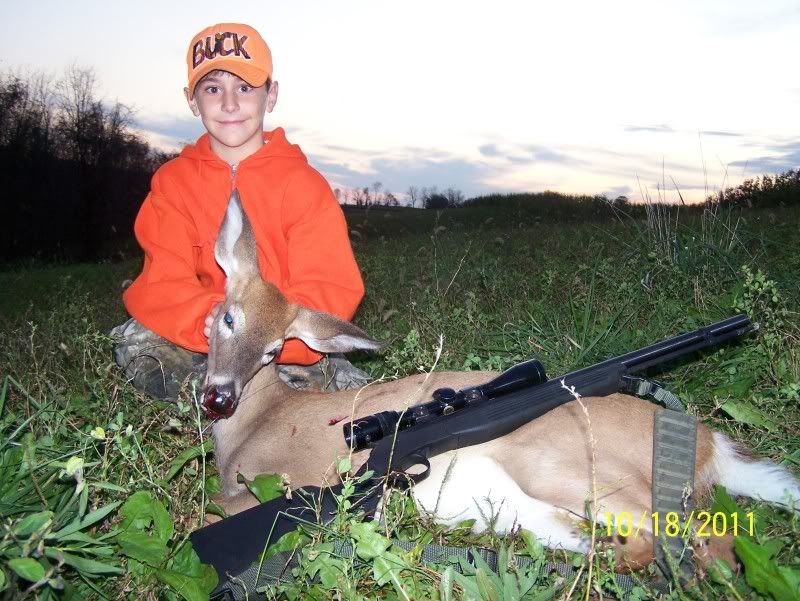 You might remember just a few of Ty's close calls that have made this season a memorable one so far...
http://www.huntingpa.com/forums/ubbthreads.php?ubb=showflat&Number=2391277#Post2391277
http://www.huntingpa.com/forums/ubbthreads.php?ubb=showflat&Number=2382909#Post2382909
He will now continue his quest for his first antlered deer.