Discussion Starter
•
#1
•
I originally posted the following in the Hunting Camp Forum a few weeks ago. I don't know how many of you guys check in there so I thought I'd repost it here so more people could see it. Apologies to those that have already seen it.
I arrived mid-afternoon for our annual Grouse Camp. After quickly unloading the truck and throwing on my hunting gear, my lab Shadow, a buddy (HPA member wnghunter)who had arrived a day earlier and I, headed out for a quick hunt.
Shadow flushed a rooster right in front of me and I killed it with one shot. Shadow makes the retrieve.
These are some of the nicest PGC birds I've seen yet!
Day two the hunting was tough. Everything was flushing wild despite persistent rain showers that usually make the birds sit a little tighter. After four hours we had flushed five grouse, a pheasant and a rabbit but didn't kill anything. We were soaking wet and decided to call it a day.
Day Three; this morning we hit some favorite grouse covers on private land and flushed nine grouse and two woodcock. I killed a grouse and a woodcock and wnghunter limited on grouse.
After lunch we headed for public land and pheasants! I killed a beautiful cockbird.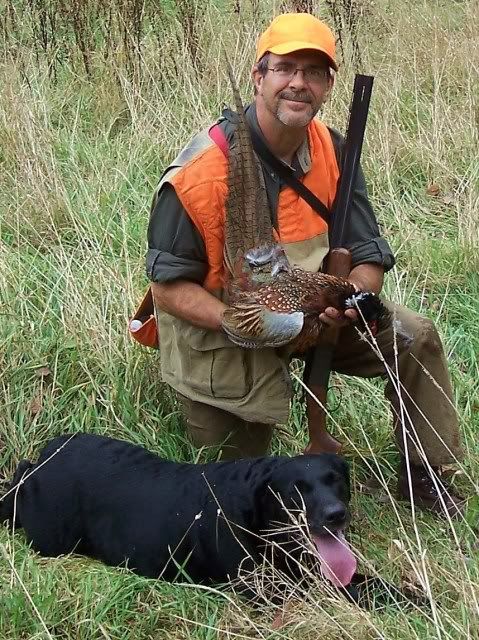 We ended the afternoon with a double limit of pheasants.
Day Four a local buddy met us at camp for a hearty breakfast of steak (filleted venison back strap), home-grown eggs and home fries before we headed back to public land after some more pheasants.
Strategery lol.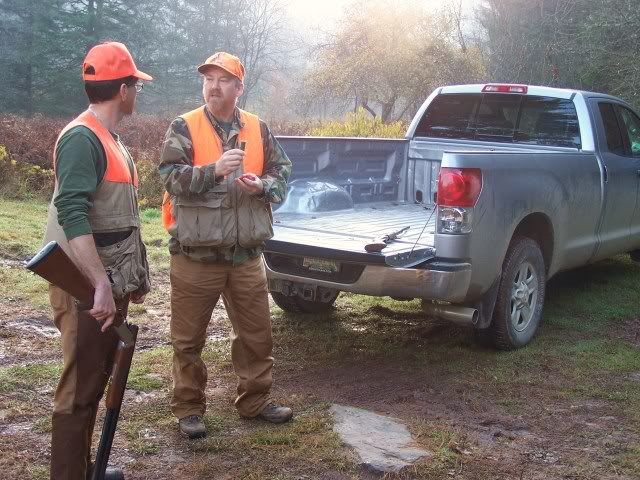 We hunted hard through the very warm day (75 degrees and mostly sunny). Vic takes a cool-down break.
We flushed a total of sixteen pheasants, four grouse a woodcock and a rabbit during the seven hour hunt. Me with one of two roosters I killed.
We ended the day with a triple limit of pheasants and a pair of grouse!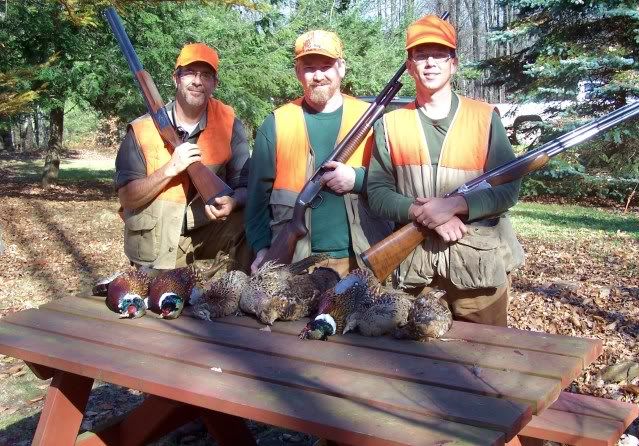 I mentioned how warm it was…Shadow found himself a wallow to cool off in.
One very tired, very dirty dog.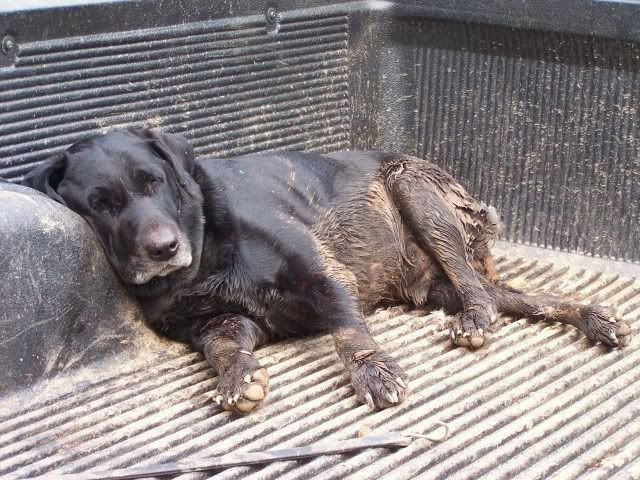 Sorry boy, but if you want to sleep inside tonight…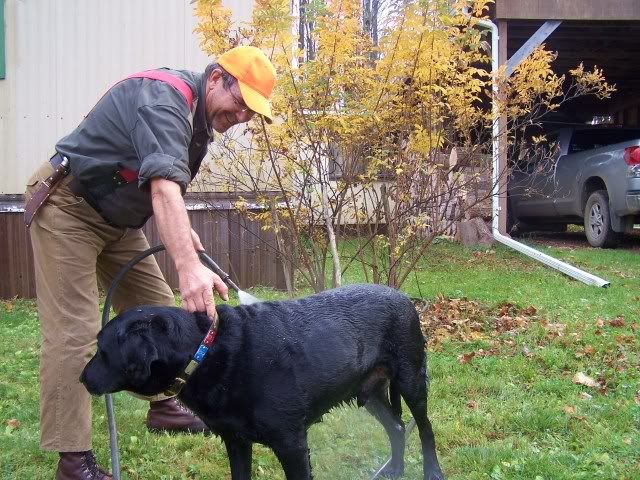 The guys start cleaning our pile of game while I rinse off Shadow.
The morning of Day Five Shadow, wnghunter and I head out to public land after pheasants again. We flushed two and each got one. Flushed a grouse also but nobody had a shot.
Shadow and I trying to catch our second wind.
After lunch and a bunch of camp chores we decided to check out some more of our favorite grouse haunts. We flushed five in short order. I missed one and got one. I wanted to shoot trap at the local gun club and wnghunter wanted to check out some new covers so we split up. Down at the gun club, halfway through a squad one of the shooters stopped us, there was a bear in an apple tree not 100 yards away and totally oblivious to the shooting. It looked like last year's cub, lucky if it went 100 lbs.
Shadow retrieves my afternoon grouse…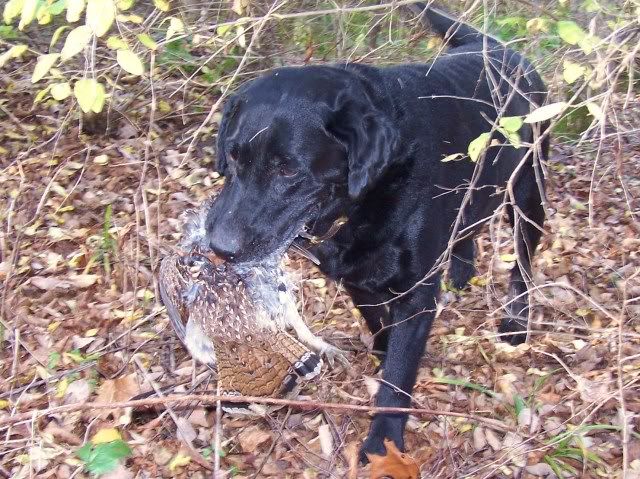 …and I show it off.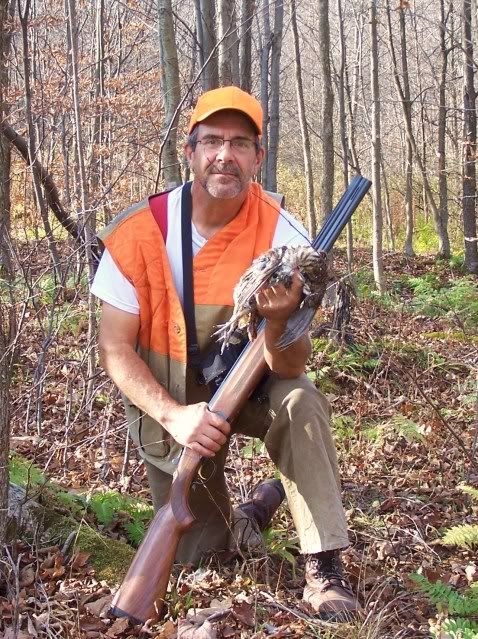 Day Six, the final full day in camp and the first day of fall turkey. Wnghunter and I headed our separate ways in search of thunder chickens. We met back at camp around lunch, both of us empty-handed.
A quick trip to the local gun club to sight-in the deer rifles.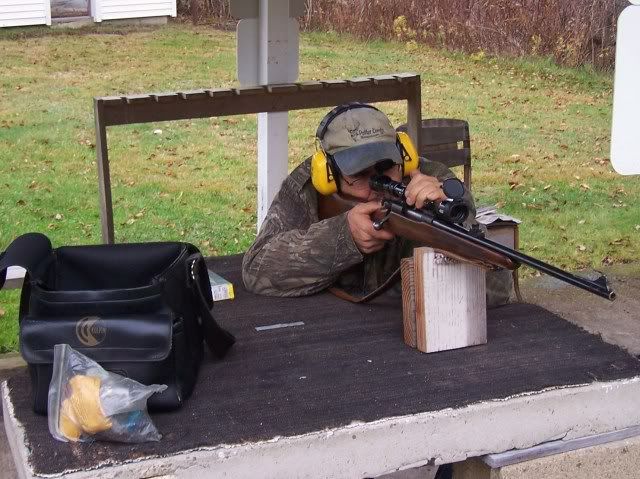 We headed out to some of our grouse covers that afternoon, put up five grouse and a woodcock that I missed twice. I was going out to dinner with a local buddy so, once again wnghunter and I split up. I headed back to camp while he continued to hunt, putting up seven more grouse killing one of them.
Here are the short stats for the week:
Hours Hunted-------------------- Grouse-------Pheasant-------Woodcock-------Rabbit(Flushed-Shots-Kills)
Me 25 hrs.-----------------------28-5-2-------27-15-6---------6-5-1---------2-0-0
Wnghunter 34.5 hrs.-----------45-11-4------27-9-5----------6-3-0---------2-1-0
Local Guy 7 hrs.-----------------4-1-1---------16-6-2---------1-0-0---------1-0-0
Some of the game is going home for our families' enjoyment.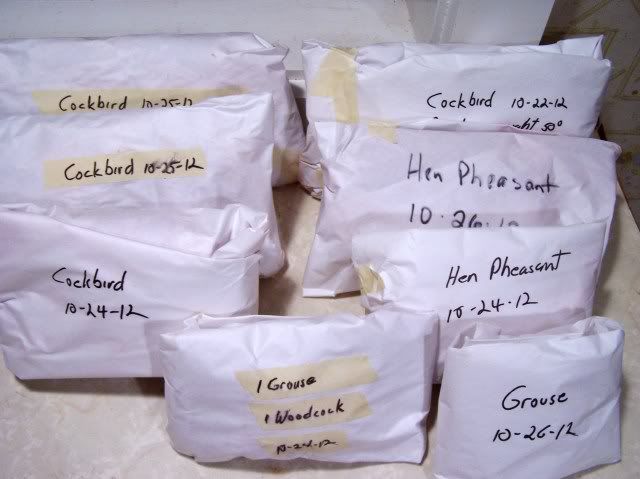 This annual camp hunt used to be held second or third week of November and was strictly grouse and woodcock. A few years ago I discovered the excellent October pheasant hunting in the area and the week-long hunt was moved up a month. The name Grouse Camp stuck.
I'm already looking forward to next year!