Discussion Starter
•
#1
•
A Few Surprises
On Thursday, August 6th, 2015, I was scheduled to fish with a member of this board, but he cancelled for good reason well in advance. So, rather than being disappointed I just figured that left more trout for me. Not a bad situation to find oneself in.
That morning I eased my SUV into a streamside pull-off under a big old oak tree at 5:00 a.m. Before turning off the motor I got out to make sure the gravel wasn't littered with acorns since I didn't want acorns raining down on my SUV all day. Just a few were on the ground so I turned off the motor. Before getting out I could hear something small repeatedly hitting the roof of my vehicle. My flashlight revealed they were chips of acorns.
By the time I was done booting up, the roof must have had 30 to 40 pieces of acorns on it. No critters could be heard or seen with my flashlight in the limbs high above. I still wonder what was eating the acorns in the dark?
The creek I chose was rather large and flowing well above normal. I knew I wouldn't be able to cross it in my hip boots in all of the usual places. The air temperature was 56-degrees and the water 62-degrees. Not bad for early August.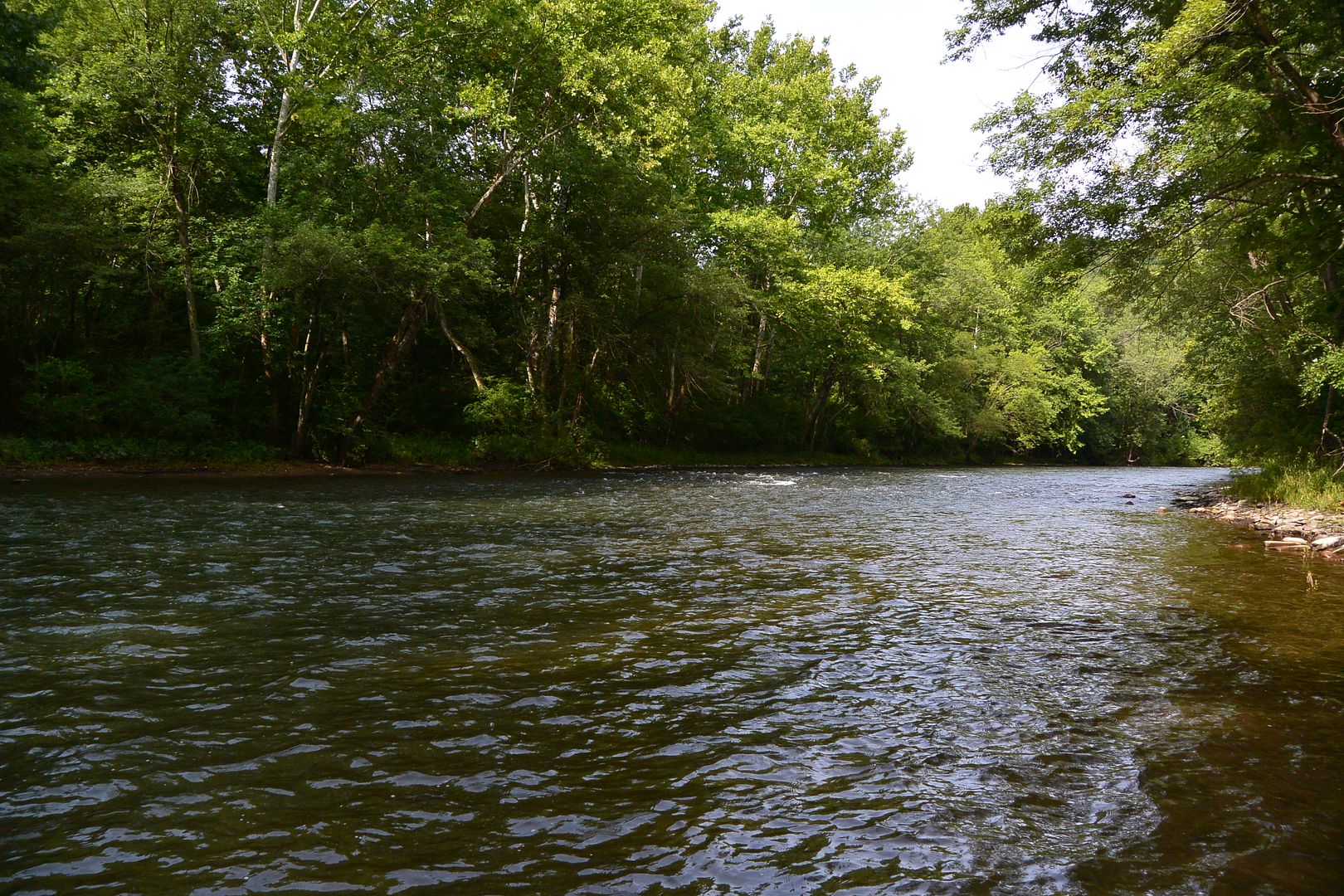 I began casting one of my homemade White Bead Gold spinners at 6:00 a.m. and soon caught a small smallmouth bass followed by this barrel-bellied 14"er.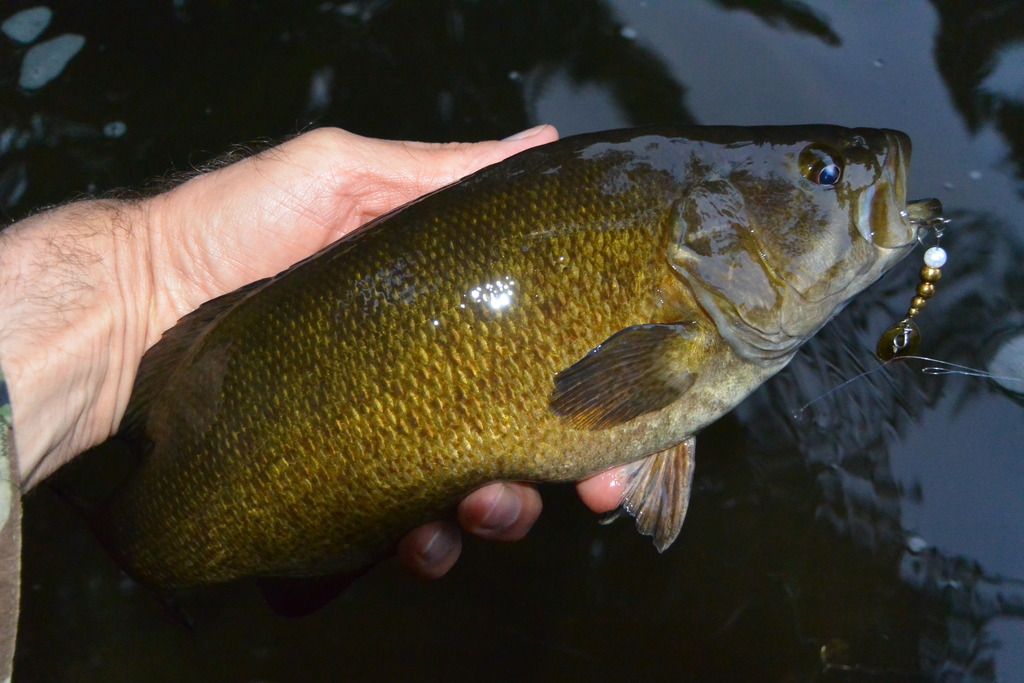 But I was after trout.
The first hour yielded just ten trout.
An immature bald eagle flew low downstream past me during this time, too, and landed about 75 yards below me.
The second hour gave up 15 more trout, including a 15.5" wild brown.
This 18" rainbow was the first surprise the day.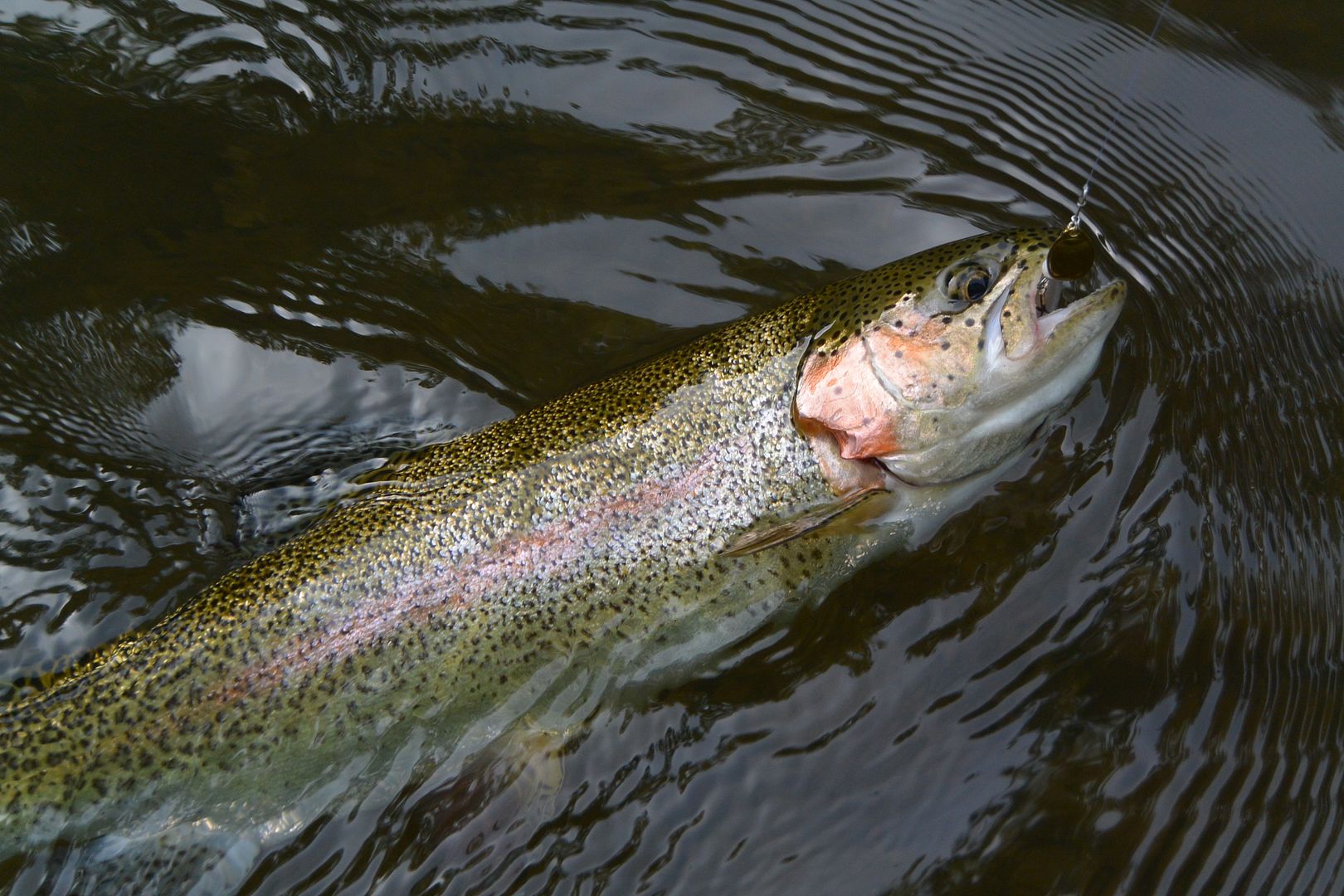 A few casts later this 19" rainbow was my second surprise.
Around noon I spotted a large bird circling in the white sky. My binoculars revealed that it was a mature, ragged-looking bald eagle. It rode the thermals for over ten minutes until it was a mere dot in the sky, then caught a strong, northeast crosswind and was gone within seconds to places unknown.
A green heron waited nervously in the streamside brush.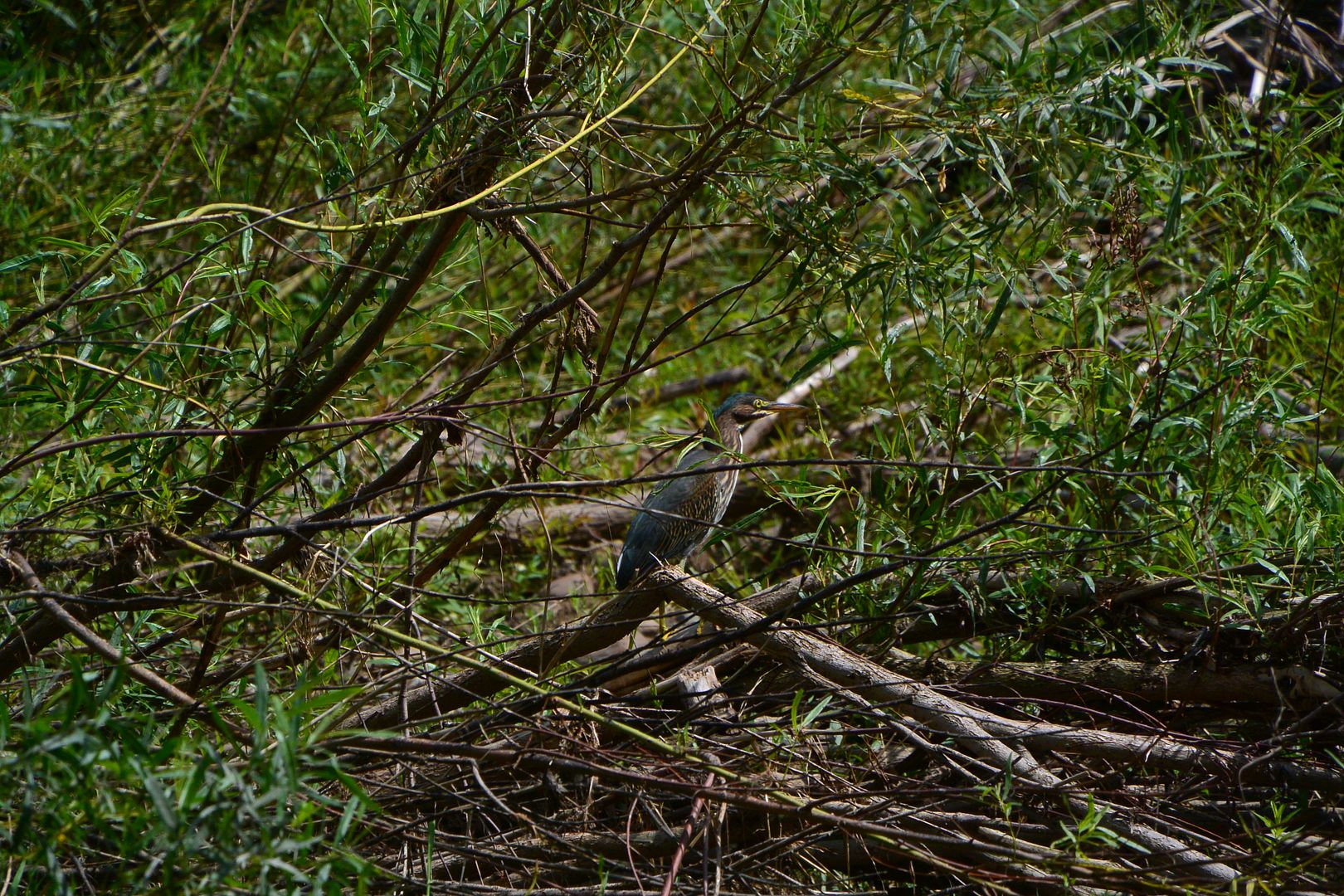 After 7.75 hours I had caught and released 99 trout. Five crowded-together fly fishermen claimed the water in front of me, so I reluctantly hooked my spinner to my biggest guide and headed out one trout short of the century mark.
During the hike I had to cross the river once. No other anglers were there, so I fished for 1.75 hours and caught an additional 29 trout, including a 16.5" wild brown. (A 14"er is in the photo below.)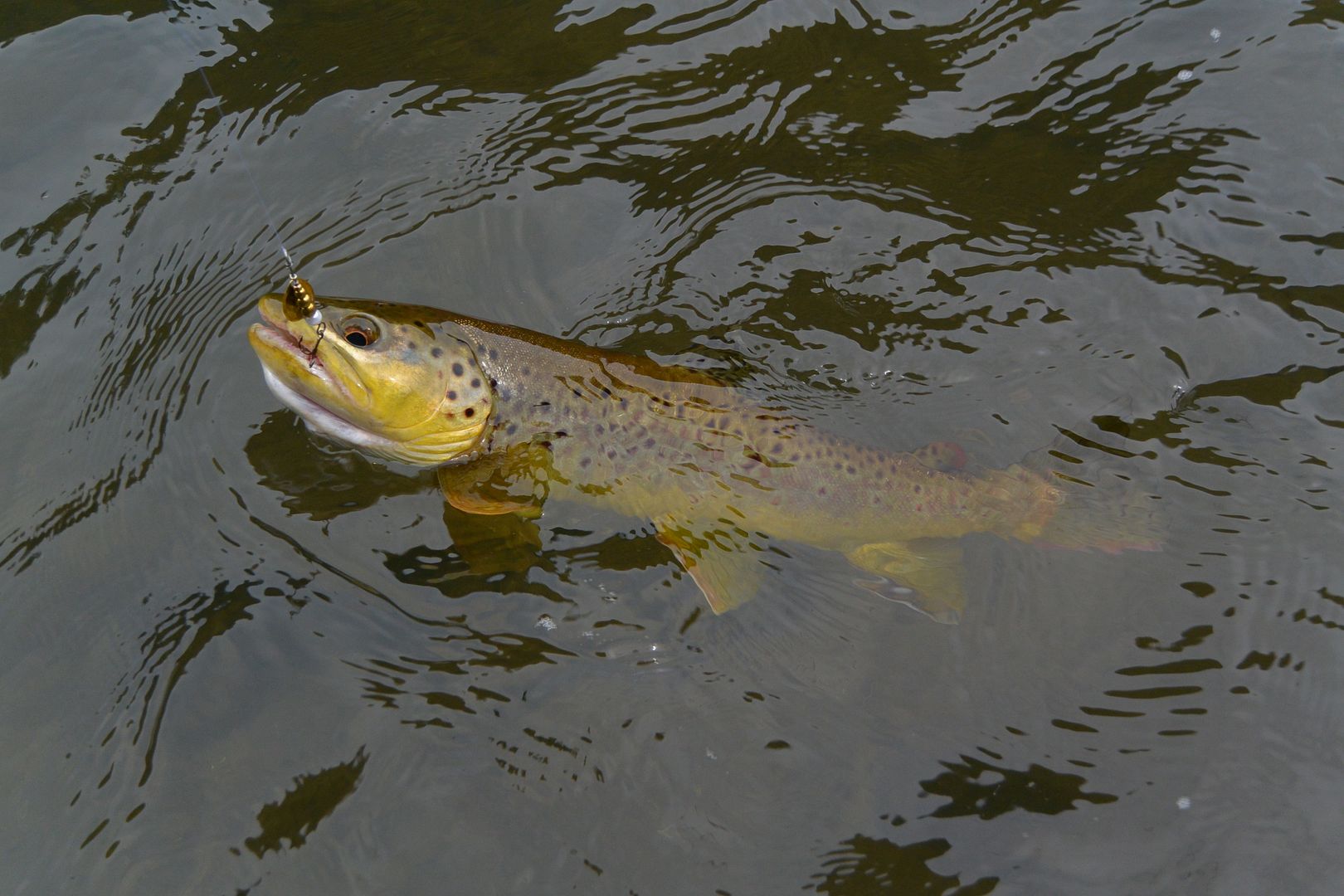 White baneberry decorated the path on the remaining walk back to my SUV after a very satisfying outing of 128 trout in 9.50 hours.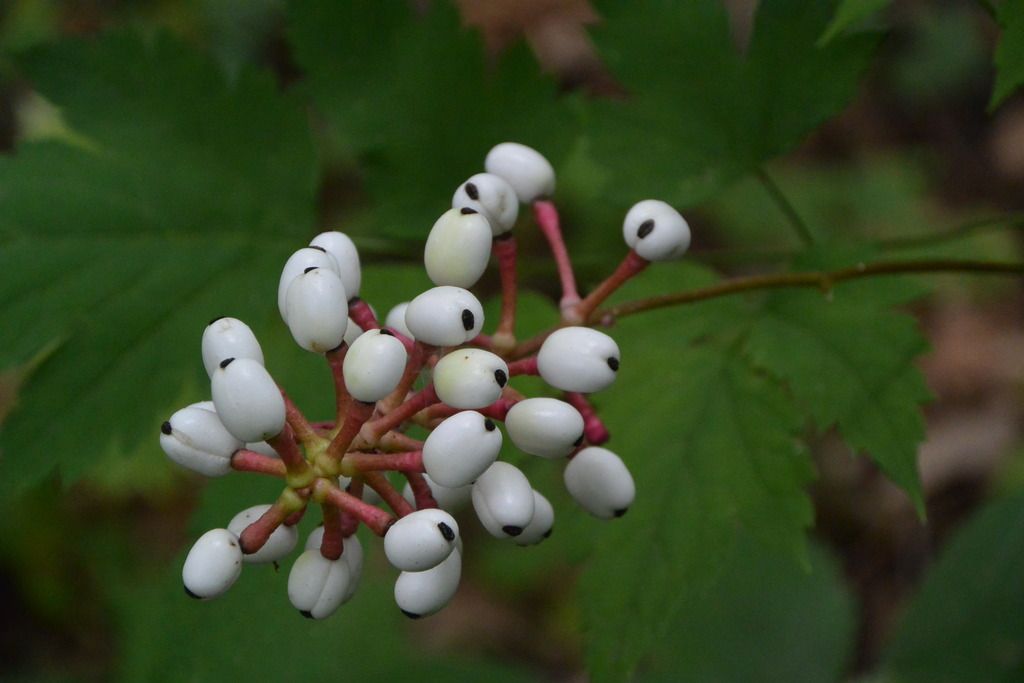 On Saturday morning, August 8th, I drove to a medium-sized limestone stream to fish first. My plan was to fish a mountain freestoner in the afternoon.
It took three minutes to land my first trout. At about the twenty-minute mark a big old brown of about 18" took me by surprise as it rose unseen from the depths in a deep pool and engulfed my spinner near the surface. My line broke near the spinner on the hookset. I should have re-tied my spinner to fresh monofilament before that pool as it had been since daybreak since the last re-tie.
I was still kicking myself for blowing an opportunity with a big trout when I whiffed on another one at the head of a long flat pool. But this one still looked interested and a quick second cast was rewarded with this sparsely-spotted, butter-bottomed 16.5"er.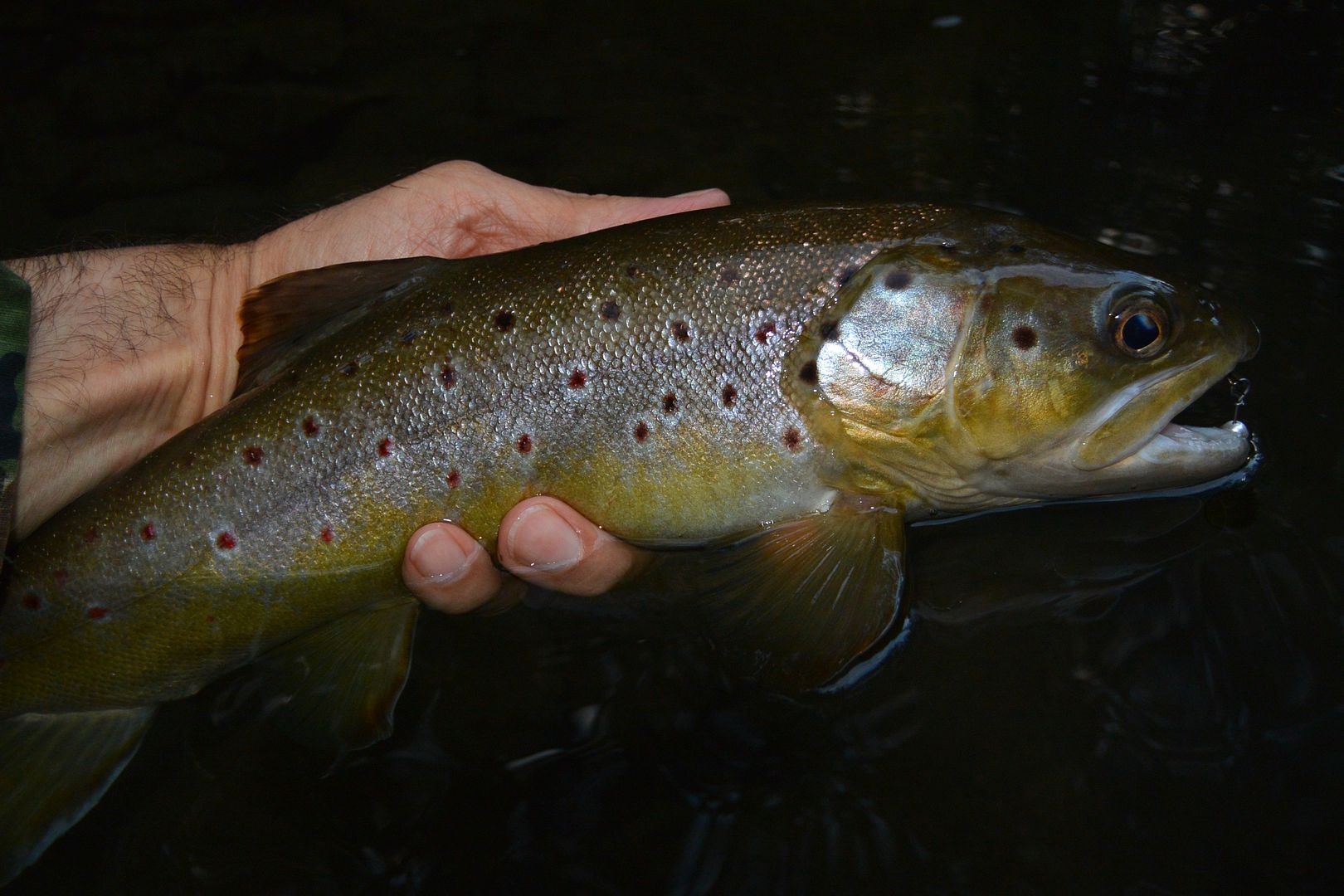 Much to my surprise, my very next cast yielded this dark-spotted 17" wild brown.
I was shocked after releasing this one when my very next cast to the same spot produced a strike from yet another large trout. I whiffed on that one, too.
That was the end of the big-trout action. I tallied a total of 56 trout in 3.75 hours before the action petered out. A fly fisherman upstream from me gave me the answer as to why the fishing died.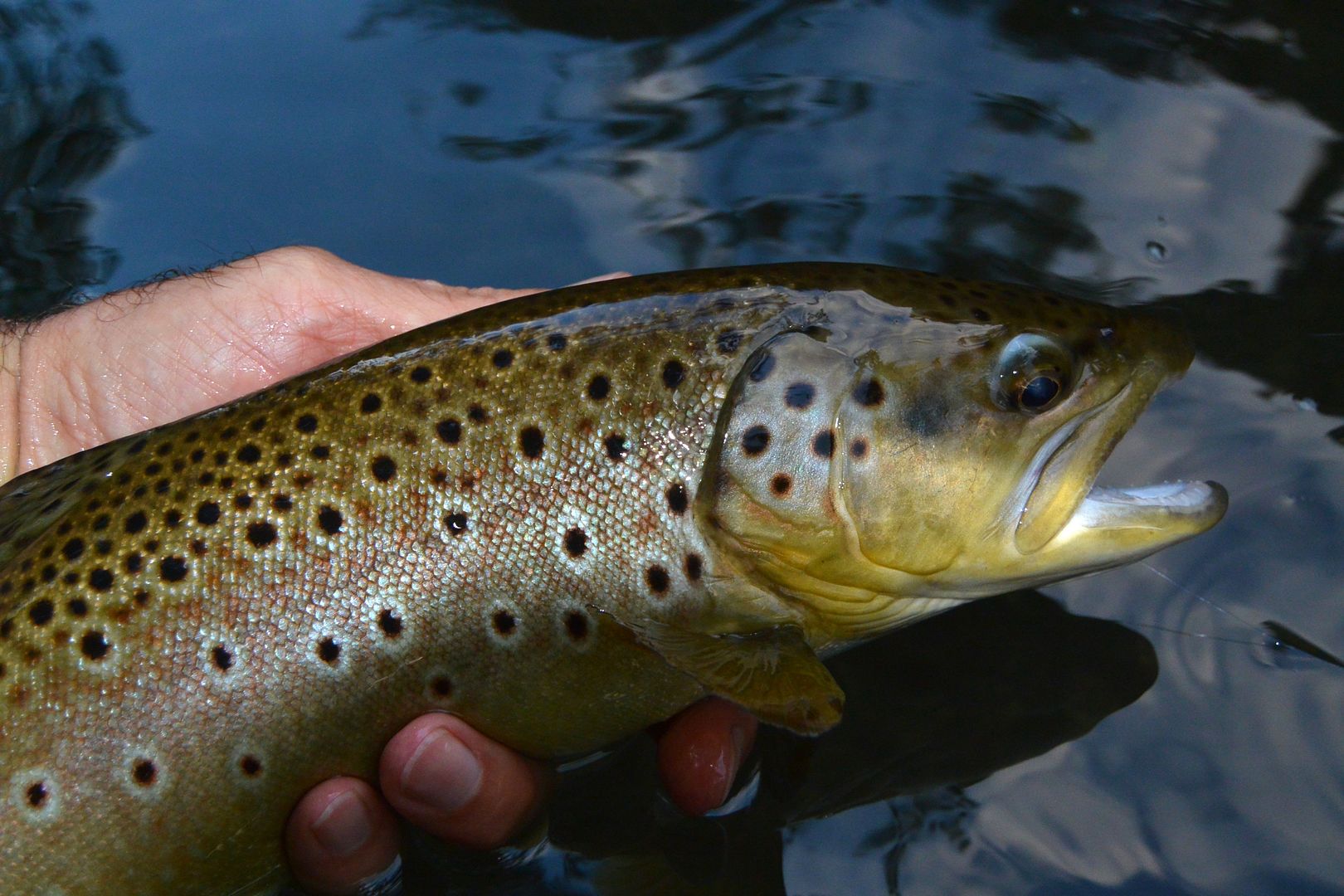 As planned, my next stop was this little stream.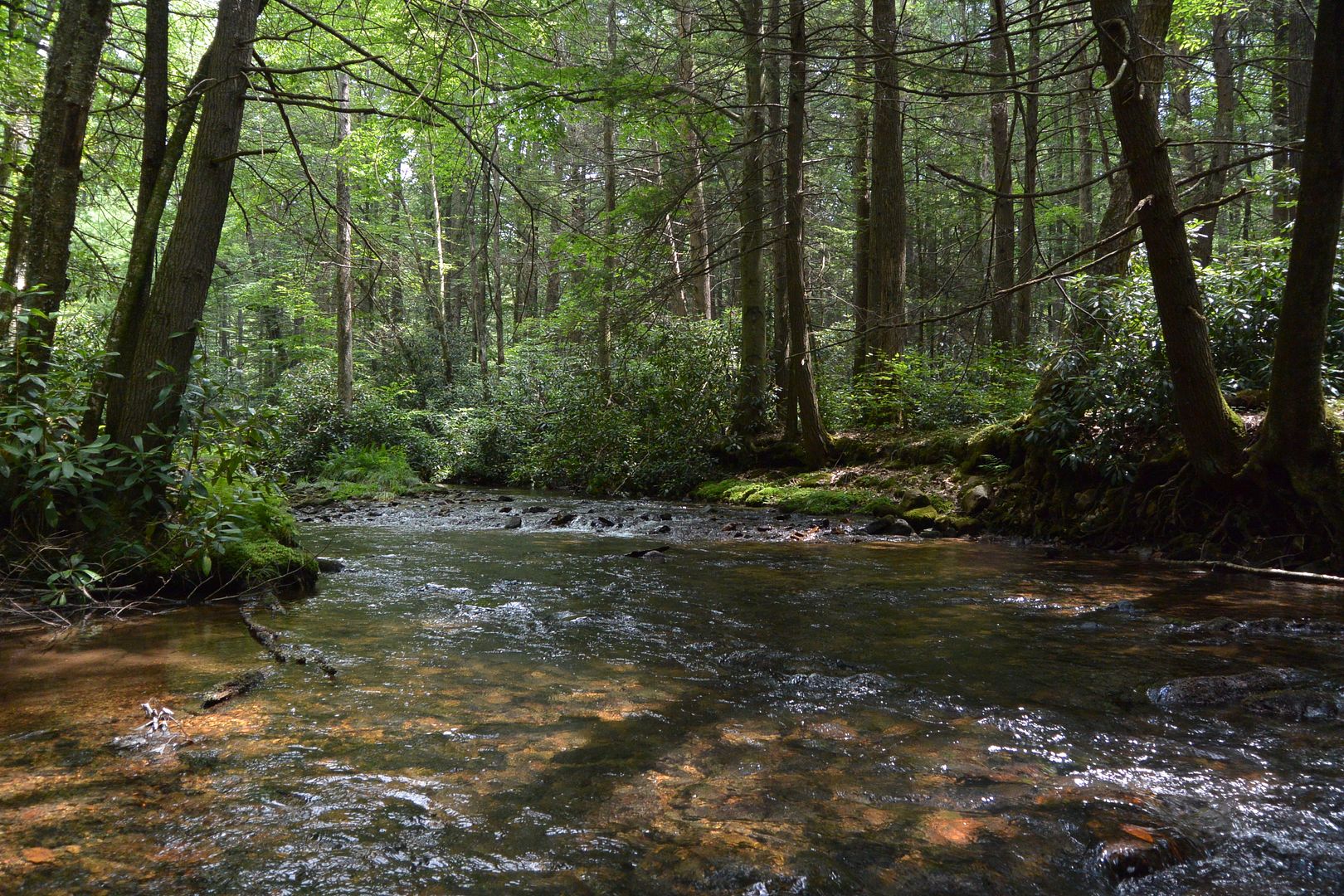 Shortly into the outing I made a cast to the middle of a pool created years ago below a tree that had fallen across the stream. For whatever reason, I had actually visualized catching a hawg brown before making the cast.
The trout was quite chunky.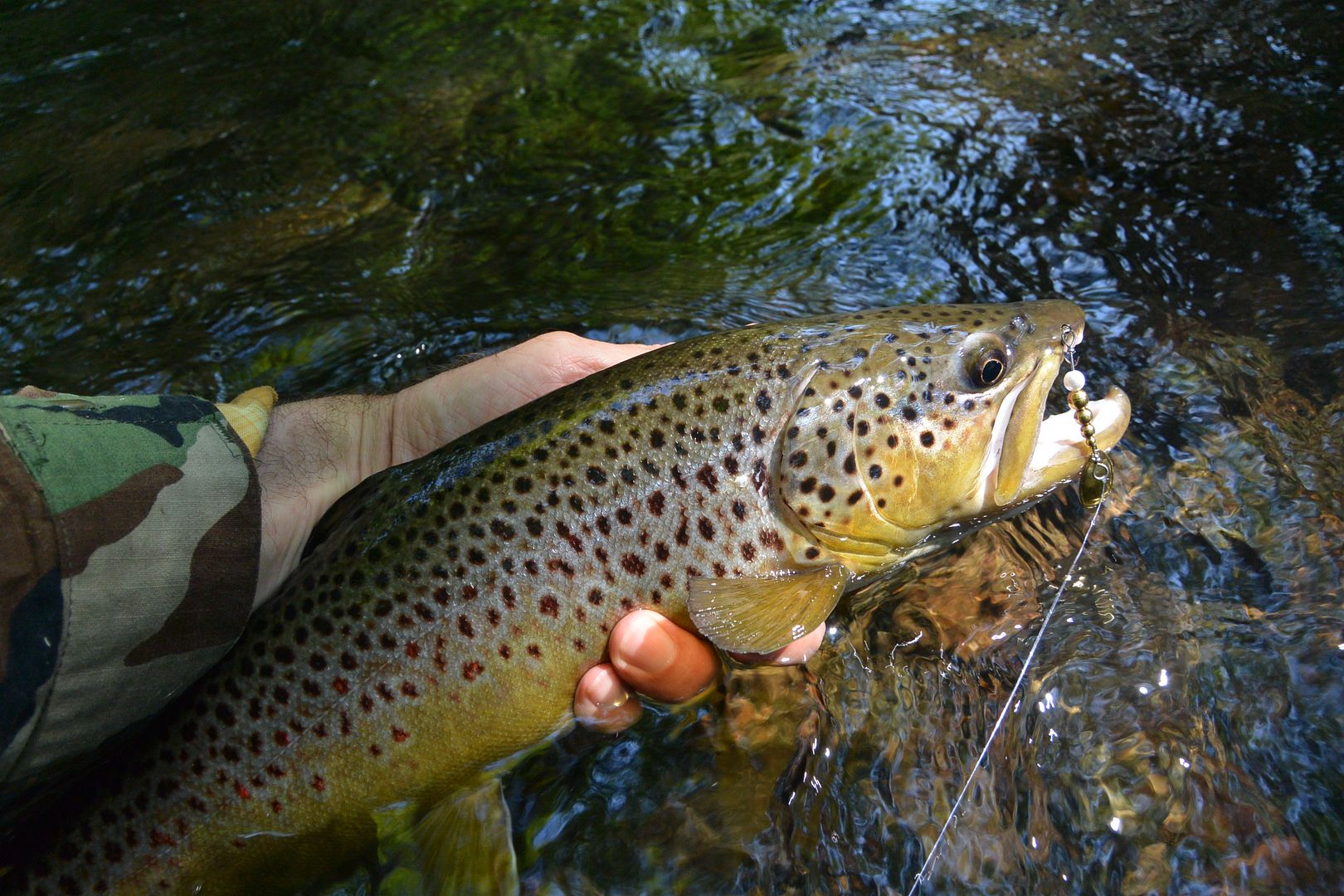 A soft patch of moss provided the backdrop to place the 18.5" wild brown next to my rod for a quick photo.
I fished here for 3.00 hours and caught 45 trout, giving me 101 in 6.75 hours for the day.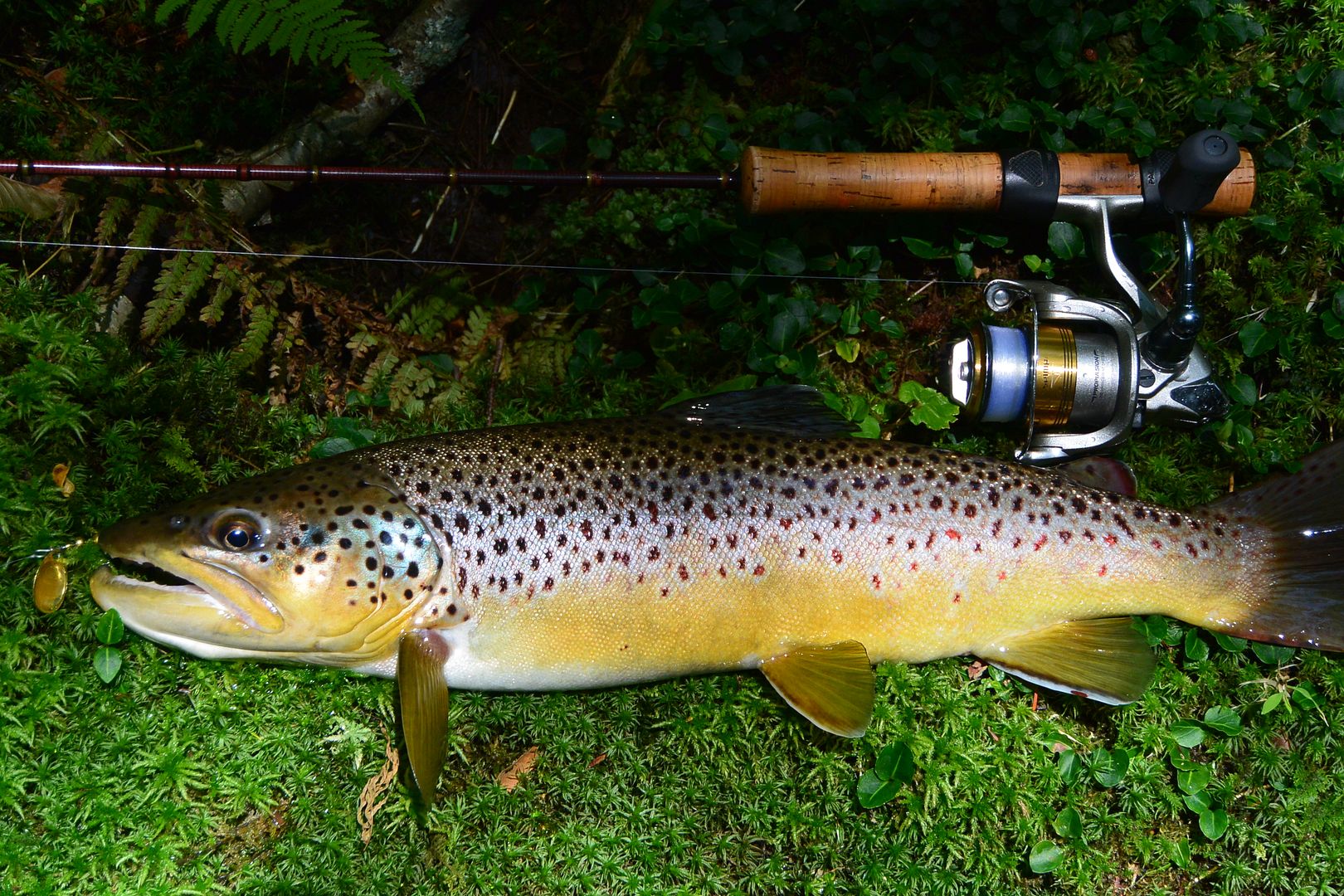 Sunday, August 9th, was a rather uneventful day on the water. In the morning I caught 64 wild browns in 4.50 hours from a limestone stream.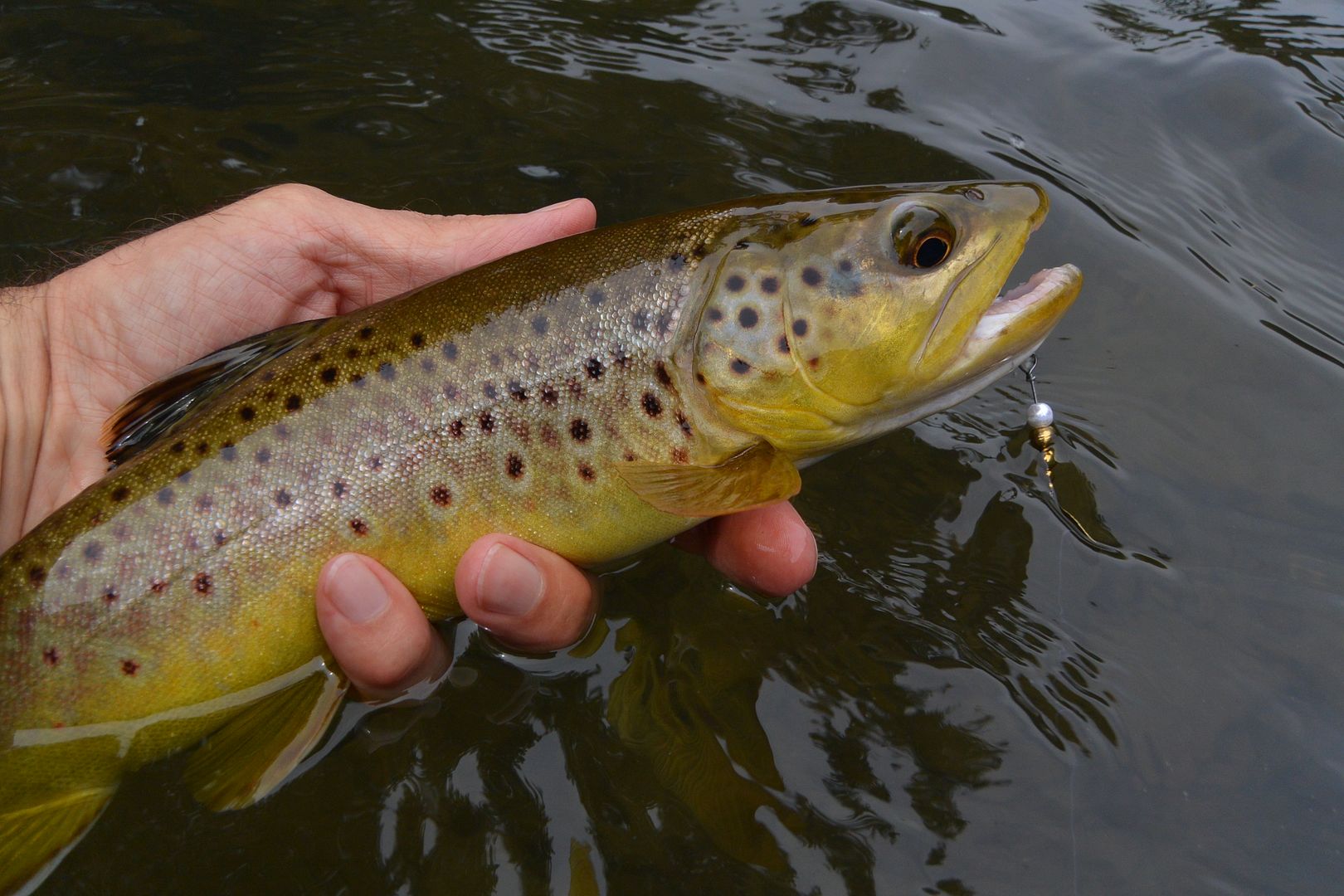 A clump of purple loosestrife highlighted against a patch of common evening primrose grew along the stream.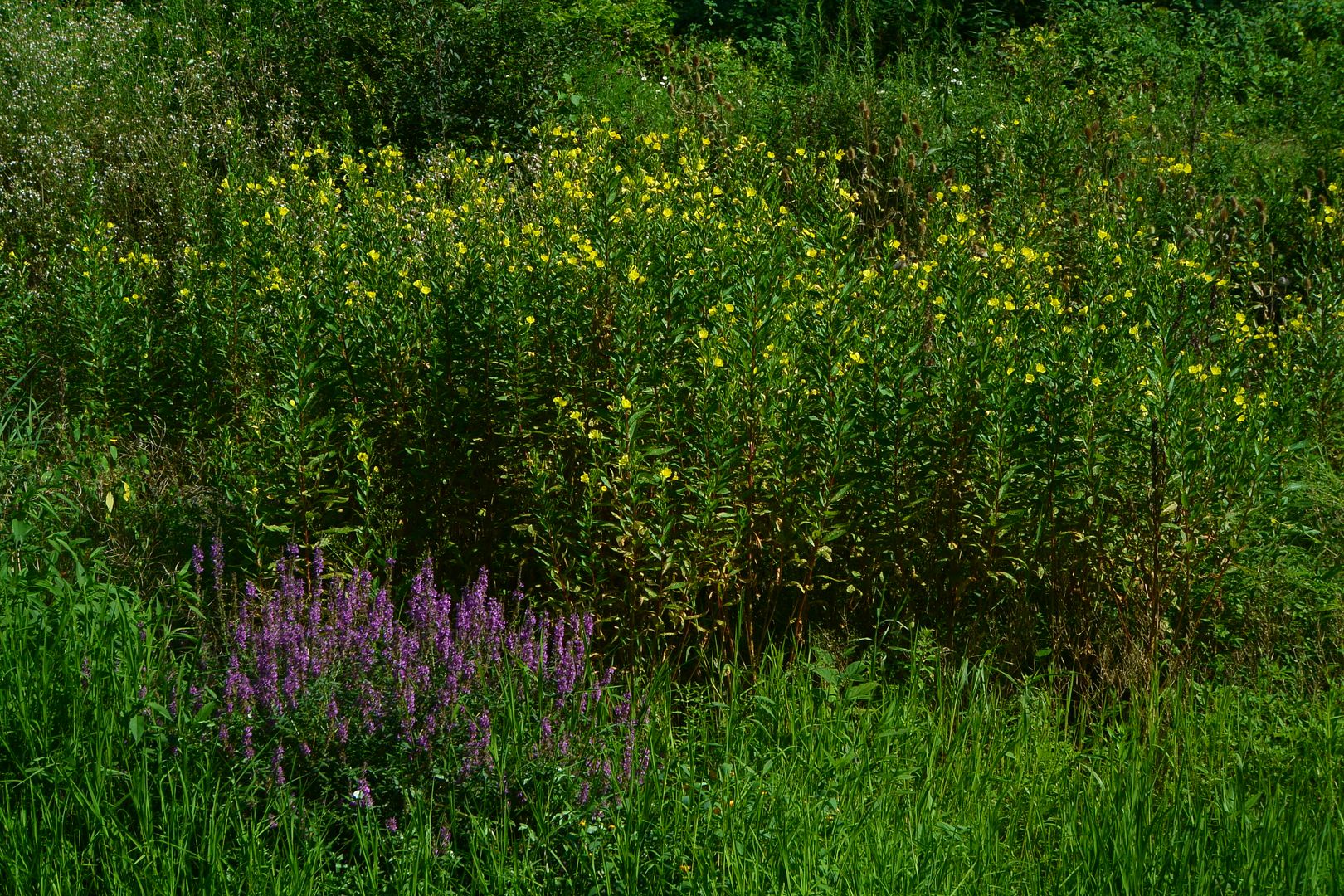 In the afternoon I again visited a little freestoner. The action there was inconsistent, and in 3.50 hours I landed 42 wild trout, a mixture of wild browns and native brookies.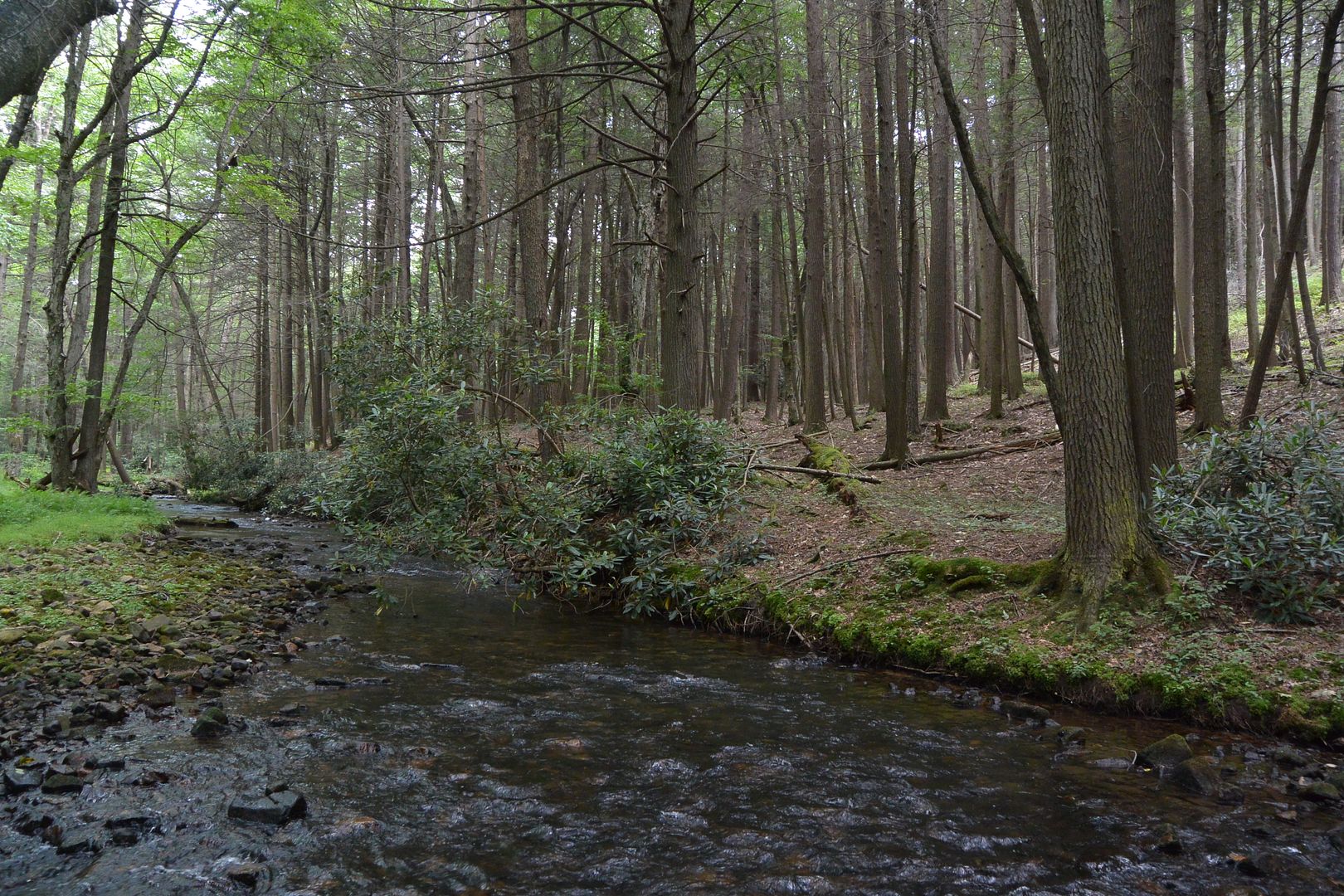 This little brown trout was unique with two parallel rows of red dots.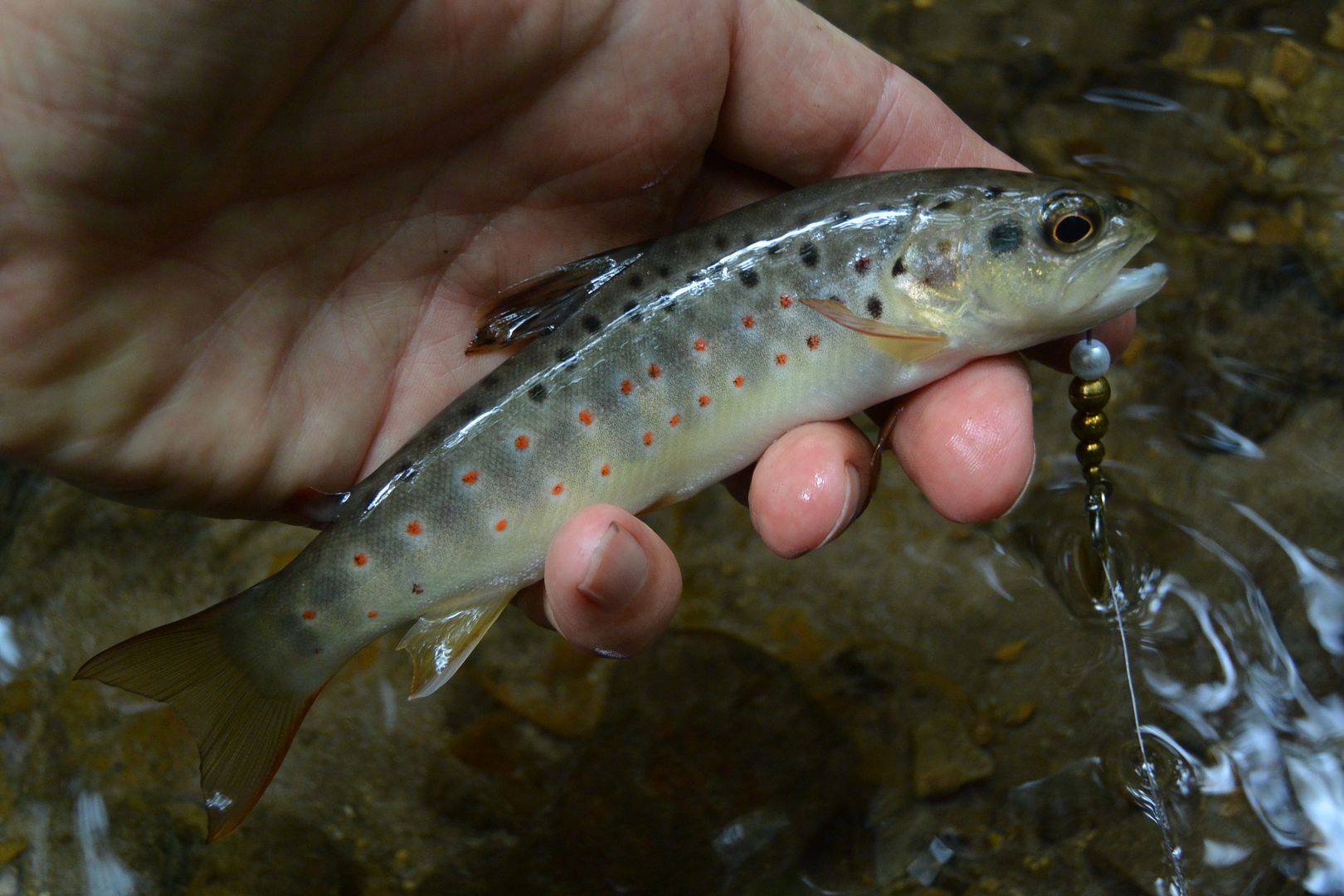 For the year through 8/9/15 I've caught 5,493 trout in 378.50 hours during 46 days astream. This calculates out to 14.51 trout per hour (TPH) and 119.41 trout per day (TPD). Thirty-seven days have yielded 100 trout or more. I've caught just 13 trout that were 16" or longer. My best day was 228 trout; my worst day was 41 trout in 4.25 hours.
At this point in 2014 I had caught 6,082 trout in 397.00 hours during 47 days astream. This calculates out to 15.31 TPH and 129.40 TPD. Thirty-five days yielded 100 trout or more. I caught just 12 trout that were 16" or longer. My best day was 282 trout; my worst day was 44 trout in 4.50 hours.
The biggest difference between the two years is that I had eight days in 2014 where I caught over 200 trout and this year I have only three days over 200.
It was been a good year so far and I hope there are more surprises ahead.
- Frank Nale -