Discussion Starter
·
#1
·
Have this in the crossbow forum, but since I missed an hour of sunny SUnday morning doing it...figured it has some "spirit" content to it too. Have a good day....
With 3 kids Janet and I seldom have a night to ourselves, let alone a day or part of a day to hunt together. So when it comes along it is special just on that alone, add in going out for a great steak dinner that I couldnot afford to take a whole family of 5 too, a quiet evening at home and hunting in the morning…well you just know you got some great times ahead. Don't get me wrong I love my kids, but a break is always nice for us both.
So we get up at our normal going to work time and head off to the land before daylight still. Janet will be carrying the ML and me the Parker Tornado. I tell her on the drive over that I am just going to wait in the upper stand for her to get one unless a nice buck comes by. She say" nope, we need to get a deer in the freezer if you see a doe shoot it". Thinking that she is still likely going to see the first and get it like always, I agree.
We get up the hill and I get her settled in the big double stand with the roof…it was rain where we parked, but it all snow up here at 1850 ft., and the trees are hanging a bit low. She gives me the thumbs up from her stand that she is good to go and I back out and head to my stand. I get settled in the time is about 6:45, as daylight comes I am just kind of kicked back and drinking a little thermos of coffee…my stand overlooks the small winter wheat plot I planted, and with the snow on the ground and the wind right I figure it will be a good morning for Janet as she is on the main artery trail to this plot. My view is a bit obstructed by the hanging branches but that view isn't bad either. Basically my plan, to stay out of her way til I hear a shot. My view of the plot…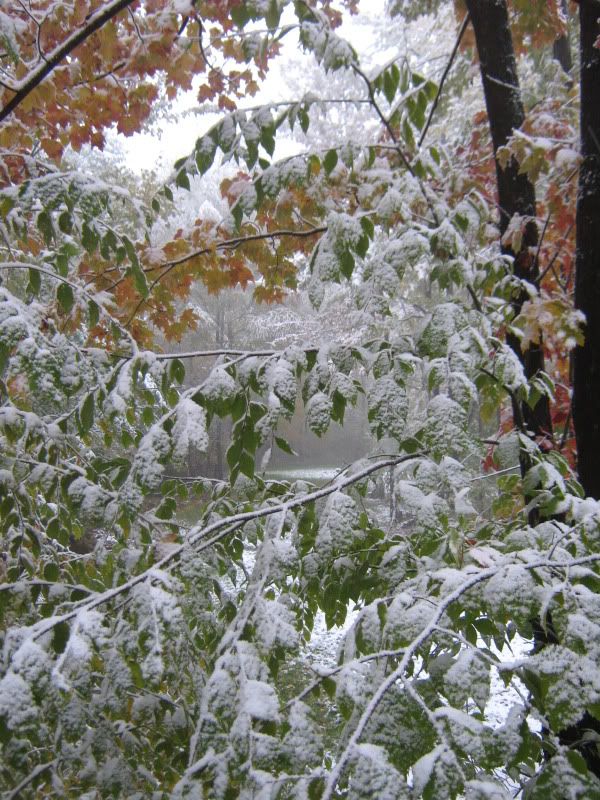 A quiet morning short of snow hissing by and occasionally falling from the trees. At 7:30 I pick up the first movement out ahead…passing thru a snowy opening. Soon I make more out in the hanging branches and increasing light. 5 deer in all, no racks, 1 button and it appears two mature, and two doe fawns. The button is even grunting a little..Basically I give Janet and the kids no restrictions on what they can shoot, but since I watch these deer all year I know them well and if I am going to take one, I want it to be the right one to the best of my ability so I watch them with that in mind. My scent must not be completely gone as I do get a couple instances of stomping and tail flicking, but the deer all mill around the stand weaving in and out of the maze of hanging snow cover branches. Now watching all this for 10 minutes, as luck would have it the one target mature doe hauling one female fawn steps into this opening and at 12 yards she is quartering to me. No shot. Thinking about what the Mrs. said I decide if I get a shot on her I will take it. She stops and one of the other deer stomps out further, and she turns to look at them now giving me the perfect broadside shot. I line it up using the 15 yard mark and off goes the bolt…a hit..she spins and the deer all kind of scatter around…I watch her best I can and I am almost certain I hear her crash but it is hard to tell cause the other deer are still milling around. Snorting a little and just trying to figure out what happens. I really like the scenario and the hit it likely lead too, so I sit back and just try to relax…pull my collar up, check the time, and decide to wait an hour. I pour a little more coffee..and listen to the snow, hoping the other deer wander down to Janet so she can have some action too, MY GOD i thank you as I am enjoying this morning. About 10 minutes into waiting I hear what sounds like the coughing of blood…a sound any seasoned hunter has heard before. I also still hear other deer milling about; my guess is that it is her fawn trying to figure out a plan on her own for the first time. A little remorse sets in, but then I think about the big picture and tell myself this is the job you signed on for when you decided to steward this land..It ain't all big bucks and roses. As I go to grab my water bottle my arm really shakes out a little burst of nerves..I chuckle alittle, been a longtime since a doe has done that to me. With 15 bucks and 33 does harvested in my career so far I have noticed a change to getting a doe without a rifle or ML, this is not like those moments. I think about the last time about 20 years ago when I last put a broadhead into an animal, an animal I never found…it took me out of the archery season for over a decade and put me into bird hunting it bohered me so much. When I reemgerged into bowhunting whne we bought this prpoerty I did so with a recurve, I still think i did that to try to avoid the scenario of stretching my shot out again like I did back then, with my accuracy there the limit was samll but still gave me reason to be in the woods....In fact I have only sent one broadhead since then and it was the same season, a clean miss…sounds funny but I think I almost wanted it to be. This is all chruning thru my mind as the juices flow. I look over the plot and see the deer using the wind to cross it, there are 4 of them the fawn has moved off with them. I wish her luck. From her position Janet sees their legs moving but never anything else and they head off.
Here are the details on the shot…It is now 8:40 and I climb down, I am not sure how the guys that arrow trophy bucks can wait an hour when they know it was a good hit, that was a long hour. On the ground here is what I found
First the opening she was in kind of jumps out at you in this pic from stand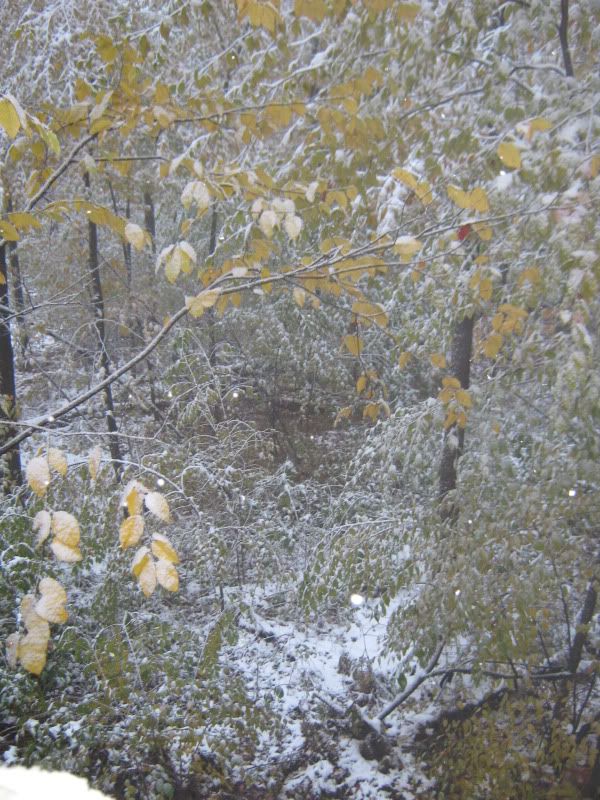 Here is the view of my stand from where she was standing…I love the concealment of that netting.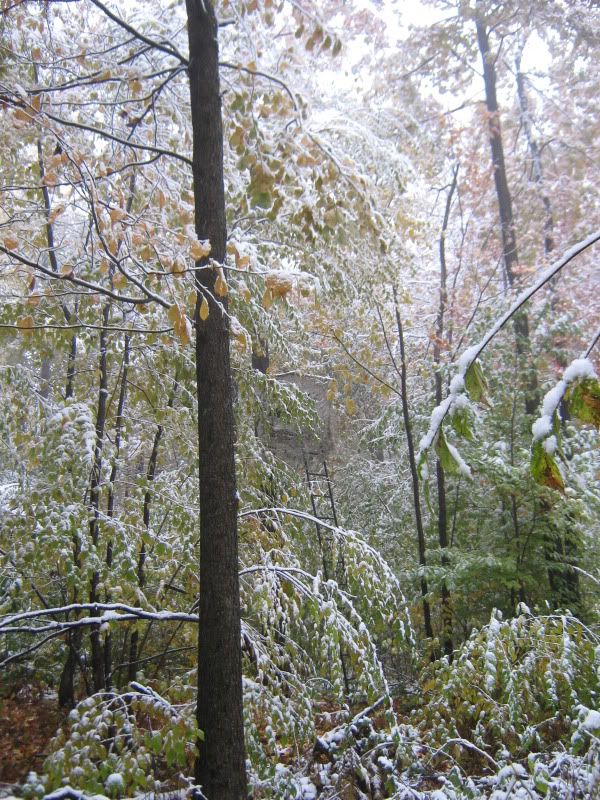 After a couple minutes I find the bolt, a nice pass thru..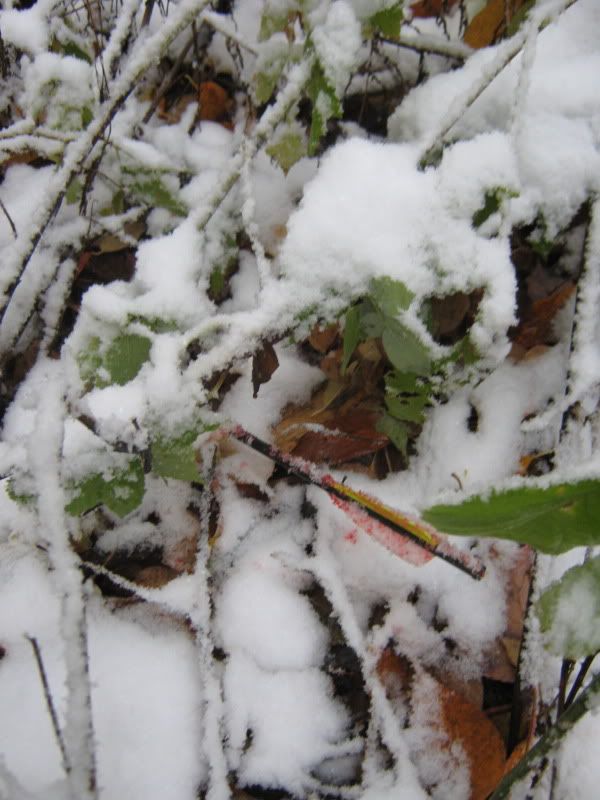 And then start the blood trailing thru the hanging branches. The snow is a huge help.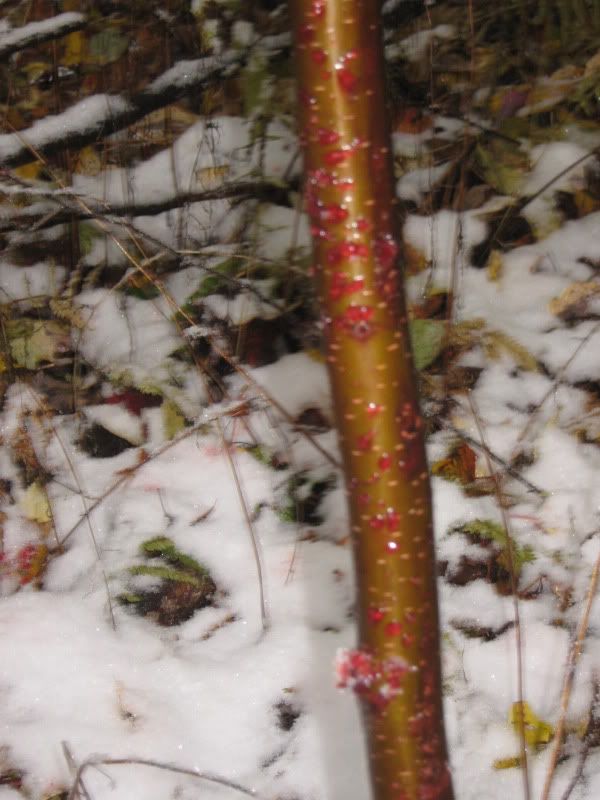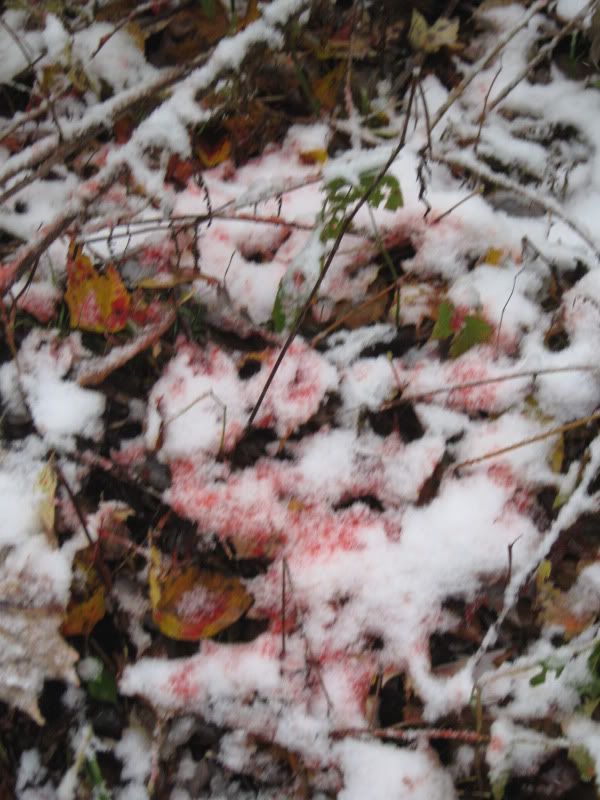 At about 25 yards from impact I find her, I give my skyward thank yous and shed a little of that sorrow of 20 years ago I believe, I am the kind of hunter that carries some baggage on that stuff for awhile, nice to shed a little. I pat her side and try to confirm her identity with the trail cam pics in my head. SHe is a beauty, but no the queen of the hill that produces 2 fawns a year, largely buttons too.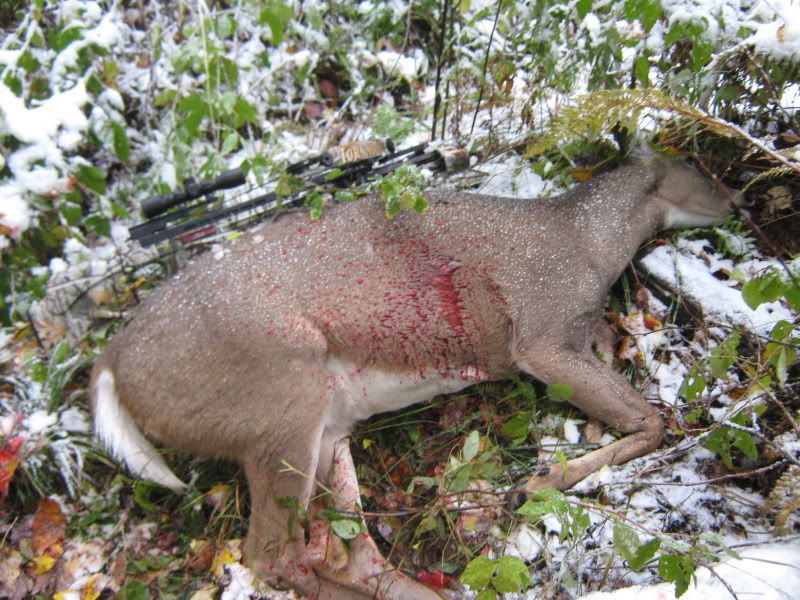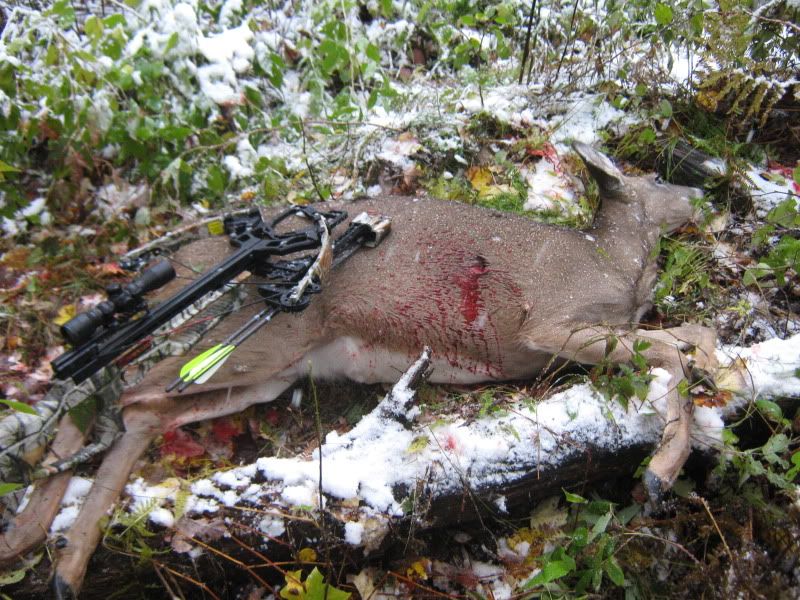 I get her cleaned up, tagged and out to the ATV trail and return to my stand realizing if a buck comes back I am still in the game. Although I kind of hope that excitement comes on an entirely different day, as I have enjoyed this one so much already.
I see the orange of Janet coming up the hill at about 10:30 she is cold, not quite ready for the dose of winter we had and thinking about the kids and the things we need to get them to this afternoon…she did not see anything other than those legs and did not even know I got one. She is excited to see me give her the thumbs up...and it puts a skip in her step as she approaches. I give her the run down and show her the scene, and get my favorite hug of the year (hopefully not the only one this year
)…and we do another photo shot and load up for the ride down.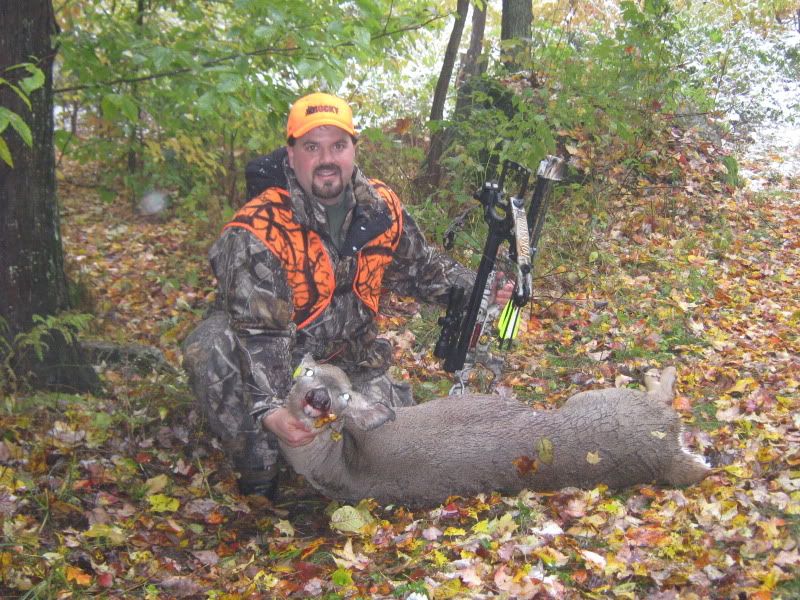 The best hunting buddy wife a guy can ask for…we ain't no Lee and Tiffany , but we do OK together.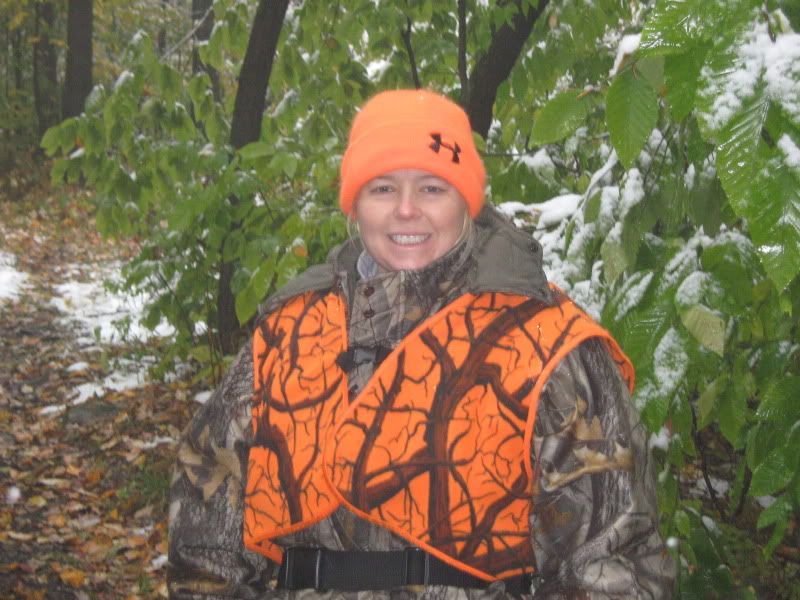 As the kids filter back home from their stay overs, they are happy to see the deer, ALL OF THEM figured it was Mom who got it…somewhere along the lines I lost the top spot as deer meat provider.
BE WELL, ENJOY YOUR FAMILY AND HAVE FUN OUT THERE…LIFE IS GOOD IN OCTOBER IN PA!!!!