Discussion Starter
·
#1
·
3 For 300
Despite low water levels and blistering heat, as well as my justifiably low expectations, I've been able to scratch out three decent outings this past week.
On Monday, July 11th, 2016, I pulled into a streamside parking spot about 5:00 a.m. This gave me enough time to boot-up and hike downstream to where I wanted to start casting spinners by first light.
As an experiment, I began about a hundred yards below my normal starting point where I had started a little more than two weeks earlier just to see if the trout were less educated in the ways of spinners there. The air temperature was 57-degrees and the water was 56-degrees.
My gamble paid off. In the morning's first light the wild brownies were hitting my homemade spinner like they had never seen metal before. A dozen trout were landed in the first half hour.
Then the action died when I reached my normal starting point. I couldn't resist quitting and walking about a third of a mile downstream to see if the trout would be uneducated there, too. But when I arrived downstream a fly angler was there so I walked back upstream to where I had quit and began casting again. Bummer.
Considering my lack of good options, I continued to fish despite just so-so action. Just after 8:00 a.m. this silvery 17.5" rainbow nailed my Pink Tread Silver spinner.
After some smaller trout were duped, this 15" wild brown grabbed my spinner.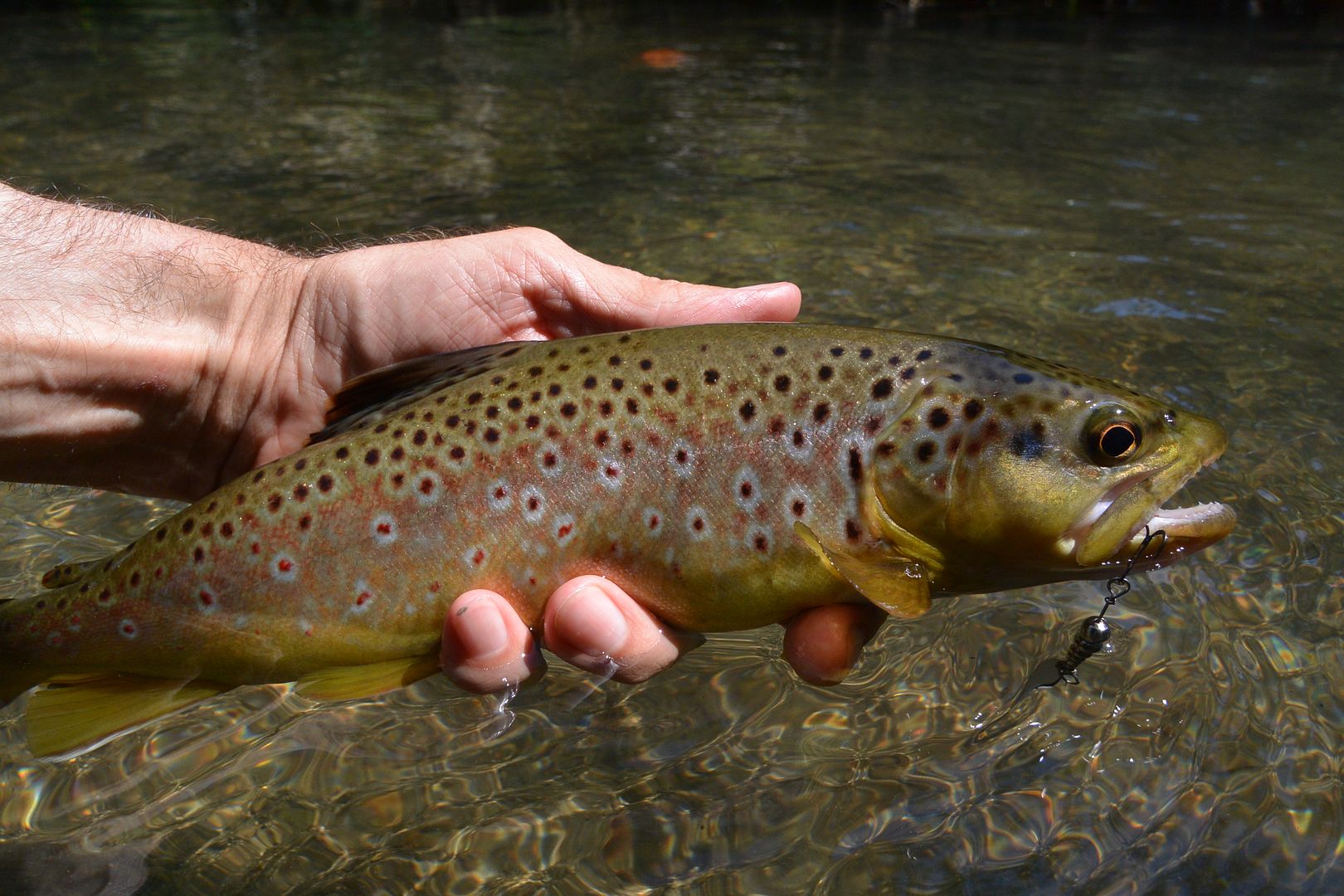 Since it was a very attractive fish I kept it underwater and took a few more photos.
At a braid in the stream this 19" rainbow destroyed my spinner and put up quite a battle on my 5-foot ultra-light spinning rod.
I was lucky to land it despite having re-tied my spinner to fresh monofilament moments earlier.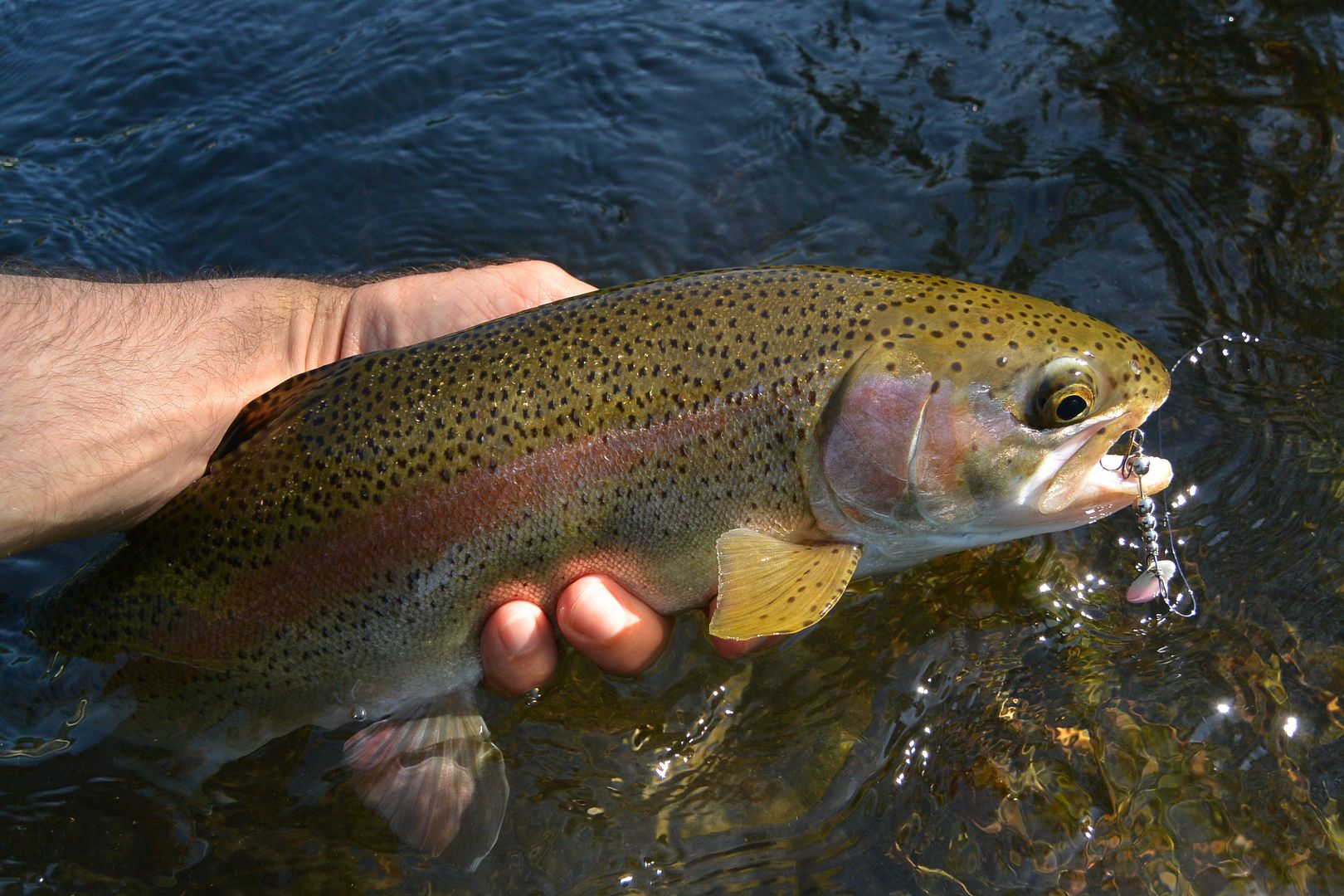 Later, this uniquely black-spotted wild brown trout was caught. I know I've said this before, but the different colorations of wild brown trout in the same stream always amazes me.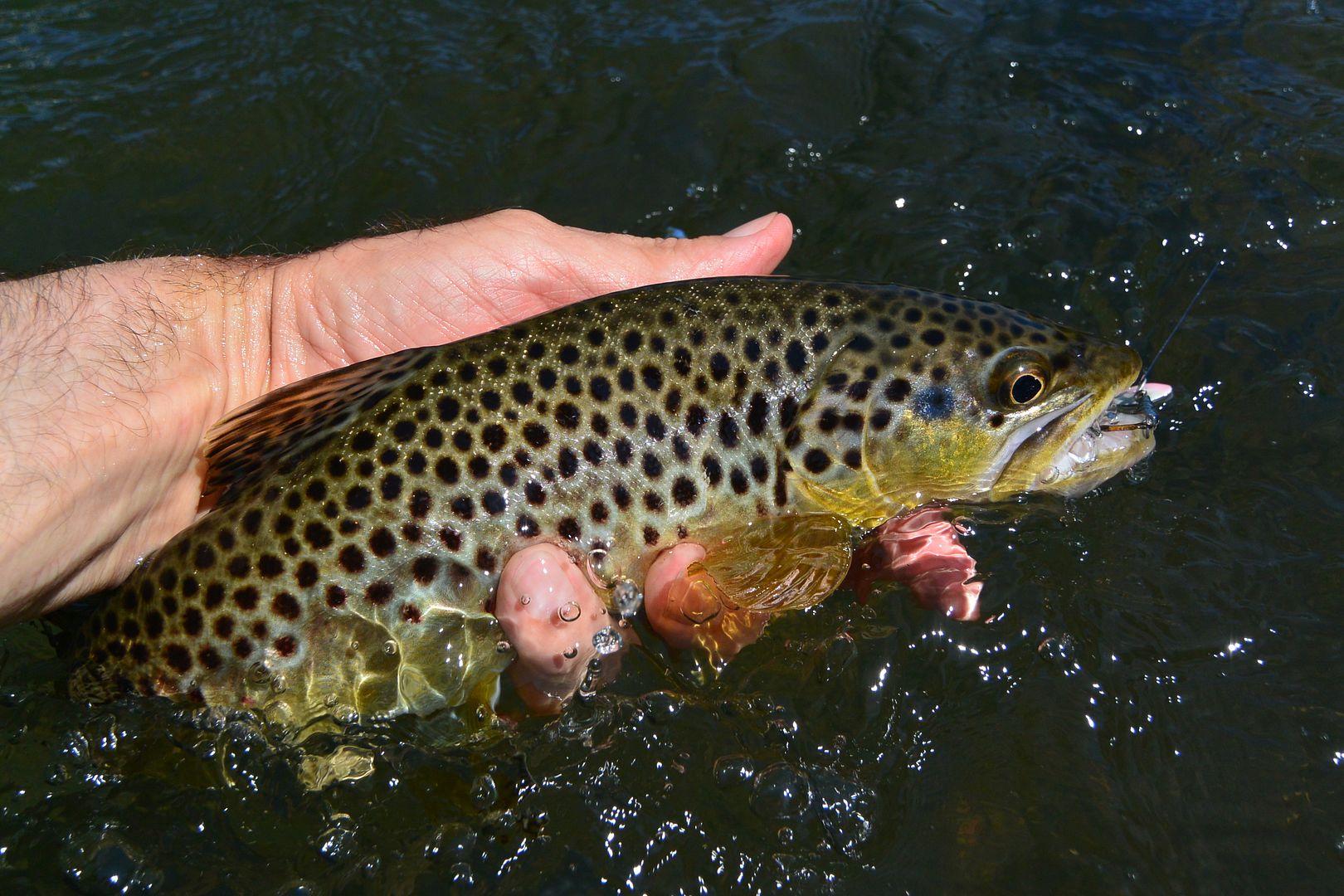 While fishing I came upon a catbird in distress. Further investigation revealed a black rat snake up in a black willow tree likely intent on having young catbirds for lunch. The adult catbird sometimes hovered within inches of the head of the snake, likely trying to frighten it away. So goes nature...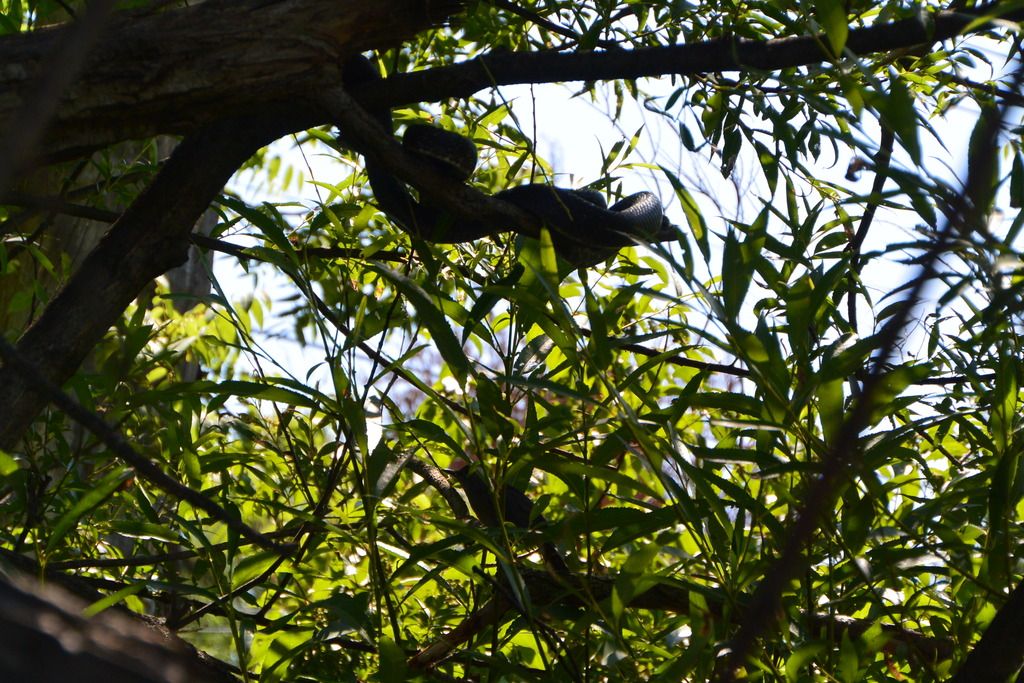 I quit after 5.50 hours and 66 trout when two fly fishers, after stopping on a bridge and looking directly at me, seemingly discussing what to do, decided to start not twenty yards in front of me. Nice.
From there I went to my planned second stop, a medium-sized freestoner that was now a small freestoner. The WT was 62-degrees and the flow was quite low as expected.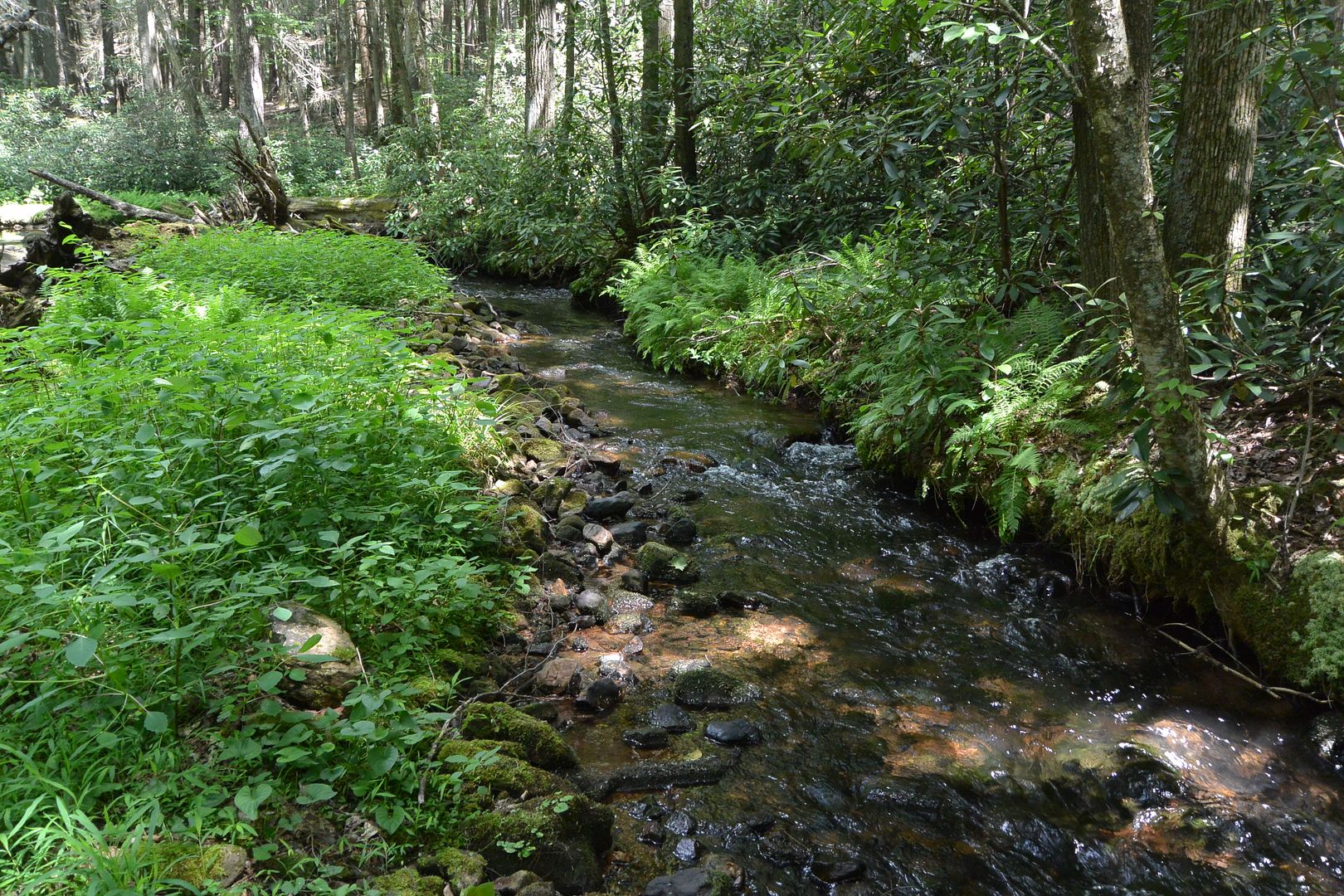 The streamside scenery was nice.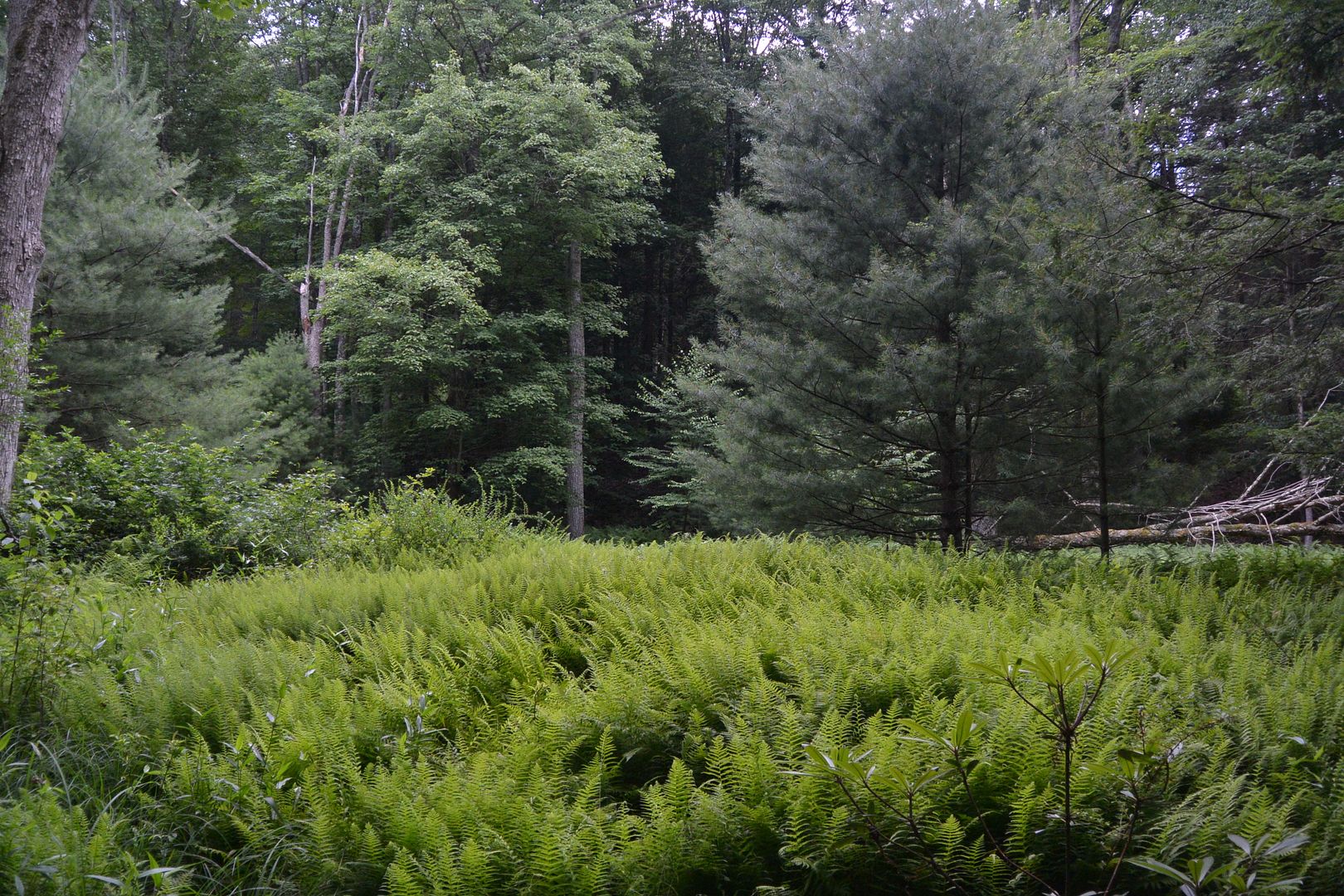 My challenge was to catch 34 more trout for the day.
The stream holds some beautiful wild browns.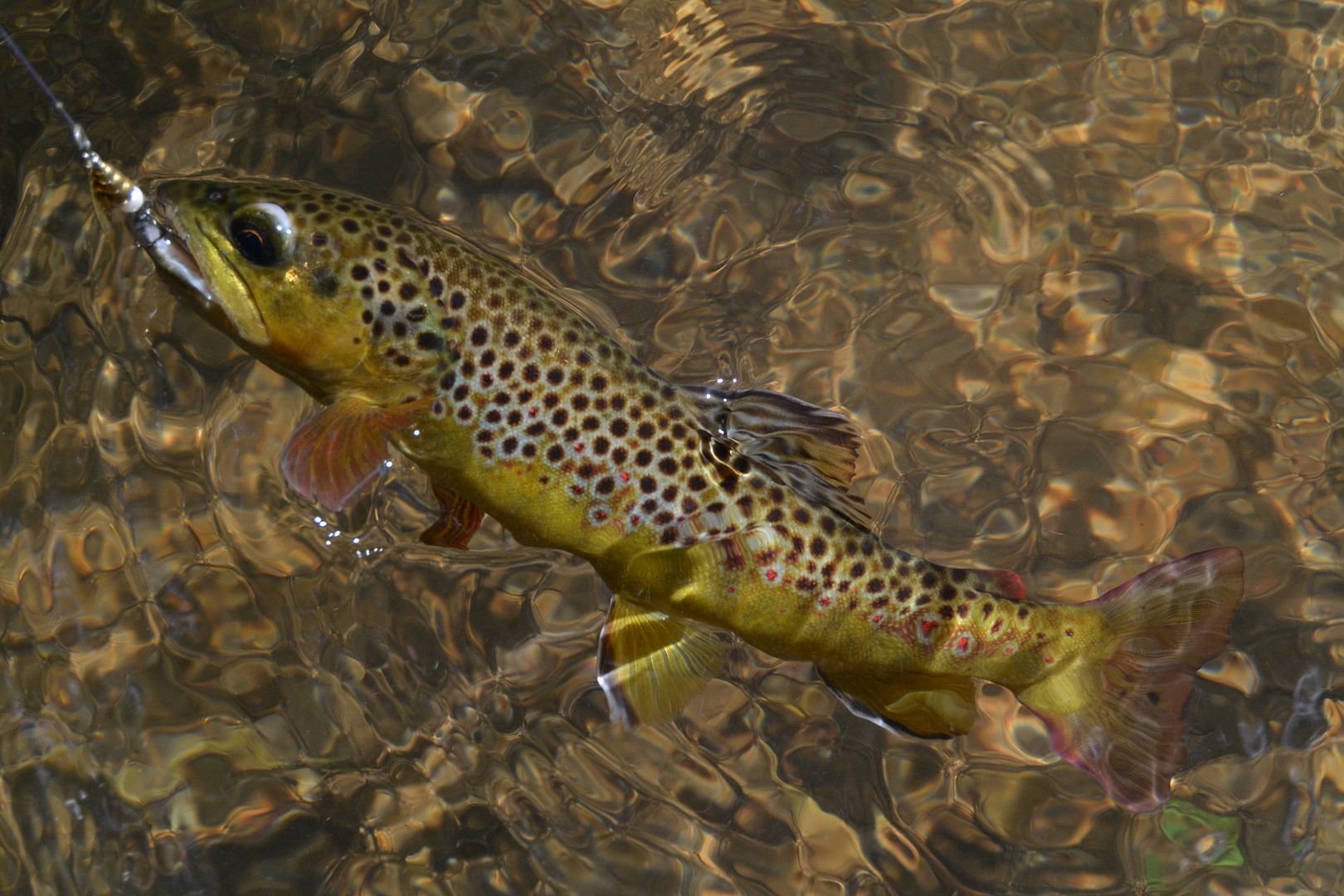 And I wasn't disappointed even though the action went back and forth from good to lousy at times. Thirty-five trout were caught in 3.00 hours, giving me 101 trout in 8.50 hours for the day.
The walk back to my SUV was a hot one.
I picked up a bag of litter on the way.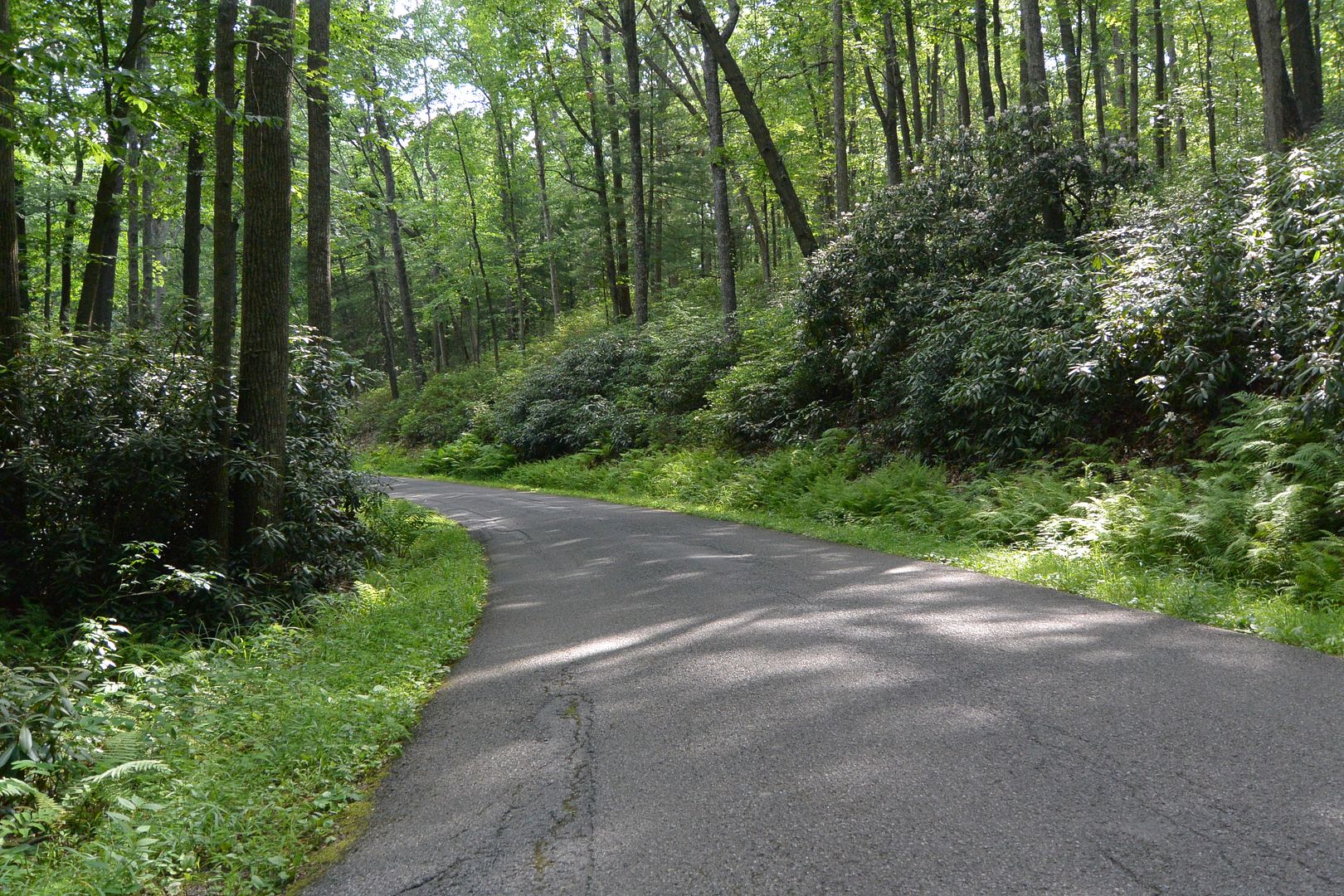 On Wednesday, July 13th, I went to a very popular section of a very popular stream hoping to capitalize on the fact that it was a Wednesday.
To my amazement, the trout were actually hitting quite readily in the low water. I didn't see much sign that the trout were grouping-up in the deeper pools like I had seen on other small limestoners. The riffles still held trout. Eighty-four trout were landed in 6.75 hours before I came to some "No Trespassing" signs.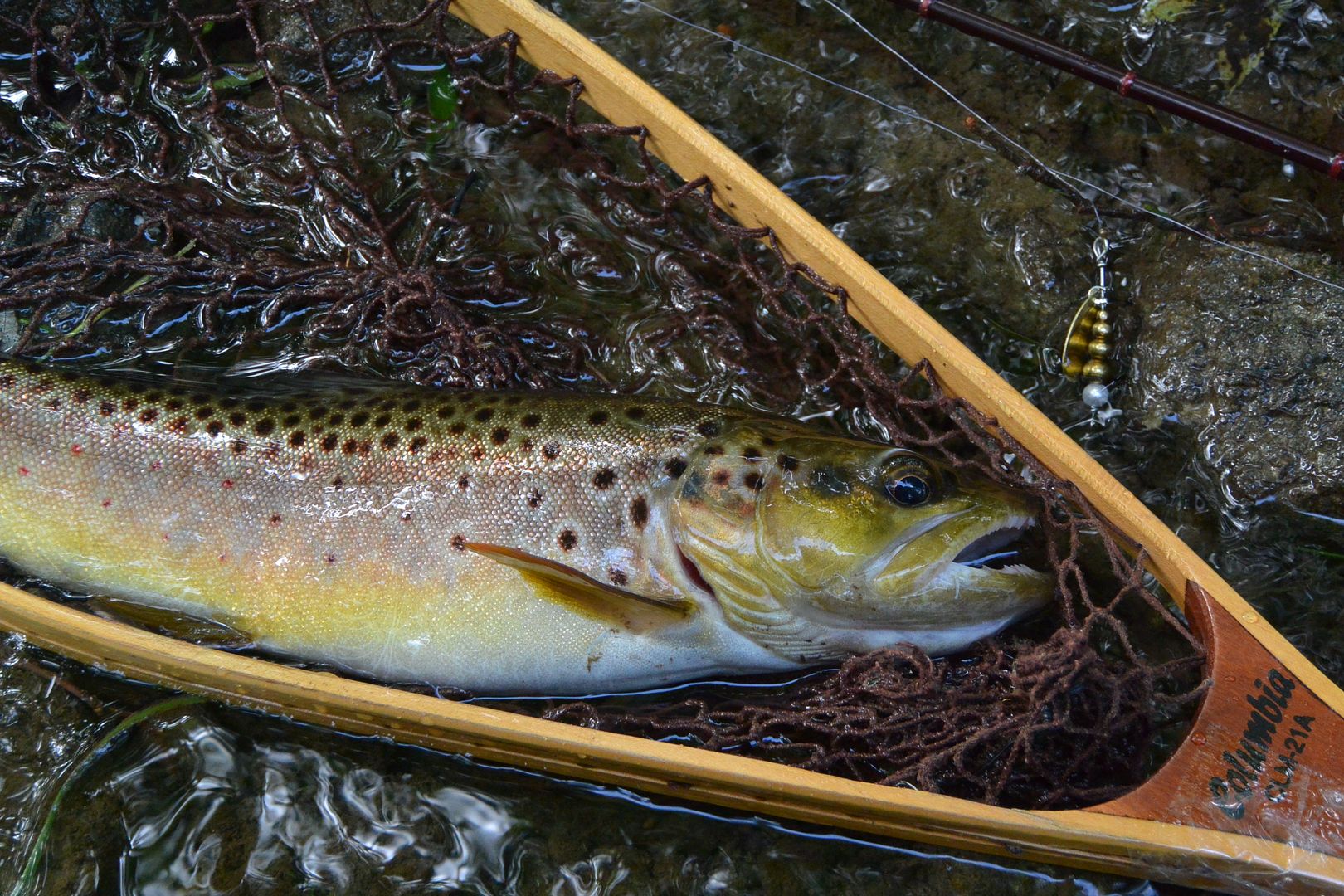 From there I wanted to pick a stream where I thought 16 more trout could be caught in the low water. I chose a small mountain rivulet.
In 1.75 hours 16 trout were caught, including this little beauty.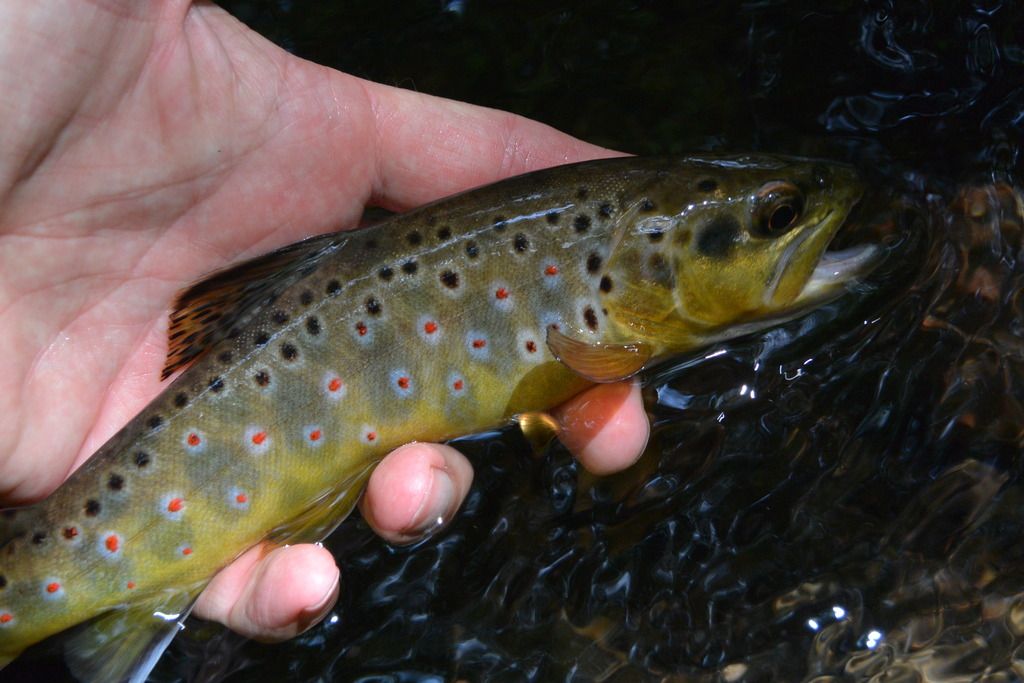 For the day I ended with 100 trout in 8.50 hours.
On Friday morning, July 15th, I chose a small spring-fed stream lined with forget-me-nots.
The trout were hitting surprisingly well. In 7.25 hours 107 wild brown trout were pulled from its waters.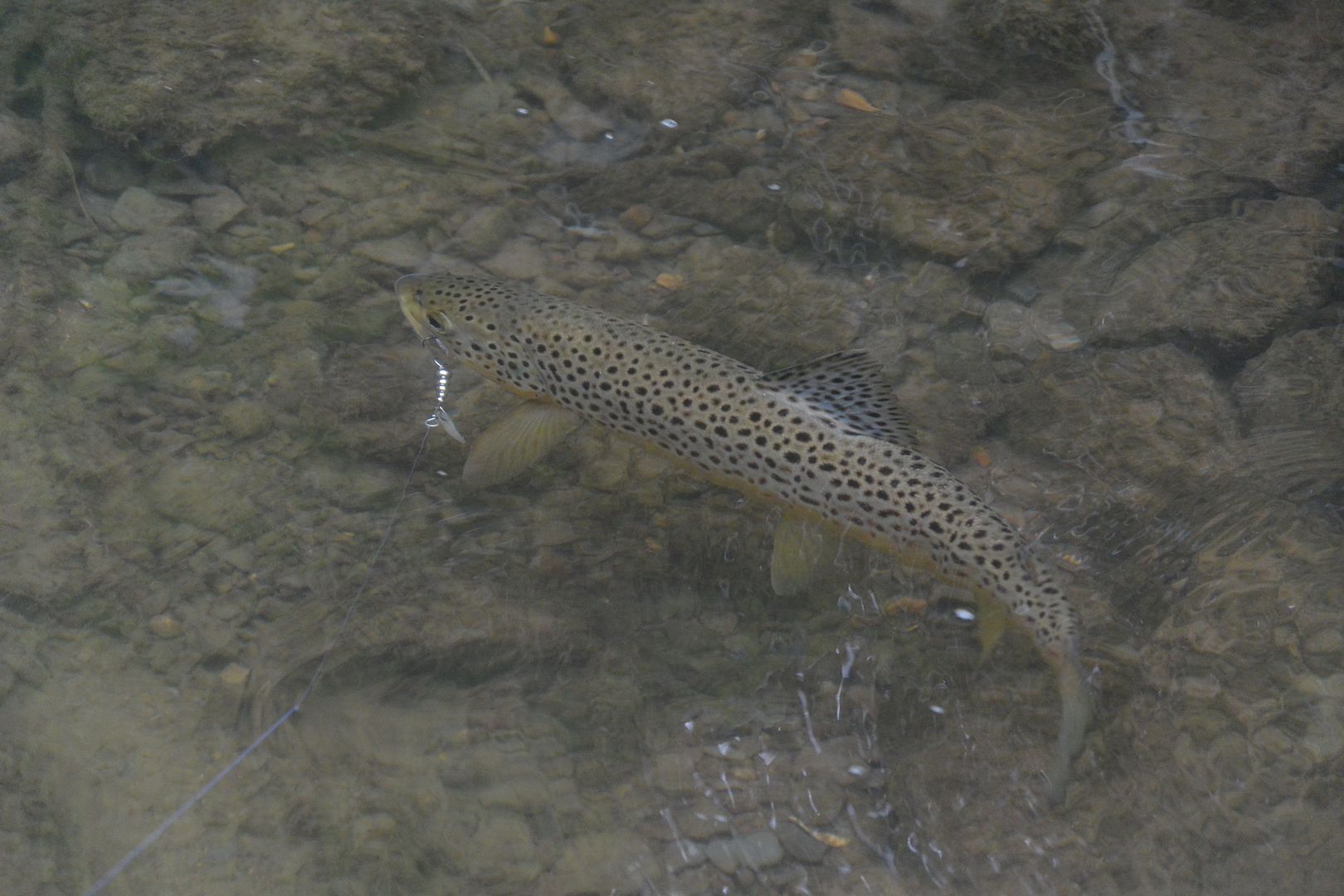 During the walk back to my SUV I found a clump of butter-and-eggs, a common wildflower in the snapdragon family.
Overall I had three unexpectedly good outings at a time when low water, high humidity, and intense heat would suggest the results should have been more like my low expectations.
Frank Nale -