Discussion Starter
•
#1
•
I spent the week of November 16th through the 21st hunting at Lily Pond Creek Hunting Lodge in Jackson, North Carolina. Accompanying me was John (HPA JM59) and our friend Bob from our Deerfield hunts. The weather was a mixed bag alternating between cold, clear weather, and warmer, more humid days. The hunting tended toward very good on the cold days to not so good on the warmer days. We had a dozen hunters in the Lily Pond camp and another hunter in the Verona camp, all veteran Lily Pond clients and a lot of fun to hang out and hunt with.
Lily Pond Creek consists of approx. 7000 acres of various leased farm lands in and around the town of Jackson, Northampton County, North Carolina, and is operated by Dock Boone and his staff. Lodging, meals and base of operations are situated in a farm house and grounds owned by Dock. The Lodge is clean and comfortable. There are 5 bunk rooms that sleep 6-7 hunters each, 2 baths, a large kitchen, dining room, and two lounging areas with Sat TV's. Also on the grounds are a covered picnic area and a skinning building with a large walk-in cooler for hanging meat. Meals are good and plentiful.
The Lily Pond Creek operation is all "Brown and Down" with no antler restrictions or fines for button bucks. For those that prefer hunting trophy managed areas, Dock has another operation nearby, Verona Plantation, a 7000 acre contiguous farm under long term lease. Bucks taken on the Verona property must have at least eight points, the second buck taken must be visually better than the first, and there are fines for under size bucks and button bucks. There are no hidden fees at either operation; skinning, quartering and cape for mount are included in the hunt price. Although the State limit on deer in the game zone is six deer, four of which may be antlered, Lily Pond sets a limit of 4 deer on a five or six day hunt, two bucks and two does. Three day hunts have a limit of three deer, only one of which may be antlered. Button bucks are considered antlerless. You may kill two deer a day and both may be on the same sit. Dock has recently acquired another lodge called Bridges Creek. The Bridges Creek property and lodge is available for groups of up to four hunters; on this hunt your group has the entire property to itself and you provide your own meals.
The country is open farmland mixed with hardwood and softwood timber, brush and some swamp bottoms. Many of the farms are quite large and the terrain is flat as a pancake. Crops consist of soy beans, corn, cotton and some peanuts. Unlike our previous two hunts, this year most of the crops remained standing due to wet conditions. Baiting is legal, and many of the stands are corned, particularly those located in wood lots. The 250+ stands are a combination of large lean-ups, tripods and shooting towers, all well-built and sturdy with 360 degree shooting rails and skirts, the rails coming in handy as some shooting can be at fairly long ranges. Stands are set up for the most part on the edges of large crop fields within 100 to 200 yards of terrain features like corners or bends where the deer are likely to enter, although in that open country the possibility of extremely long shoots are often present. Last year we hunted the woods a lot, but this year we were on large crop fields most of the time. For the most part we hunted a different lease each day and changed stands between the morning and evening hunts. As always, our guide Craig did a fine job of playing the wind for us with his choice of stands and put us on the deer.
The Hunt
Monday November 16th
Monday morning was cold and clear and found me on a power line where Bob killed a real nice 8 point buck on our 2013 hunt. Just after first light, I saw a deer coming out of the brush 350 yards up the power line at the extent of my vision. By the time I got on the deer the head was in the brush and all I saw was the body of a big, sway back deer disappearing into the wood line. The remainder of my sit was uneventful. Bob passed on a doe and a 3 point, John saw nothing. The hunters in the other truck had a slow morning as well and killed no deer. Meanwhile over on Verona, Mike and his 14 year old son Mikey saw seven does at long range, too far for Mikey to take a shot.
Monday Morning Stand. Deer crossed at triple power poles at left of pic.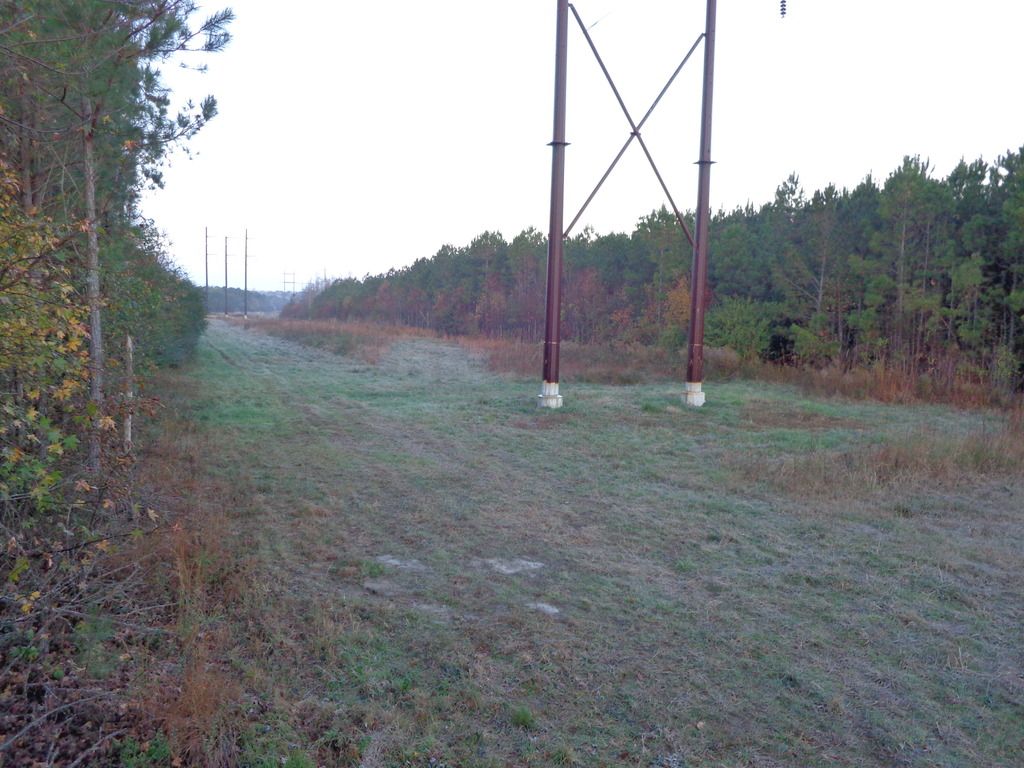 Monday evening it was much warmer than the morning had been. I was on a stand along a woods edge on a large bean field that connected to the power line I sat on in the morning. The evening was quiet and I saw nothing. Bob saw two does and John saw nothing. The other truck did well killing a young 8 point, a young 6 point and a button buck. I didn't get pics of the hunters with their deer.
The big news of the evening came when Mike and his son, 14 YO Mikey, pulled in from Verona. Evidently they had been watching some does on one of the lanes that reached out through the woods in front of their stand, but as Mikey got ready to shoot the does became nervous and milled around. Glancing down another lane they could watch, they saw two bucks crossing, one of them a dandy. A plan was quickly hatched to hopefully get a shot if the bucks crossed the lane to their front, but Mikey was on top of it. Tracking the bucks through woods with his scope, he found an opening and shot his Rem .280 as the big one stepped into view. They found a good blood trail but made the decision to back off and wait for their guide. When the guide arrived they quickly found the dead buck. Wow, what a buck; A typical 8 point with a big sticker and a 17 ¼ inch inside spread.
Mikey's Big Buck
Mikes October Muzzle Loader Buck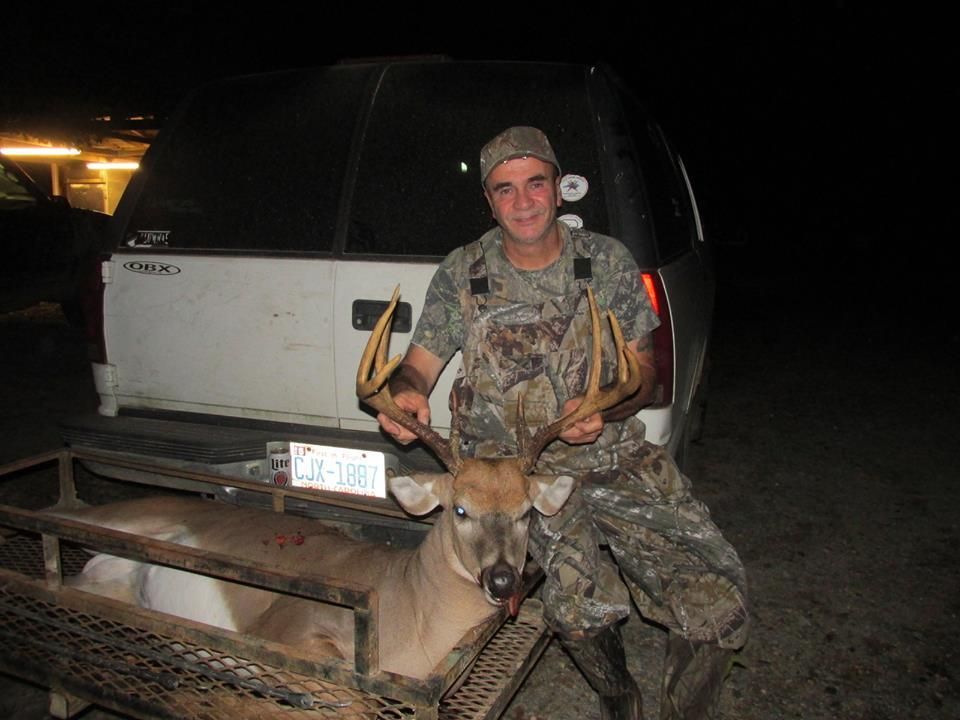 Tuesday November 17th
Tuesday morning the weather was very warm. I was on a very nice stand with views of two brush hogged lanes through the woods to my front and left, with beans and a wood line circling behind me, but once again, I saw nothing. Bob and John both passed on spike bucks and one of the hunters in the other truck killed a young 6 point.
Tuesday night once again it was warm. I was on a new stand on a large bean field with a wood line to my right for hundreds of yards. To my left the wood line terminated into the beans at about 150 yards. Past that and to my front the beans seemingly went on forever.
I had been watching primarily to my right as the wind was sweeping up the woods line to my left, when just at last shooting light, I glanced to my left in time to see four does crossing way out in the beans. I tracked them in the scope as they continued to angle away from me and finally the two in the rear stopped. I took a shot and was certain I'd heard the bullet thump but lost the deer in the muzzle flash. I stayed in the scope attempting to see the deer flopping, which turned out to be a big mistake. When I finally came out of the scope I saw one of the does running back from where they had come, but had no idea what had become of the other three. I can only assume that the front two ran in the direction they had been traveling, and one of the two stragglers I had shot at ran back the way they had come. I still think I killed the one I shot at, but because I had tracked the deer so far across the field in my scope, and stayed in the scope at the shot, it was impossible to orient where it had been, either from left to right or the distance from the stand. We all looked and looked but in that sea of beans never found any sign of a hit. As for the rest of the hunters in our truck, Bob saw one doe and Trevor killed a young 6 point. The other truck killed nothing that evening.
Trevor's 6 point buck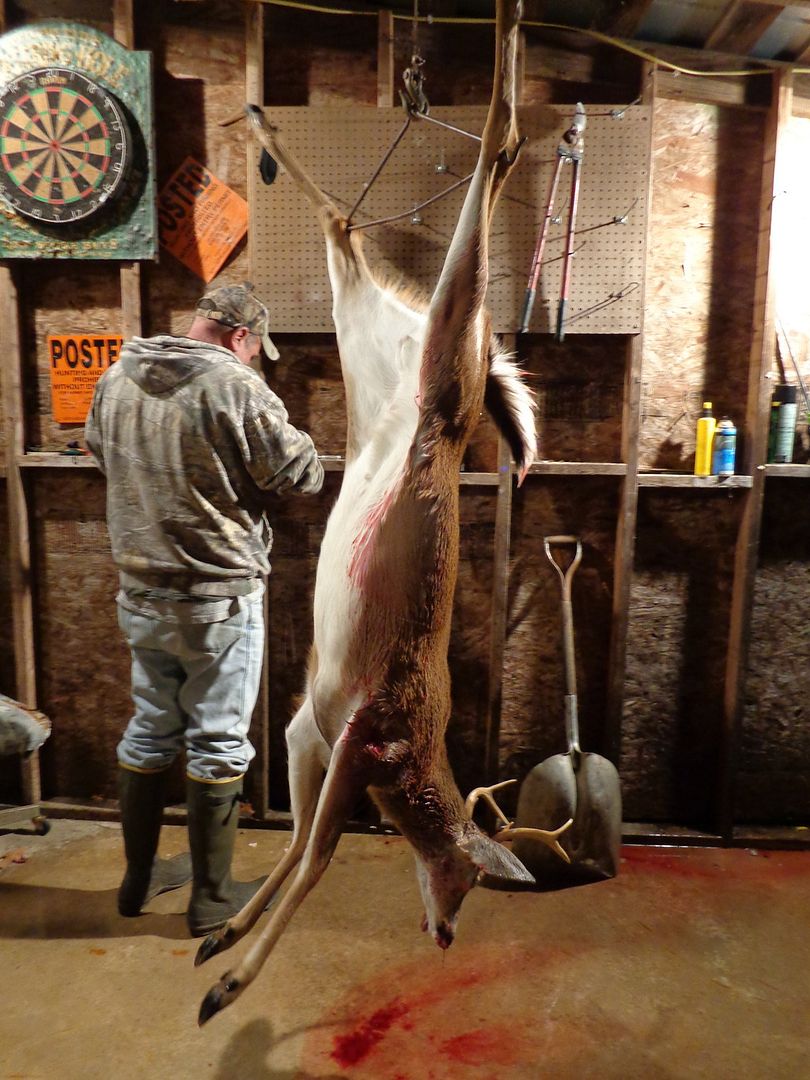 Wednesday November 18th
Wednesday morning was cool and windy. I was on the stand where I'd killed the big 9 point in 2014 with a view of two brush hogged trails through a cut-over to my front and a large picked cotton field to my rear (last year it was planted in beans). All morning long the wind was blowing right into the cut from my rear and I figured I'd see nothing. I busied myself taking pictures of several Northern Harriers hunting. Finally, about 8:45am, the wind swung 45 degrees and ten minutes later out steps a spike buck at the end of the lane. As the buck walked toward me, my first thought was to pass it up, but, the way the hunt had been going and the fact that I really wanted some meat deer out of this hunt, I quickly decided to take it. The buck continued walking toward me but finally stopped and put its head down. I shot it in the base of the neck just in front of the shoulders and it collapsed, DRT. Ironically, it fell in almost the same exact spot where the big one stood at the shot last year. It was a nice sized young buck, a good eating deer.
Northern Harriers Hunting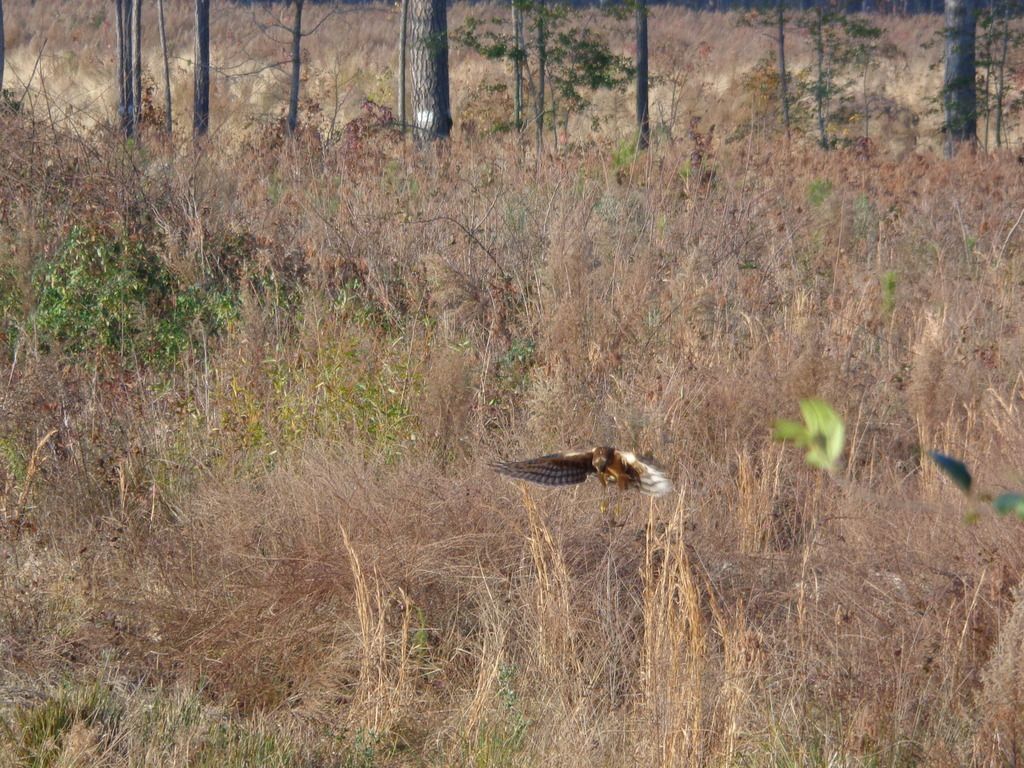 My Spike Buck
Meanwhile the other group was having a good morning. John from NJ killed a spike, his friend Tommy killed a spike, and Trevor's dad Larry killed a big old gnarly buck. Unfortunately I didn't get a pic of Larry's buck which had a medium sized but unique, non-typical rack.
John, left, and Tommy, right, with their bucks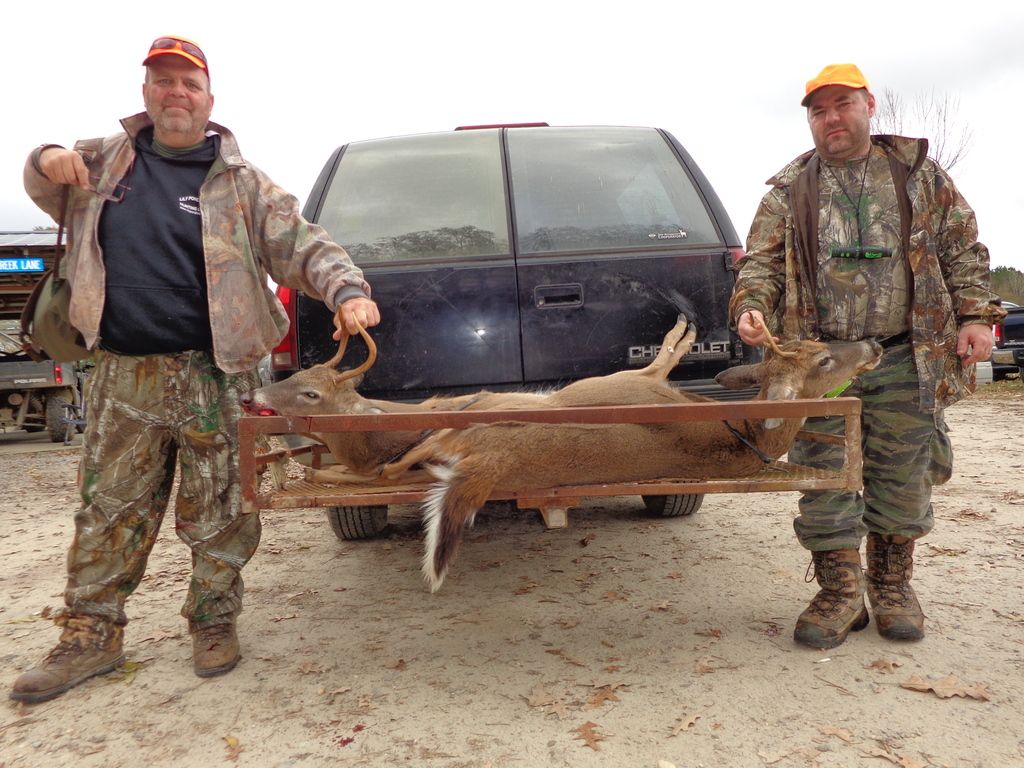 Wednesday evening was warm. I was on a stand watching several relatively small bean fields but saw nothing. Bob saw a buck for a second and john passed up a 5 point. No deer where taken that evening.
Thursday November 19th
On the Wednesday night news the forecast for Thursday was dismal with wind and heavy rain predicted. Quite a few of the guys stayed up late having a drink, or two, or three, and slept in Thursday morning. Of the four of us that intended to hunt in the morning, I was the only hunter that actually went out. I was in the woods on a stand I'd killed a doe on Last year and the morning was quite pleasant. It would rain fairly steadily for twenty minutes then slow to a drizzle for a while. The birds and squirrels were working during the lulls, I had a roof over my head and was dry and optimistic. Unfortunately my dedication didn't pay off.
Our group had a good hunt in the evening. We were on a lease up near the Virginia line that has a bit of topography to it and I was on a stand in the woods where I'd spent the last sit of our hunt last year. I had a small clearing behind me and the woods road fell down hill to my front where it crossed two ditches then slopped uphill. At the bottom of the dip at 118 yards there was a stump with a mineral block and a bit of shelled corn.
Early in the evening I saw several deer coming down the hill on the other side of the ditches, but they stayed on the right side of the road and were obscured by the tree line. I saw through a hole that one was a spike buck and thought the other a doe. After hanging down there for a few minutes, the doe stepped out and started walking up towards the stump. It stopped and turned, giving me an angle and I fired. I clearly saw where the deer had been standing and where it entered the woods to the left.
All was quiet for maybe ten minutes, and then I saw two deer come back on the road where they had been before. Again, they hung up down there for a few minutes before the buck stepped out broadside. Boy, if hadn't killed the spike on Wednesday I certainly would have taken this one; it was a big bodied deer with good heavy beams, just no points at all, and as I had only one buck tag left, I passed.
Just before dark a doe stepped out right in front of me and I quickly shot. At the shot the doe ran into the woods; I was sure I'd hit it as it was only about a thirty yard shot. I waited a few minutes before getting down from the stand to check on the first deer, but could find nothing. Same result when Craig and Trevor arrived and joined the search; we searched thoroughly, but since I was sure of where the deer went in we determined that I had missed. Craig quickly found the blood trail of the second deer and we found it 20 yards inside the wood line, a small doe. We figured it probably was the same deer I'd missed earlier and it came back out looking for the spike and doe it had been with. Trevor and I looked again for the first doe while Craig picked up the other hunters with the same result: I just plain missed.
As I stated earlier, we had a good night in our truck. John saw five does, Bob killed a 4 point and Trevor, Ed and Ron all killed does. The other group saw a few deer but killed nothing.
Big Night For Our Truck: Left to right: Ed, Bob, Loridr, Ron and Trevor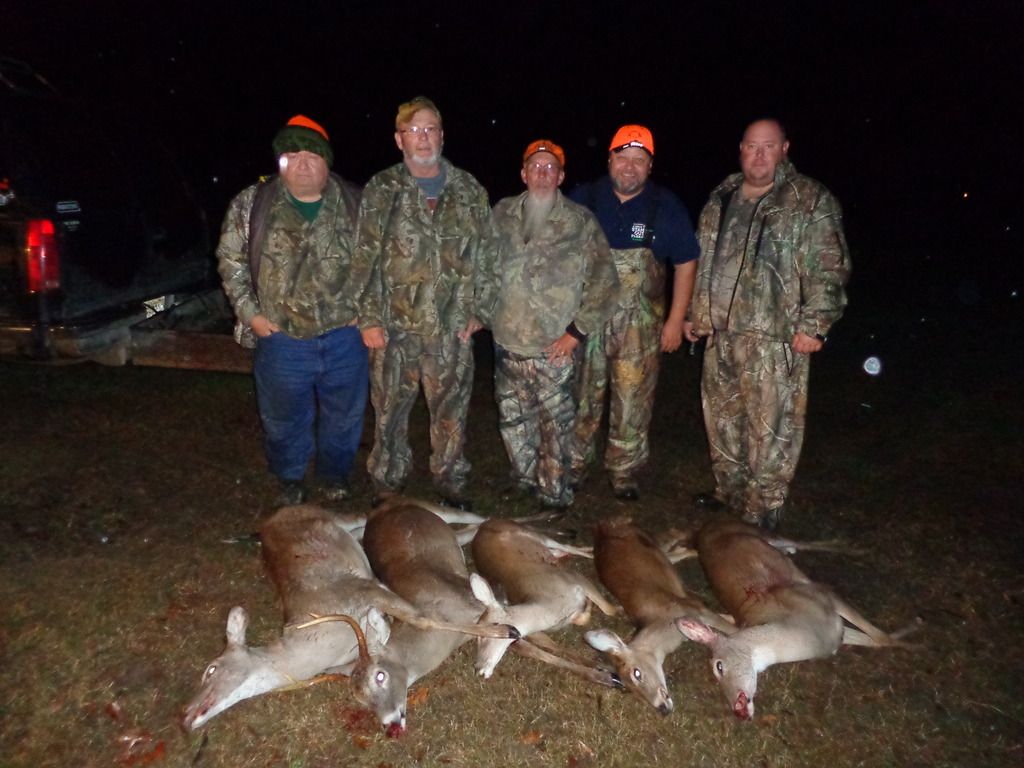 Friday November 20th
We had frost overnight so I was looking forward to a good morning and I had one. I was sitting a stand on a large cut corn field with pre-drilled wheat sprouting. I had a wood line well over 500 yards across the field to my front and a corner 50 yards to my left, with a brushy wood line running away toward my left front to the far end of the field. I couldn't see the wood line to the right as the large oak I was in obscured my vision to that side. Just as the field began to lighten up enough to see, I scoped the far wood line and finally saw a big rack buck. He walked along the far brush line for several hundred yards and eventually disappeared into the woods. It was much too far for me to consider taking a shot.
Moments later, a group of at least three or four does appeared where the buck had gone in and entertained me for close to a half hour as they fooled around, alternately feeding and chasing each other.
About 9:00am, a doe came busting out of the brush to my left and I expected a buck to be following, but as the small doe ran up the edge and almost directly away from me I noticed its right front leg hanging. I immediately decided I should kill it but it never turned before ducking back in the brush. I found a hole up ahead of the deer and as it stepped into the opening it paused. I killed it, DRT. It was a very small doe but the coyotes would have gotten that one for sure.
View From The Stand. Buck walked along the far wood line. Crippled doe came out from the near left.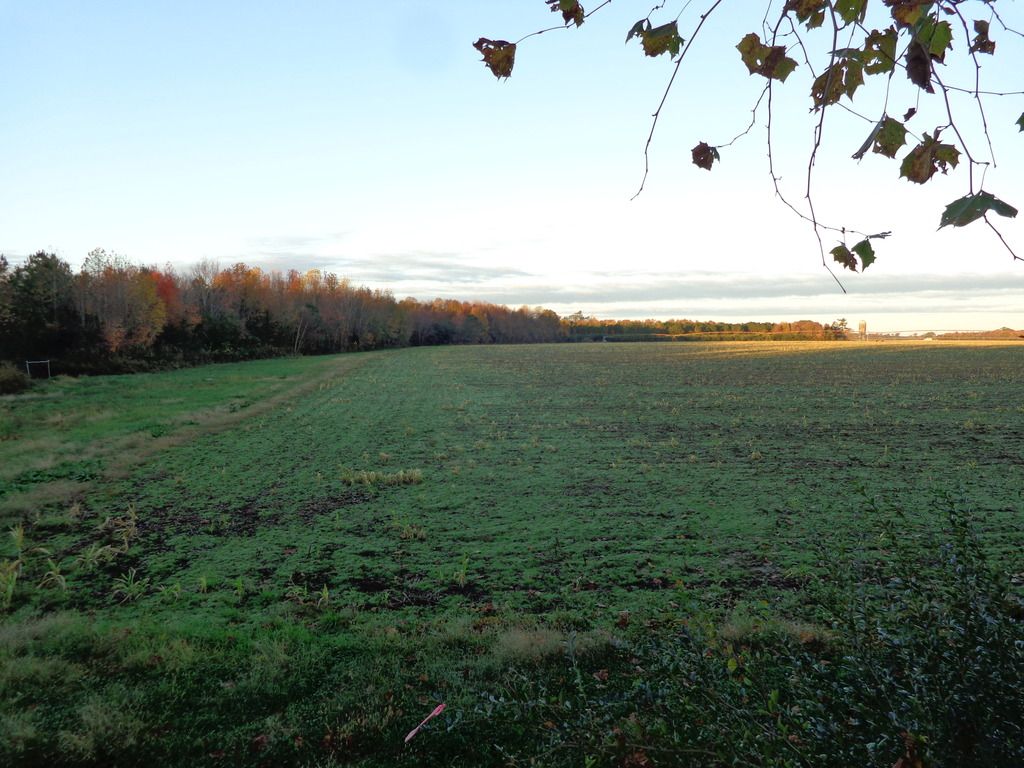 I was the only one to kill that morning in our group, but upon arriving back at the lodge we got word that the other crew was coming in with two dandy bucks. When they arrived, sure enough, two bruiser bucks were on the tailgate rack. Turns out a father and son team, friends of mine from previous Lily Pond hunts, had scored within minutes on adjacent fields; it was quite a jubilant morning. Father and son prefer to keep their names confidential but reluctantly and graciously allowed me to post the pictures below.
Father and Son with dandy bucks.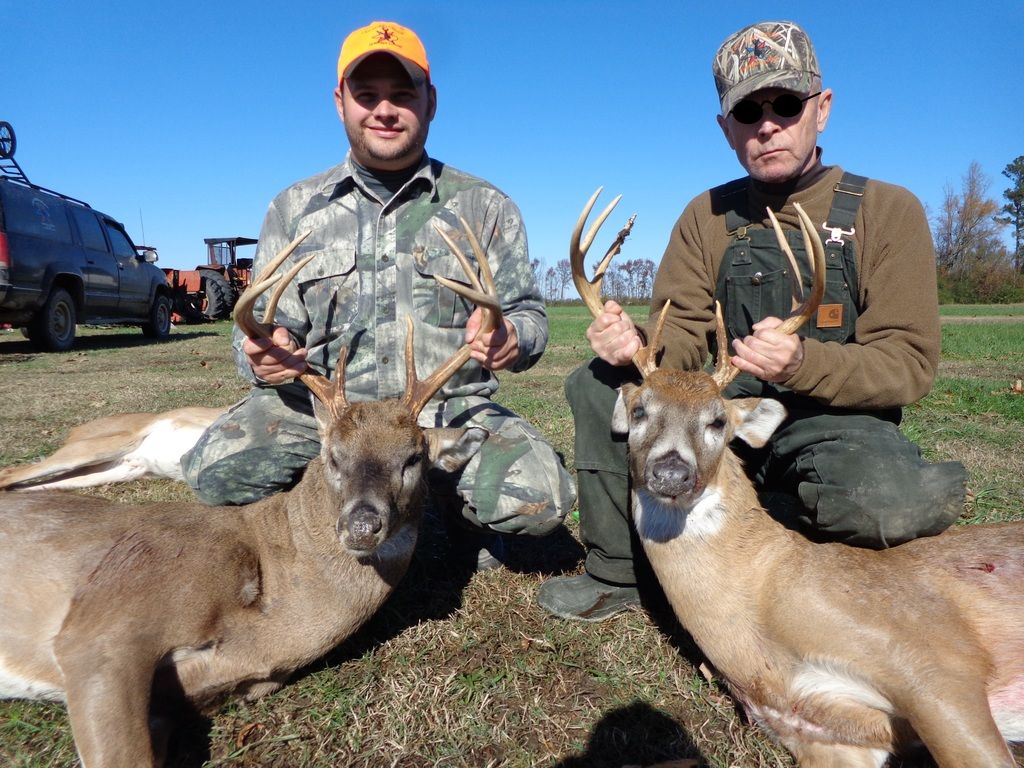 Friday afternoon the revelry of the morning became somber. Our guide Craig had not looked well for several days. He went to see a doctor after the morning hunt and was admitted to the hospital with a nasty stomach infection. Dock had business and could not take us out so he made arrangements for us to hunt Verona Plantation that evening with Verona guide Mike. We were asked to adhere to the 8 point restriction, to which we agreed.
I was on a beautiful stand back in a pine plantation mixed with some hardwoods. I had a road running from my back to front with fire breaks extending 150 yards or so to my left and right. Early, I saw a big deer cross the road to my front at the extent of my vision where the road made a bend but never saw its head. Later, a doe, more likely a button buck, came out in the fire break to my left and feed for a while. No sooner than it had left, a big doe and a smaller one stepped out on the same lane, also feeding for a while before disappearing into the woods.
Deer on the fire break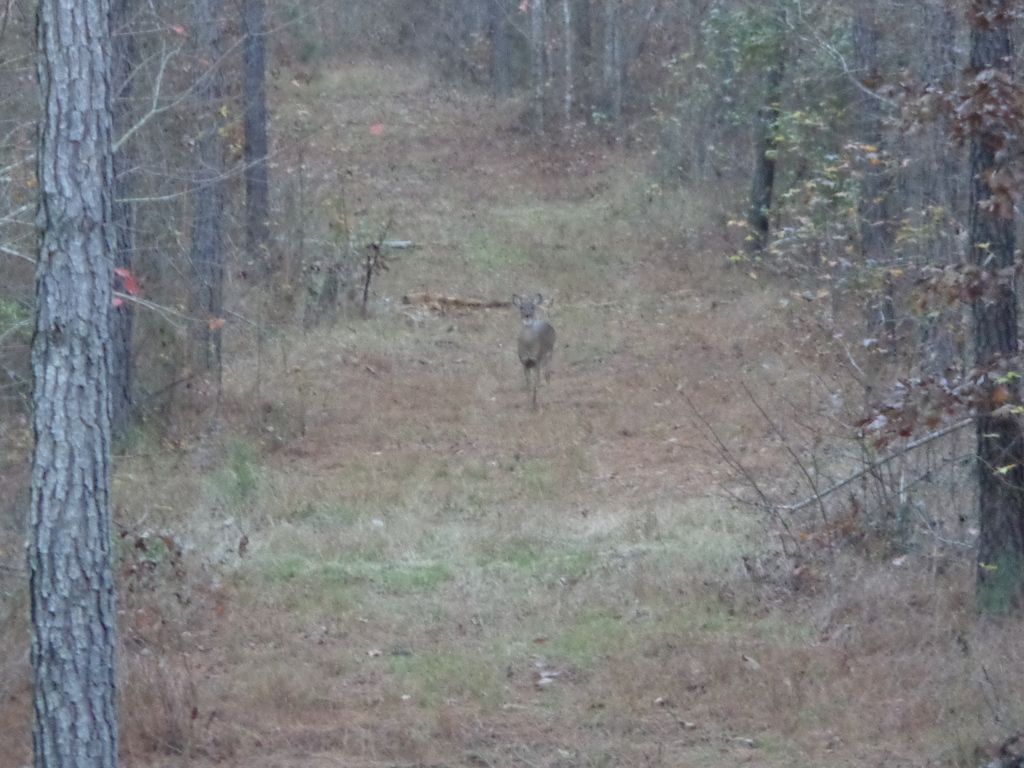 The rest of the hunters were in stands surrounding a large bean field in hopes of seeing a very nice buck that had eluded hunters on previous hunts in the past few days. I heard several shots during the evening and when Mike and Ron picked me up at dark Ron had a big doe on the rack and the word was that my buddy Bob had hit a big buck that they were still blood trailing. When we arrived at the scene, Dock, Bob and Docks son were looking for the buck in thick brush and had seemed to lose the trail, but soon got on it again. Within moments whooping and hollering from back in the brush signaled a dead buck. Bob's buck was a bruiser; a big 8 point with a 16 ¼ inch inside spread and good mass. It was our last scheduled sit of the hunt and Bob had repeated his performance of 2014 with a last minute Lily Pond Bruiser.
Bob's Big Buck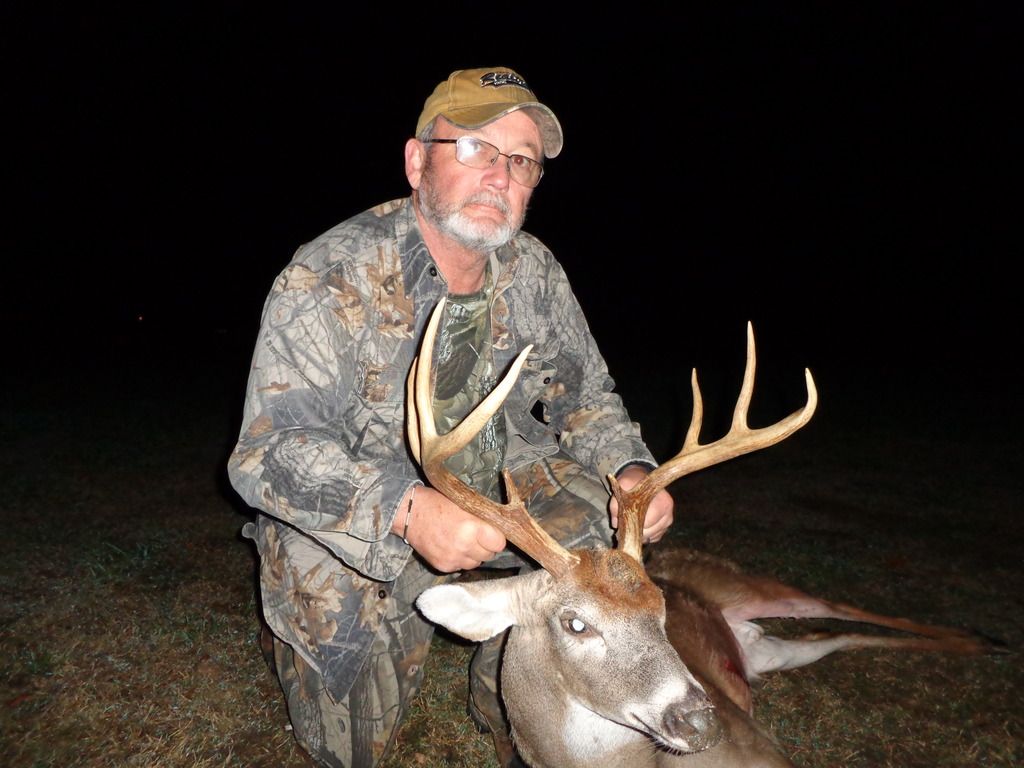 John headed home after dinner and Bob was leaving early in the morning, but with the weather forecasted to drop below freezing overnight and a buck tag left in my pocket, I made arrangements to stay and hunt Saturday… it turned out to be a good decision.
Saturday November 21st
With only Ed, Ron, Trevor and I left to finish out the week, Dock carried us out to the farm where I'd killed my 2014 9 point and this year's spike buck. I was on a different stand in a small island of trees and brush between two large fields with beans to my left and front and a strip of picked cotton and a cut-over to my right. My wind was blowing into the cotton field and cut-over so that pretty much left the bean field to watch. Immediately to my left the wood line was at 200 yards, and then it stretched away to my left front until it formed a corner at 250 yards. As dawn began to light the beans I began to see doe heads pop up at various places throughout the field. The beans were tall enough that only the heads of the deer would be visible as they looked around for a few seconds before ducking back into the beans to feed. Not long after good light, I saw six together at the wood line to my left at 200 yards; I got the camera out and snapped several pictures of them as they moved along.
View from the stand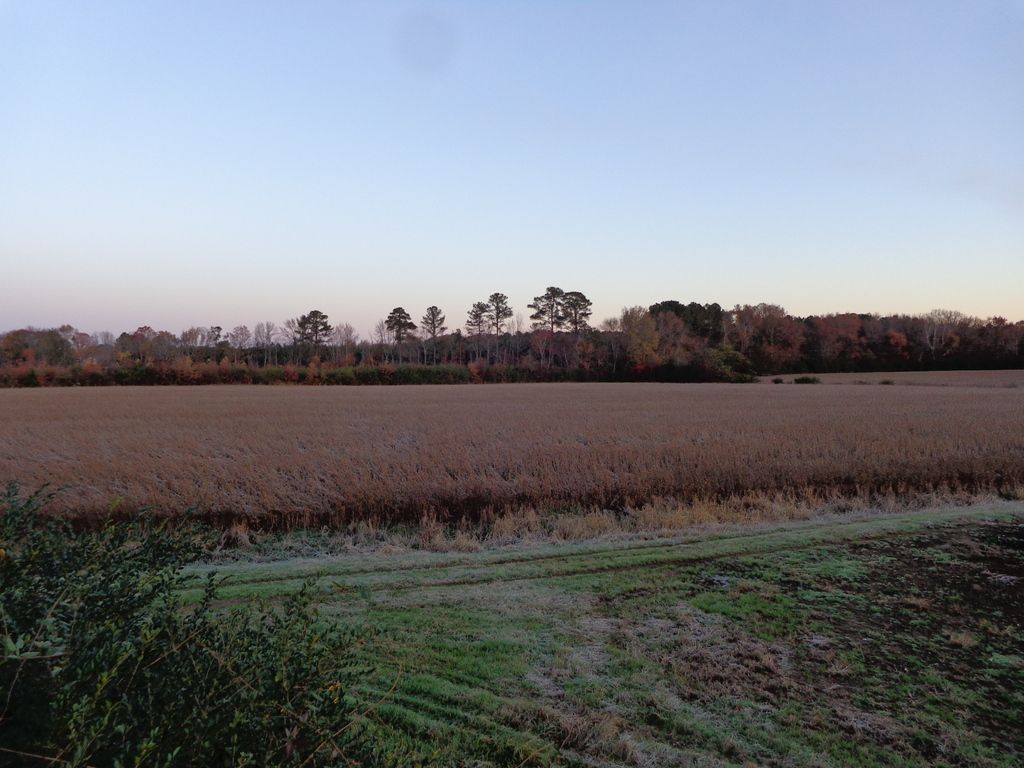 Does along wood line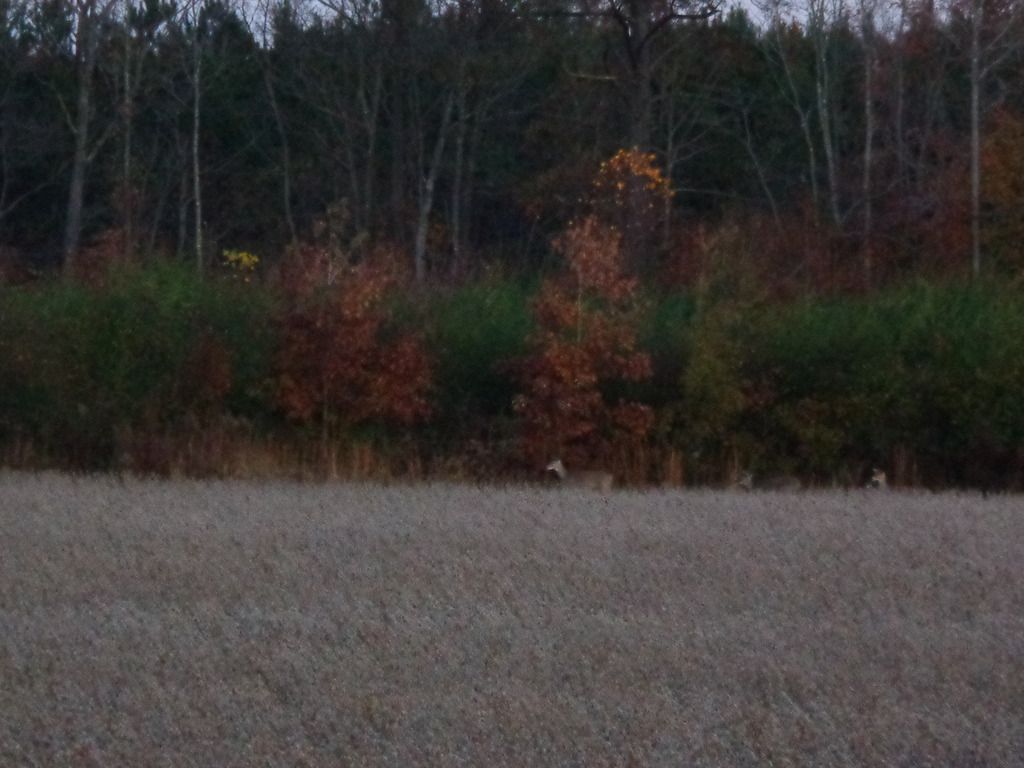 Glancing to the right toward the corner, I saw five more does and was swinging the camera on them when my eye caught the glint of antlers all the way over in the corner 250 yards away. BIG ANTLERS!
Getting a good rest, I scoped the buck but he was facing directly away and hooking brush. I'm getting flustered as I'm thinking "Turn, dang it!" (or something similar to that), when he turned slightly and gave me a decent angle. I settled in and squeezed off a shot. Coming out of recoil, all heck was breaking loose with does scattering everywhere in the beans and the big buck running back along the wood line to my left out in the beans. Fortunately, the bucks every move was to his detriment and to my benefit. He stopped broadside along the wood line directly to my left at just under 200 yards; I got on him and fired again, clearly hearing the WHOP of the bullet, and turning him directly head on to me. As I racked another round in the chamber here he comes running through the beans straight at me. I remember thinking to save a round as it appeared he was going to come right to the stand, but with three left in the gun I threw on him again and quickly shot… he dropped down into the beans and out of sight. He had to be dead but I forced myself to wait 45 minutes. Getting down from the stand I somehow managed to walk straight to him. What a buck. Not a real wide spread but a big old buck with a high, perfect 8 point rack and a ton of mass that carried through his beams and points. Turned out I had hit him with all three shots; the first low behind the leg and through the brisket, the second dead center body and the third took him low through the neck side to side; he must have swung his head to the side as I shot. As the old timers might say "He weren't goin' nowhere's".
As near as I can figure, I saw at least 15 deer that morning, including another rack buck as I was dragging mine back to the stand. Ironically, I killed my better buck at Deerfield this year on the morning of the sixth day. Bob and I seem to be making a thing of these last minute bucks.
The Bean Field Buck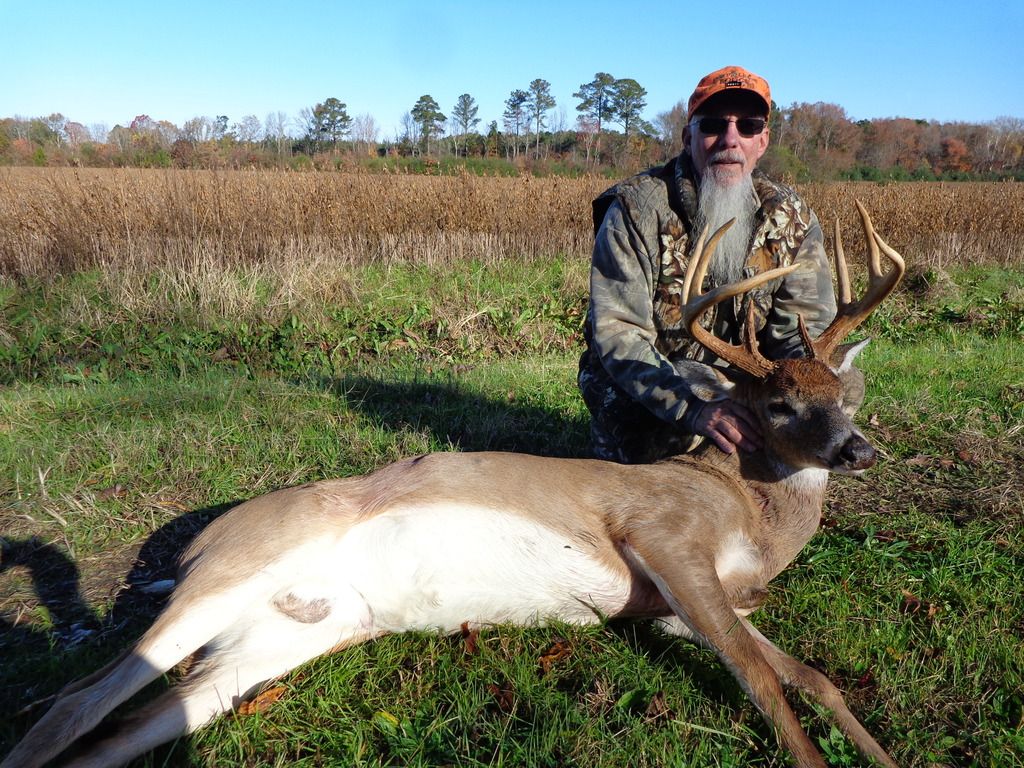 Trevor also scored, killing a nice 6 point. Saturday afternoon Tommy killed one last doe.
Trevor's Buck
To summarize: The hunting varied with the weather; decent at the beginning with cool temps, then slowing down mid-week with warmer temps. After the big front came through Thursday afternoon things really picked up, the hunting getting quite good on Friday and Saturday morning with overnight temps below freezing. It took a while for me to get things rolling, but by weeks end I'd filled my tags and saw at least 35 deer. Bob killed two bucks and could have easily killed his two does, and John could have tagged out as well but was only interested in a big buck. As a whole, the camp of twelve hunters plus Mikey at Verona killed 25 deer, including 14 bucks, 6 of those bruisers. All of the hunters were repeat clients. As usual, the food was excellent and the staff was great.
This hunt has been very good to us; on three hunts now the three of us have killed 12 bucks, eight of those big ones. The farms are incredible, there are plenty of mature bucks and the genetics run toward very heavy and symmetrical typical racks. I would recommend this hunt to anyone. Due to a moose hunt my schedule is messed up next year so I think I'll have to skip this hunt as well as my annual bear hunt, but you can bet I'll be back to Lily Pond, maybe Verona, the following season.
Good hunting,
Loridr