Discussion Starter
·
#1
·
At the end of each hunting season, as I pack my duffle bag and sleeping bag up at camp for the last time and head for home, my thoughts are already turning towards what lies ahead for the next year. The older I get, the more I appreciate the time I can spend in the woods and with my buddies at camp.
2012 was a season that I will not soon forget. The crew at camp was a tad smaller most times. The crew next to us which we share many hunts and good times with was slimmed down as well due to work and family schedules. But, the core group that lives for this stuff was raring to go.
Spring gobbler season came with much anticipation. The early spring that SW Pa. experienced this past year made turkey hunting tough. The gobblers were quiet and not responding well to the call at all. With the thick foliage that greeted us last spring, our hunting areas shrunk or became unhuntable. This was my slowest ever spring turkey season with the fewest amount of gobbles I ever heard.
Thankfully, I was able to pattern two good birds and hunted them for a week straight before I was able to pull one of them 20 yards off of his normal travel routine and into the pointed end of a arrow during the third week of the season.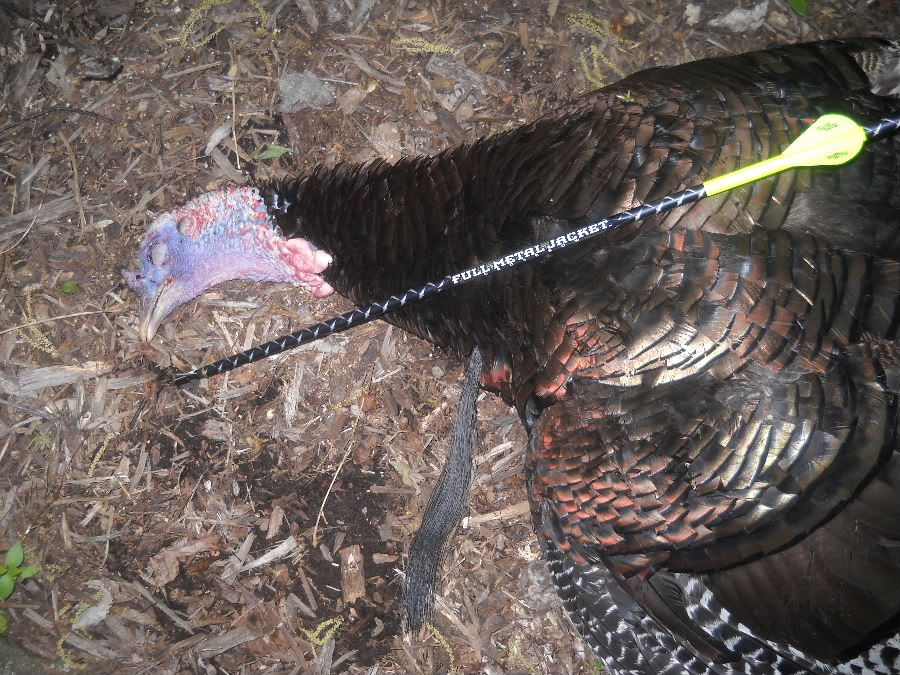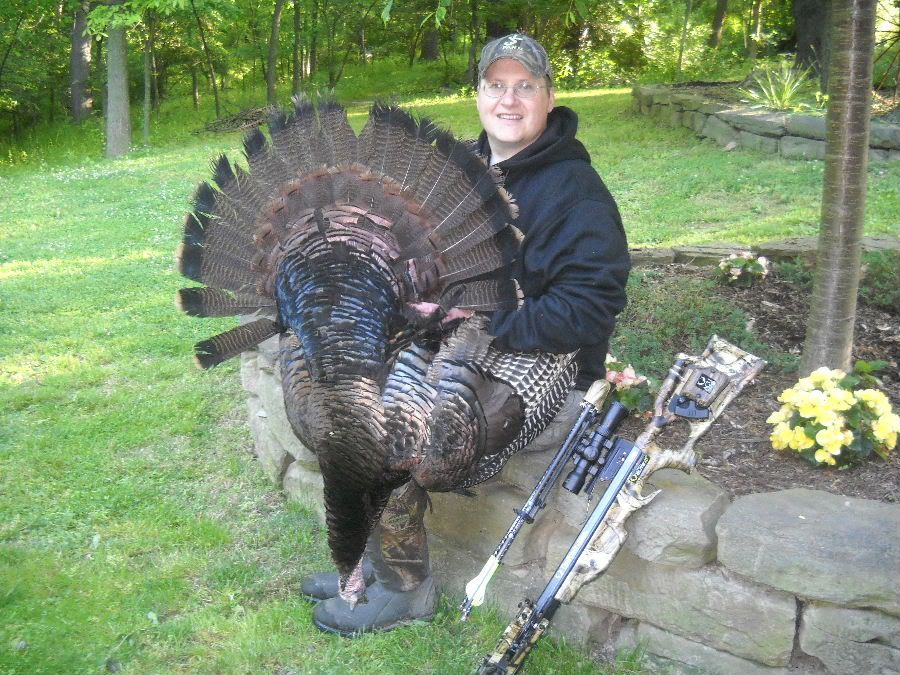 Summer found me doing my usual stuff like shooting and preparing stand sites for the fall. Opening week of archery season found me in Ohio on my first guided hunt with Ohio Bowhunting Outfitters. I saw fifteen bucks that week but none that I wanted to shoot. I went to Ohio shoot a good one and home I came with a tag still in hand.
With our season off and rolling I hit a productive stand after work upon my return and smoked a big Allegheny County doe in a small woodlot with the TenPoint.
With my first deer down for he season, my attention turned to the antlered variety. After countless hours in different stands and alot of head scratching, I headed into Halloween without a buck sighting. But, I knew that with the rut headed our way, things were gonna change. My vacation began and my buck sightings began in earnest as I saw 7 different bucks on my first all day sit in November.
Only seeing small bucks from what I thought was gonna be a hot stand, I made the plan to hit the same stand the next morning high on a ridge where I have shot two bucks in the last two years. I made the long hike well before dawn and waited for the sun to rise on this frosty November morning. The sun rose in the east and I snapped this picture.
Shortly after sunrise, a lone buck cruised past several benches below me and no amount of calling could turn him my way. He was a shooter 8 point whose main beams almost touched in front. An hour later, footsteps in the crunchy leaves caught me off guard and I spun to look behind me to see what was headed my way. The same buck was now crusing the top of the ridge and he would pass by me at 45 yards if he continued. 45 yards yards is a shot I do not like to take. When I stopped him in a opening, the decision was made to send a arrow on its way. The Lumenok was easy to follow in the scope and I was elated to see the nock disappear right in the crease of the shoulder of this Washington County buck. The buck jumped straight up and kicked like a mule. His death run was short and I saw him pile up not 80 yards from my stand.
With some vacation days left, I took advanatge of the new rifle fall turkey season in WMU 2A. Having not seen much turkey sign I was less than optimistic when I hit the woods with my Savage 17HMR in hand. I climbed into the same stand that I shot my buck out of and settled in.
Several large black shapes appeared over a rise and my binoculars confirmed a large group of gobblers was feeding my way. When it looked like they were not headed any closer I picked out the one I thought had the longest beard and sent the tiny pill downrange. Having never shot a turkey with such a tiny bullet, I was a bit worried about the outcome. That concern was short lived as the mortally wounded gobbler made it a few steps before collapsing and being trampled by the other toms in the flock for several minutes. My 2012 fall gobbler had double beards at 11 inches and 9 inches. A wonderful fall gobbler.
Rifle season came and went with our crew managing to take one decent 8 point. Hunting pressure was low overall with very little shooting. I had several doe tags left and carried the Browning a few times but the urge to shoot one never came over me. I hunt for the moment and I did not fill a doe tag though the opportunities were there. I enjoyed the time in camp with my friends more than ever and Fridays usually found me being the first to arrive and open the camp up to warm it up for the others when they arrived.
Next up was the late flintlock and archery season. A season I have grown to love. We don't get much snow to hunt in down here so I look forward to putting on the snow camo and hitting the woods with the bow or flintlock. I passed up several shots at fawns and had several big doe in range but never got the shot that I need with the smokepole.
A buddy of mine asked if I wanted to do some archery hunting on New Years Day at his place. With several tags left I took him up on the offer and we met for a afternoon hunt from a ground blind. Like clockwork, the deer began to move from the timber to the food at sunset and a big headed Washington County doe made it 100 yards after being double lunged from the TenPoint. The view from the blind and the big doe that was the end result.
With the season winding down, one hunt was left with the smokepole and two of my best hunting buddies on the final day of flintlock season. Several small pushes were done and some deer seen. On the last push of the day, I was startled by the shot as my buddy took a shot at one. I held my position for some time and was just about to begin packing up when a dark shape caught my attention from my left.
I couldn't believe my eyes as my dream animal was headed my way. A Pennsylvania coyote. A black Pennsylvania coyote as well. I have become consumed with taking a Pa coyote and one was headed my way. I frantically searched and found a opening where I wanted to stop him and the plan worked without a hitch. All that stood between me and my quest was a good shot. Something that I have found challenging with a flintlock. I squeezed off the shot and the coyote ran down the hill with some deviation to her gait. I knew I hit her and when I saw her go into a blowdown and not come out I became a ball of nerves.
After 15 minutes of waiting I directed my buddy to where she went in as I watched and his war yell confirmed that my dream and quest had been fulfilled on the last day of the last season of the year. She is at the taxidermist and will be a full body mount. One that she deserves for sure.
This past season was truly a blessed one. One I will never forget. The wilds of Pennsylvania never cease to amaze me in their bounty. I hope that I can continue to experience them for many years.
Thanks for listening.