Discussion Starter
·
#1
·
Decided to try a new type of post in this forum, a thread to follow the hunt for that specific 2006 buck I am after. If you are like me you are already are thinking about that one buck, and have been thinking about him since the end of last season. I think it would be cool to follow the real time thoughts, scouting trips, planning and encounters that will hopefully result in some great pics and story of success at the end of the 2006 season. If nothing else I will have a written record of my year and how it turned out to reflect on, regardless of if the tag is ripped off or not.
Perhaps this thread will also help some in their understanding of why many hunters in the Northwoods can get frustrated nowadays with low deer sightings, but even more I hope it gives some of my fellow diehard northwoods hunters a new way to look at the game we play every year after Thanksgiving and ease some of that frustration. Times are not easy there for the deer hunter anymore, but the challenge has never been greater, the woods have never been more yours (vacant of hunters) and the deer that remain have never been older and wiser than they are now. It will make for quite the reward in the end. I will never quit deer hunting there; it is what makes me tick.
To set my stage, this buck lives in Potter County in the infamous WMU 2G, he spends most of his time on the ridgetop and benches at the end of the mountain about 4 miles from the front door of camp. An area that has always seemed to house the King of the Hill. The only true King to ever fall out there from our camp, fell to my father's 25-06 in 1980 (my first year of hunting). Dad stayed all week and would of easily tagged out on the opening day had his bumbling 12 year old son not of been by his side, screwing up four chances at four bucks that day and never firing a shot. I left mid week with most of the others, Dad and Pap stayed the whole week, on the last day of Dad's Potter hunt (first Saturday of rifle) he tagged the monster 8 point that he had seen in bear season , and made an awesome shot while sneaking and peeking near the Point at midday. I remind him all the time how responsible I was for that buck, because I am sure he would have not had a tag at that point in the season had he dropped that 6 point on the first day that I couldn't get. Anyway, after 26 years it is time for another King to fall. We have taken several nice bucks out there by sneaking and peeking and even on some small drives, but none were the Mountain Monarch and none have meant as much as the one in 1980 when Dad called home to tell his boys "I got HIM"..
My buck uses the Point as a quick way to swing around the mountain and get to the side you are not. One side is choked in mountain laurel and allows him a quick haven from the crosshairs of the quickly mounted rifle. The other side of the point is a steep mountainside of mature woods typical of the area. He uses the small depressions in the terrain to remain almost invisible from the ridgetop and the seldom traveled two-track dirt road far below. He knows few will climb the hill to get to him, but on this side is where he remains most vulnerable, at least to those that can pull off a long downhill shot on what can be a small target and who have the patience to examine every piece of scenery for a piece of rack, flickering ear, or deer rump before stepping again. One step to far over the edge ends the game in a hurry and has happened to me alot, but just the right amount of noise up top will make him stand and pause to investigate…his Achilles heel. He travels with alot less does than he use to, but they seems to serve and help protect him just as well as always as they get older and wiser along with him.
Stage is set; time to start the 2006 quest, which begins the day before rifle season in 2005. Getting to camp later in the weekend then normal, I rushed to get Potter ground under my feet and its air in my lungs; headed out the mountain the instant my duffle bag hit the camp floor. Took the tram trail out to the mountain's end and saw no feeding until out at the crossover. The acorns were everywhere and the deer were enjoying the bounty. Against better judgment of not distrubing what will be tomorrow's quarry, I decided to head to the point and look around…and that is where I saw this rub, no doubt his.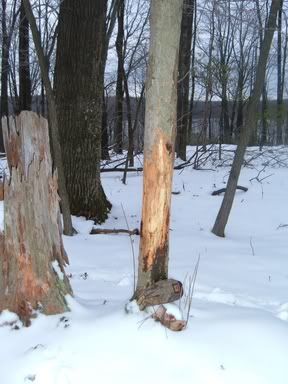 The trees out here are all scared with rubs of his past generations of kings…a gene pool that has produced many beautiful symmetrical racks and grey old muzzles. I envy these deer, spending everyday of their life on top of the world in this beautiful place while I run thru the raths of daily life. I sometimes feel bad I even intrude on this haven at all just trying to fit into their world for a couple days.
I head back out to the trail to complete my hike and while rounding a bend jump a decent rack buck from his bed 20 yards off the trail, He heads down over the hill and thru the maze of windfalls that line the floor of the open woods. His hurried escape brings another deer to his feet way down over the hillside…and thru a quick view in the binocs I see the rack of the one I now chase. He leaves his bed and uses the hill for cover, actually running uphill towards me then cutting back into another little depression and up across the very trail I am on, and is up over the ridgetop in no time. That whole sequence offers me only two more glimpses of him and his rack, he amazes me at how well he knows the contours of the hill, his only real cover here....I never would of been able to fire a shot that would of hit him in the vitals, never.
The opening two days of 2005 season come and go without a deer sighting. Opening day is complete fog and visibility is less than 50 yards as the snow melts away on the mountainsides. This fog provides what I envision a hundred times over that day as a perfect backdrop for collecting my prize. In my mind I see him drifting in with the next patch of fog, like a ghost, the mountain air very heavy as the .270 wakes the hills. It never happens. Tuesday is worse with constant rain and powerful wind, a dangerous day to be in the mature and dying woods, and another long day of no sightings. Time constraints send me home that night and I vow to get back up there the second week to resume the hunt…As I drive down the mountain away from camp and hit the hard road it eats at my stomach that my schedule may not allow me back in 2005 as much as I want it to and I will be forced to hunt near home…this proves true and that is where this 2006 story begins....the ending to this story will be told in December 2006 one way or another.