Discussion Starter
·
#1
·
Had a few minutes to get started with the Bushwacker tonight. It initially shot very low and slightly right, but after adjusting it up quite a bit, I had it hitting right on at 15-16 yards. I did not get my bench out, thinking I'll fine tune it next time. So had it 18 yards from the edge of my deck, which made a nice seat for the kids. Set a little table in front of them for a rest, and my 11 y.o and 6 y.o., plus my nephew (somewhere in between), all took a turn. All of them were right on the money, and loved it. My wife gave it a try with the same results.
Before putting it away, I backed up to 25 yards, which meant I was sitting on my deck railing, with one knee up to rest my elbow. Not exactly a stable position. But I just wanted to see generally at what range the first 'dot' on the reticle would be "on". The first shot went just low and a bit right. Now I've read all about not shooting "groups" at 25 yards, but with a less than perfect shooting position . . .
I won't do that again.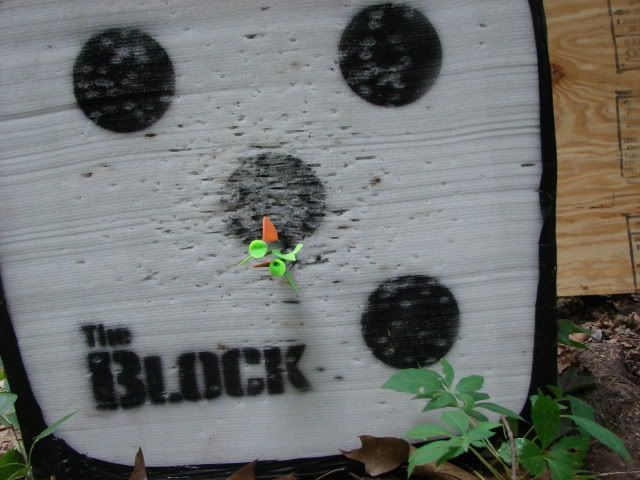 Hard to see in the pic, but the field tip hit the nock, and split out the top of the arrow, deflecting slightly so that it hit the target 1/4" above the first. Either I am extremely unlucky, or this thing shoots pretty good.